The Howard Radclyffe Ornithological Collection Takes Flight
19/11/2016 Modern & Contemporary British Art, News Stories & Press Release, Old Master & 19th Century Pictures, Single Owner Collections
Roseberys London are delighted to offer the Ornithological collection of paintings and books belonging to the well respected collector and director Bernard Quaritch Ltd, Howard Radclyffe.
The auction takes place on Saturday 19 November.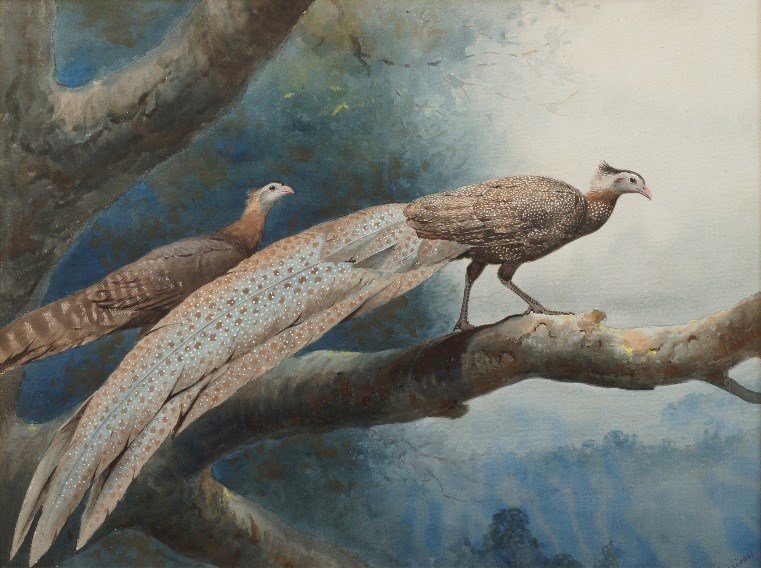 Howard was born at 13 Regents Park Road, near Primrose Hill, London NW1. "It was a happy life in those days for I only had to go round the corner and there was the Regent's Park Zoo", he wrote age 9 in his school note book. He foresaw what his life's work was to be in an essay he wrote about Bird Study in which he said, "To start this hobby the best thing to do is to get some books on the subject". In 1944 he was interviewed by HRT Williams at Bernard Quaritch Ltd. in Grafton Street and was offered the job of junior assistant in the Natural History department. He gradually gained in knowledge and enthusiasmbecoming the leading London book trade expert in Natural History, particularly bird books.
John Cyril Harrison, British 1898-1985- Rheinhart's Crested Argus pheasant. [Lot 8]
He was made a director of Quaritch in 1973 and retired in 1987 after 40 years with the firm. His greatest coup was buying the library of Captain Vivian Hewitt, the aviation pioneer and "Modest Millionaire", from his estate in Anglesey; it included a complete set of Gould, and a first edition of Audubon's Birds.
The auction comprises of 266 lots to include paintings by well-regarded ornithological and wildlife artist's including John Cyril Harrison and Sir Peter Markham and books collected by Radclyffe during his life time including those by Gould.
The following lots are highlights from the upcoming sale: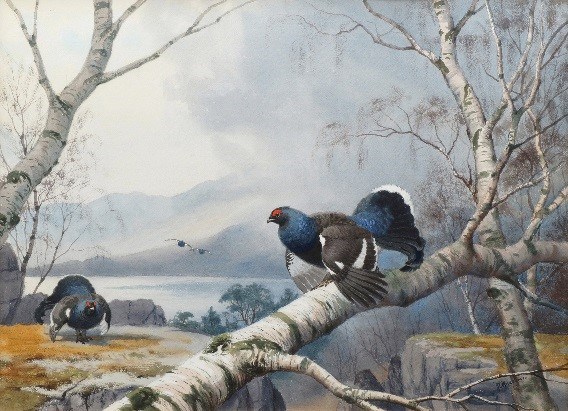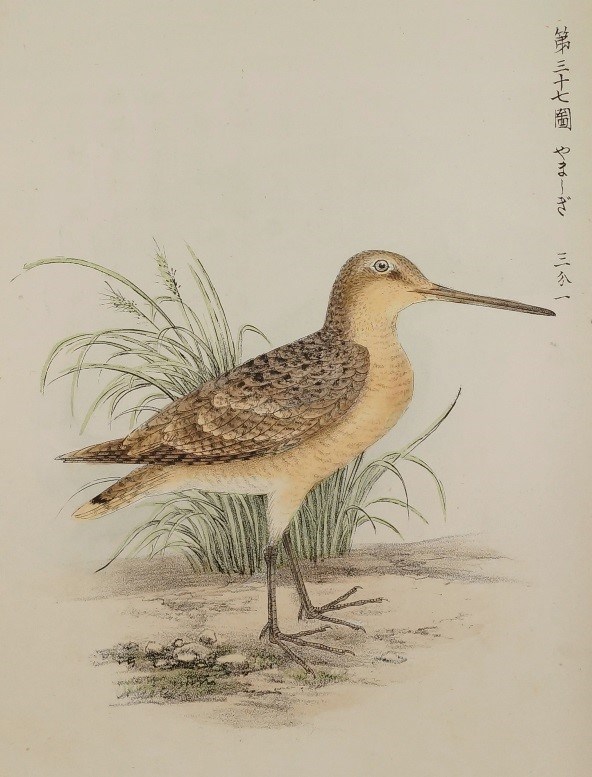 Lot 18. 
John Cyril Harrison, British 1898-1985- Black Grouse in a highland landscape; watercolour heightened with white over pencil, 56.7x76.7cm, Estimate £4000 - £6000
Harrison's talent for observational drawing was obvious from a young age, and he was considered to have a peerless reputation. He enjoyed an abundant career with all the major sporting galleries, and at one point so sought after were his works that collectors would have to pull a name from a hat in order to buy.      
 Lot 36
Archibald Thorburn FZS, Scottish 1860-1935- "Barn Owl"; watercolour and body colour over pencil, signed and dated 1929, 36.9x26.9cm
Provenance: With The Little Gallery, Worthing, according to the label attached to the reverse of the frame; Christie's, London, 25 February 1992, lot 113
Estimate £4000 - £6000
Thornburn is one of Britain's best known and love watercolourists, and most notably it is felt that no other artist alive or dead has been able to surpass Thorburn's technique for painting a birds plumage. [Lot 36]
 [Lot 68]
Sir Peter Markham Scott CH CBE DSC FRS FZS, British 1909-1989- "Indigo Eve", Mallard flighting over Leighton Moss Marsh, Westmorland; oil on canvas, signed and dated 1945, 41x50.8cm, (may be subject to Droit de Suite)
 Provenance: Christie's, South Kensington, 24 April 1998, lot 79
Estimate £2,500 - £3000
Sir Scott was a British ornithologist, conservationist, painter, naval officer and sportsman. Scott was knighted in 1973 for his contribution to the conservation of wild animals.
Highlights of the books featured include:
Lot 141- Narushima (K.) and Hitoshi Miyama. Birds of Japan, second edition (same year as the first), title in English and Japanese, text in Japanese,  50 hand-coloured lithographs by Bunkichi Ogura, authors' stamps at the end, original black cloth, repaired, Tokyo, Bokushiku, 1893.
Listed in the Japanese National Bibliography, but otherwise unrecorded. The most surprising omission is from Prince Taka-Tsukas, Birds of Nippon, 1932-40  p. xxxviii, where the Prince suggests that Uchida's Nippon Chorui Zusetsu, 1913-15 is the first book on Japanese ornithology written, in Japanese. Bradley Martin had no copy and the title is not in any western ornithological bibliography, including the  extensive  appendix to Brazil's Birds of Japan, Washington, 1991. He repeats (p. 16) the canard that Uchida wrote the first book on Japanese birds by a Japanese author.
Estimate £2000 - £4000 [Lot 141] 
Lot 160- Johnson (Theophilus) Illustrations of Typical Birds. First Series, the only copy recorded. 24 watercolours (13 birds of prey, 10 parrots, and a raven), few neat pencil notes by Howard, contemporary vellum, [Dartford], 1900. The Bradley Martin copy, bought by Maggs as lot 1635 Sotheby's, NY, 12 Dec. 1989, sold by them to Mr. Budge and later bought by Howard. Loosely inserted are an offprint of Howard's paper on Johnson. The only recorded second series of this title is at Tring.
Estimate £2000 - £3000 [Lot 160]
Lot 161- Gould (John) and N.A. Vigors. A Century of Birds from the Himalaya Mountains, first edition, first issue, 80 fine lithographed plates printed by Hullmandel, the figures coloured by hand, slight scuffing of the joints, but a very nice copy in contemporary green morocco, gilt, g.e.,by [William] Miller of Poland House, Golden Square with his label (he was 5 min from Brunton St. where Gould was lodging in the Zoo. Soc. premises), [1830]-32. The second issue adds "hitherto unfigured" to title and lightly colours the background of the plates. It may be that Miller set the pattern for the later Gould bindings, the most expensive being similar green morocco, gilt.
Estimate £8000 - £12,000 [Lot 161]
 The full catalogue is available through the auction house or online via www.roseberys.co.uk
~Ends~
For further information please contact pressoffice@roseberys.co.uk  +44 (0) 20 8761 2522
Roseberys is a privately owned auction house operating at the heart of the fine art market for more than 25 years.
With offices in London's Mayfair and Lambeth Roseberys offer a calendar of specialist fine art, antiques and collectibles auctions each year.
Specialist sales include a wide range of Asian and Islamic Arts, Modern and Contemporary Art and Design, Decorative Art, Fine Silver and Jewellery, Ceramics, Paintings, Prints, Photography, Antique Textiles, and Fine Wine and Whisky.
Roseberys team of world-renowned specialists also provide a wide range of art market services to professional clients, including valuations for insurance and probate.
Roseberys is a member of SOFAA – The Society of Fine Art Auctioneers.