The Artist & The Muse: Gerald Leslie Brockhurst x Dorette
11/02/2022 Modern & Contemporary British Art, Prints & Multiples , News Stories & Press Release
Behind most artists is a muse who inspires new passion and better work. The word itself dates back to Greek mythology, with Zeus' daughters forming the nine Muses who presided over the arts and science. The muse is often a female; however, many men have also provided artistic inspiration. From lovers to spouses to friends, inspiration comes from many different individuals. Figures such as Emilie Louise Flöge, Edie Sedgwick, Ilona Staller, Dora Maar, and George Dyer have helped artists create their most iconic works.
In this series 'The Artist & The Muse' we explore the stories behind some of art history's most notable muses who have helped shape artists; and in turn, great art.
The story of Gerald Leslie Brockhurst and Dorette


Gerald Leslie Brockhurst, ARA RE RP, 1890-1978, was a British Painter and Etcher. During the 1930s and 1940s, he was celebrated as a portraitist, painting society figures. Today he is best known for his small etched prints of striking women – many featuring his muse Dorette.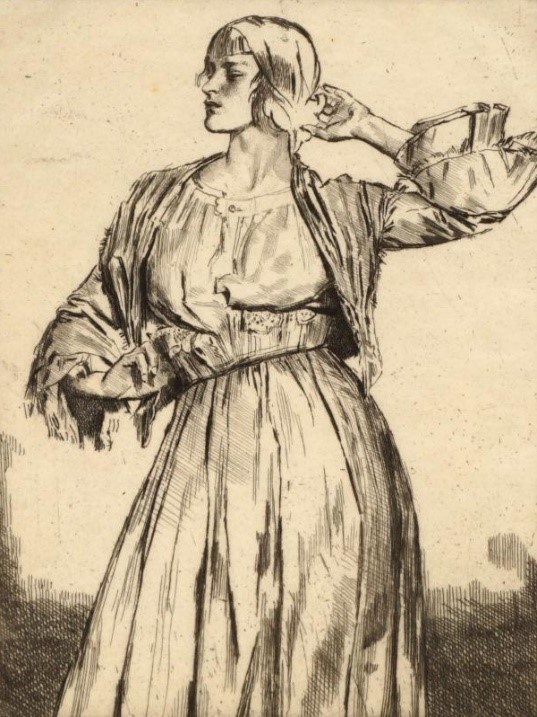 Gerald Leslie Brockhurst RA RE, British 1890-1978- ''Study for a Decoration'', c.1923; etching sold for £315 in Roseberys Modern & Contemporary Prints auction 6.5.17
Gerald Leslie Brockhurst was born in the Edgbaston district of Birmingham on 31 October 1890. Son of a coal merchant, Brockhurst showed that he was gifted in art at a young age and entered the Birmingham School of Art at the age of 10. Particularly talented in drawing, an excellent draughtsman, and a fine craftsman, Brockhurst won several prizes at the Royal Academy School, where he became a pupil in 1907. One of the awards was the gold medal and a traveling scholarship, which enabled him to visit both Paris and Italy, where the art of the Italian Renaissance proved to have a lasting influence on his work. Artists such as Francesca, Botticelli and Leonardo da Vinci had a particular abiding inspiration for him. In 1914 he married a French woman named Anaïs Folin, whom became his muse for most of his early etchings of young womanhood (especially from 1920 till 1934). The numerous etched and painted portraits of Anaïs highlighted the fascination of her brand of beauty. In 1937 Brockhurst was elected to the Royal Academy. In the same year however details of his relationship with a young model named Kathleen Woodward, whom he had renamed Dorette, were made public after she gave an interview to the Sunday Express.
Brockhurst and Dorette had met in 1929 when he was 40 years old and she was just 16, working as an artist's model. His marriage to Anaïs did little to prevent Brockhurst and Dorette from starting a passionate and open affair and she quickly became Brockhurst's new muse. He drew scandalous attention to their relationship by exhibiting portraits of his new lover.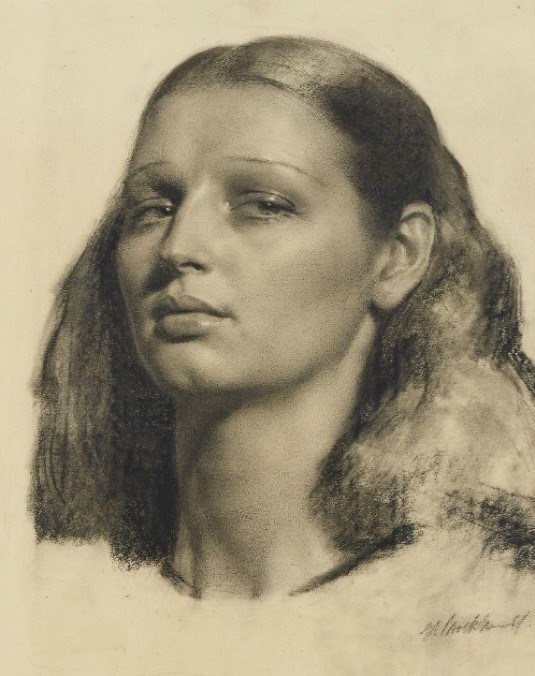 (Lot 7) Offered to the market with a pre-sale guide price of £8,000- £12,000, is a portrait of Dorette, in black chalk on paper by Gerald Leslie Brockhurst ARA RE RP.
His portraits of Dorette, from the 1930s, are particularly known for demonstrating the influence of Leonardo da Vinci's 'Mona Lisa' on the artist, seen in the portrait on offer within Roseberys Modern & Contemporary British & Irish Art auction on Tuesday 15 February, in the piercing yet sensual gaze of the sitter (pictured above).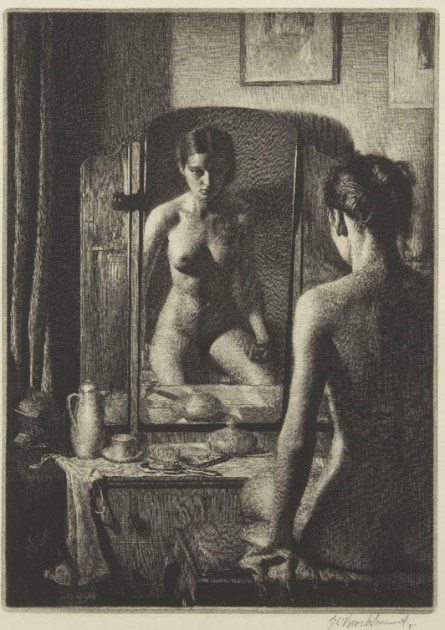 Gerald Leslie Brockhurst, British 1890-1978- Adolescence [Fletcher 75], 1932; Etching on wove, signed in pencil, from the unnumbered edition of 90. Estimate £6,000 -£8,000 on offer in Roseberys upcoming Modern & Contemporary Prints & Multiples auction
As an etcher Brockhurst is remembered particularly for his controversial works including 'Adolescence' (1932), a powerful study of a naked Dorette at the age of 19, on the verge of womanhood staring moodily into a mirror. This work is known today as one of the masterpieces of 20th-century printmaking. Another arresting portrait of Dorette was titled 'Ophelia' which was on view at every Royal Academy Summer Exhibition from 1933 to 1939. In 'Ophelia' Dorette is depicted as the tragic heroine from William Shakespeare's Hamlet. Portraits like these not only served as excellent publicity for Brockhurst but also showcased his skill at dramatic and finely-detailed portraiture, resulting in numerous commissions. In August 1939 Brockhurst and Dorette moved to the United States, and he was eventually divorced Anaïs in 1940. Dorette became Brockhurst's second wife and he carried on painting her obsessively, as he had his first wife Anaïs. For Brockhurst, Dorette represented a feminine ideal; each portrait he created emphasised her youth and beauty. His stated goal was to capture appearance, not character. His haunting portraits of Dorette opened the door to fame and fortune, and he became a fashionable portrait painter. In the decade that followed after meeting Dorette, Brockhurst was the most sought-after and expensive British portrait painter, charging 1,000 guineas for a painted portrait. There was no shortage of admirers and commissions for his meticulous technique and ability to convey a likeness.  Noteworthy sitters included the film stars Merle Oberon and Marlene Dietrich. Another famous sitter was the Duchess of Windsor, (this work is now in the National Portrait Gallery), whose husband commissioned her portrait. There have been exhibitions of his work at the National Portrait Gallery, London, the City Art Gallery Birmingham and Graves Art Gallery, Sheffield (1978), and more recently at the Georgia Museum of Art. Portraits of Dorette are held in public collections including the Harris Museum & Art Gallery, Preston, the McLean Museum and Art Gallery, Greenock, the Lady Lever Art Gallery, Wirral and the Metropolitan Museum in New York.
Later in life Brockhurst and Dorette settled in Franklin Lakes, New Jersey, and Brockhurst died there on 4 May 1978. Kathleen 'Dorette' Woodward, died in 1996.
-Ends-


View work sold/selling by Gerald Leslie Brockhurst


Find out more information about the Modern & Contemporary British & Irish Art department
Contact the Head of the Modern & Contemporary British & Irish Art department: williamsummerfield@roseberys.co.uk