The Art of Symbolism
17/06/2016 News Stories & Press Release, Chinese, Japanese & South East Asian Art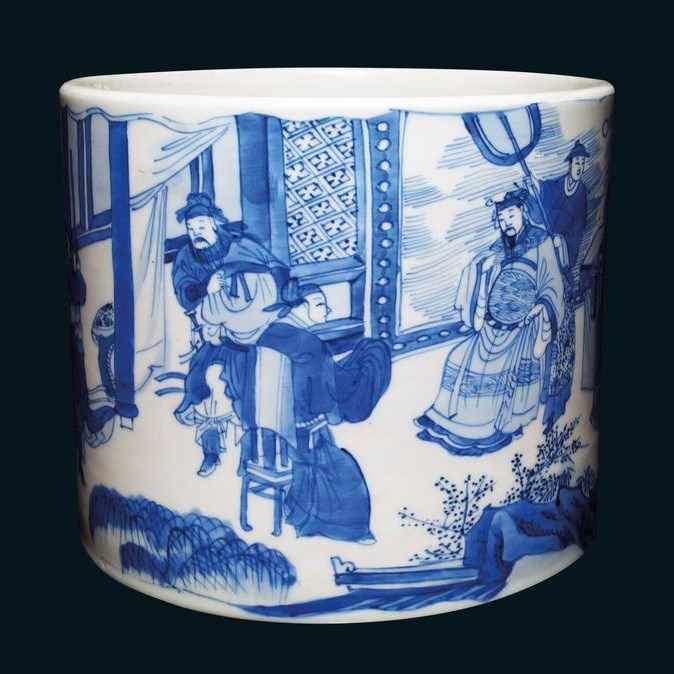 Fine Art Auction 
29 June 2016, 10am
Asia – The Art of Symbolism; is a curated section in Roseberys June Asian Art auction comprising of over one hundred objects. Symbolic meaning has always played a significant role throughout Chinese history and the presence of auspicious motifs and symbolic scenes has carried through Chinese art for centuries.
Symbolism originated from ancient cosmological and mythical beliefs. The meaning of these symbols are an intrinsic part of the culture and continued to be used widely today.
Prosperity, happiness, longevity and virtue are some of the common themes or blessings seen in Chinese art, Our Asian Arts specialist Bill Forrest has selected a number of works to highlight this.
Often used symbols and their meaning
Bamboo (zhu 竹) The pronounciation of 'bamboo', zhu, is a homophone for 'to congratulate' (zhu 祝). Bamboo is a symbol of longevity and vitality because it can survive the hardest natural conditions and remains green all year round. It also represents the qualities of durability, strength, flexibility and resilience since it will bend in a storm but does not break.
Lotus (he 荷, lian 莲) The lotus is the flower of the sixth month and summer. It is a symbol of purity because it rises out of the mud to bloom. Lotus blossoms are often depicted as a throne for the Buddha, and the lotus is one of the Eight Auspicious Symbols of Buddhism (ba jixiang 八吉祥).
Dragon (long 龙) The Chinese dragon is the ultimate symbol of the cosmic energy qi 气 and the most powerful symbol of good fortune. Ranked first among mythical beasts, it can bring rain to parched lands, which in turn represents abundance and relief. A dragon and phoenix (king of all winged creatures) symbolise the emperor and empress as well as marital bliss. The dragon is often used as an emblem of high rank and power on the robes of emperors and princes as well as on imperial art objects. (Further information on symbols and their meaning can be found at The British Museum
Highlighted Lots:
Lot 1374
A Large Chinese porcelain biton, Kangxi, painted in underglaze blue with a continuous scene depicting an Emperor at court is from the collection of Sir Anthony Hasting George KCMG.
Sir Anthony Hastings George KCMG was born in 1886 at Drumalla, Ballymena Ireland.  In 1903 he left Malvern College to read for the diplomatic service exam, and, in 1908, was posted to the legation in Peking as a student interpreter, having entered the Diplomatic Service in the China Consular Service.  In 1915 he was promoted to be a second assistant and after over ten years of service, in 1926, he was appointed a Vice-Consul in China.
On 27th September 1929 Sir Anthony was appointed as Consul-General in China and only months later, in January 1930, he was further promoted to Commercial Secretary, of the Second Grade, at the Legation in Peking to Minister Sir Miles Lampson.  In 1938 he was made a Companion of the Order of St. Michael and St. George for his service to the embassy and two years later he became British Consul-General in Shanghai and in 1943 he was appointed as a Knight Commander of the Order of St. Michael and St. George and in that same year moved to the USA as His Majesty's Consul-General to five states.  Sir Anthony died on 9th January the following year having never fully recovered from amoebic dysentery contracted during his internment in Shanghai. Estimate £800 – £1200
Lot 1489
A fine Chinese grey pottery horse, Tang Dynasty, with front left leg raised and with head tilted right it is from a Private English Collection
The horse is an important symbol in Chinese mythology and indeed Chinese history.  Horses helped build and destroy Empires, open trade routes and were traded themselves for silk and tea among other commodities.  They have also been used in traditional medicine, and it is said that the heart of a horse, dried and crushed, is a cure for forgetfulness.
A thermos-luminescence analysis was conducted and authenticity was confirmed. A copy of this report from the Oxford Authentication laboratory is available. Estimate £3000 – £5000.
Lot 1475
An impressive Chinese porcelain fish bowl, Da Ya Zhai marks but 20th century, finely painted to the body with a fruiting peach tree, blossoming prunus and lingzhi fungus on a yellow ground beneath a Greek key border, 50cm high x 53cm diameter
The combined motifs on this bowl are intended to bestow a wealth of good will upon its owner.  The peach is an important symbol in Chinese culture, one of marriage and immortality.  Furthermore, the peach tree of the gods (which grew in the palace of The Queen Mother of the West, Xi Wangmu) was said to blossom only once every 3,000 years and yield the fruit of eternal life.
The lingzhi is also known as the Plant of Immortality and is thought to prolong life.
Estimated at £2000 £3000
Lot 1469
A Chinese porcelain vase, Republic, finely painted in famille rose enamels with various groups of figures within a continuous mountain landscape scene adorned with pine trees, terraces and clouds; Fulushou can be seen on a terrace amongst children, with figures approaching, one on a kylin holding a baby (pertaining to 'Qilin Song Zi).  To the right, the Eight Immortals are approaching from behind a mountain, and above, Shoulao is seen riding a red-crested crane along side Ma Gu (goddess of longevity) approaching the Jade Emperor, who sits on his chariot in the clouds surrounded by attendants, all beneath a finely enamelled trefoil border beneath rim and above Greek key border to foot rim, iron red Yi Yang Tang Zhi mark to base.
The Eight Immortals, or baxian, are legendary beings of the Taoist sect and are said to dwell in amongst the mountains and hills, away from human habitation, they can bestow life or destroy evil. They each represent a different condition in life; wealth, poverty, aristocracy, plebianism, age, youth, masculinity and femininity.
This Lot was acquired in the 1950s by Francesco Turnaturi, Italian trade minister and close friend of Italian Prime Minister Giulio Andreotti, and thence by descent.
This item is offered here for £600 – £1000.
The June Fine Art Auction featuring Fine European Ceramics, Modern & Contemporary Sculpture, Antique Picture Frames & Asian Arts takes place on Tuesday 28 and Wednesday 29 June 2016 from 10am. The fully illustrated catalogue is now online.
For further information on any of the lots in the Asian Arts section please contact
Bill Forrest
billforrest@roseberys.co.uk +44 (0) 20 8761 2522
~Ends~
For further information please contact Charlotte Meddings charlottemeddings@roseberys.co.uk  +44 (0) 20 8761 2522
Roseberys is a privately owned auction house operating at the heart of the fine art market for more than 25 years.
With offices in London's Mayfair and Lambeth Roseberys offer a calendar of more than twelve specialist fine art, antiques and collectibles auctions each year.
Specialist sales include a wide range of Asian and Islamic Arts, Modern and Contemporary Art and Design, Decorative Art, Fine Silver and Jewellery, Ceramics, Paintings, Prints, Photography, Antique Textiles, Vintage Fashion and Fine Wine and Whisky.
Roseberys team of world-renowned specialists also provide a wide range of art market services to professional clients, including valuations for insurance and probate.
Roseberys is a member of SOFAA – The Society of Fine Art Auctioneers.