Ted Few: An Idiosyncratic Eye Collection
9/03/2021 News Stories & Press Release, Furniture & Rugs , Old Master & 19th Century Pictures, Silver, Works of Art, Sculpture & Clocks
ROSEBERYS LONDON: Ted Few is a London based fine art and antique dealer, well known for his cabinet of curiosities containing idiosyncratic works of art from around the world. On offer at Roseberys on Wednesday 24th March is a wide-ranging selection of objects and paintings which he has collected throughout his expansive career and which showcase his diverse and inimitable taste.
Ted discovered the realm of antiques at an early age and was instantly hooked. When he was fifteen, he began dealing, buying art and objects from antique shops and markets near Buckingham where he was at school, and selling them to local dealers when he returned home in the holidays. After studying on the Sotheby's Works of Art Course, he realised he would find it impossible to specialise in one particular field and instead chose to focus his attention more broadly; enjoying the thrill of buying works of art from all corners of the globe, which spanned millennia in date. As he says, "my curiosity and enthusiasm have always been aroused by things which have a distinctive personality or move me in some way."
For many years Ted has held bespoke exhibitions in which he has been able to present his individual interests and acquisitions both at home and at the London fairs, including BADA, LAPADA and Olympia. Every piece has a story to tell of past ages and cultures. His keen eye and appreciation for works, which appeal both visually and historically, have led him to unearth a number of hidden treasures. A conversation with him is a journey of discovery as he teases out engaging stories about the life-cycle of each item, drawing on his decades of experience.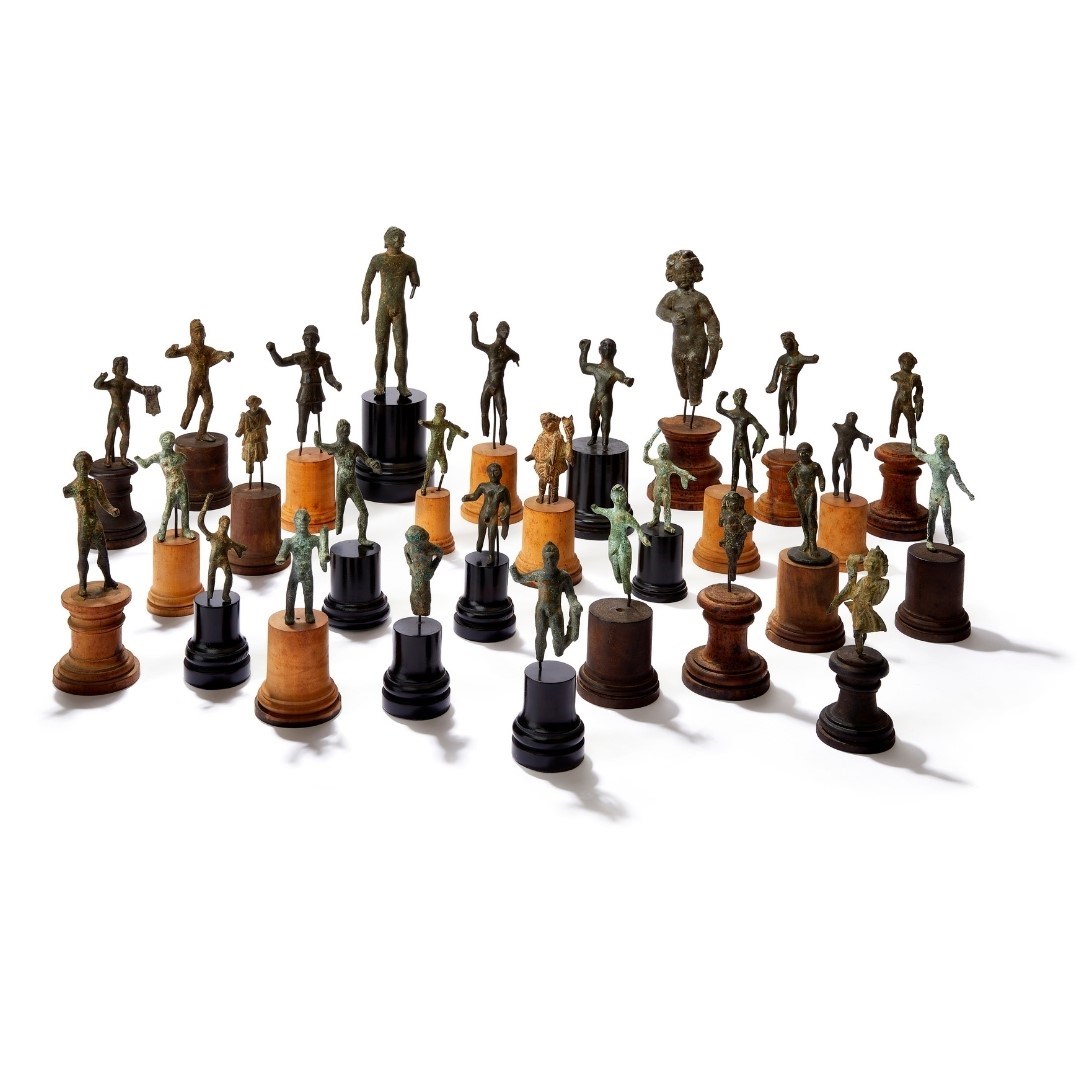 The Hohenzollern Collection of Ancient Bronze Statuettes
Estimated to make between £8,000- £12,000 is the Hohenzollern Collection of Ancient Bronze Statuettes. The large group consists of twenty-seven bronze figures, principally figures of Hercules. Other characters within the group are a Roman bronze figure of Diana, a nude bronze javelin thrower, Etruscan bronze athlete and an Italic bronze figure of Poseidon or Taras, carrying dolphin or fish. The statuettes range in sizes, smallest being 5.3cm and largest being 13cm. They also range in age, circa. 6th Century B.C earliest to 3rd Century A.D.  The provenance of the collection hails from The Sigmaringen Hohenzollern Collections housed in the Sigmaringen Castle in Germany. During WWII the imposing stronghold of Sigmaringen Castle was taken over by the Wermacht and in 1944, it was briefly home to Marshal Petain and the remains of the Vichy government. The castle survives to this day and is still in the Hohenzollern family, although they no longer live there. War damages and a disastrous fire in more recent times have all taken their toll, especially on the family archives. The Sigmaringen Hohenzollerns were avid collectors of works of art, but today there are very few surviving records documenting their acquisitions. We therefore know very little about how the group of classical bronzes were originally put together beyond their presence in the 20th century in the Sigmaringen Castle museum. The 1934 autobiography of Marie, wife of King Ferdinand I and Queen of Romania, mentions that just before her marriage in 1893, she visited Sigmaringen for the first time and suggests that the formation of the collection began in earnest in the 19th century with Prince Karl Anton (1811-1885), who appointed a series of scholarly curators. Leopold, Karl Anton's son, continued to enrich the collections and lived in the castle with his wife until his death in 1905. They spend much of their life together travelling through Italy, through Etruria and down into Campania, the very regions where many of the bronzes in the collection were produced in Classical times. The bronzes were very likely accumulated from a number of sources. All of them are mounted on turned 19th and early 20th century wood stands of excellent quality, and most are the originals upon which each individual piece was displayed in the castle at Sigmaringen. What is evident from the family history of collecting is that the Hohenzollern interest in the acquisition of these charming bronzes lasted for a number of years and possibly generations.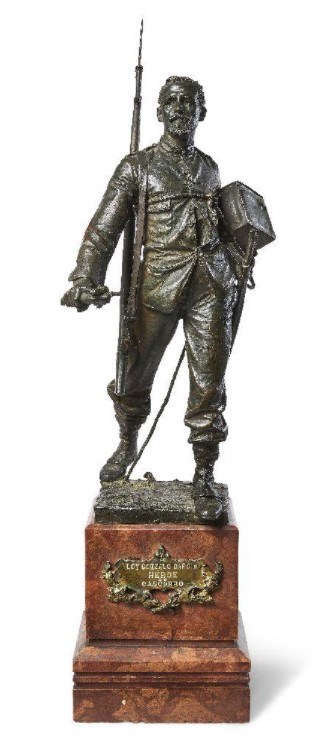 Ancieto Marinas Garcia, Spanish, 1866-1953, a bronze maquette of Eloy Gonzalo Garcia, the hero of Cascorro, 1900
This dashing bronze by Spanish sculptor Ancieto Marinas Garcia has been entered onto the market at £5,000- £8,000. The bronze maquette is of Eloy Gonzalo Garcia, the hero of Cascorro, 1900. Eloy Gonzalo García (1876-1897) was a distinguished Spanish soldier in the Cuban War of Independence. In September 1896 the small nationalist fortress town of Cascorro was seized by three thousand insurgents and the besieged Spanish forces were forced to set fire to the houses held by the enemy. According to various sources, Eloy Gonzalo volunteered to undertake the task, carrying a can of oil and with a rope tied to his waist, so if injured or killed, he could be recovered. Eloy Gonzalo survived the mission and went on to take part in further military actions until his death a year later. In 1897, the year of his death, the government of Spain decided to honour Gonzalo by commissioning a statue from Ancieto Marinas Garcia of 'The Hero of Cascorro'. Aniceto Marinas, a renowned sculptor of public monuments in Spain, studied at the San Fernando Academy of Fine Arts and later in Rome. He participated in national and international exhibitions and received several awards. The present lot, a maquette for the statue in Plaza de Cascorro, in the heart of Madrid's Rastro, depicts Gonzalo in heroic pose, moments before his mission, striding forward, a rope tied to his waist, an oil drum under one arm, a flaming torch in the other and a bayonet across his chest. In 2000 the maquette was exhibited in Madrid and Barcelona.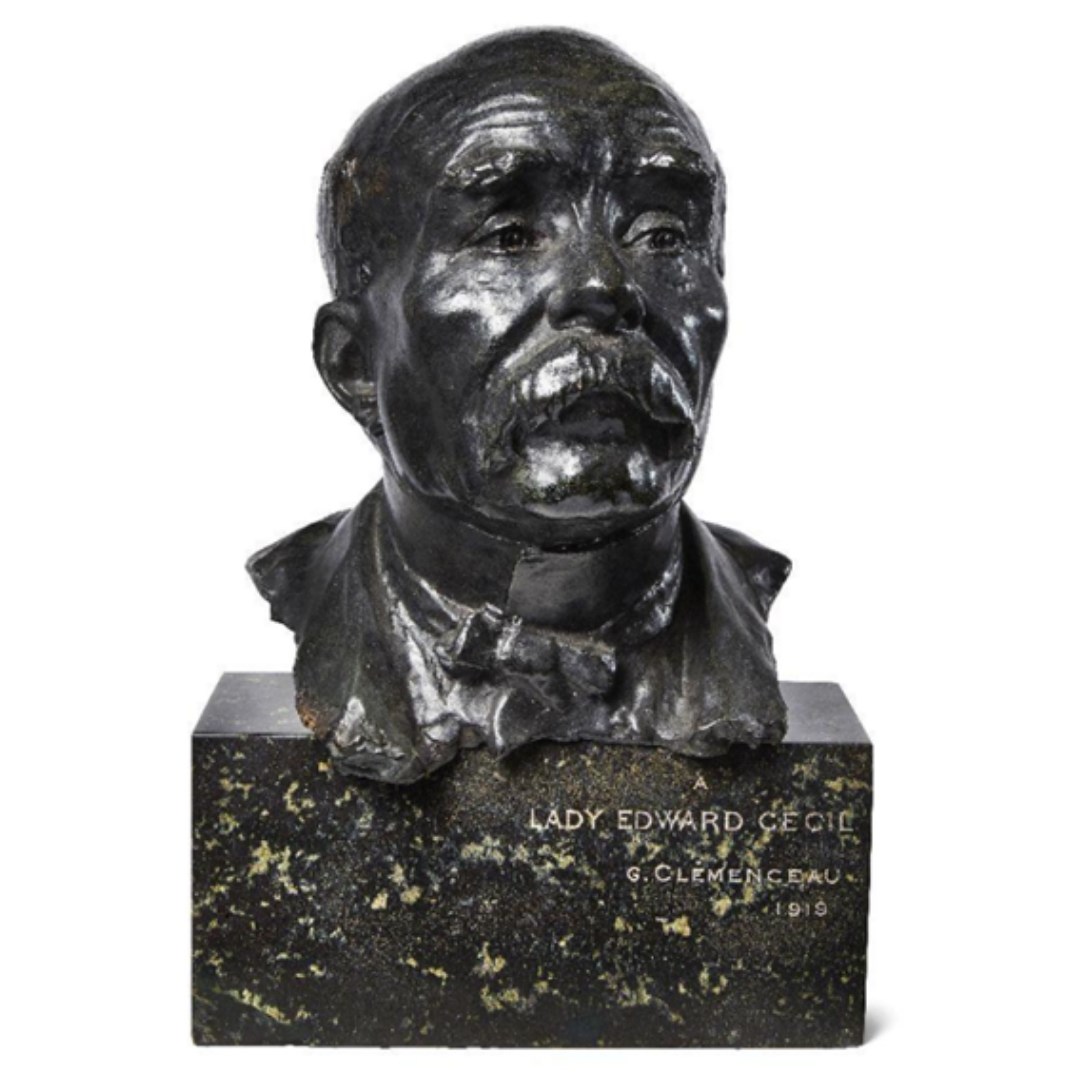 François Léon Sicard, French, 1862-1934, a bronze portrait bust of Georges Clemenceau, dedicated to Lady Edward Cecil (Hatfield House), dated 1919
A bronze portrait bust of Georges Clemenceau, dedicated to Lady Edward Cecil (Hatfield House), dated 1919, by French sculptor François Léon Sicard, 1862-1934 comes with an estimate of £2,000- £3,000. Violet Georgina Maxse, Lady Edward Cecil and later Viscountess Milner (1872-1958) was widowed in 1918 after her first husband, Lord Edward Cecil died of Spanish flu. She married Alfred Milner, 1st Viscount Milner (1854-1925) in 1921 having first exchanged letters with him during his time in South Africa as High Commissioner. Viscount Milner was a British statesman and part of Lloyd George's War Cabinet during the First World War. He attended the 1919 Paris Peace Conference where he became one of the signatories of the Treaty of Versailles. It seems highly likely that during this period Lady Edward Cecil, his future wife, was introduced to George Clemenceau, the French Prime Minister, and the present bust was subsequently presented to her. François Léon Sicard studied under Félix Joseph Barrias and Félix Laurent. He exhibited at the French Salons, gaining an honourable mention in 1887, a second-class medal in 1894, a first-class medal in 1897, and gold medal at l'Exposition Universelle of 1900. Notable works include La convention Nationale in the Panthéon, Paris, and Le Bon Samaritain (1896), in the Jardin des Tuileries, Paris.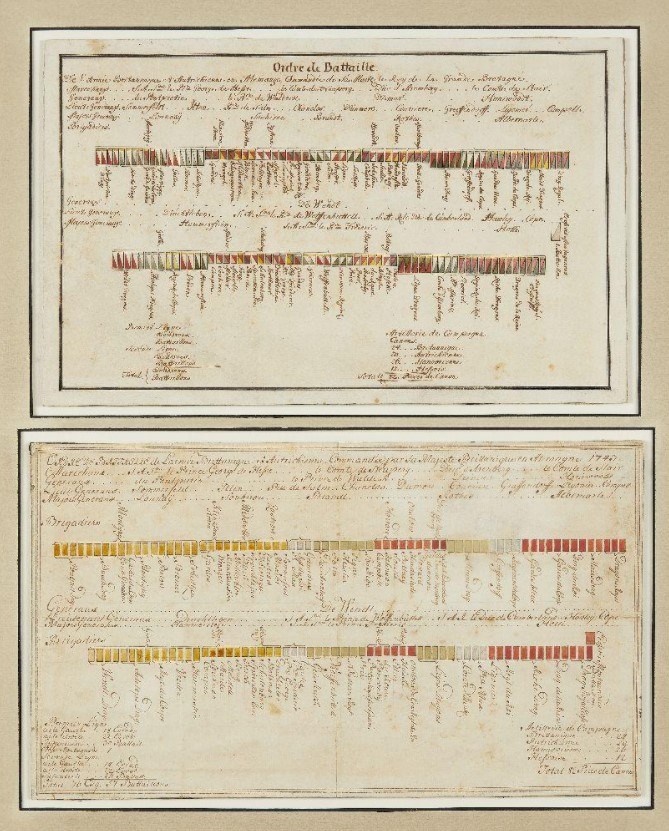 Two Order of Battle manuscripts from the War of Austrian Succession, one dated 1743
Two Order of Battle manuscripts from the War of Austrian Succession, one dated 1743, each with a typical coloured tabular detailing the hierarchy of the commanding officers in the campaign and the composition of the armies is on offer with an estimate of £800- £1,200. Measuring 20.5 x 35.5cm and 19 x 31cm the manuscript is hand written in ink and body colour, later framed, and comes with a provenance from Sotheby's, Royal House of Hanover, Munich, 5-15 October 2015. The Battle of Dettingen took place on 27 June 1743 during the War of Austrian Succession. It was fought between a Pragmatic Army, composed of British, Hanoverian and Austrian troops, and a French army commanded by the Duc de Noailles. While the Earl of Stair exercised operational control, the Allied army was nominally commanded by George II, accompanied by his son the Duke of Cumberland. As a result, it is now best remembered as the last time a reigning British monarch led troops on the battlefield. Similar examples are held in the Royal Collection.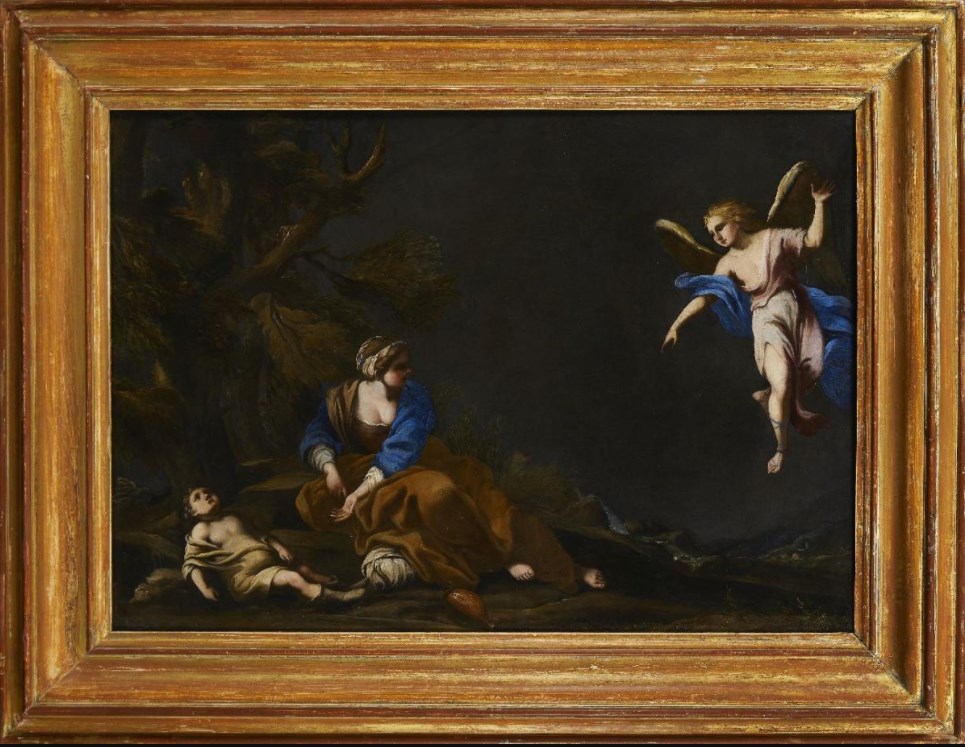 Veronese School, late 16th/early 17th century- Hagar and Ishmael; oil on slate
Another work that came from the Royal House of Hanover, Hildesheim Sale, Sotheby's, at Marienburg Castle in 2015 is this intriguing artwork on slate. Estimated to make £4,000- £6,000, this oil painting illustrates Hagar and Ishmael produced by the Veronese School in the late 16th/early 17th century. Post purchase, Ted carefully restored this work to the quality on offer today. It is a personal favourite from his collection on offer at Roseberys.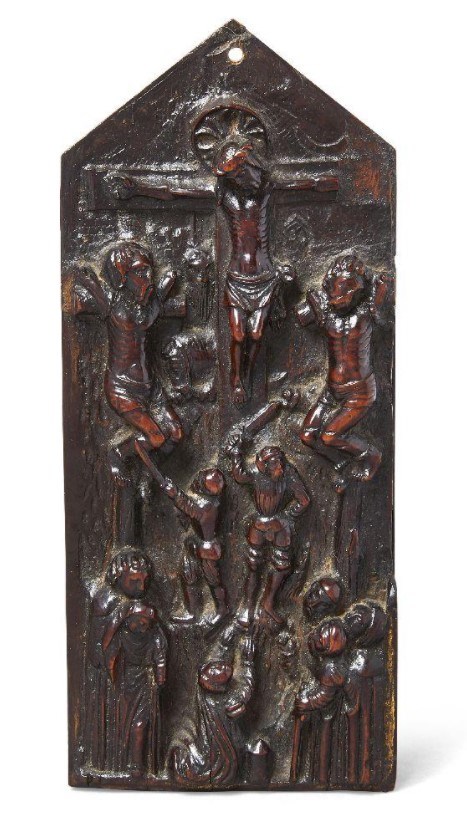 A Portuguese colonial boxwood relief of The Crucifixion, 17th century
A Portuguese colonial boxwood relief of The Crucifixion, 17th century has been entered onto the market at £800- £1,200. At 19cm high, carved in deep relief are soldiers and mourners at the foot of the cross. Faint traces of gilding can also be found a top the relief. Ted commented on this other personal highlight within the sale : 'What is interesting about this is you often get crucifixions with these two orders, with Christ and the two criminals and people below, but this is much more of a Flemish 15th or 16th painting in its composition. It is on a slab of thick boxwood like a piece of chocolate. When you look at the faces within the crucifixion, they are rather formulaic, half way between mainstream art and folk-art. It is fantastic quality.'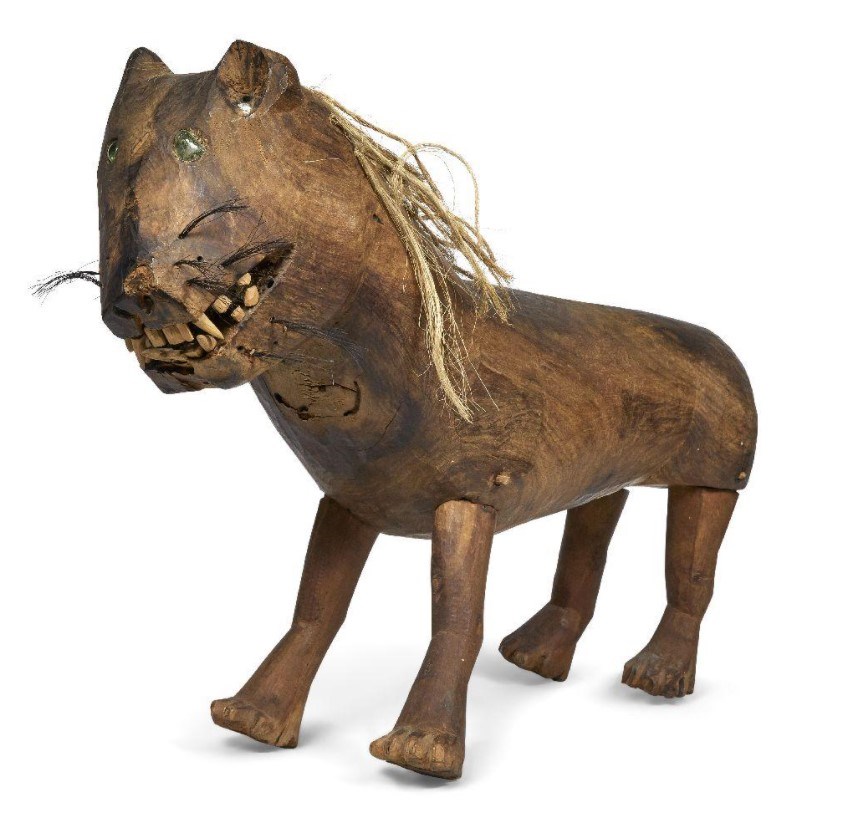 A folk art carved hardwood model of a lion, 19th century

Measuring 50cm high, 64cm long is a folk-art carved hardwood model of a lion, with inset glass eyes, coarse hair whiskers and a string mane made in the 19th century. Estimated to make between £800- £1,200 the lion comes with a provenance from The Captains Hamilton, Sundrum Castle, Ayrshire; removed to Pallisburn, Northumberland; Lyon & Turnbull, Contents of Pallinsburn, 4 May 2005, lot 399B. Ted noted on his find : 'While at the castle in Scotland I stumbled across this lion by accident and fell for him instantly. He has a gentle side and a menacing side.'
Two polychrome decorated plaster reliefs, in the style of Nottingham Alabasters, The Burning of the Philosophers and The Beheading of St Catherine, late 18th/early 19th century
Two polychrome decorated plaster reliefs, in the style of Nottingham Alabasters, The Burning of the Philosophers and The Beheading of St Catherine, late 18th/early 19th century are another highlight on offer within the auction. The pair are in medieval revival oak frames, and are estimated to make £5,000- £8,000. This rare pair of reliefs are mentioned twice by Francis Cheetham in the Victoria & Albert Museum catalogue of English Medieval Alabasters, 1984 and Alabaster images of Medieval England, 2003. They are also mentioned in Collectors Luck, Stowers Johnson, p194, figure 36, London, 1968. In the fifteenth and sixteenth century, Nottingham was the centre of an industry carving locally mined alabaster, a material famous for its characteristically creamy and milky texture, which made it easier to carve and to paint than other materials. It became popular in the use of tomb carving and small religious carvings, particularly panels. It was transported by water and road across England to various sculpture centres and even internationally as far north as Iceland and as far south as Spain. The current lot is an idiosyncratic revival of such panels. Inspired by the Medieval examples, the lot was perhaps made as an appreciation to the rarity of the original panels. The Roman emperor Maxentius abducted St Catherine of Alexandria and ordered philosophers to convert her to Paganism. When they failed and became Christians themselves, Maxentius ordered them to be burnt to death. St Catherine was also condemned to death, firstly on a spiked breaking wheel, but at her touch it shattered. Maxentius then ordered her to be beheaded, as depicted in the current lot.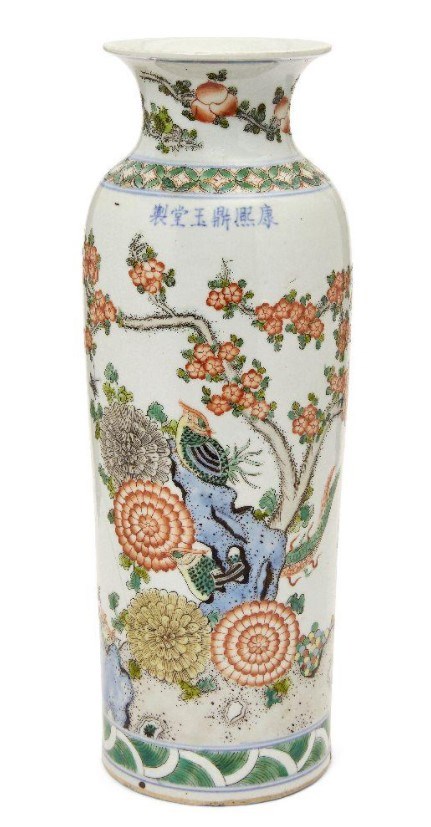 A Chinese porcelain famille verte sleeve vase, 18th century
Included in the auction are a number of Asian antiques. This Chinese porcelain famille verte sleeve vase, 18th century, painted with exotic birds amidst prunus and chrysanthemum is estimated to make £300- £500. It measures 34.5cm high and apocryphal underglaze blue six-character Kangxi mark to shoulder. Other notable Asian works on offer is a 18th century Burmese polished bronze figure of Shakyamuni Buddha, a pair of 19th century carved stone lions from Rajasthan, North India and eleven 18th - early 20th century Chinese jade and green hardstone carvings.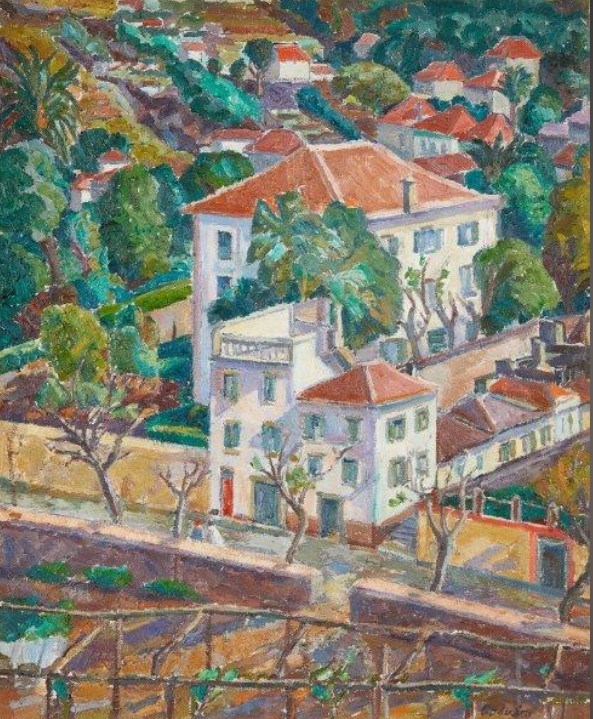 Mary Godwin LG, British 1887-1960- Funchal, Madeira; oil on canvas
Entered onto the market at £400- £600 is work by British oil painter, water colourist and etcher Mary Godwin LG (1887-1960). Titled 'Funchal, Madeira' the oil on canvas measuring 56x45.5cm is signed, and inscribed on the stretcher. Godwin studied first under John Byam Shaw at The Women's Department of King's College, and the under Walter Sickert and Harold Gilman at the Westminster School of Art. She was also a member of the London Group, having been influenced by the art produced by members of its predecessor, the Camden Town Group. Godwin's work was regularly exhibited throughout her lifetime, both as part of group shows and individually. As well as being included in the London Group exhibitions, Godwin's art was exhibited at the New English Art Club and the Allied Artists Association. Her work was also part of exhibitions held at the Chenil Galleries, the Goupil Gallery, Manchester City Art Gallery, and even the Royal Academy, alongside an important solo show of 1936 at the Leger Galleries in London. This lot, a lively depiction of a Madeiran landscape (a regular subject of Godwin's work) executed with the confident application of colourful paints, is a typical example of the artist's style.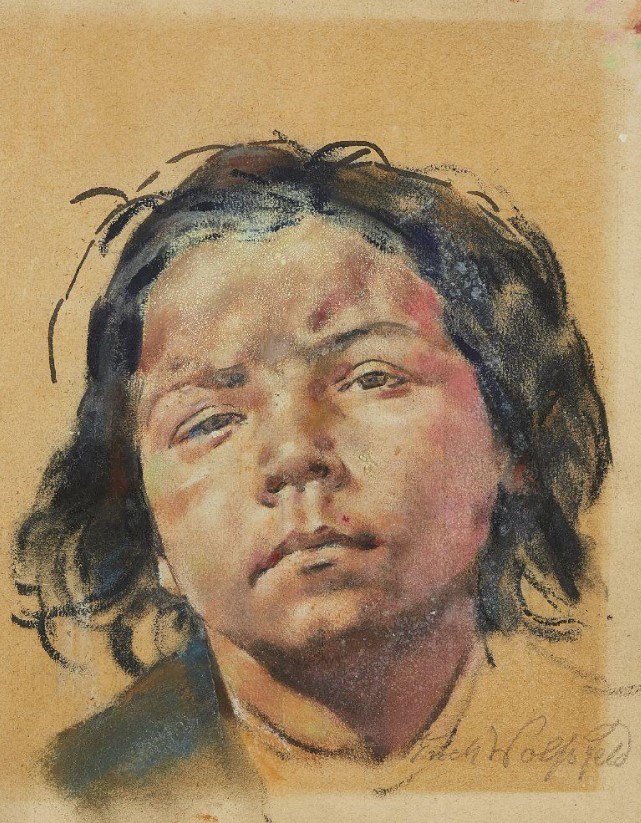 Erich Wolfsfeld, Polish/British 1884-1956- Portrait of a girl; black and coloured chalk on buff coloured paper
Included in the works of paper on offer is a 'Portrait of a girl' by Polish, British artist, Erich Wolfsfeld, 1884-1956. The black and coloured chalk on buff coloured paper comes with an estimate of £400- £600. Wolfsfeld was born in Krojanke, then brought up in Berlin, where he attended the Academy in 1902-13, learned etching in the studio of Hans Meyer, Studied at Academie Julian in Paris in 1905-1906. From 1907 Wolfsfeld worked in Rome, where he learnt from Otto Greiner.  Ted commented on his personal highlight: 'I imagine this work was drawn probably in the twenties. Erich Wolfsfeld is one of those extraordinary draftsman. I think strongly of Rembrandt when I look at his works. I bought this work from a very good West End dealer, as the powerful image moved me.'
-ENDS-
Ted Few: An Idiosyncratic Eye : Live online only auction 
Wednesday 24 March, 10am   
 
There is no in person viewing for this auction.
We offer video viewing and extra images.
Please contact worksofart@roseberys.co.uk for condition reports and further information. 

Please find the e-catalogue here.