Summer Prints & Multiple auctions showcases the variety of the department
16/06/2022 Prints & Multiples , News Stories & Press Release
Roseberys are proud to present the Modern & Contemporary Prints & Multiples auction that will take place across two days, Tuesday 5 and Wednesday 6 July. This sale totals an impressive 736 lots and offers avid collectors and expert connoisseurs the opportunity to buy important works by renowned artists. Offered in this sale is a wide range of modern and contemporary editions from traditional engravings, lithographs and screen-prints to contemporary photos and special edition sculptures. Artists include modern masters such as Picasso, Miro, and Matisse to YBAs Tracey Emin and Damien Hirst and Urban artists including Banksy and KAWS.


Ed Plackett, Head of Sale comments: 'This auction encompasses works by a variety of artists. As well as art prints this sale includes a large range of signed artbooks and objects. This summer auction also has a strong photography section, including works by Bob Carlos Carke, Terry O'Neill; Linda McCartney, Andy Gotts and Hannah Domagala. A prominent theme running throughout is rock and pop, with works by Bob Dylan and photography of The Clash, John Lenon, Adam Ant and a David Bowie poster. A fun object in the sale is a Hirst spot Fender guitar which is unique and has an interesting back story.'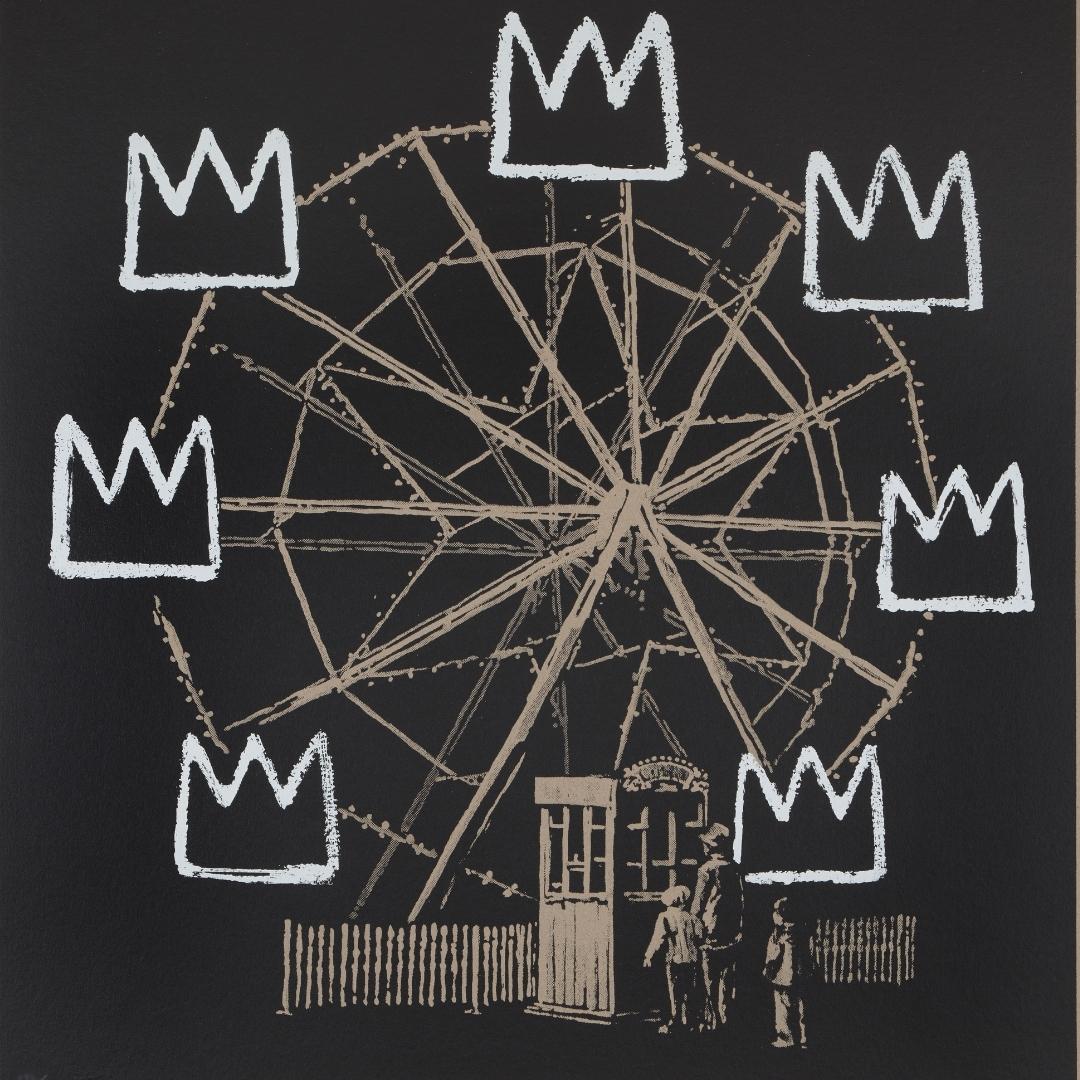 Roseberys are particularly proud to offer lot 319 to the market, Banksquiat (Grey) screenprint on grey card, from the edition of 300 in white pencil, published by Banksy in 2019. With an estimate of £110,000- £130,000, Banksquiat is an ode to Jean Michel Basquiat with his crown emblem adorning a ferris wheel. As usual with Banksy, the satire with a political edge image is simple yet loaded with hidden meanings. Plackett comments: 'This work is in excellent condition, never having been framed or exhibited.'

(Lot 483) Entered onto the market with a pre-sale estimate of £50,000- £70,000 is a unique acrylic on metal electric guitar by Damien Hirst Spot Fender Telecaster, 2012. This work was made for the Strummerville music festival in 2012 in memory of Joe Strummer, the guitarist from the Clash. It was won by the lucky consigner in a raffle. This guitar captures the playfulness of Hirst's dot series and is a sought-after collector's item.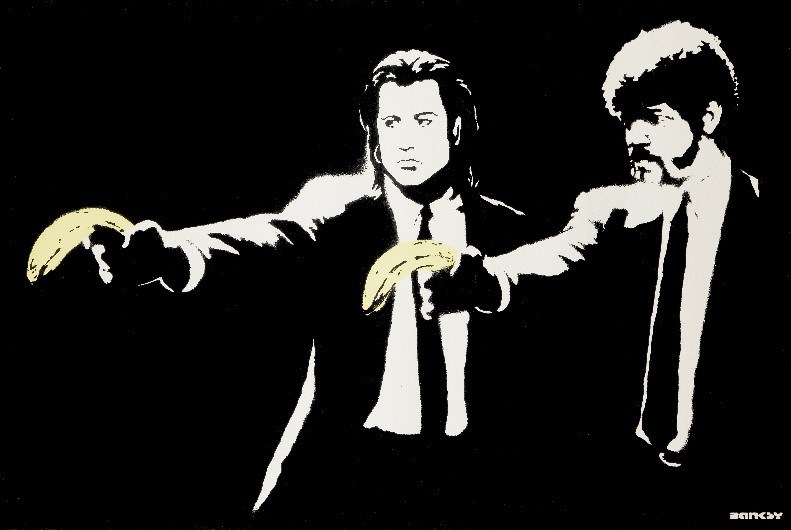 Lot 321 Pulp Fiction, 2004, screenprint in colours on wove by Banksy comes with an estimate of £45,000- £55,000. Numbered from the edition of 600 in pencil, published by Pictures on Walls, London, the sheet measures 48.3 x 69.3cm. First appearing in 2002 as a large mural near Old Street Tube station in London, Pulp Fiction presents a scene from Quentin Tarantino's film of the same name. This work is Banksy's anti-gun statement, where he has rendered a violent scene harmless, through his use of Warhol-like bananas from the album cover for The Velvet Underground. This union of pop culture references subtly disguises Banksy's more targeted message, presenting a somewhat humorous scene.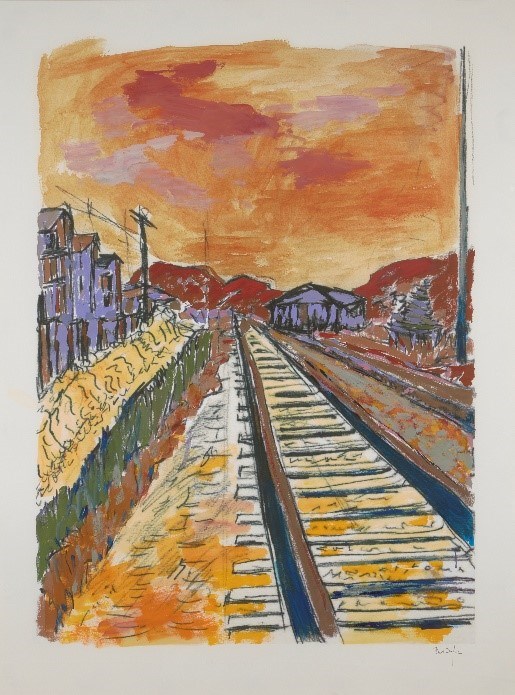 Lot 486 by Bob Dylan titled Side Tracks is a rare hand embellished giclee print. It commemorates Dylan's concerts from 1961-2013. Each work by Dylan carries an individual date, city and country, based on concerts performed by the celebrated artist from 1961-2013. This particular print is dedicated to the concert Dylan performed in Oklahoma City in 1976. This print has wonderful emotive colours which bring to mind some of his lyrics. Each work of his is hand-embellished by the artist and is therefore unique. Side Tracks is accompanied by a certificate of authenticity and booklet from Halcyon Gallery and comes with an estimate of £18,000- £22,000.

( Lot 320 ) Bomb Middle England 2003; screenprint in colours on wove by Banksy, numbered from the edition of 500 in pencil, published by Pictures on Walls, London, sheet measuring 34.5 x 98cm comes with an estimate of £20,000- £30,000. Bomb Middle England first appeared as a stencilled mural in Banksy's hometown of Bristol. The horizontal detachment of the ladies from the lit bombs comments on the ignorance of those in power to the devastation and damage of war and violence. Banksy's iconic stencilled style is paired here with blocky, minimalistic elements of green which contrast the muted greyscale images of the bombs and ladies.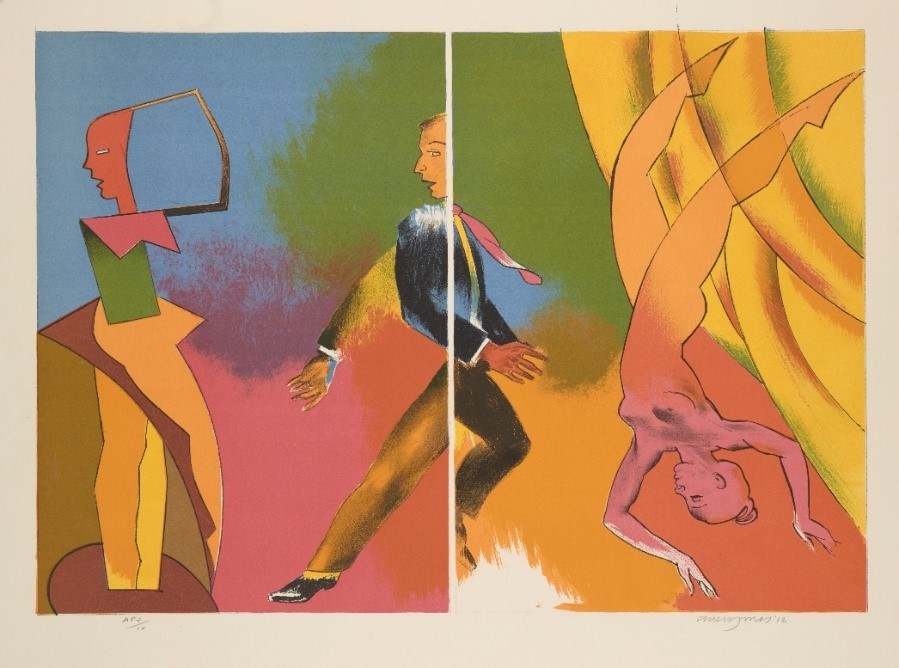 Coming with an estimate £7,000- £10,000 is lot 424 by British artist Allen Jones RA. These works typifies Jones's famous imagery depicting highly stylised dancers in bright colours.  Made in 2012; the complete suite of six lithographs in colours, are each signed, dated and numbered AP 8/10 in pencil, and has an artist proof aside from the edition of 40. The collection includes the works titled Gentleman's Excuse me; Just Like That; Second Thoughts; Split Performance; Swing low; and Two Part invention.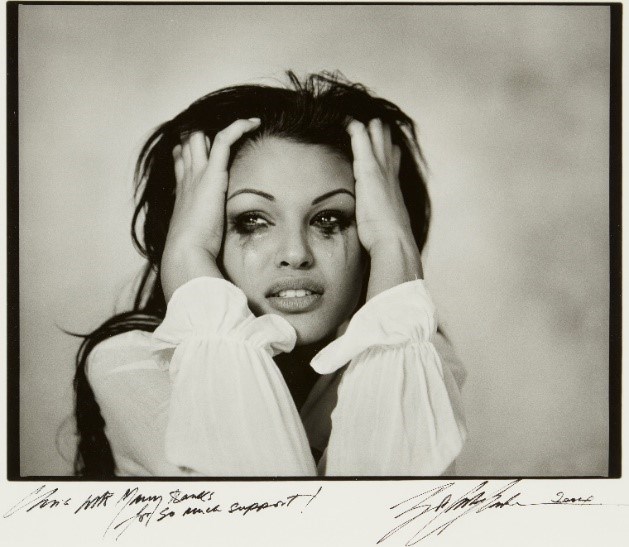 Entered onto the market with an estimate of £6,000- £8,000 is lot 523 by Irish photographer Bob Carlos Clarke, 1950-2006. On offer is his work titled Cry Baby, 1995, 2004; gelatin silver print on photo paper, which comes accompanied with a copy of his hardback monograph Shooting Sex. Famed for his photography of the female nude, as well as commercial photography such as in the book White Heat, Carlos Clarke produced a dramatic portfolio of works over his 30 year career. Cry-Baby, the print on offer, is said to be the artist's favourite image and displays an accomplished ability to study to more emotive portrait in contrast to his erotic pictures.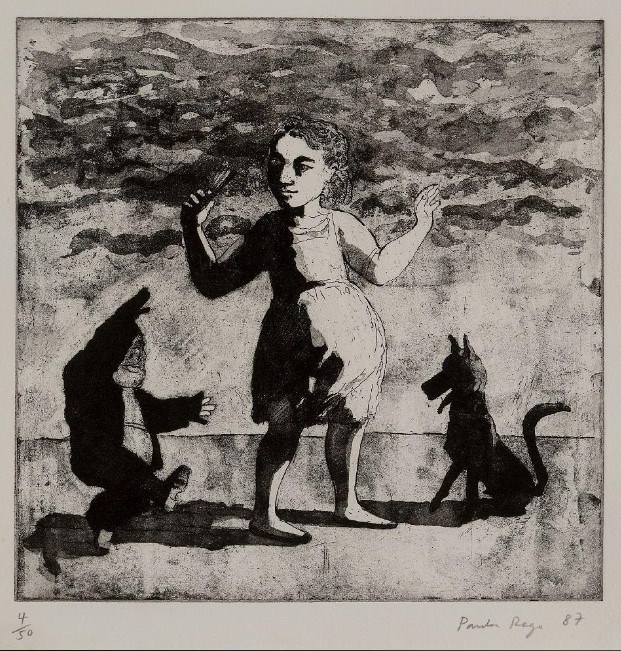 Lots 379 and 380 included in the day two auction are etchings with aquatint on wove by Portuguese-British eminent artist Paula Rego, who recently passed away. Her poignant and strong vision on the tremors of the world established her as one of the most relevant European artists today. In 2021, Dame Paula had a retrospective exhibition at the Tate Britain gallery in London, which described her at the time as "an uncompromising artist of extraordinary imaginative power", who "revolutionised the way in which women are represented". The works included are 'Girl with Little Man and Dog, 1987' estimated to make  £1,000- £1,500 and 'Sewing on the Shadow I' 1992 estimated to make £700- £900.
Ends
Day One: Modern & Contemporary Prints & Multiples
Tuesday 5 July, 10.00 am
Day Two: Modern & Contemporary Prints & Multiples
Wednesday 6 July, 10am
Viewing times at Roseberys Showroom 
Thursday 30 June 9.30am – 5.00pm
Friday 1 July 9.30am – 5.00pm
Sunday 3 July 10.00am – 2.00pm
Monday 4 July 9.30am – 5.00pm
Please contact prints@roseberys.co.uk for more information