Strong sales in every era and style in the Modern & Contemporary British Art auction
7/06/2021 Modern & Contemporary British Art, News Stories & Press Release
Roseberys were pleased to present the Modern & Contemporary British Art auction, that took place on Tuesday the 25th of May.  The sale, which encompassed 230 lots, traced the history of Britain from 1900 to the present day, from the Edwardian era, through two world wars and into the post-war and post-modern world, and featured a wide selection of paintings, sculpture, and works on paper by British artists. It was the second of three sales for the Modern & Contemporary British Art department at Roseberys this year, and the first for the new head of sale, William Summerfield. The top ten highest value lots sold to buyers within the UK, who either bid on the phone or online, with a macquette of Sir Winston Churchill, for the monument in Parliament Square by Ivor Roberts-Jones RA, making the highest hammer price.
Head of Sale, William Summerfield commented on the auction: 'The May Modern and Contemporary British Sale was extremely successful with a sell through of over 84%, with strong sales in every era and style. We had a large amount of bidding done online, but with phone bidders really driving home the higher-value lots. The viewings before the sale were very popular and show that the public are still very keen to visit sales where possible. It was very exciting to have people back in the room bidding, albeit in very small numbers! The sale of the Boyle Family triptych for £55,000 was particularly exciting, as there did not appear to be a huge amount of interest before the sale, but we then had multiple buyers competing on the phone. We had two large groups of lots by David Leverett and Tessa Newcombe; all works by these artists were sold. This was particularly rewarding for the works by David Leverett due to the artist's recent passing in 2020.'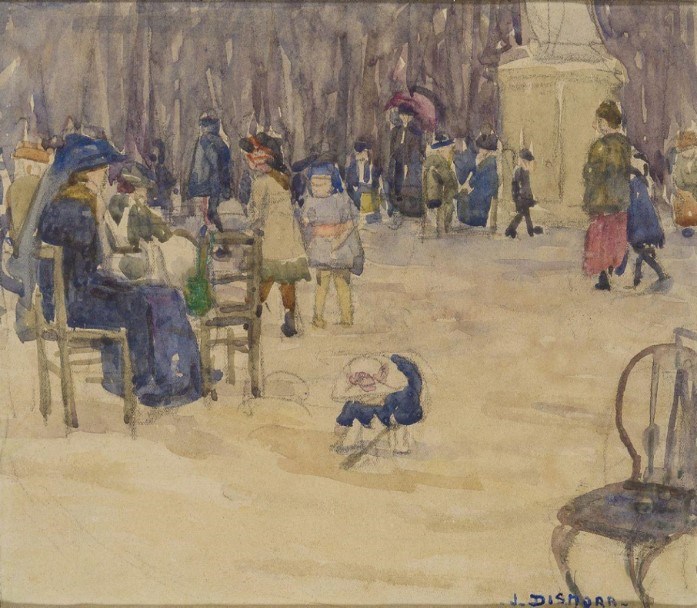 Jessica Dismorr, British 1885-1939 - Luxembourg Gardens, c.1910; Watercolour on paper
Lot 1 started the sale off well. Entered onto the market with a pre-sale estimate of £1,200 -£1,800, lot 1 was a watercolour on paper by Jessica Dismorr, titled 'Luxembourg Gardens'. The watercolour sold to a RoseberysLive online bidder, against multiple phone bidders, for the price of £4,250. Created in 1910, the watercolour came complete with a surprise pencil nude drawing on the verso, by the same artist. Jessica Dismorr was an important figure in early British Modernism, exhibiting with the Vorticist group alongside William Roberts and Wyndham Lewis. These early works by the artist made in France demonstrate the influence of Fauvism and Post-Impressionist art on her work, at a time when the artist was involved with the innovative 'Rhythm' group, which included J.D. Fergusson and Anne Estelle Rice. The sale of this lot follows a strong trend of works by Dismorr selling at Roseberys auctions, all far exceeding their top estimates. This particular work is the highest price paid at auction for a watercolour by the artist.
William Roberts RA, British, 1895-1980 - The Dressing Room, 1966; pen, black ink, black chalk and watercolour on paper
Estimated to make £20,000 - £30,000, lot 10, titled 'The Dressing Room' was a fantastic example of William Robert's mature style, in its complex, colourful and humorous composition. In this work the artist focuses on the bustle of everyday life, creating a sense of energy and rhythm in this backstage look at a women's dressing room. The sculptural quality of the figures was also influenced by the work of Fernand Leger. A study for this piece, 'Beauty queens: Study for "The Dressing Room"' is now in the Tate Collection. The 1960s was an important period in the artist's career, that saw a major reappraisal of his work following a retrospective at the Tate in 1965. William Roberts was a pioneering British artist, developing his self-proclaimed 'English Cubist' technique that combined naturalism with a modernist approach to form before the First World War. Roberts joined Roger Fry's Omega Workshop, with Duncan Grant and Vanessa Bell, as well as exhibiting with the Vorticist group, formed by Wyndham Lewis and Edward Wadsworth. This work sold to a phone bidder for the top pre-sale estimated price of £30,000.
Ivor Roberts-Jones RA, British 1916-1966 - Sir Winston Churchill, maquette for the monument in Parliament Square, c.1971-3; bronze with stone base
 Lot 16 with an estimate of £30,000 - £50,000 went for the highest value within the sale, with numerous online and phone bidders competing for the maquette, it was finally secured to the lucky bidder over the phone for 68,750. It is a piece by Ivor Roberts-Jones RA, British 1916-1966 - Sir Winston Churchill, maquette for the monument in Parliament Square, c.1971-3; bronze with stone base, cast in the Meridian Bronze Foundry in an edition of 500, numbered '234' on bronze base, inscribed 'Churchill' on stone base. Robert-Jones is most famous for his sculpture of Winston Churchill, commissioned in 1971, which now stands in Parliament Square. This smaller maquette of the sculpture was created due to the enduring popularity of the work, which is one of the most recognisable public works of art in the UK. One of the maquettes for an earlier version of the work, which depicts Churchill in his garter robes, was donated to the National Churchill Library and Centre in Washington D.C. by the Centre's chairman Laurence Geller. Roberts-Jones was one of the founding members of the Society of Portrait Sculptors, and from 1964-1978 he was the head of the sculpture department at Goldsmiths.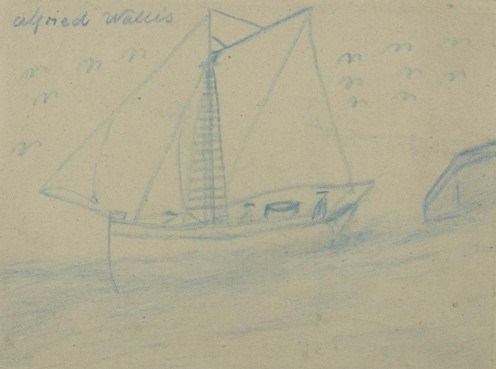 Alfred Wallis, British 1855–1942 - Untitled (Double-sided); pencil on card
Lot 25 is a drawing by Alfred Wallis which made £6,250. Alfred Wallis was celebrated for his distinctive naive paintings focused on his home town of St. Ives. He was famously 'discovered' by Christopher Wood and Ben Nicholson during a trip to Cornwall in 1928 and become an inspirational figure in British Modernism. His work is now in collections including the Tate and Kettle's Yard. This is a rare double-sided signed drawing by the artist, which was competed for by numerous online and phone bidders on the day of the auction.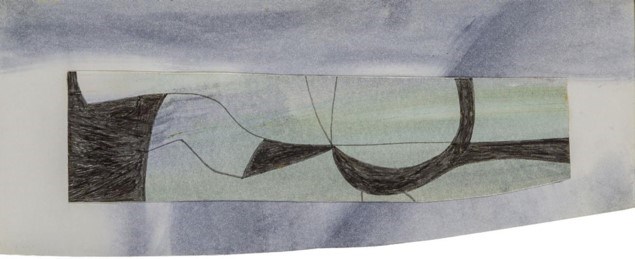 Ben Nicholson OM, British 1894–1982 - Wall on Beach, 1979; ink and wash on paper
Lot 26, an ink and wash on paper, titled and dated verso 'Nicholson May 79 Wall on Beach', by the renowned British Artist Ben Nicholson OM, made £13,750, against a pre-sale estimate of £8,000 - £10,000 to a RoseberysLive online bidder. Ben Nicholson was a central member of the St Ives School in the early 20th century, and exerted an immense influence on the shape of British art to follow. Nicholson, the son of artists William Nicholson and Mabel Pryde, studied at The Slade in 1910-11, alongside contemporaries such as Stanley Spencer, Paul Nash, and Edward Wadsworth. This work exemplifies Nicholson's unmistakeable style, particularly his focus on the representation of objects through flattened shapes and blocks of contrasting colours. It is in this manner that Nicholson so powerfully reduces the world around him to its essential forms.

Bryan Kneale MBE RA, British b.1930 - Balance; steel and slate
Lot 34, Bryan Kneale MBE RA, British b.1930 - Balance; steel and slate, coming with a provenance from the The Redfern Gallery, made the highest price at auction for a sculpture by the artist. Against the pre-sale estimate of £1,500 - £2,000, the sculpture was bought by a RoseberysLive online bidder for £10,625. Bryan Kneale originally studied painting at Douglas School of Art in 1947 and then at the Royal Academy Schools, London from 1948 to 1952 where he received a Rome Scholarship in painting (1949-51). In 1960 he moved from painting to sculpting and in 1968 was Head of Sculpture at Hornsey College of Art and Design.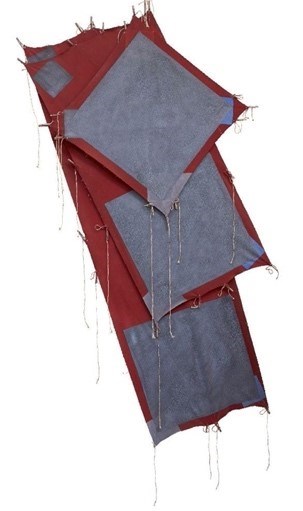 Richard Smith CBE, British 1931-2016 - Far Corners, 1979; acrylic on canvas, mixed media construction in three pieces
Entered onto the market with an estimate of £8,000 - £12,000, was this piece by Richard Smith CBE, British 1931-2016 (lot 43), titled 'Far Corners', 1979; acrylic on canvas, mixed media construction in three pieces, each signed, titled, dated and numbered on an attached canvas tag 'R Smith Far Corners 79'. This work is one of the 'kite paintings' for which the British artist Richard Smith was particularly well-known, and which were first exhibited in New York in 1971. In these works, Smith essentially deconstructs the painting, drawing attention to the medium of the canvas and stretcher as key elements of the artwork which are all too often overlooked. In transforming the work into a kite in this manner, Smith explores the very nature of a painting, and the boundary between this and sculpture. This iconic work was sold for £10,000 to an online bidder.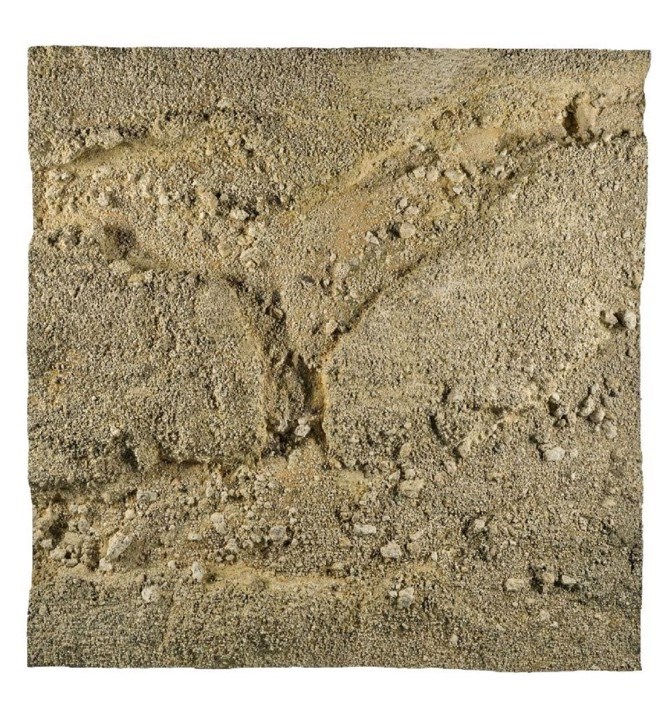 Boyle Family, Scottish (Mark Boyle 1934-2005 - Joan Hills b. 1931 - Sebastian Boyle b. 1962 - Georgia Boyle b. 1963 - ) - Coral Quarry Triptych, 2001-02; mixed media, resin, fibreglass, sculpture in three parts
An interesting highlight within this sale is lot 46, which sold for £55,000 against a pre-sale estimate of £12,000 - £18,000, to a phone bidder in the UK. Lot 46 is a mixed media sculpture by the Boyle Family. Mark Boyle and Joan Hills began collaborating in the 1960s, later joined by their children Sebastian and Georgina. They are best known for their exacting earth studies, whereby the artist pick at random a spot on the globe and meticulously replicate it, creating a representation of the earth within the clean space of the gallery. The present work was first exhibited in 2015 at the Abbot Hall Art Gallery. This exhibition saw the artists entering into the dialogue between the Lake District and the great British landscape tradition, subverting the traditional expectations of such an exchange. In the words of curator Nick Curator 'once you've seen their work in the flesh you'll never look at the infinite variations of the tarmac, soil, concrete, rock or sand that we walk on in quite the same way ever again.'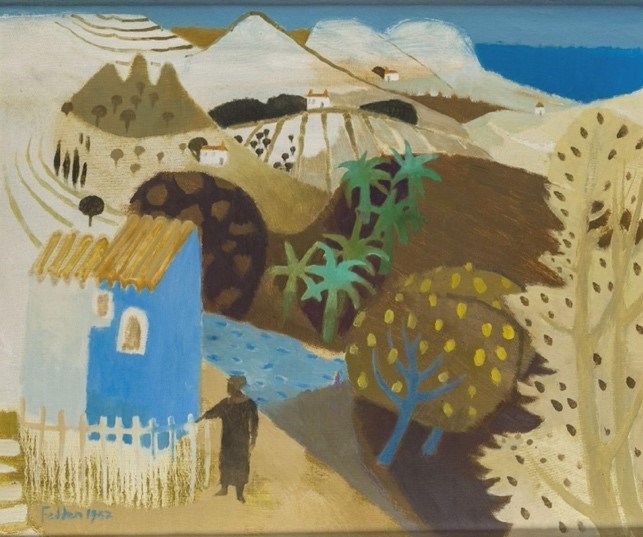 Mary Fedden OBE RA RWA, British 1915–2012 - The Blue House, 1962; oil on canvas
Rounding up the highlights within this sale is Lot 31 a work by Mary Fedden which had a presale estimate of £7,000 - £9,000.  'We were very fortunate to have this work by Mary Fedden that has been in a private collection for many years. Mary Fedden is one of the most beloved British artists of the twentieth century, known for her harmonious and carefully composed landscapes and still lifes', noted William Summerfield on the highlight lot. Against two phone bidders, and numerous online bidders, this lot finally went to a RoseberysLive bidder for £17,500 – close to double, its pre-sale estimate. This work is an excellent example of her nature style, in its bright palette and flattened perspective, that is comparable with her contemporaries Winifred Nicholson and Anne Redpath.
-Ends-
The next Modern & Contemporary British Art auction will take place on Wednesday 13 October.
To request a complimentary valuation of your item, please email pictures@roseberys.co.uk