Strong international demand secures over 90% of lots sold
20/12/2019 News Stories & Press Release, Impressionist, Modern & Post War Art
LONDON: International buyers were out in force for Roseberys 255-lot sale of Impressionist, Modern, Post War & Contemporary Art, securing over 90% of the lots sold and competing fiercely for the best works on offer. A truly global sale, it contained eye-catching artworks from Europe, Africa, North and South America and Australia, with the international market responding especially well to rare works of quality with good provenance by established artists.
Tess O'Brien, Head of Sale, comments: We were delighted with the results of our second sale of the year. We had many works from European collections and once again over 90% of the lots were sold to buyers outside the UK.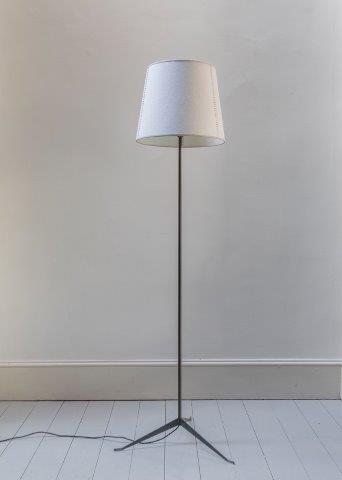 Alexander Archipenko, Russian/ American 1887-1969- Untitled (Stylised Standing Figure) circa 1925; gouache on paper
Attracting special attention were a selection of paintings and sculpture by 19th and 20th century artists who had been drawn to Paris during its artistic prime. Among them was a striking c.1925 Cubist gouache of a stylised standing figure was Ukrainian-born American artist and sculptor Alexander Archipenko (1887-1969). This particular work is believed to have been created during his years in Germany. It had sold at Roseberys in 2013 for £6,800. It proved a canny investment when the hammer came down at £23,750 this time with four phone lines in the mix to own it. Archipenko was an early follower of Cubism in Paris. He explored the human figure through concave and convex forms and developed unique and innovative sculptures that earnt him the status as one of the leading sculptors of the movement. A relief construction closely resembling the gouache titled 'Woman' and executed in 1923 is in the Yale University Gallery's collection. [Lot 25].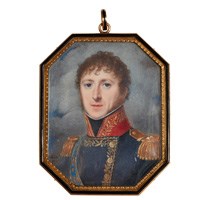 Bela Czobel, Hungarian 1883-1976- Intérieur à Paris, late 1920s; oil on canvas
Intérieur à Paris, a rare Parisian subject by the Hungarian artist Bela Czobel (1883-1976), was taken to £18,750, more than double its top £6,000 estimate.
The late 1920s oil on canvas was most likely painted in Montparnasse where Czobel had a studio between 1925-1939. It came via direct descent from the Hungarian art collector Paul Szeben. [Lot 20]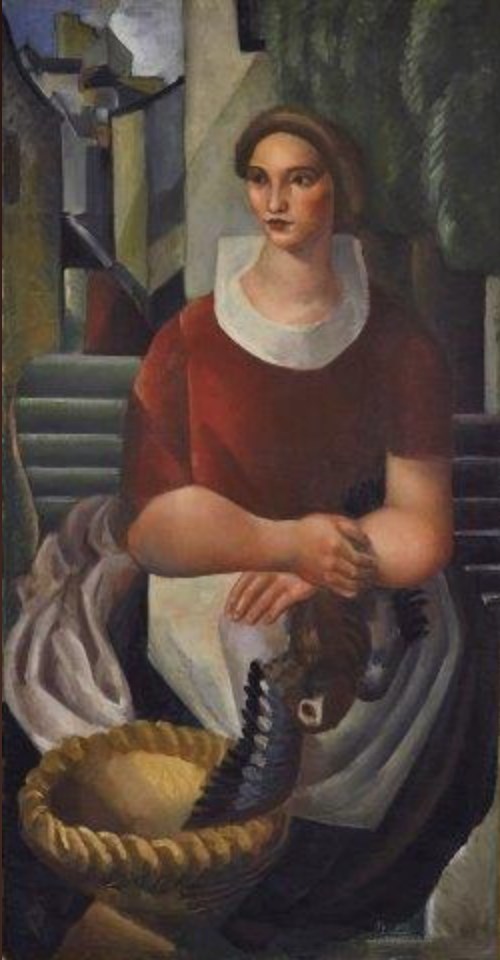 Roger Bissiere, French 1886-1964- 'Jeune Femme Plumant un Perdreau' 1922; oil on canvas
Another rarity was a figurative work by the French artist Roger Bissière (1886-1964), best known for his stained-glass window for Metz cathedral and other churches.
The 1922 work is thought to depict the wife of the French Cubist painter André L'hote, whom he befriended along with Georges Braque when he became a member of the new Paris School. Bissière was encouraged to develop a more humanised version of Cubism and is known for this unique contribution to the movement. Carrying modest hopes of £2,500-3,500, the portrait made £9,750. [Lot 24]

Jean Souverbie, French 1891-1981- 'L'ete', 1976; oil on canvas
These works were complimented by a private offering of 20th century 'Paris School' art by both foreign and French painters. Among them was a characteristic neoclassical-inspired Greek nude by Jean Souverbie (1891-1981) from 1976.  Influenced by Pierre Bonnard, Édouard Vuillard and Braque, Souverbie is best known for his paintings which were unique modern interpretations of neoclassical art and Greek sculptures. In this late work, dated '1976', Souverbie took the neoclassical theme of the reclining nude and approached the form as a Greek sculpture. A rare piece to be offered in a London saleroom, it found a buyer at £10,000. [Lot 111]

Marie Raymond, French 1908-1988- Composition; oil on canvas
Further highlights included Composition, a large, bright and bold canvas in oils by Marie Raymond (1908-1988), a leading female exponent of 'Abstraction Lyrique' and the mother of the renowned artist Yves Klein. Returning to auction for the first time in nearly two decades at a time when appreciation for women painters is growing, it sold above top estimate for £7,500. [Lot 32]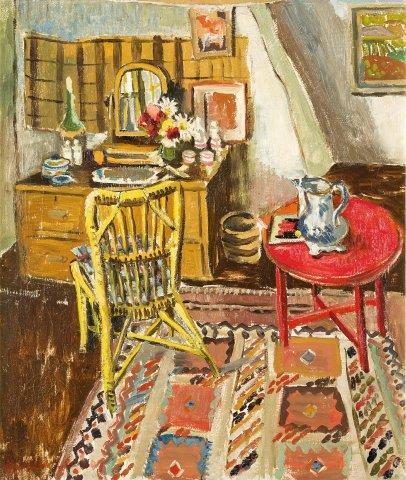 Freida Lock, South African 1902-1962- Interior, 1960; oil on canvas
A selection of African artwork sold well including a £12,500 colourful interior scene by the significant South African woman artist Freida Lock (1902-62). It was the first time the painting had been on the market since it was purchased from Lock's art dealer. Lock explored a number of genres throughout her artistic career but is perhaps most renowned for her balanced and colourful interior scenes. She was one of the founding members of the New Group (1938-54), an artistic circle made up of young South African artists, including Gregoire Boonzaier, Lippy Lipshitz, Cecil Higgs and Terence McCaw. Lock and her contemporaries brought a unique and innovative style to the conservative South African art scene, sometimes even being referred to as the 'Cape Impressionists'. [Lot 63]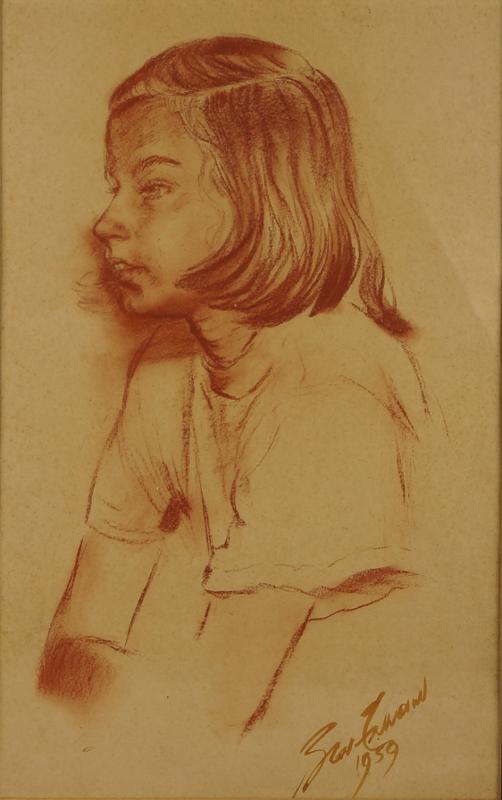 Benedict Chukwukadibia Enwonwu MBE, Nigerian/British 1917-1994- Portrait of a young girl, head and shoulders, 1950; red chalk on coloured paper
From a private London collection came three chalk and charcoal studies by the Nigerian-born artist Benedict Chukwukadibia Enwonwu (1917-1994), one of the most influential and pioneering African painters of the 20th century. Enwonwu studied fine art at Government College in Nigeria before being awarded a scholarship in 1944 to study in the UK at the Slade School of Fine Arts, where these studies were made. A chalk portrait of a young girl, 1950, sold for £6,500 (£1,500-2,000), a standing male nude, 1946, made £4,750 (£2,000-3,000) and a charcoal drawing of a seated female nude took £3,250(£2,000-3,000). [Lot 64-66]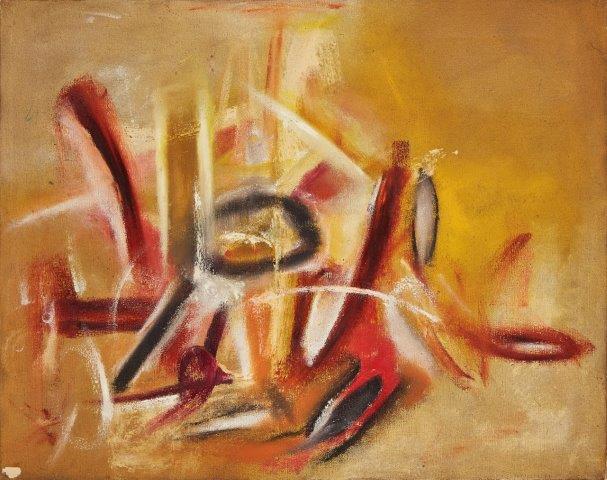 Aubrey Williams, Guyanese/ British 1926-1990- 'Savannah Sun', 1959; oil on canvas
Selling well above estimate for £4,000 despite the work requiring some restoration was Aubrey Williams' (1926-1990) Savannah Sun. The 1959 oil on canvas was purchased in 1965 at the Commonwealth Institute in London by the vendor's father and is similar to the Guyanese artist's abstract work, Death and the Conquistador, also from 1959, which is in the Tate collection.
Williams is best known for his large, oil-on-canvas paintings, which combine elements of abstract expressionism with forms, images and symbols inspired by the pre-Columbian art of indigenous peoples of the Americas. [Lot 95]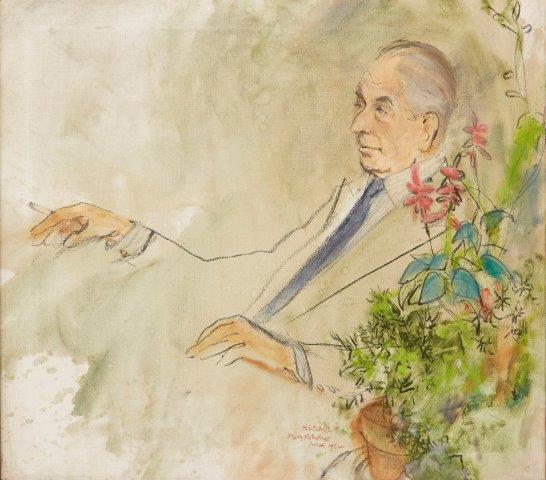 Henry Koehler, American 1927-2018- Portrait of the art dealer Charles B. Moses, Rome, 1962; oil and crayon on canvas
Nine lots of Austrian, German and American works came from the estate of the American art dealer Charles B Moses, owner of Galleria 88 in Rome who gained a reputation for exhibiting emerging artists. The group contained a mix of affordable oils and works on paper from the 1950s and '60s by the likes of Eugene Berman (1899-1972), Gene Charlton (1909-1979) and Jacques Gabriel (1934-1988). Many had been given as gifts by artists to Moses. The top lot here was Jack Frankfurter's (b.1929) 'Vento dal SVD', a c.1950s oil on canvas knocked down at a multi-estimate £2,200. Frankfurter's first solo exhibition was held at Galleria 88 in 1961. From then on, the gallery held an exhibition of Frankfurter's works every year until its closure in 1972. [Lots 80-88]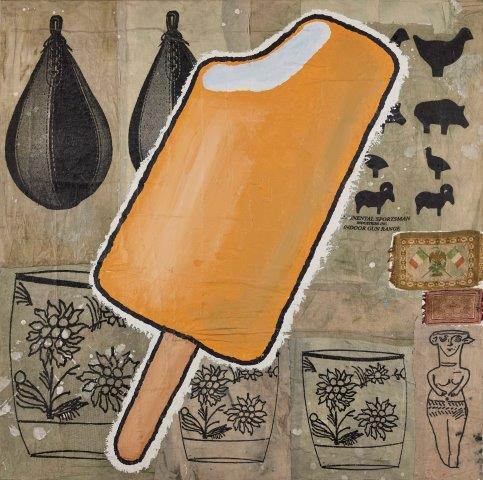 Donald Baechler, American b. 1956- 'Creamsicle', 1999; acrylic and fabric collage on canvas
Elsewhere, four phone lines and action online pushed Creamsicle, a Pop Art-style acrylic and fabric canvas from 1999 by Donald Baechler (b.1956), to £8,750. Naïve child-like depictions of iconic items such as flowers, birds and ice cream are iconic for the American artist, who was a key figure in the Neo-Expressionist and Pop Art movements during the 1980s. [Lot 182]
For further information please contact Peigi Mackillop peigimackillop@roseberys.co.uk +44 (0) 20 8761 2522