Street Art Tour in East & Central London : Part One
22/05/2020 Modern & Contemporary British Art, Prints & Multiples , News Stories & Press Release, Artists & Makers
Galleries and museums may be closed at the moment, but you can find art elsewhere in London.
Here Peigi Mackillop, our Marketing & PR Project Manager shares the street art that she came across during lockdown in and around her neighbourhood of East London.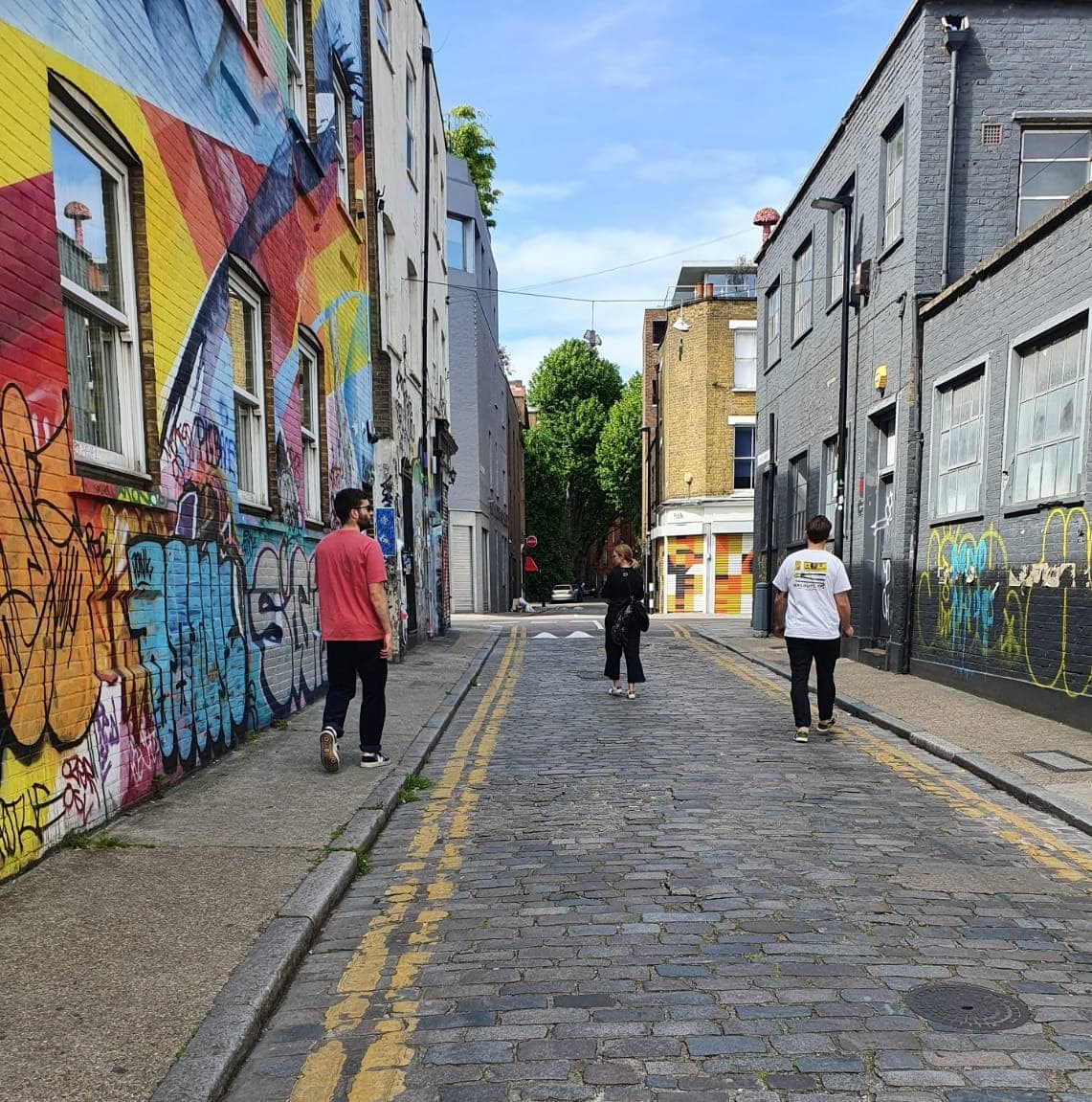 Is it just me? Since lockdown I am now noticing things I never did before. A beautiful old church, a bright pink door, the couple who walk their golden retriever to the park every day at the same time hand in hand, the endless blossoming flowers at the beginning of Spring. Now that I am not hell-bound on making it to the train on time, or marching to the gym or nipping to the shops, I am noticing all the finer details, making me appreciate my surroundings a lot more.
 
Before lockdown, I would spend my spare time being surrounded by … well things I am surrounded by at work.  Weekends would be spent in galleries, museums, rummaging around vintage fairs and in antique shops - I just cannot get enough. During lockdown I seem to be no different. On top of the new and wonderful daily sightings out of the window and during my walks, I am now noticing the ever-changing art everywhere, some by artists whose work we even sell at Roseberys, however this time it's in its natural habitat - the street.
Living in Bethnal Green I am a stone's throw away from amazing street art around East London, in particular Brick Lane. Without a doubt, London has one of the biggest and best collections of un-commissioned street art in the world. Local and international artists have decorated the streets of London with a staggering array of creative works for decades. From unknown artists, to Banksy and small stencils in doorways to painted murals several storeys high – London really is a global force when it comes to its street art scene.

During the weekend, now we are able to venture out a little further and even have sit down when our feet get tired, I decided to set myself a weekend project. Searching for some of the most famous street artists nearby my home and find out more about them. Coming to realise that a lot of these artists work has even passed through Roseberys doors. The everchanging nature of the art made it kind of like a treasure hunt to come by. There is no real map to follow, just areas where the art is populated in, making it more interesting and exciting when you come by a gem. So, if you are quick, you may even be able to find some of these art works yourself.
Banksy
From iconic, political graffiti to daredevil million-pound stunts, Banksy is a world-wide street art legend. The mysterious Bristol-born artist's work is scattered around London, but many don't last long - being cleaned off, defaced, painted over or even stolen.
Pollard Street in Bethnal Green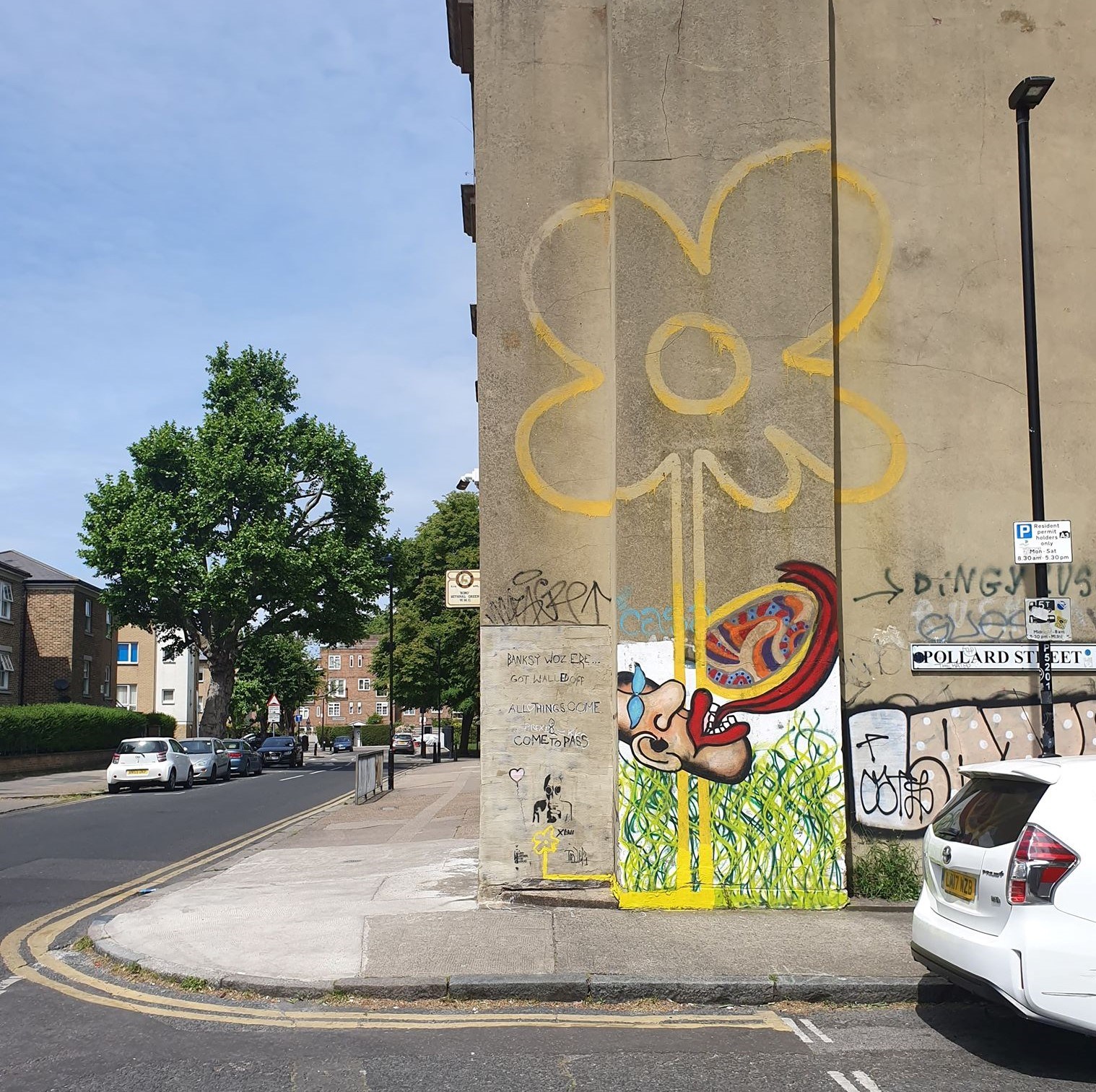 Appearing in 2007, this piece did originally show a resting seated painter next to double yellow lines that veered off the road merging into the stalk of the yellow flower on the wall. It is said at the time of the painting, a photo emerged of a man painting with an assistant at the site, what some said was a rare glimpse of the elusive Banksy. Lucky for me the artwork on the side of The Bethnal Green Working Men's Club on Pollard Street can still be seen today, albeit in a very deteriorated state.
Chiswell Street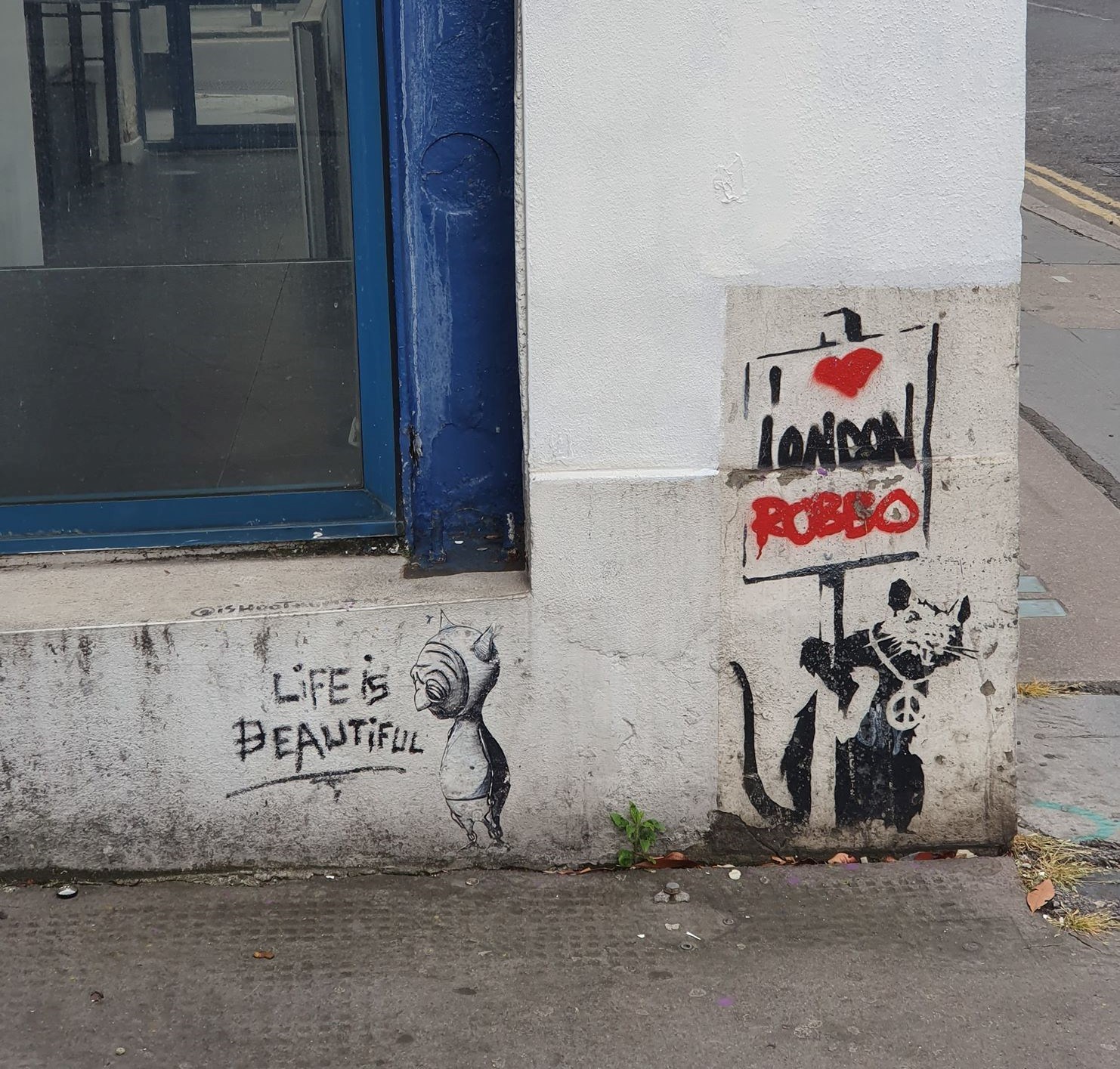 You can find this work on a corner off Chiswell Street near the Barbican. Banksy's stencilled piece of the ghetto rat holding a placard originally read "London doesn't work" however it was reworked with a new message by King Robbo as part of a graffiti turf war. Banksy and artist 'King Robbo' famously had a long feud in which each would deface the others work. A group known as 'Team Robbo' would also play a part in adapting Banksy's work across London. The street art battle came to an end in after Robbo sadly died in 2014.
Barbican
| | |
| --- | --- |
| | |
These two murals by Banksy appeared in September 2017, located outside the Barbican centre in Central London, on the junctions of Beech Street and Golden Lane. Both murals were created just a few days before the opening of the Jean-Michel Basquiat exhibition at the centre as a tribute to the American pioneering artist. The first work by Banksy features a ferris wheel with people queuing up at a ticket booth. The wheel's passenger cars are replaced by crowns, one of Basquiat's recurring motifs. The second mural is inspired by Basquiat's 1982 work "Boy and Dog in Johnnypump". Banksy added two police officers carrying out a search of the figure. Announcing the work on Instagram he added the caption: "Portrait of Basquiat being welcomed by the Metropolitan Police - an (unofficial) collaboration with the new Basquiat show". Another caption read "Major new Basquiat show opens at the Barbican - a place that is normally very keen to clean any graffiti from its walls." Poking fun at the usually clean walls of the brutalist building.
Cargo Club, Shoreditch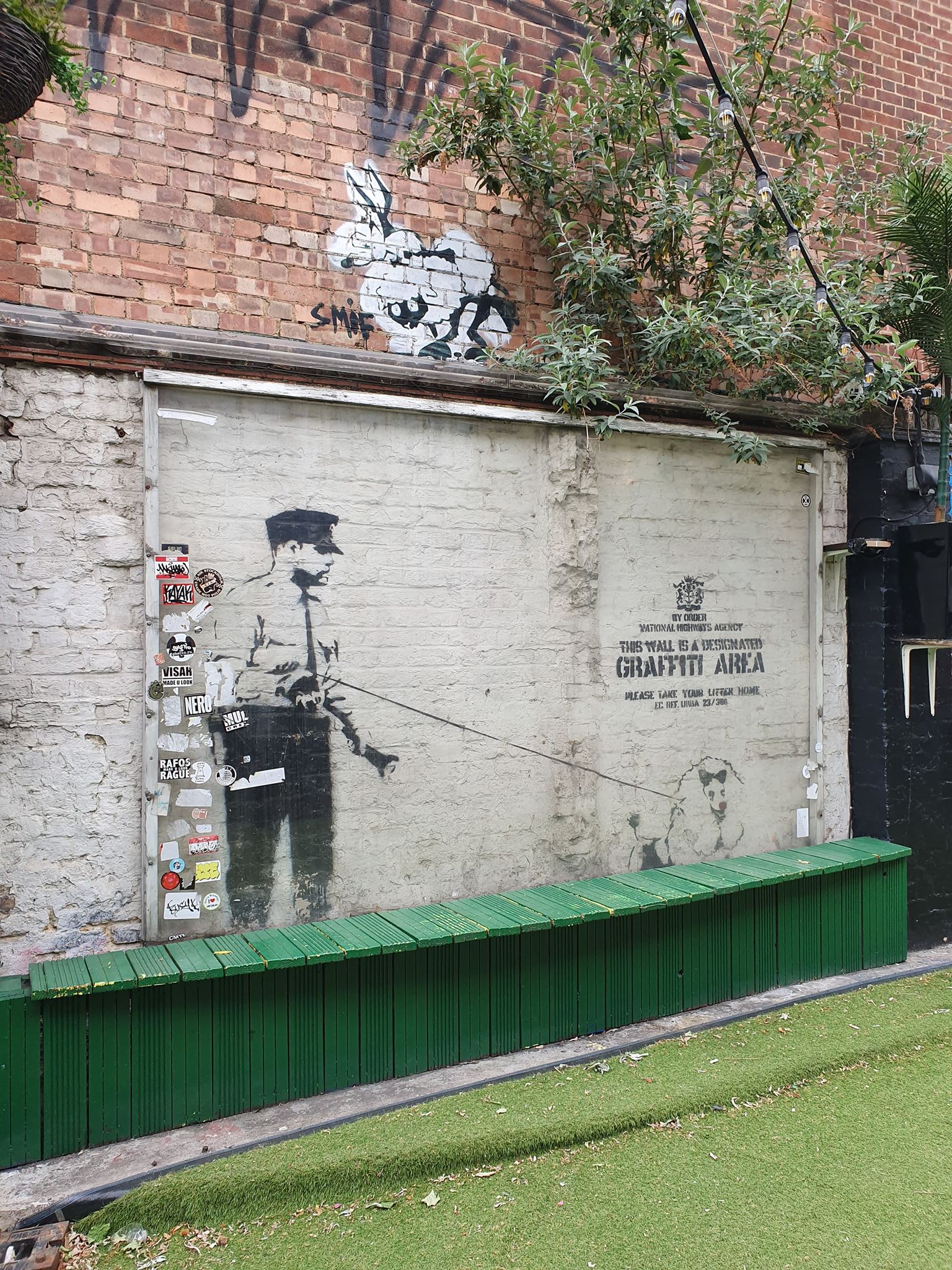 One of the most well-preserved Banksy creations is located inside a club in Shoreditch. The piece in Cargo, which can be seen through the fence, shows a security holding a fluffy poodle on a lead next to a sign reading: 'By order, National Highways Agency, this wall is a designated graffiti area, please take your litter home.' Now covered in Perspex, you can imagine it is used as a backdrop for selfies for the party goers.
You can find work of art coming up for sale or previously sold by Banksy at Roseberys here.
Shepard Fairey 

Frank Shepard Fairey is an American contemporary street artist, graphic designer, activist, illustrator, and founder of OBEY Clothing, who emerged from the skateboarding scene. He first became known for his "Andre the Giant Has a Posse" sticker campaign while attending the Rhode Island School of Design. Today he is probably also known for his artwork portraying Obama's face, with the word 'Hope' written underneath, which became a key image during his election. His work can be seen widely around the streets of London.
Whitby Street, Shoreditch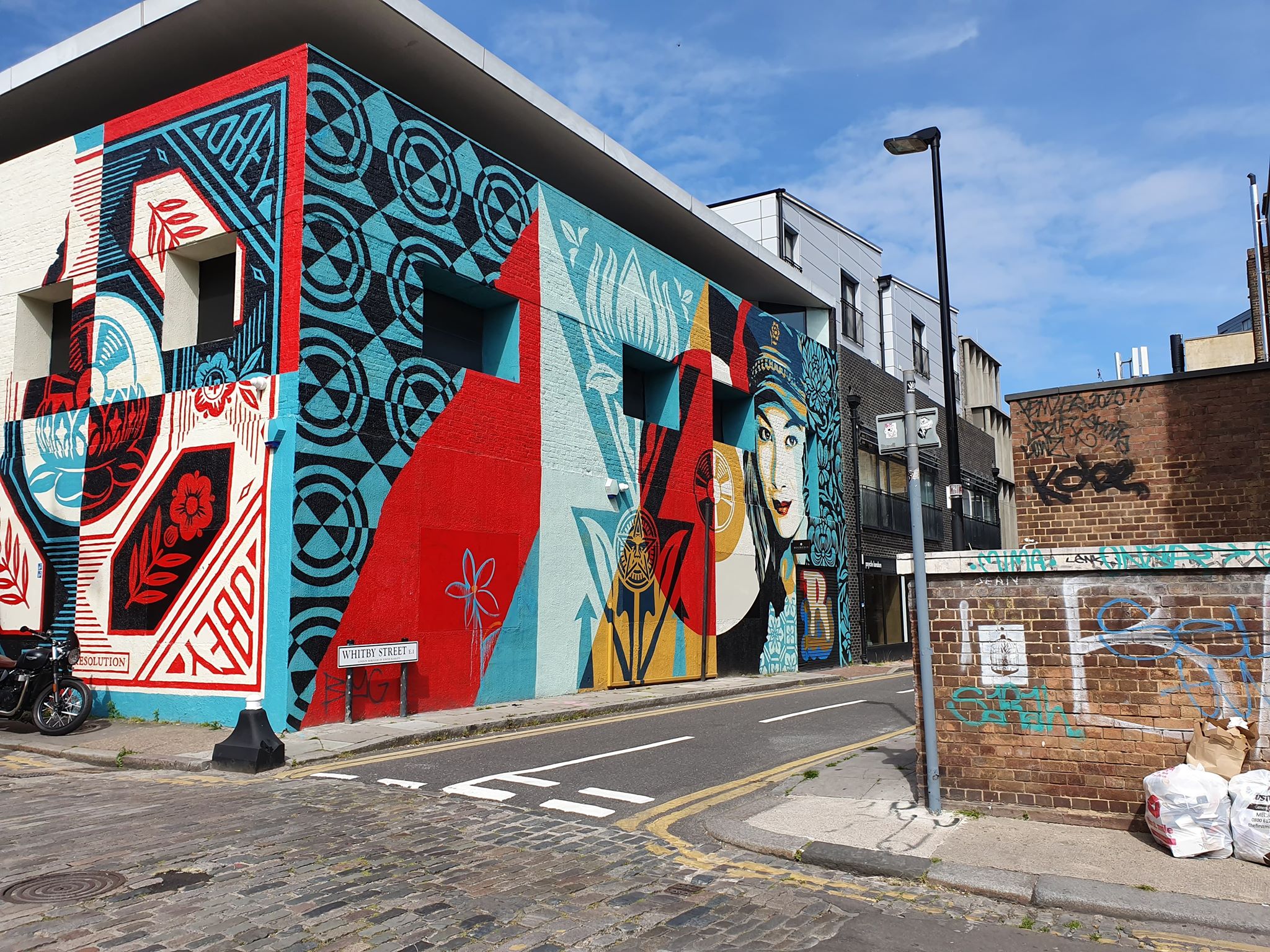 Hanbury Street, Shoreditch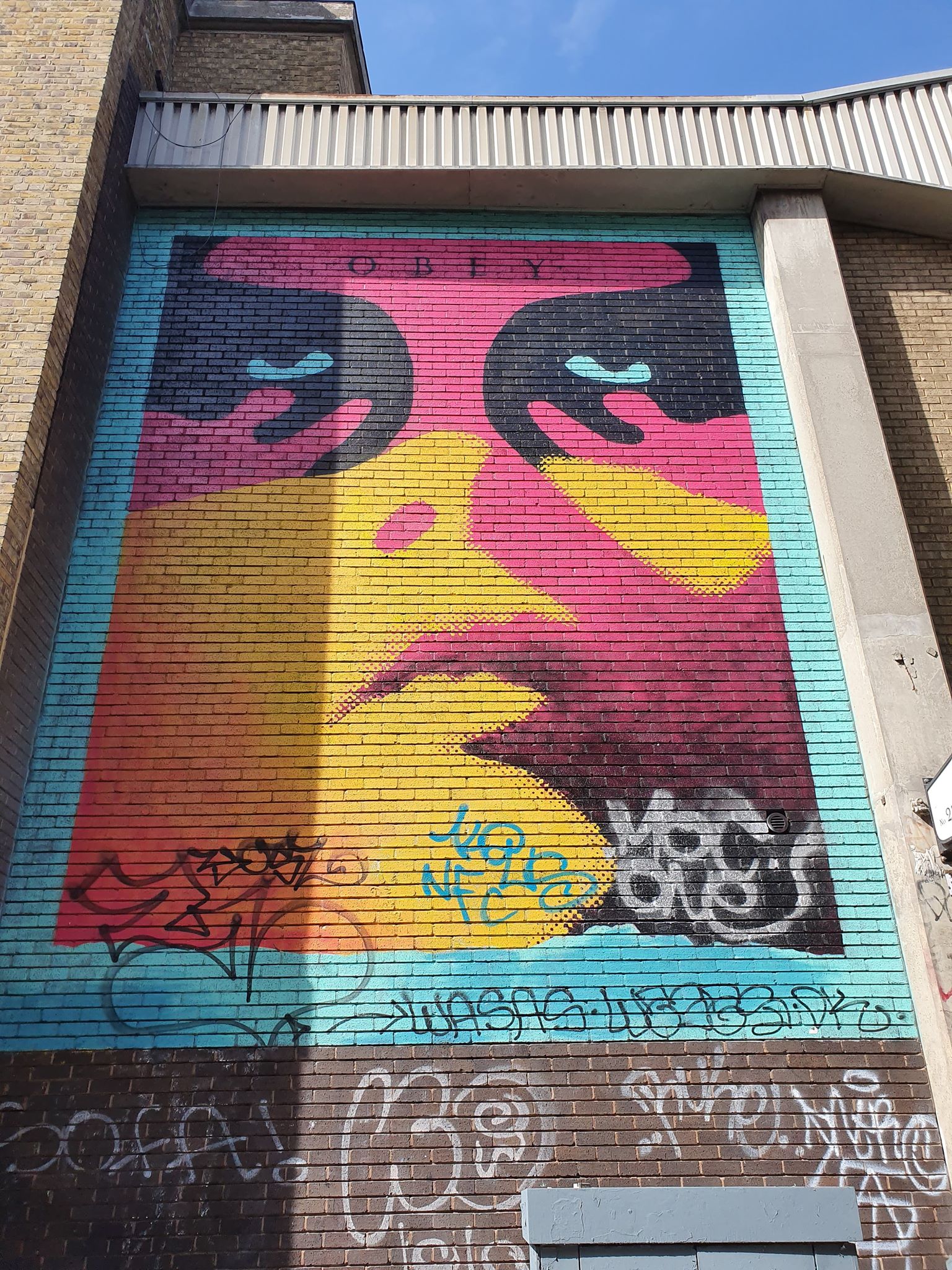 Mare Street, Hackney
You can find work of art coming up for sale or previously sold by Shepard Fairey at Roseberys here.
Stik
Street artist Stik started painting his simple, yet adorable stick men in 2001. Sixteen years later, his line-drawn murals can be spotted on walls all over the capital, hidden in doorways and sometimes if you look up - looming over the skyline. 
Rivington Street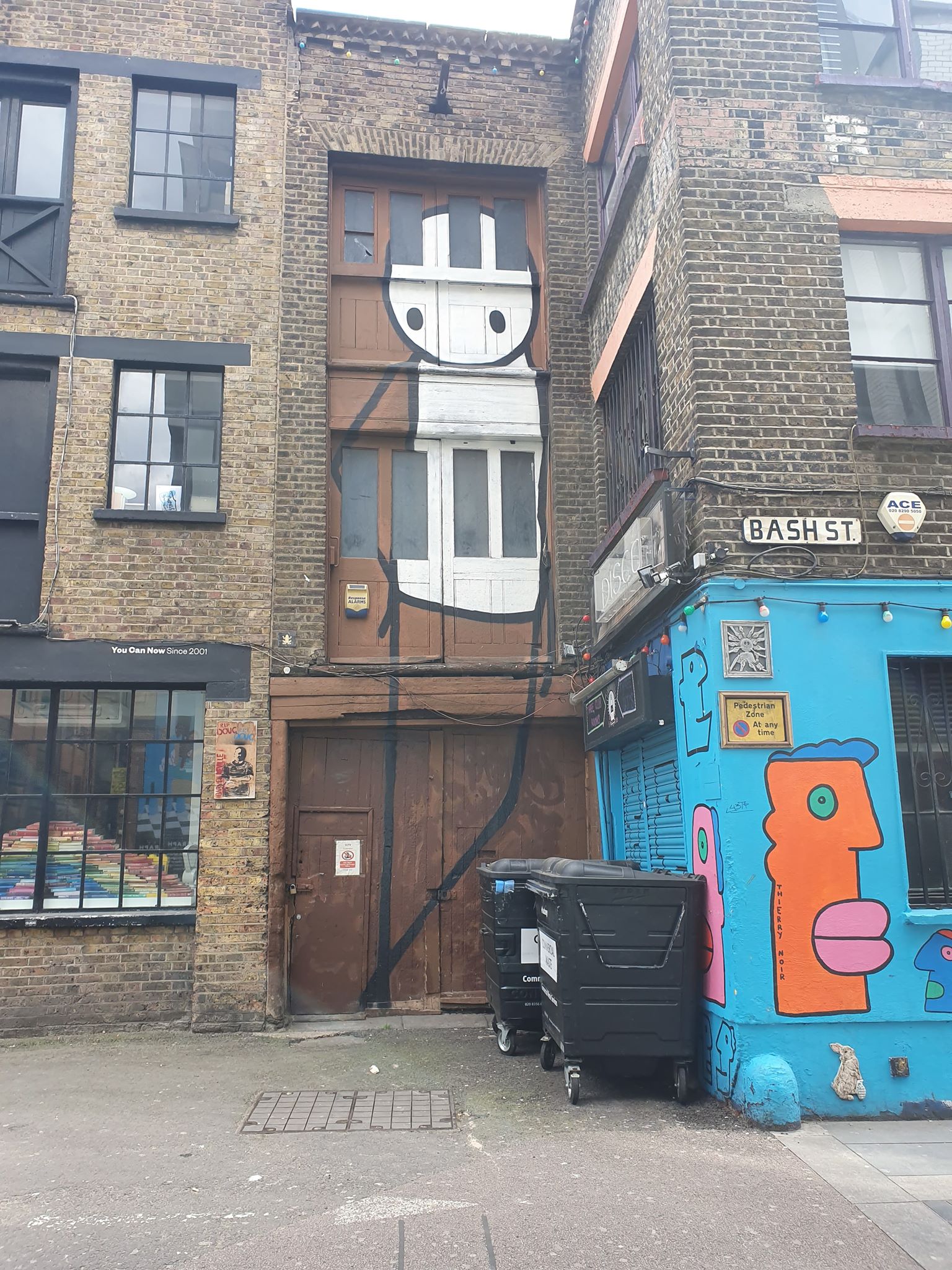 Grimsby Street, off Brick Lane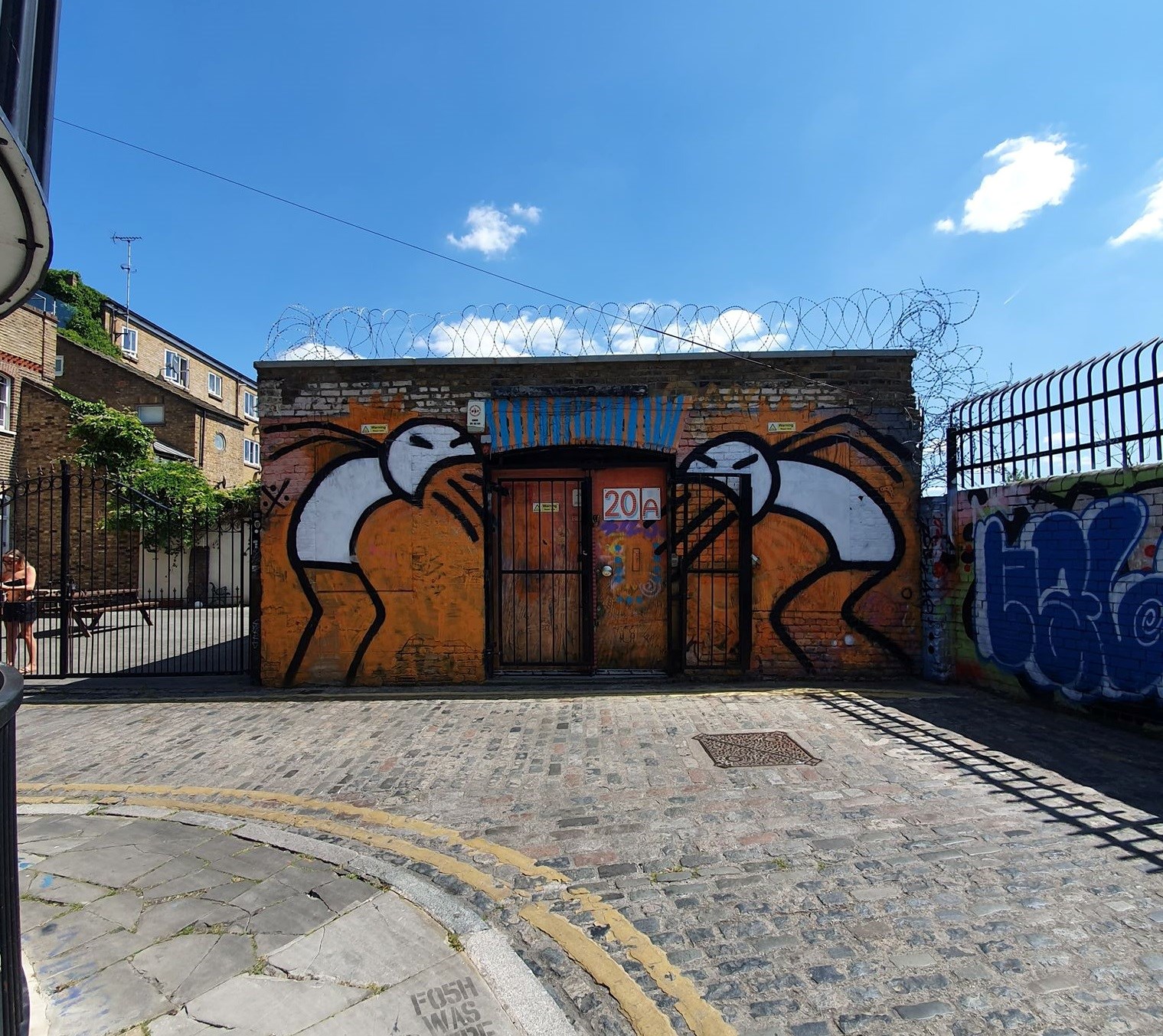 Flowerwarehouse 270 Cambridge Heath Road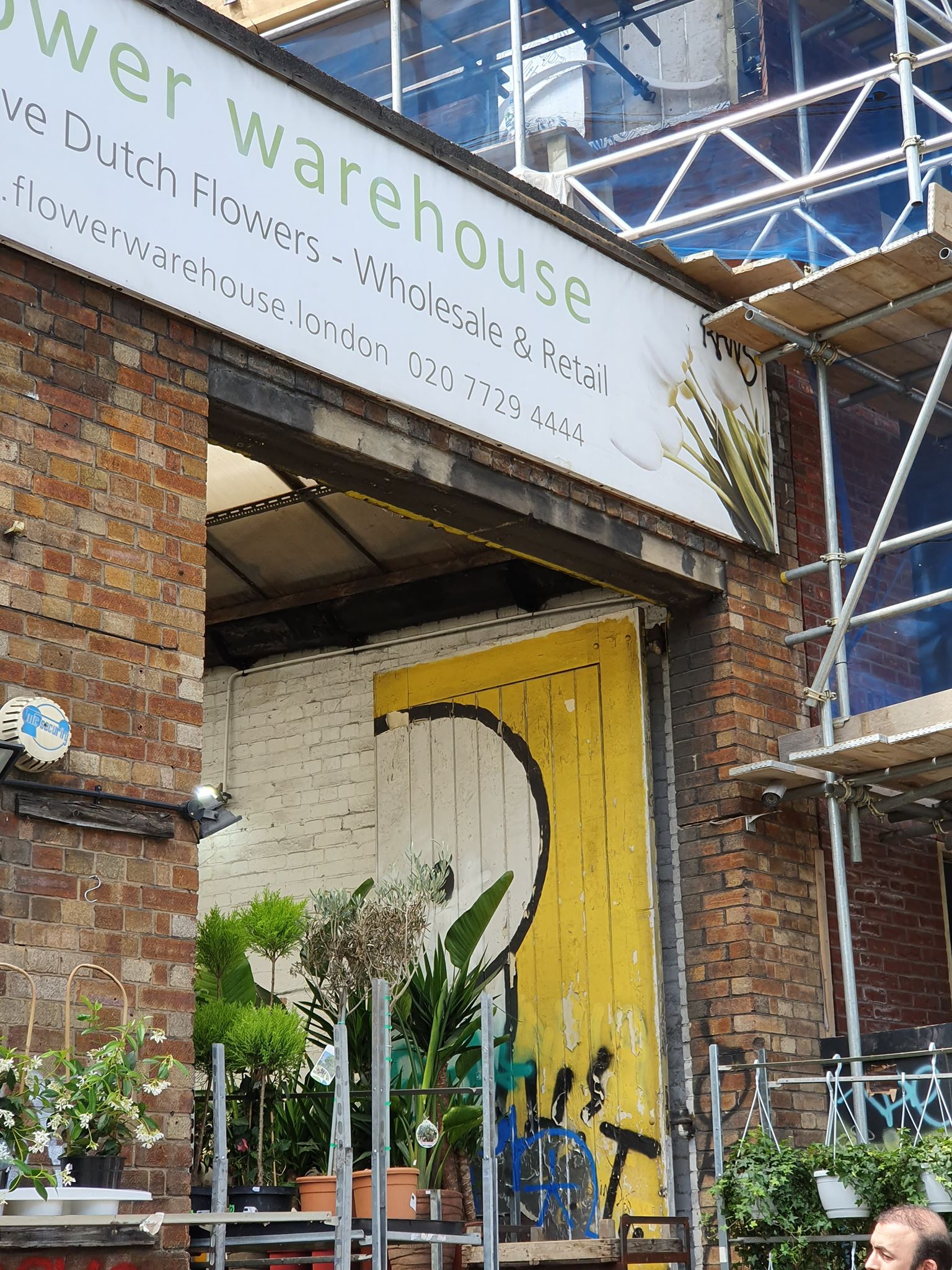 Ben Eine
Born in London, Ben Eine is one of the most successful street artists in the world and is regarded as a pioneer in the exploration of graffiti letterforms. Originally a graffiti writer, Eine started his career over 30 years ago, leaving his first tag all over London before developing his distinct typographic style.
Ebor Street, Shoreditch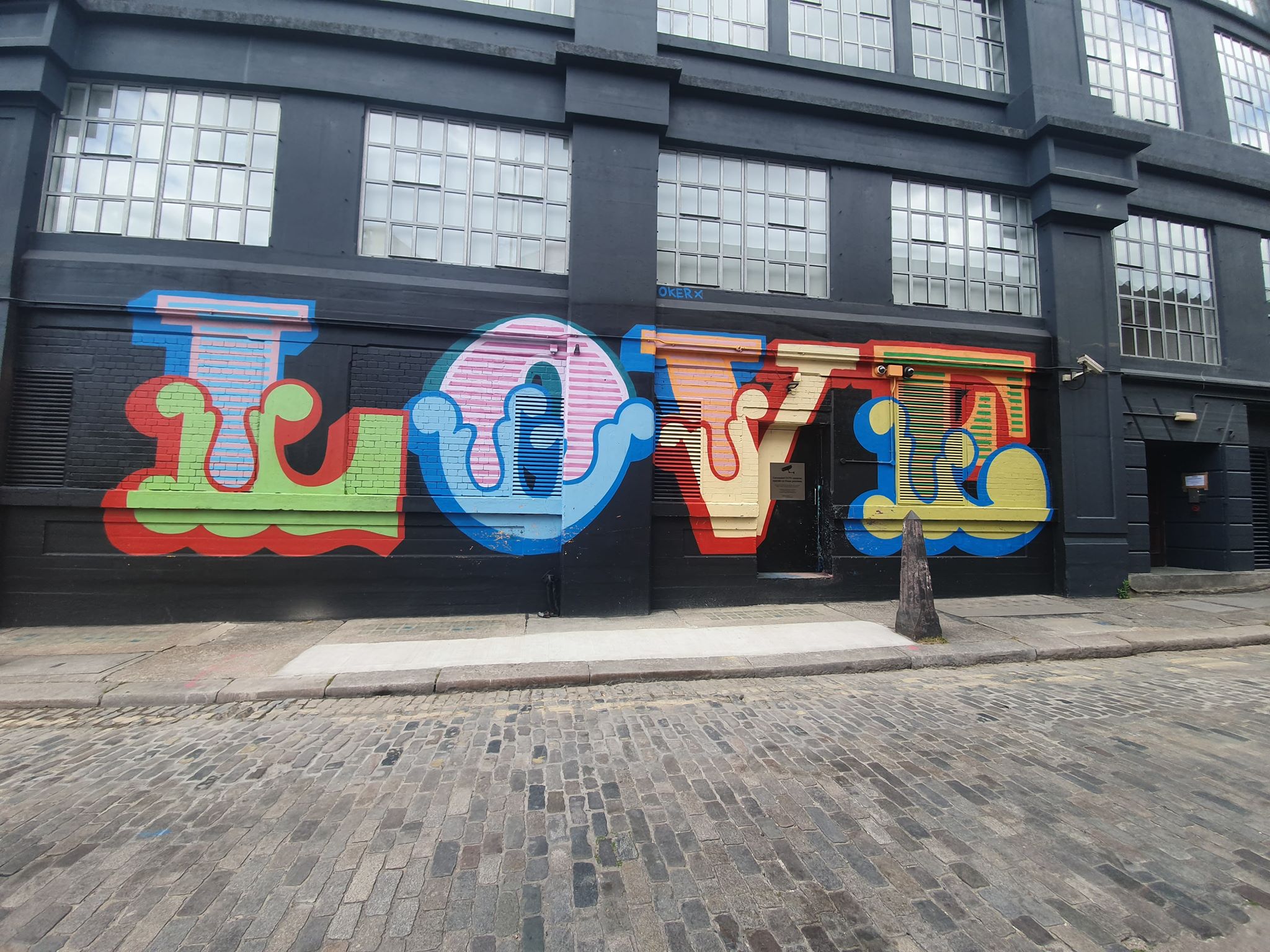 Shutter near Broadway Market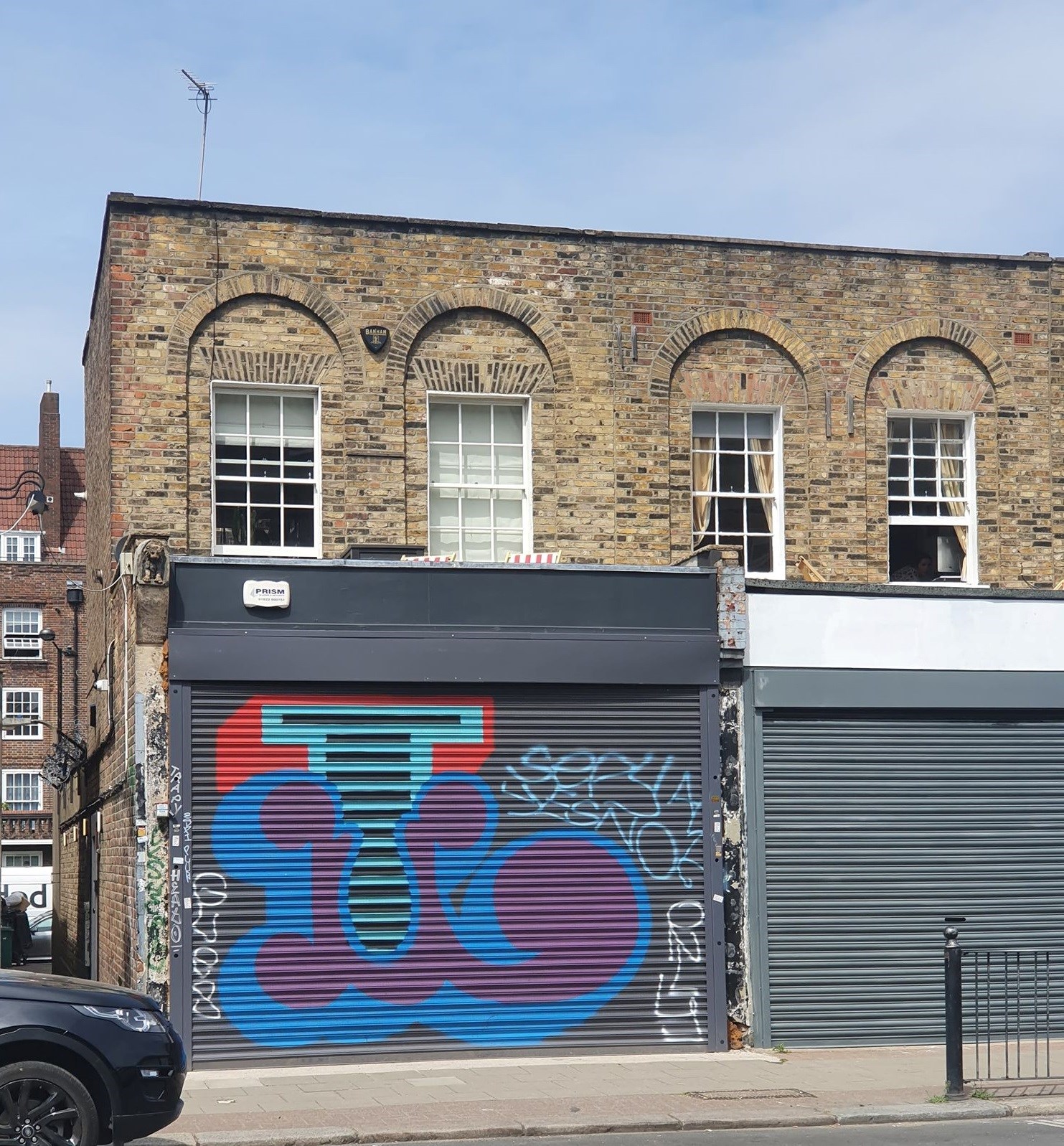 You can find work of art coming up for sale or previously sold by Ben Eine at Roseberys here.
Part two coming next week 
If you would like to be notified of any of these works coming up for auction at Roseberys, register to sign-up to our key word alerts.