Shiro Kuramata for Memphis Milano
17/03/2017 News Stories & Press Release, Decorative Arts & Modern Design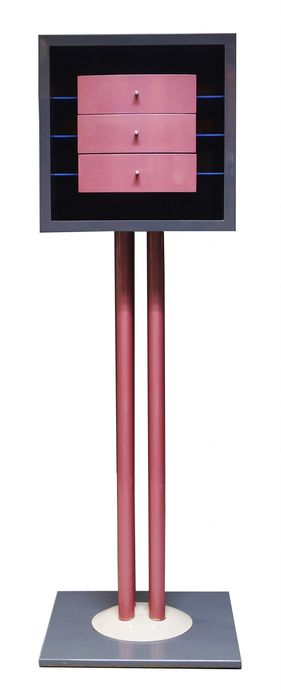 Roseberys London offers a Nikko cabinet by Japanese designer Shiro Kuramata in the Decades of Design specialist sale, on March 28th.
Rule breaking, clashing colours, bold forms, ostentatious patterns and elaborate aesthetics are the building blocks of The Memphis Group, Milano.
Liberty and Co, London was granted the exclusive UK sale rights from Memphis for the duration of the celebrated Boiler House Project at the Victoria and Albert Museum. Eleven cabinets were produced each with an edition number.
Memphis Group was an 1980s Milan based furniture and product design collective, founded by Ettore Sottsass, one of Italy's architectural greats who then in his 60s got together with a group of young and aspiring architects to create a new line of furniture.
Originally dubbed The New Design the name took on a new presence when renamed Memphis Group after his record player stuck repeatedly on the Bob Dylan lyric 'Stuck Inside of Mobile (With the Memphis Blues Again)". He exclaimed: 'let's call the group that!' and the name like the record stuck!
The Memphis look rules style over function and satisfies a fascination with design that works to a more sculptural aesthetic. Japanese designer Shiro Kuramata was part of the group during the 1980s; his playful designs combined postmodernism with traditional Japanese aesthetics and as such has become a much sort after designer from the Memphis Group. Their designs have attracted many famous admirers including the late David Bowie, whom had many pieces in his private collection.
Shiro Kuramata 1934 – 1991 studied architecture at the Tokyo Polytechnic until 1953. After graduating he started his career working for the Japanese furniture manufacturer Teikokukizai moving on to study residential design at the Kuwazawa Institute for Design in Tokyo. During a period from 1957-63 Shiro Kuramata worked for the Tokyo Department Store Maysuya.
In 1965 he decided to break free from formal employment and he started his own design studio focusing on commercial projects and individual items of furniture.
In 1977 his design for a chest of drawers, Drawer in an Irregular Form, elevated his status in the design world and during the 1980's he designed several pieces of furniture for Memphis, including this chest entitled the Nikko cabinet.
Shiro Kuramata for Memphis Milan, a Nikko cabinet, designed and executed in 1982, lacquered wood and lacquered metal, silver label to reverse, Memphis, Made in Italy, Milano, Shiro Kuramata 1982, no 02, 175cm high x 57cm square
[Lot 178]
Estimate £8000 – 12000 (+27.6 % *BP)
Viewing Times
Friday 24 March 1pm-5pm
Sunday 26 March 10am – 2pm
Monday 27 March 9.30am-5.30pm
Tuesday 28 March 9am-9.45am
~Ends~
For further information please contact Charlotte Meddings charlottemeddings@roseberys.co.uk +44 (0) 20 8761 2522
Contact one of our department specialists for a complimentary valuation:
Bill Forrest billforrest@roseberys.co.uk
Richard Gibbon richardgibbon@roseberys.co.uk +44 (0) 20 8761 2522
Roseberys is a privately owned auction house operating at the heart of the fine art market for more than 25 years.
With offices in London's Mayfair and Lambeth Roseberys offer a calendar of more than twelve specialist fine art, antiques and collectibles auctions each year.
Specialist sales include a wide range of Asian and Islamic Arts, Modern and Contemporary Art and Design, Decorative Art, Fine Silver and Jewellery, Ceramics, Paintings, Prints, Photography, Antique Textiles, Vintage Fashion and Fine Wine and Whisky.
Roseberys team of world-renowned specialists also provide a wide range of art market services to professional clients, including valuations for insurance and probate.
Roseberys is a member of SOFAA – The Society of Fine Art Auctioneers.
*BP – Buyer Premium includes VAT at 20%