Seven equestrian paintings by Toulouse-Lautrec's tutor René Princeteau
11/03/2020 News Stories & Press Release, Old Master & 19th Century Pictures
LONDON: High-quality British and continental art, from Old Masters to 19th century paintings, will be auctioned on Thursday 4 March, 1pm in one of the most diverse sales of its type to be held at Roseberys. Among the highlights are major paintings by René Princeteau, the tutor of Henri de Toulouse-Lautrec who famously captured bohemian Paris, and a fine portrait miniature thought to depict Napoleon's youngest brother Jérôme Bonaparte which forms part of a comprehensive private collection of British and European portrait miniatures spanning a period of nearly 300 years.
Head of department, Marcus Grey, comments: "Roseberys forthcoming Old Masters, 18th & 19th Century Pictures auction includes a private collection of sixty-five portrait miniatures to include one exciting portrait thought to be of Jérôme Bonaparte by Louis-Marie Sicardi. The collection also presents various works by and attributed to David Loggan and Thomas Forster, as well as Laurence Hilliard. We will be offering for sale an intriguing marriage portrait from the circle of Cornelis de Vos dated to c. 1635-40, other works by or attributed to Lavinia Fontana, Sebastien Vrancx, workshop of Guercino, Maximilian Blommaert, Thomas Rowlandson, Francis Wheatley RA, George Morland, an unfinished work attributed to James Holland, David Cox Jnr., Sir Frank Dicksee PRA and a collection of works by Rene-Pierre Princeteau. This will be one of our most diverse auctions to date with a strong representation of British artists, as well as highly regarded European names".
René Charles Pierre Princeteau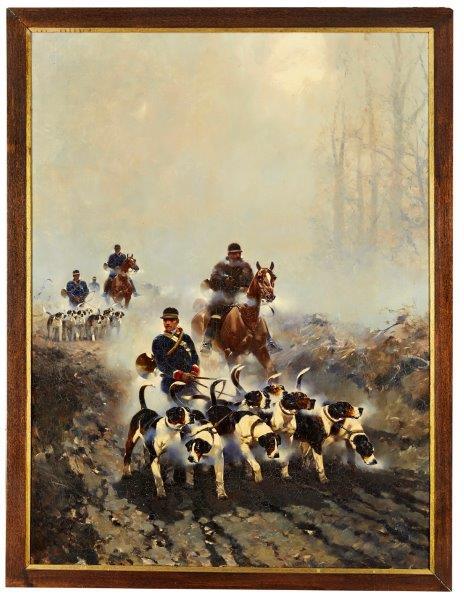 René Charles Pierre Princeteau,French 1843-1919-Early morning
                                     
René Princeteau (1843-1919), tutor of the famous French painter and poster artist Henri de Toulouse-Lautrec, was a master in the depiction of equestrian subject matter. Born deaf and mute into a wealthy noble family in Libourne, he is considered one of the most highly sought-after academic French artists of the late 19th century. Princeteau was well known for his depictions of horseracing, equestrian portraits, military scenes and hunting scenes, with some of his earlier works inspired by Alfred de Dreux and George Stubbs. Such themes were highly popular among the upper classes and his unique approach to equestrian subjects meant he was never short of work. From 1883 onwards, Princeteau based himself in the Château de Pontus near Fronsac in Bordeaux which marked the beginning of his larger compositions celebrating countryside life. The loose, expressive brushstrokes on these canvases – as seen in the group offered at Roseberys - were still able to accurately depict the horse in motion. It was this combination of realistic style and traditional subject matter with the colours and tones of the Impressionists that make these works so successful. The selection of hunting scenes from a private collection [Lots 357-364] showcase Princeteau's skilful understanding of the sport, creating balanced and dynamic compositions which were repeatedly visited and developed. Prices start from £200 for a drawing and rise to £25,000. The large oil painting, Early morning, bringing out hounds with huntsmen in attendance, is typical of Princeteau's style. A balanced and engaging composition, it shows figures emerging out of the frosty and misty morning at speed towards the viewer. The large work leads the group with bids expected in the region of £25,000-30,000. [Lot 364]
Portrait Miniatures      
Louis-Marie Sicardi, French 1743-1825- Portrait miniature of a high-ranking Napoleonic officer                                                  
The 65-lot group of portrait miniatures from a London residence span a period of nearly 300 years and include some fine early English School examples influenced by Samuel Cooper, Isaac Oliver and other celebrated artists of the Tudor and Stuart ages. Flemish, Austrian and French miniatures depicting Emperor Charles V, Francis II Holy Roman Emperor and Napoleon Bonaparte are also on offer together with 18th and 19th century portraits of British officers and military commanders. The star is this rare and unusual miniature by Louis-Marie Sicardi (1743-1825) of a high-ranking Napoleonic officer thought to be Jérôme Bonaparte, King of Westphalia (1784-1860), the youngest brother of Napoleon I. He is shown wearing the dark blue uniform of a French Consul. The piece comes in a glazed octagonal enamel Empire frame with the reverse depicting a memorial scene of applied hair. [Lot 20]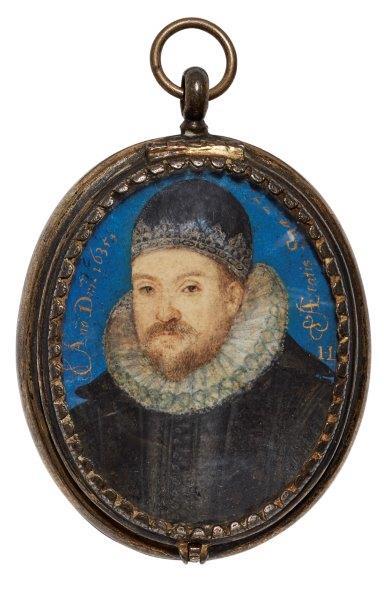 Attributed to Laurence Hilliard, English 1581/82-1648- Portrait miniature of a bearded nobleman
Laurence Hilliard (1581-1648) was the son of Nicholas Hilliard, the central artistic figure of the Elizabethan age. He painted this early 17th century portrait of a bearded nobleman in a black doublet, cap and lace ruff. [Lot 5]
Oil Paintings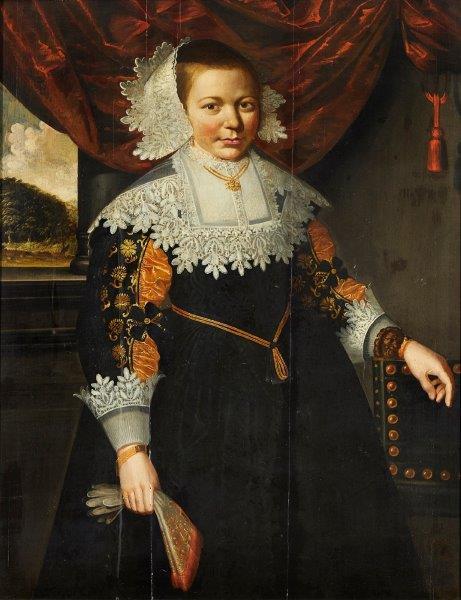 Circle of Cornelis de Vos, Flemish 1584-1651- Portrait of a young girl standing three-quarter length wearing a black dress with lace collar; oil on panel
This is one of two intriguing portraits of female sitters in the sale to have undergone extensive research by Roseberys picture department. Based on the sitter's elegant costume the portrait is believed to have been completed around 1635-40. The elaborately decorated gloves also suggest it was painted to celebrate a marriage and was most likely one of a pair (the male sitter now lost). The layout is similar to a number of portraits by the Flemish painter Cornelis de Vos (1584-1651), who is thought to have worked alongside Rubens and was a close friend of van Dyck who painted his portrait. De Vos was praised particularly for conveying the likenesses of children and adolescents with genuine character. [Lot 71]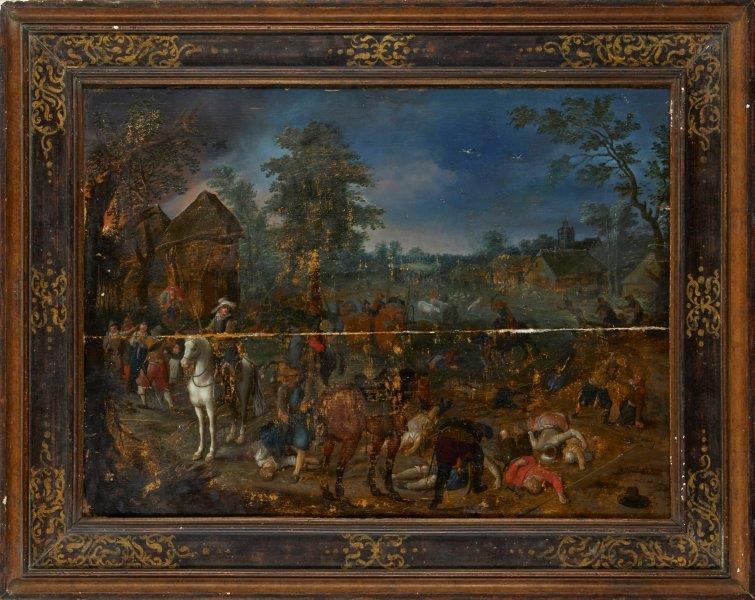 Sebastiaen Vrancx, Flemish 1573-1647- Soldiers raiding a village; oil on cradled panel, signed with monogram
The Flemish artist Sebastiaen Vrancx (1573-1647) who painted this scene of soldiers raiding a village was considered the pioneer of the battle scene in Northern European art. More than half of his known paintings are believed to be military themed. (Rubens collected a number of his paintings that may have informed his own artistic development). Vrancx became an officer in the Antwerp Civic Guard in 1613 and was promoted to captain 1621, his first-hand military experience no doubt leading to his fascination in depicting the battles and skirmishes of the Dutch wars.  [Lot 100]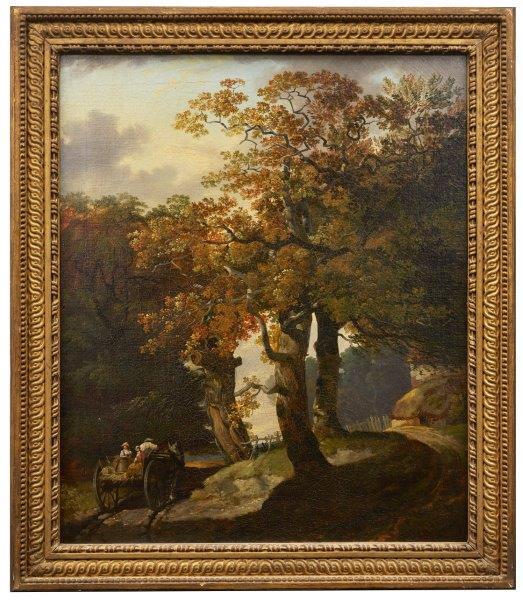 The following lots 182-219 are from The Ross Collection, Knockmore, Enniskerry, Co. Wicklow. Francis Wheatley RA
Following trips to the Low Countries and Ireland throughout the 1760s, Francis Wheatley (1747-1801) settled in London as a Fellow of the Society of Artists and was appointed as the director in 1774, going onto exhibit at the Royal Academy in 1778. Over the next 10 years he became renowned for his landscapes and rustic subject matter, as seen in the work shown here, and was elected an associate of the Royal Academy in 1790, and an academician the following year. [Lot 182]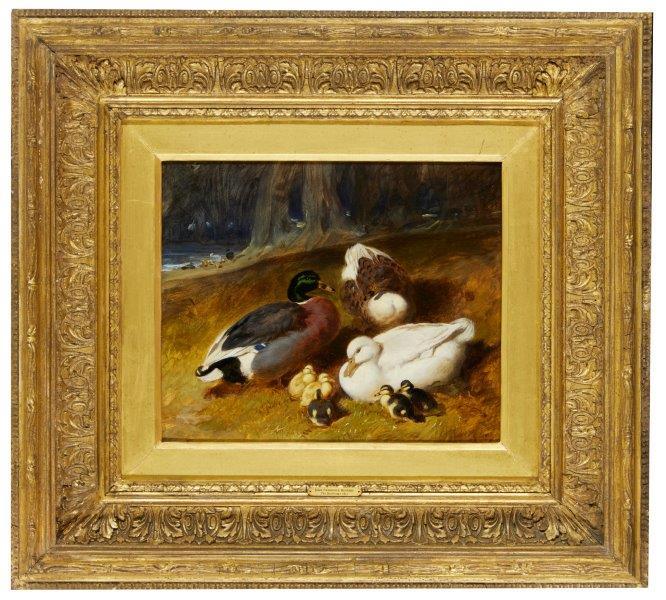 John Frederick Herring, Snr. British 1795-1865- The Ducklings, 1851; oil on panel
Farmyard scenes featuring draught horses, pigs, poultry, ducks or pigeons, were the preferred subjects of John Frederick Herring Snr. (1795–1865) in later life, particularly after his retirement to the Kentish countryside in the early 1840s. This oil painting, The Ducklings, dates to 1851. [Lot 242]
Works on Paper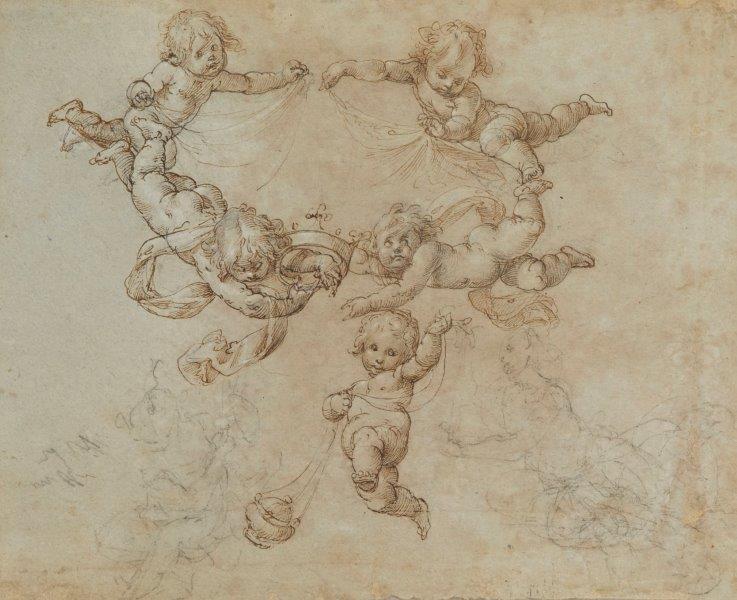 Attributed to Guglielmo Caccia, called Il Moncalvo, Italian 1568-1625- Flying Putti holding a veil, crown and swinging a censer; pen and brown ink, with black chalk and touches of white heightening, on coloured laid paper
The Italian artist Guglielmo Caccia (1568-1625), who called himself Il Moncalvo, was considered one of the most important and prolific Piedmontese artists of the first quarter of the 17th century. This drawing of playful putti has been attributed to him and are found throughout the collection of paintings and frescoes in the town of Moncalvo where he took his name. The draughtsmanship is perhaps more refined and the faces of the putti more individualised than is usual for the artist. [Lot 93]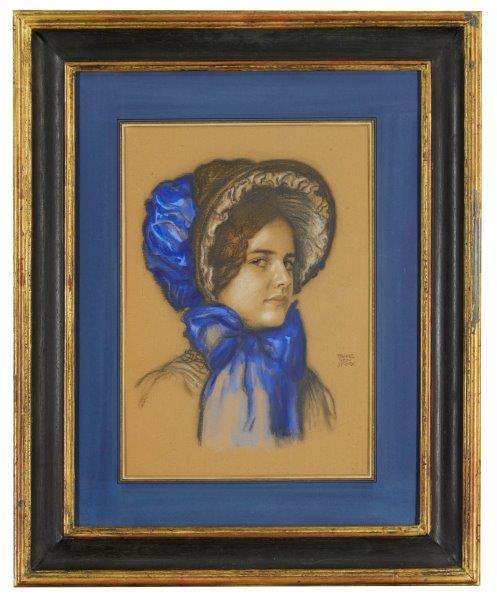 Franz von Stuck, German 1863-1928- Portrait of the Artist's Daughter Mary; black and white chalk, pastel, watercolour and touches of gouache on cardboard
This striking portrait by the German artist Franz von Stuck (1863-1928) depicts his only child Mary when she was 14 years old. Mary Stuck (1896-1961) posed frequently for her father in the 1910s and 1920s, often dressed in costume as a Greek or Spanish girl, bullfighter or gypsy for works that have become much prized by collectors. In this c.1910 chalk, pastel and watercolour drawing from a private German collection Mary wears her new deep blue motoring bonnet. She also appears wearing the same hat in several of the artist's photographs of her. [Lot 324]
Thomas Girtin (1775-1802), John Varley (1778-1842), Sir Edwin Landseer (1802-73) and Paul Sandby (1731-1809) are just a few of the top names in this album of late 18th and early 19th century drawings. There are approximately 77 works attributed to and after some 35 artists in all.
For further information please contact Peigi Mackillop peigimackillop@roseberys.co.uk +44 (0) 20 8761 2522