Sales of studio ceramics continue to rise
25/11/2020 Ceramics & Glass, News Stories & Press Release, Decorative Arts & Modern Design
Roseberys Design : Decorative Arts 1860 to the Present Day auction that took place this month on November 3rd was a bounty with incredible results, despite the challenges of the year.
Fiona Baker, Head of the department commented: 'The sale offered a good variety of Applied Arts from 1900 to the present day and the response from all our clients worldwide was good to see. The studio ceramic section was particularly strong throughout. With all but one lot of studio ceramics selling on the day, which spanned from lots 154-22, this again showed the strong demand for studio pottery from all periods of the 20th /21st century. Roseberys have developed this as a regular section in their Design sales now and with specialist advice and expertise in this field are looking forward to this area of collecting expanding even more. Another theme throughout the auction was lot 119 – 135, which was a Private Modern Collection incorporating the work of Philippe Starck, Alesasndro Mendini and Borek Sipek which was well received. The pair of 'Tito Lucifer' Andirons and 'Picfeu' poker (lot 120) made £3,250 and will now be going to a new home in France.  Everyone embraced with good humour and sangfroid the new 'Covid' saleroom protocols, as this sale switched to live online only. Roseberys would like to thank all our clients for their understanding and engagement. We would like to thank everyone for their participation and wish everyone well through this lockdown.'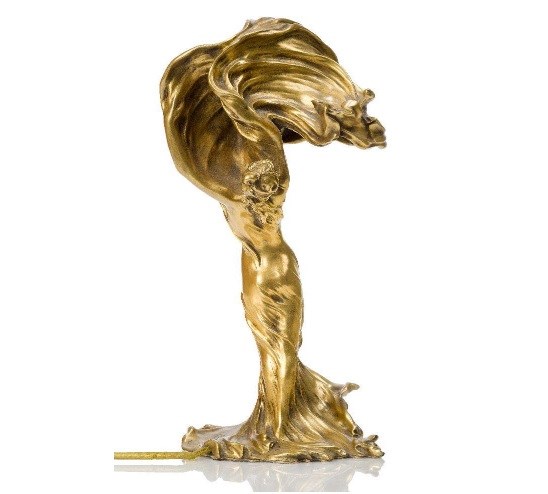 Raoul Larche (1860-1912), an Art Nouveau gilt-bronze figural table lamp of Loie Fuller c.1900
Lot 39, an Art Nouveau gilt-bronze figural table lamp of Loie Fuller c.1900 by Raoul Larche (1860-1912) was the highlight of the sale, which sold for £18,750. Fiona Baker commented: 'It was such a pleasure to have the Raoul Larche gilt-bronze table lamp depicting Loie Fuller in the sale, not only is it a beautiful object, well cast and in good condition, but it represents so much from an Art Nouveau perspective. Loie Fuller was an 'Icon' of the period, her choreographed dance with long silk scarves was sinuous and mesmerising, coupled as it was with stage lighting and was a dramatic tour de force.  Electricity was being introduced in to more wealthy homes at the end of the 19th century and sculptors and designers were using it as inspiration, and none more so than Loie Fuller herself and Raoul Larche the sculptor of this beautiful lamp.'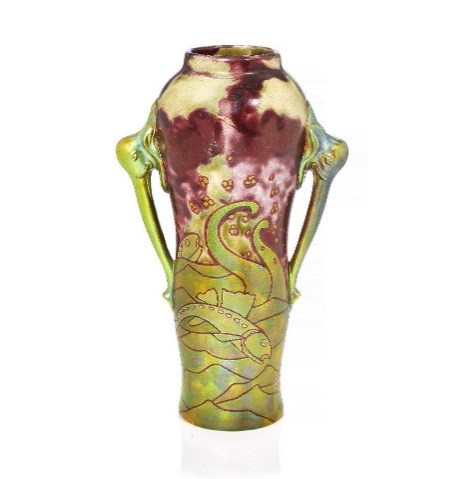 Zsolnay, a good Eosin glazed ceramic vase with twin elephant-head handles and stylised fish decoration c.1905
Following directly after this highlight was the Zsolnay vase (lot 40), which drew much admiration with its famous iridescent Eosin glaze. The vase realised £7,500, which was its top estimated price. It is a particularly good size at 36.5 cm and decorated with leaping fish amid waves and has very distinctive applied Elephant head handles, which attributed to his popularity at auction.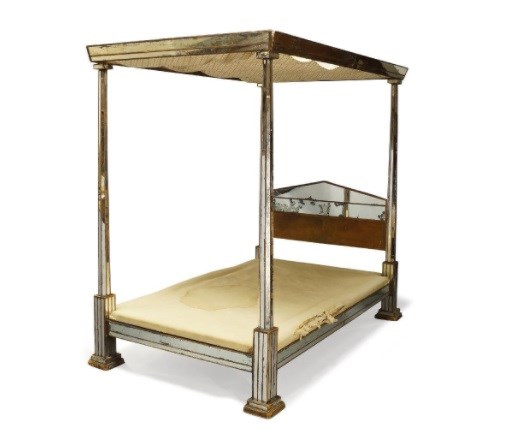 Attributed to Syrie Maugham (1879-1955), an Art Deco mirrored tester bed c.1930 
The Art Deco mirrored tester bed c.1930 (lot 118), attributed to Syrie Maugham (1879-1955), drew the most comments and admiration since the auction catalogue was published online. Most people falling in love with its faded glamour and aging charm and sold for £5,000.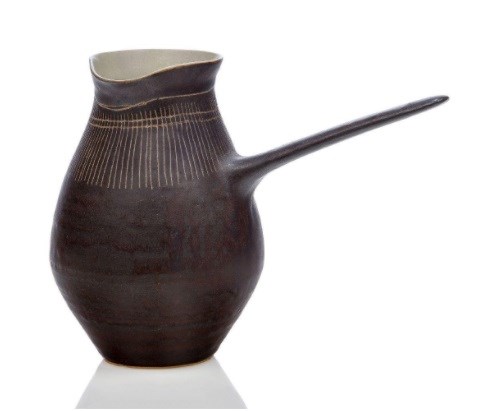 Dame Lucie Rie (1902-1995), a stoneware jug c.1955, impressed seal to base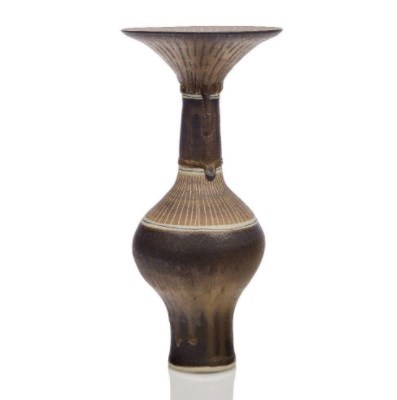 Dame Lucie Rie (1902-1995), a fine porcelain vase c.1980

A fine stoneware milk jug of bellied form (lot 156), c.1955, by Dame Lucie Rie (1902-1995), sold for £1,375. Lucie Rie's sgraffito works are some of her most recognisable items and although 'just' a humble milk pourer the form and decoration of this jug generated a lot of interest. Another item by Dame Lucie Rie that sold well on the day was lot 157, a fine porcelain vase, c.1980. This fine Lucie Rie vase didn't disappoint and was a particularly good example of her work. The precise sgraffito decoration, inlaid blue lines and running gold glaze all generated interest and it sold for £9,375.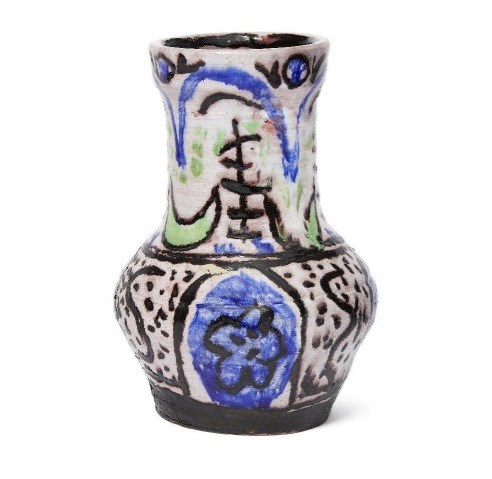 Quentin Bell (1910-1996), a pottery vase Mid 20th century
The strong market for Bloomsbury School items meant a huge amount of interest in this Quentin Bell mid-century vase (lot 172). The colours decorating the vase were vivid and unusual and the second monogram on the base was reputed to be that of Bloomsbury group acquaintance, the artist Edward le Bas. Add to this the reputed provenance from the estate of Leonard Woolf's close friend, the South African born artist Trekkie Parsons, and the hammer went down at a multi estimate of £1500.
Gio Ponti (1891-1979) & Piero Fornasetti (1913-1988), a unique mahogany, lacquered and painted credenza c.1952 
This unique mahogany, lacquered and painted credenza c.1952 (lot 314) by Gio Ponti & Piero Fornasetti, saw competitive bidding on the day, reaching the price of £5,500. It was created by Gio Ponti and Piero Fornasetti for the interior of the Transatlantic liner, Guilio Cesare, c.1952. Fornasetti's card player design, which feature on this lot, were repeated as a marquetry panel in one of the ships lounges. A culmination of ideas between two masters of Italian Design, both highly sought after in their own right by collectors created a hum around this historical piece of furniture.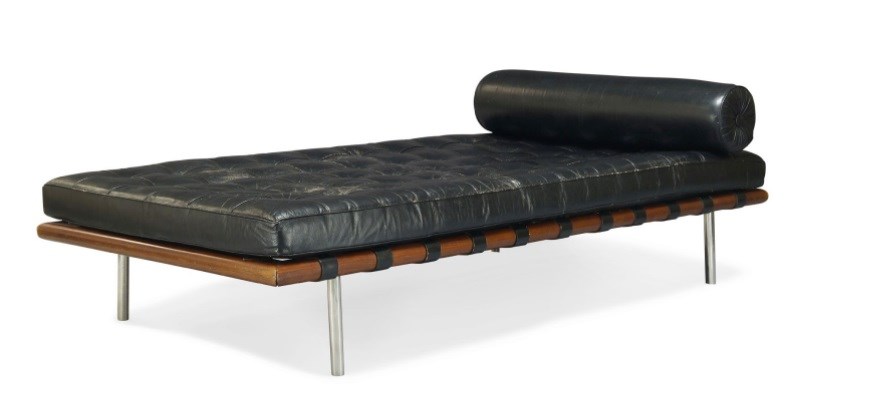 Ludwig Mies Van Der Rohe (1886-1969), a 'Barcelona' daybed for Knoll International 1976
This 'Barcelona' daybed by Ludwig Mies Van Der Rohe (lot 302), was originally designed in 1929 for the Barcelona Pavilion. Almost 100 years on, its popularity has stood the test of time and is regarded today as a true icon of modernity. These vintage examples by Knoll in particular have seen a recent surge of interest from collector's, this example reaching a price of £2,500.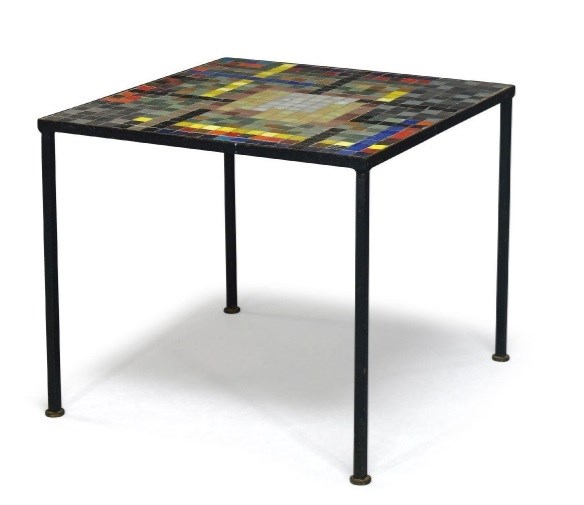 John Piper (1903-1992), a mosaic tiled coffee table c.1950
This rare mosaic coffee table designed by John Piper (lot 229), with its striking abstract tile top design, show Piper was not only a talented draftsman. This example far exceeded its sale estimate, making £2,125 at Roseberys auction.
-ENDS-
Our next Design : Decorative Arts 1860 to the Present Day auction will take place on Tuesday 27 April, 2021. If you wish to consign an item into the sale please email design@roseberys.co.uk for a complimentary valuation.