Roseberys final auction of the year: Impressionist, Modern & Contemporary Art
12/11/2021 News Stories & Press Release, Impressionist, Modern & Post War Art
ROSEBERYS LONDON: Roseberys presents the final auction of the year, Impressionist, Modern & Contemporary Art on Wednesday 1 December. Once again, this sale will be split into two parts. The Impressionist & Modern Art sale will be first, starting at 10am, spanning from lots 1 - 171. This sale includes work by artists including Róbert Berény, Camille Pissarro, Joan Miro and a collection of Salvador Dali sculptures, lots 60 to 67. Lots 118 – 121 within the sale are works by Fredda Brilliant, a significant Polish sculptor active in the 20th century. Another highlight section of this sale are lots 163 to 169, which are photos from the collection of Sir Tom Hopkinson (1905-1990). Hopkinson was the editor of the British photo-magazine 'Picture Post'.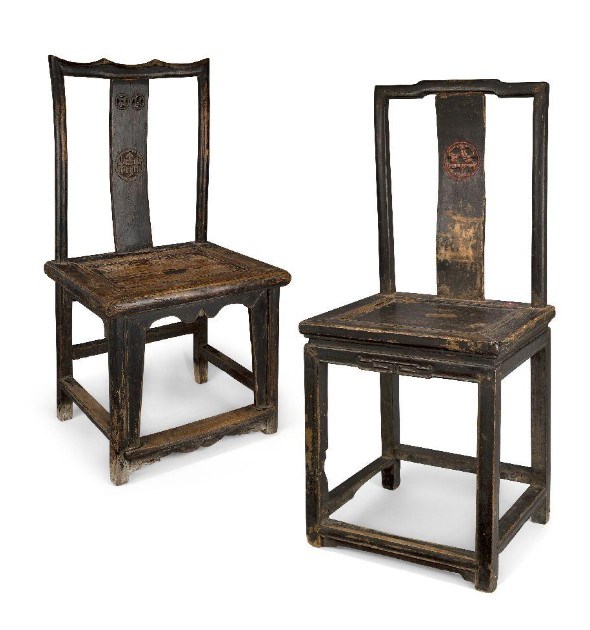 Ai Weiwei, Chinese b.1957- Fairytale 1001 Chairs (Nr. L/R - 067, Nr. L/R - 068), 2007; two wooden chairs, Qing Dynasty (1644-1911)
Following on from this sale at 2pm will be the Contemporary Art auction, which spans from lots 172 - 454. Lots 335 – 339 and 175 within this sale are by prominent African artists. Lots 387 to 454 are from the of collection of Claudia Trosso and Martin Allen Morales, who from 2015 to 2019 operated Ceviche Old St Gallery. The gallery's focus was to bring greater attention to Peruvian contemporary art amongst a UK-based audience. 
Tess O'Brien, Head of the department commented: 'We are very excited to present the final Impressionist, Modern, Contemporary art sale of 2021, and the biggest to date. This sale contains works by top artists, such as Joseph Beuys, Camille Pissarro, Róbert Berény and Paul Jenkins, with another particular highlight being lot 173, part of an installation by Ai Weiwei for the Yorkshire Sculpture Park in 2014. As such this auction encompasses work from an impressive range of internationally significant artists from the 19th century right up to the present day.'
Impressionist & Modern Art Highlights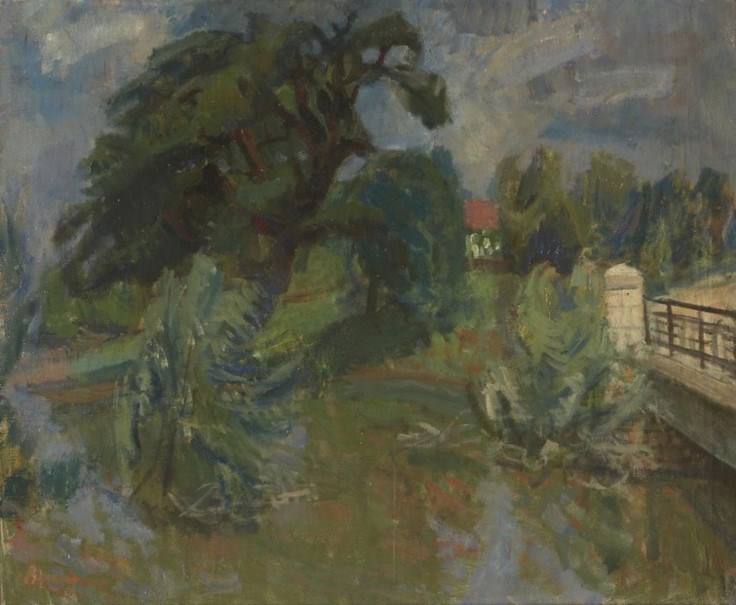 Róbert Berény, Hungarian 1887 – 1953- Zebegény, circa 1937; oil on canvas
Lot 1, an artwork by Hungarian artist Róbert Berény, 1887 – 1953, launches the Impressionist and Modern Art sale. Titled 'Zebegény' the oil on canvas, executed circa 1937, is signed lower left and measures 60x73.5cm. The work originally belonged to the vendor's grandfather, Paul Szeben, the brother-in-law of the writer Ladislas Dormandi, who was married to Bereny's pupil Olga Szekely-Kovacs. It has remained in the same family since. Róbert Berény, exerted an immense influence on the artistic landscape of his native Hungary. Berény was a member of The Eight, alongside seven other prominent Hungarian artists, including Károly Kernstok, Béla Czóbel, and Ödön Márffy. This group played a significant role in the introduction of Expressionism, Cubism, and Fauvism to Hungary. Berény was at the forefront of the avant-garde movement in Hungary, shaping the subsequent artistic and cultural development of the country. This particular work on offer at Roseberys, with an estimated price of £5,000 -£8,000, suggests Berény's debt to post-Impressionism. The loose application of paint, creating slightly abstracted and distorted forms, imbues the piece with a sense of the freedom and vitality of the natural scene which it depicts. These swirling brushstrokes on the canvas create a feeling of movement which most obviously recall the work of Van Gogh.

Camille Pissarro, French 1830-1903- Paysage; watercolour
Entered onto the market with an estimate of £8,000-£12,000 is lot 3, by French artist Camille Pissarro, 1830-1903. Titled 'Paysage' the watercolour is signed lower right and measures 13x18cm. Camille Pissarro was a Danish-French painter whose importance in the history of Impressionist and Post-Impressionist art cannot be overstated. Pissarro was closely associated with central figures of 19th-century French art, including Gustave Courbet and Jean-Baptiste-Camille Corot, the immense influence of both of whom being evident in Pissarro's own work. The present piece is a revealing example of Pissarro's approach, illustrating his enduring preoccupation with the natural world, and the capacity of the artist to capture the atmosphere of the landscape within which he is immersed. The use of watercolour imparts a sense of spontaneity to the work, with the softness of the forms resulting from the use of this medium conveying a feeling of the gentle movement of the leaves and grass of the open landscape depicted. Pissarro's ability to capture the immediate impression of his surroundings, a fundamental aspect of Impressionism, powerfully demonstrates his centrality within the movement.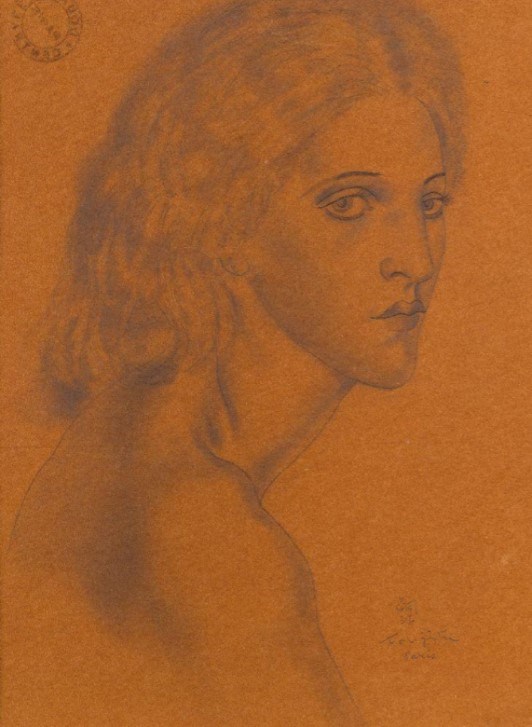 Léonard Tsuguharu Foujita, Japanese/French 1886-1968- Portrait de Jacqueline, 1928; pencil and charcoal on tracing
Lot 7, 'Portrait de Jacqueline' on pencil and charcoal on tracing, executed in 1928 by Japanese/French artist Léonard Tsuguharu Foujita, comes with an estimate of £7,000-£9,000. The work is signed in both his French name, and his Japanese name and inscribed 'Paris' lower right, measuring 37x27cm. This work comes with a provenance from a Private collection in Paris. Léonard Tsuguharu Foujita was a Japanese artist who lived and worked in Paris. Upon moving to Montparnasse in the early 20th century, Foujita became immersed in the vibrant artistic landscape of the city, meeting figures such as Amedeo Modigliani, Fernand Léger, and Jules Pascin, and befriending Pablo Picasso and Henri Matisse, among others. Foujita's artistic style was highly original, combining the influences of Japanese and French artistic traditions, and the new developments of contemporary Paris, of which he himself was a part. The present work demonstrates Foujita's preferred subject matter of female portraits, alongside cats, for which he was also well-known. This lot is accompanied with a certificate of authenticity from Sylvie Buisson.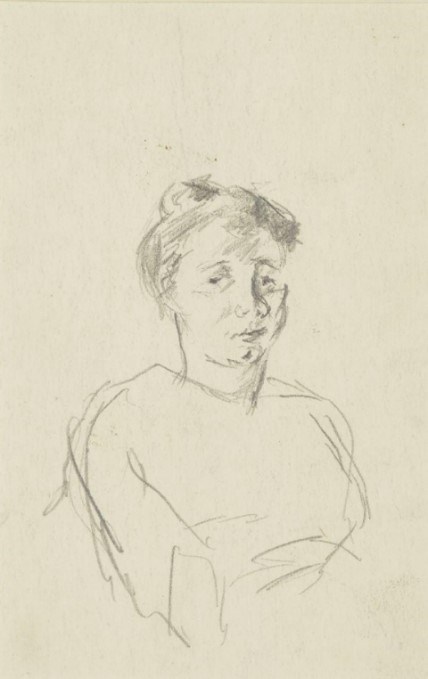 Max Beckmann, German 1884-1950- Portrait of a Young Woman, circa 1915 (recto)/ Study of a landscape, from the artist's sketchbook
Work from the German artist Max Beckmann's sketchbook, lot 8, comes with an estimate of £6,000-£8,000. Portrait of a Young Woman, circa 1915 (recto)/ Study of a landscape in pencil, has the estate stamp lower left, and measures 23x14cm. Max Beckmann is frequently associated with the Expressionist movement in early 20th-century Europe. Beckmann rejected the tendency towards extreme abstraction which defined the work of many of his contemporaries, instead continuing to practice and promote figurative art, to which the present piece bears witness. Beckmann enjoyed significant success in 1920s and 30s Germany, and was the subject of retrospectives in Mannheim, Basel, and Zurich. Beckmann's work continued to be popular throughout his life. The work on offer comes with a provenance from the Max Beckmann estate; Van Ham Kunstauktionen Cologne 5 June 2019, lot 474.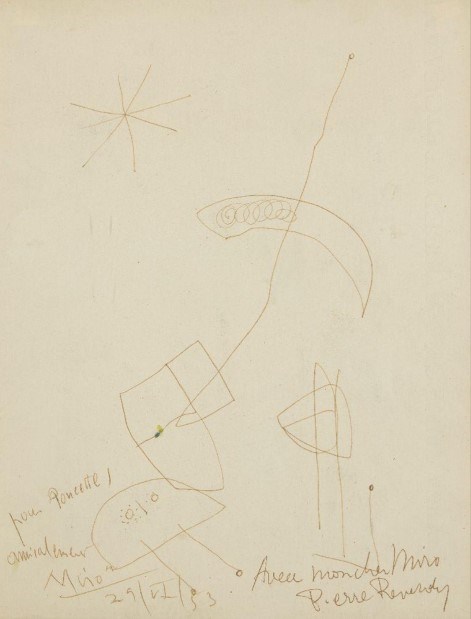 Joan Miró, Spanish 1893-1983- Sans Titre, 1953; ink on paper
(Lot 28) Work by the renowned Spanish artist, Joan Miró, is being entered onto the market with a price guide of £6,000-£8,000. 'Sans Titre' measuring 32x24.45cm was executed in 1953 using ink on paper. The work is signed, dedicated Pour Poucette amicalement and dated 29/VI/53 lower left, and further dedicated Avec mon cher Miro Pierre Reverdy lower right; it comes with a provenance from Ader, Paris and Nicholas Gallery, Belfast, where purchased by the present owner and a Certificate of Authenticity from A.D.O.M. In 1920, after studying art in Spain, Miró moved to Paris to join the bustling artistic community at Montparnasse, where he was witness to the development of Surrealism, Fauvism, and Cubism. Although he has been associated with these movements, which had a clear and unmistakeable influence on his work, Miró did not officially align himself with any of these movements. Instead, he combined elements from all of these approaches to develop his own unique style which defies any straight-forward attempt at categorisation. This can be seen clearly in this piece, which is a great example of Miró's approach, with its rejection of formal representation or any obvious subject-matter, its interest in the exploration of shapes and colour, and its almost naïve flatness.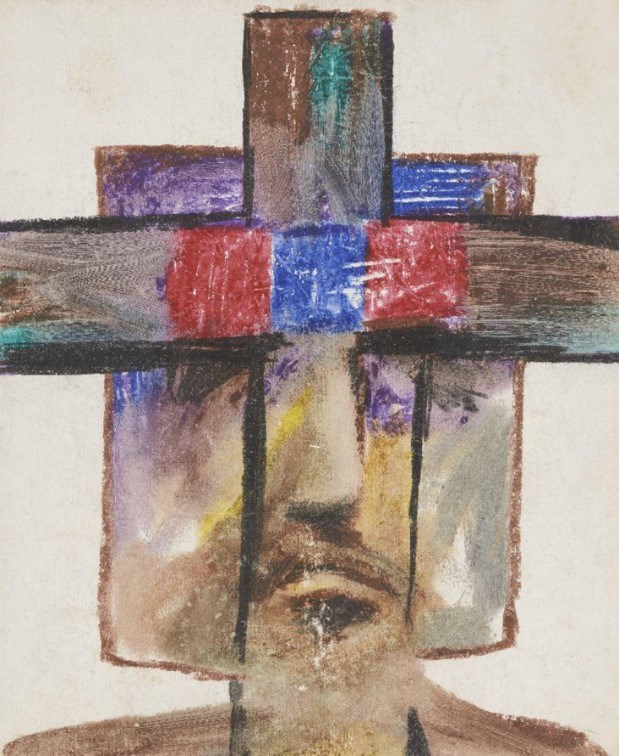 Sir Sidney Nolan OM AC RA, Australian/British 1917-1992- Ned Kelly No.100, 1956; pastel
Included in a wonderful section of Australian works on offer is lot 32 by the celebrated artist Sir Sidney Nolan OM AC RA, 1917-1992. Coming with an estimate of £3,000 - £5,000, lot 32, is Ned Kelly No.100, completed in 1956 using pastel is inscribed Ischia, numbered 100 and dated 9-7-56 on the reverse, measuring 30.5x25.5cm. During the 1950, whilst visiting the island of Ischia, Nolan worked on a series of designs for the cover of the Parisian art magazine, Verve. For this publication Nolan played on the images of Ned Kelly and the crucified Christ. This work was a gift from Sidney Nolan's widow to the current vendor.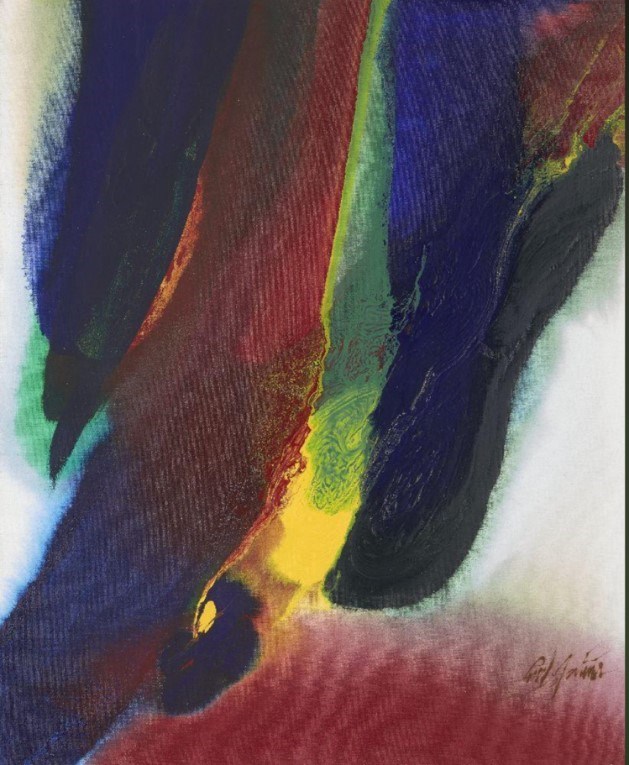 Paul Jenkins, American 1923-2012- Phenomena Compass Reckoning, 2007; acrylic on canvas
Following on from the success of previous sales of artwork by Paul Jenkins at Roseberys, we are delighted to offer another work by the seminal American artist to the market once again. Lot 48, an acrylic on canvas painted in 2007 by Jenkins, titled 'Phenomena Compass Reckoning' comes with an estimate of £20,000-£30,000. The work signed lower right; titled and dated 2007 on the reverse, measuring 73x59.7cm comes with a provenance from Redfern, London, where purchased from the present owner. The American abstract expressionist painter Paul Jenkins, was a student of the artist Yasuo Kuniyoshi. This painting is a typical example of Jenkins's style, achieved through his eschewing of the paintbrush, which left the paint to seep, pool and drip across the canvas. Jenkins's work, inspired by artists such as Jackson Pollock and his close friend Mark Rothko, can be firmly located in the abstract impressionist movement which shaped subsequent American art.
Contemporary Art Highlights

Joseph Beuys, German 1921-1986- Irish Energy, 1974; peat briquette and butter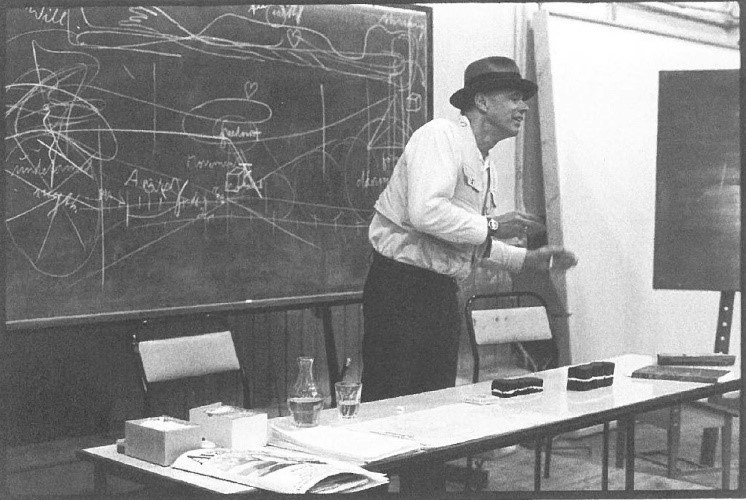 Image of Beuys teaching in Ireland, 1974, photo by Caroline Tisdall. Source: Sean Rainbird 2005, p. 38
(Lot 172) German artist and art theorist, Joseph Beuys, work titled 'Irish Energy' created in 1974 using a medium of peat briquette and butter is on offer with an estimate of £4,000-£6,000. Joseph Beuys exerted an immense influence on the shape of contemporary art towards the end of the 20th century and beyond. Beuys was a central member of Fluxus, an experimental interdisciplinary artistic movement which also included artists such as Yoko Ono and Nam June Paik. The present piece demonstrates Beuys's interest in employing a range of media in the production of his work, thereby challenging the existing distinctions between genres which defined attitudes to and understandings of 'high art' amongst many 20th-century commentators. This work is part of the installation Irish Energies, in which the artist used highly unconventional materials, in this case Scottish peat and Irish Kerrygold butter, allowing him to explore issues of place and identity.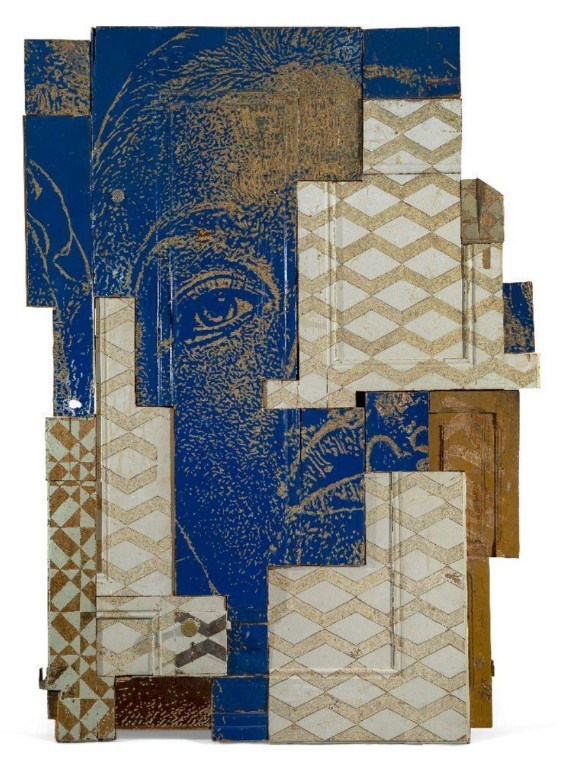 Vhils, Portuguese b.1987- Ataxia 7; mixed media, painting and wooden construction


Lot 187 in the sale is work by Portuguese artist Vhilis, 'Ataxia 7' a mixed media, painting and wooden construction, estimated to make £10,000-£15,000, which is a great price for this celebrated artist. Vhils works through countless layers of posters, dirt, and plaster to set free the poetic images hidden beneath urban spaces.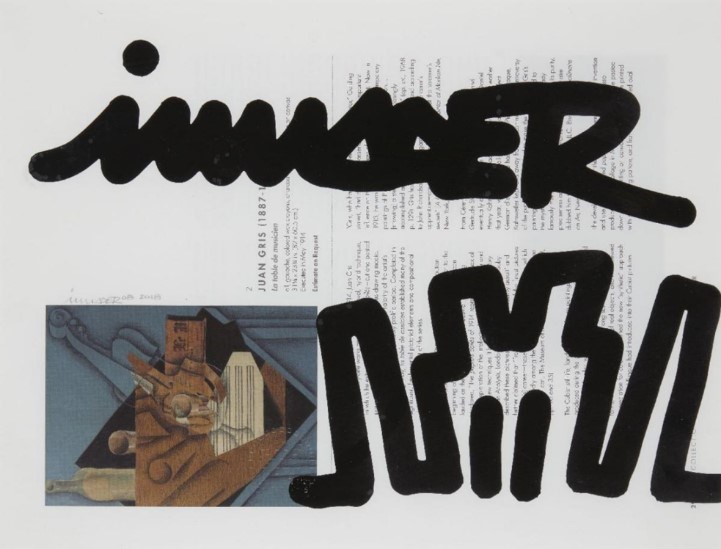 Space Invader, French b.1969- Invader/ Gris, 2018; ink on glossy paper
Lots 187, 190, 191, 198, 196, 188, 312, 310 are all works by Urban Artists including art by PichiAvo. All these unique works are priced well. Lot 188, by French artist Space Invader, Invader/ Gris, 2018; ink on glossy paper is a good piece for budding Urban Art collectors and comes with an estimate of £2,000-£3,000.
-Ends-