Roseberys July Auction to include the Private Collection of Basia Zarzycka
21/06/2012 News Stories & Press Release, Single Owner Collections
21 June 2012
One of the highlights of Roseberys July auction will be the private collection of fashion and accessories designer Basia Zarzycka (pictured below).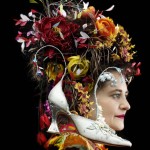 Basia is perhaps best known for her couture wedding dresses sold from her Sloane Square emporium, described as "the most romantic shop in London" by Hilary Alexander, fashion editor of the Daily Telegraph.
Some of the 250 lots to be auctioned are from the bridal collection including a 10 foot tulle skirt and train, handmade wedding shoes and a stunning range of tiaras. Other lots range from antique corsets to vintage beaded handbags, fans, antique hats and shawls.
Richard Gibbon, Roseberys textile specialist, says, "Basia's policy has always been to buy the best examples of each genre so the quality of every lot in the auction in unparalleled."
The auction takes place at 11am on Saturday 21 July at Roseberys, The Old Chocolate Factory, 74-76 Knights Hill, London SE27 0JD. The auction catalogue will be online from 13 July and a printed catalogue will also be available from the same date.
Viewing is 1-5pm on Thursday 19 July, 9.30-5.30pm on Friday 20 July and on the morning of the sale from 9am-10.45am.
Bidders unable to come to the auction in person can bid online at www.the-saleroom.com or phone Roseberys before the sale and leave a bid. A limited number of lines will be available for telephone bidding, which must be booked in advance.