Roseberys Auction highlights of 2018
20/12/2018 Modern & Contemporary British Art, News Stories & Press Release, Decorative Arts & Modern Design , Old Master & 19th Century Pictures
2018 has been a great year of consistent high-points for Roseberys. With a new cast of high calibre staff, fabulous events and record breaking lots set in many categories from Asian and 20th Century Art and Design through to Jewellery and Watches. Roseberys is ready to end the year with a reason to celebrate.
'It's been a marvelous year of impressive sales for Roseberys, I am looking forward to what 2019 will bring!' remarks Roseberys Chairman & Managing Director Ian Cadzow when asked to reflect back on 2018.
Here our specialists take a look back over the last 12 months and pick out some of their highlights of the year.
To find out more about the winning lots that produced these impressive prices, see our selected 2018 top ten highlights below.
Discovery of lost Constable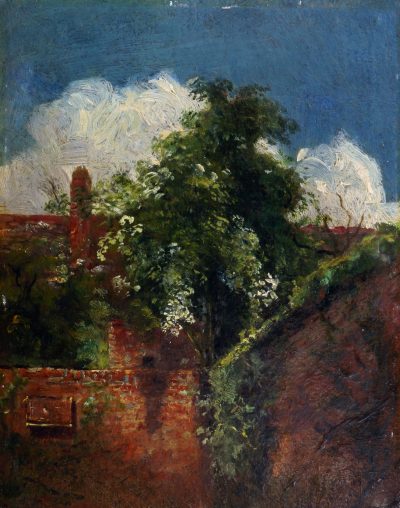 Roseberys discovery of the lost Constable sketch fetched £375,000 at auction back on 3rd March. After four months of vigorous research by the Roseberys Picture department and a foreword written by Constable expert and former curator for Tate Britain – Anne Lyles, the pictures department were excited to present the 18 x 14cm oil on board sketch – View from the back of a terrace of houses, with elder tree,dating from 1821-2. The previously unpublished piece by John Constable RA is a superb study and relates closely to a number of similar sketches which Constable made in Hampstead during two consecutive summers. As lot 148 opened for bidding the anticipation in the room was palpable. With an estimate of£20,000-30,000 there was much speculation as to what the final hammer figure would be for such a rare piece. Bidding opened at £20,000 and rose steadily with competition in the room and on the phones. After several minutes of battling it out the hammer finally came down to an anonymous bidder in the room, smashing ten times over the top estimate for £375,000.
Modern & Contemporary Art at its best!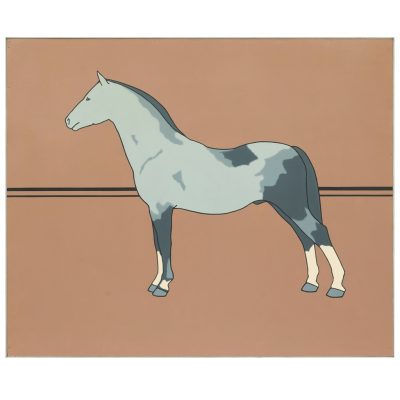 Wednesday 26 September saw the much anticipated sale of 'Pony' by Patrick Caulfield, that was presented to the open market for the first time since its original purchase directly from the artist in 1964, the year of its conception. The oil on board painting of, Pony, 1964 122 x 152.5cm,fetched an impressive £275,000 at auction. Whilst at the time it was painted abroad revolution in the art world was taking place with the emergence of thePop Art scene; this piece is a personal revolution for the artist. On initial inspection 'Pony', may appear to be a painting which can be commonly associated with the mannerisms of the Pop Movement, on closer inspection is a painting laced with historical reference and elegant structure. The work is a pared-down depiction of a horse – at first glance without obvious historical references or context. On closer inspection though, it can be interpreted as a camouflaged reference towards 18th and 19th century equestrian paintings – especially the works of George Stubbs. Perhaps more interesting than the subject matter is the distinct reference in this piece to the Minoan frescoes in Knossos, Crete. Caulfield visited Greece twice before this painting was produced, with this in mind it becomes immediately apparent that the dusty pinks, minimal lines,flattened forms and decorative black bar framing the work drawer direct influences from the Throne Room in the Minoan ruins. Pony was on loan to the Tate Gallery in 1981 for inclusion in the artist's first major retrospective entitled 48 Paintings from 1963-81, and was also included in the artist's third retrospective exhibition in 1999 comprising 55 paintings from the years 1961-97 at The Hayward Gallery. Apart from these public appearances the painting has remained in the same family's possession since 1964.
The Pearl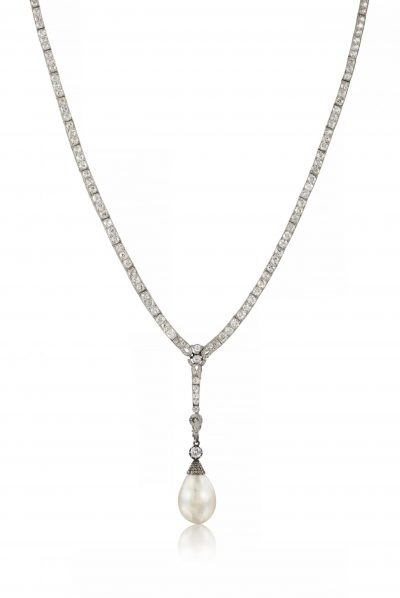 On Tuesday 20th November, fierce competitionemerged for this rare and exquisite natural pearl and Belle Epoque diamondnecklace (lot 287), offered as the final lot in a sale of jewellery andwatches at Roseberys London. Bidding in the November 20 sale commenced at£50,000, rising quickly to £100,000 before it was finally secured by one ofthree phone bidders, a London based buyer, for £150,000 (£187,500 withpremium). The estimate was £70,000-100,000. The drop-shaped naturalpearl, suspended in a rose-cut diamond cap with an old-brilliant-cut diamondsingle stone surmount, weighs approximately 128 grains (32 carats) and was admiredfor its symmetrical shape and good lustre. It has generally been accepted thatthe pearl is of South American origin. The rarity of natural pearls, also knownas the 'Queen of Gems', make them among the most coveted gemstones on thesecondary market. Even fewer gem quality saltwater pearls of more than 120grains like this appear on the market, making this an exceptionally rareopportunity, which bidders responded to.
Leo Gestel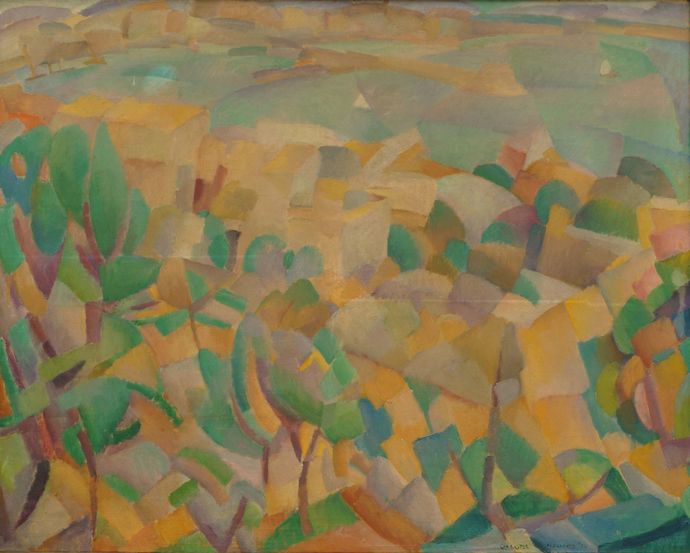 Estimated to sell at £15,000 to £20,000, Lot 334 20th Century Painting/ Leo Gestel, Dutch 1881-1941-Gezicht op een baai, Mallorca, 1914; oil on canvas, exceeded its estimate tomake a mammoth sum of £110,000 at auction on the 26th June. Leo Gestel was a Dutch painter whose work carried through cubism, expressionism, futurism and post impressionism. Along with fellow Dutch artist – Piet Mondrian he was among the leading artists of Dutch modernism. Like many of the artists at the time he flocked to Paris to be part of the avant-garde movement and exhibited his works, however a fire in his studio in 1929 meant the majority of his work was lost. This piece was originally in the collection of Dr. J.F.S Esser, the renowned plastic surgeon and collector whom was responsible for supporting theLuminist art of young artist such as Gestel, Pier Mondrian and Piet van DerHem, when their pieces were regularly rejected by museums and galleries and criticised by the press. In 1919 Esser sold off a large portion of his collection, and it is most likely the artist himself purchased the piece back and that is how it came into the position of his wife Mrs Gestel-Overtoom.
19th century Korean School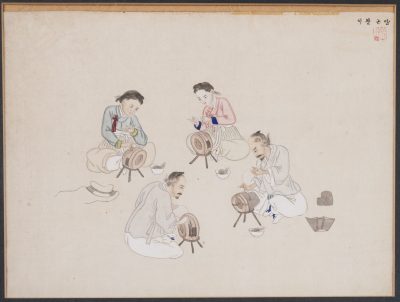 Paintings showing a rare glimpse into the forgotten ways of traditional Korean life starred in a sale of Asian art at Roseberys London on November 12. The set of sixteen paintings on silk (lot 502) were created by Kim Jun Keun, better known by his artistic name Kisan, who focused on genre scenes of everyday life in Korea including its many rites, crafts and customs. These were already disappearing by the time Kisan was painting in the late 19th and early 20th century.His works were primarily acquired in port areas such as Pusan and Wonsan as souvenirs by Western travellers, who came in great numbers after Korea was forcibly opened up by Japan in 1876. Today his genre scenes are valuable repositories of knowledge for ethnologists and cultural historians, with examples in The British Museum, the Rijksmuseum, and The State Museum of Oriental Art in Moscow and the Smithsonian Institution in the US. Bidding on the group at Roseberys London opened online and steadily rose to £29,000, a room bidder then came in and bid against the internet to £32,000 before two online bidders took the lot to £40,000 where it was knocked down at over 26 times its guide.
Chinese lemon-yellow glazed bowls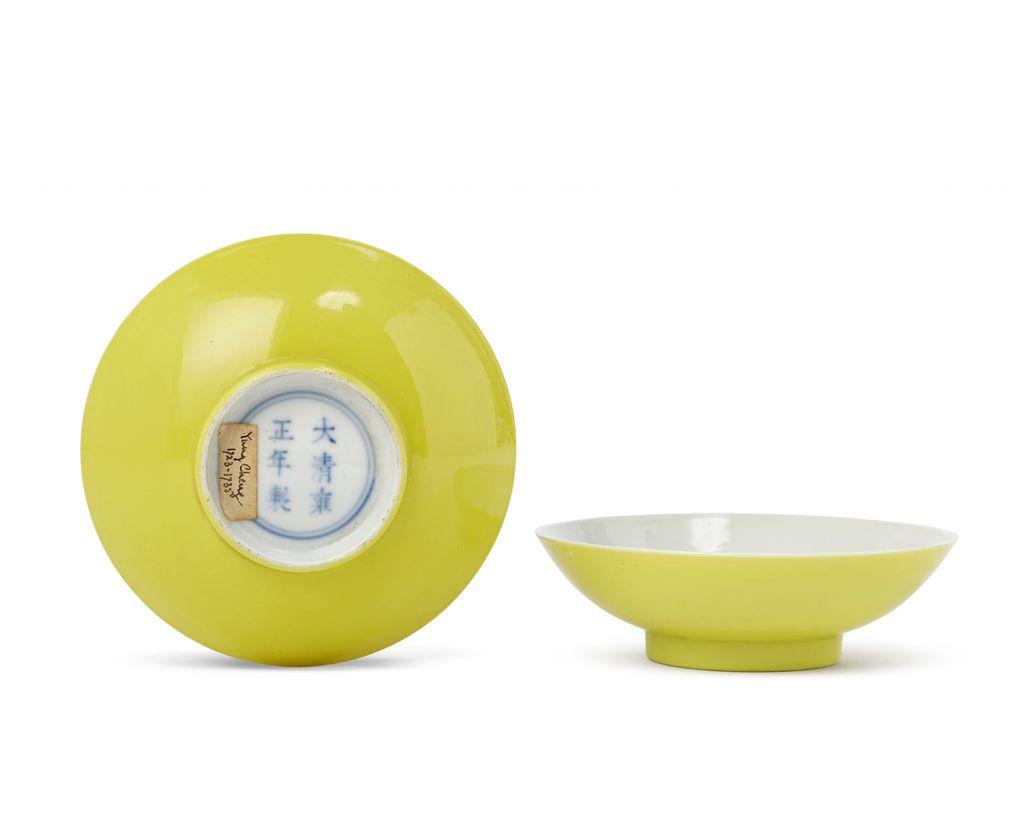 Matching the sum of the set of sixteenpaintings on silk (lot 502) that were created by Kim Jun Keun, in the Asian saleback in November was a rare pair of lemon-yellow glazed bowls (lot 132). Conceived during the reign of the Emperor Yongzhengand consigned from the private collection of a man of nobility, these soughtafter bowls drew eight phone bidders, two room bidders and various online bids,before it eventually sold to the phone for £40,000 – eight times the highestimate.
Grace Hartigan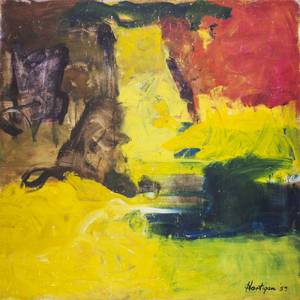 This explosive example of Abstract Expressionism by one of the movement's leading female talents was the star turn in a sale of 20th century Art & Design at Roseberys London. Simply titled Kanvas, the fiery work was created in 1958 by American painter Grace Hartigan (1922-2008) (lot 374). The New Jersey-born artist, dedicated the painting to American playwright William Inge (1913-73), who owned it until it passed into a private London collection. Estimated at £15,000-20,000, the signed 223 x 220cm oil on un-stretchered canvas drew plenty of interest before eventually selling to a phone bidder at £38,000 (£47,500 with premium). Hartigan's paintings sold well, unlike most women of the time,especially after they were included in '12 Americans' at the Museum of Modern Art in New York in 1956, and in The New American Painting, which was co-organized by MoMA and the United States Information Agency and travelled across Europe from 1958-59. Interest in her work then tailed off in the 1970s. Revered today as one of Abstract Expressionism's most individual artists, her star is rising once more. Her current success is also a symptom of the wider demand at auction for female artists, which has grown apace over the last decade. The success of The Studio Collection of Marie Vorobieff Marevna, offered at Rosberys London the following day, is also testament to this.
After Giovanni Antonio Canal 
A pair of majestic Venetian views soared to£32,000 (£40,000 with premium) at Roseberys London on November 21. The so called 'capriccio' oils (lot 62), comprising a fantastical mix of real and imagined buildings, were well executed examples after the great Italian artist Canaletto. The 61 x 82cm oil on panels had been estimated at £15,000-25,000 and eventually sold to a telephone bidder. In the oil pictured left, the central element is not the real Rialto Bridge constructed in 1590, but rather the design for another version of the bridge, published by the preeminent Venetian architect Andrea Palladio in 1570. The painter here drew very precisely on the illustration found in Palladio's 'I Quattro Libri dell'Architettura', only adapting it slightly by adding further sculptures and a few small details. While a couple of different versions exist, this specific composition with Palladio's Rialto Bridge design flanked by two of his buildings in Vincenza was commissioned by essayist and art critic Francesco Algarotti. Algarotti was a fervent advocate of the capriccio art form, as she believed it combined the best of both reality and the ideal through uniting nature and art. The best-known example of the Algarotti composition of the Palladian Rialto is held in the Galleria Nazionale in Parma, though there are several versions.
Alexander Calder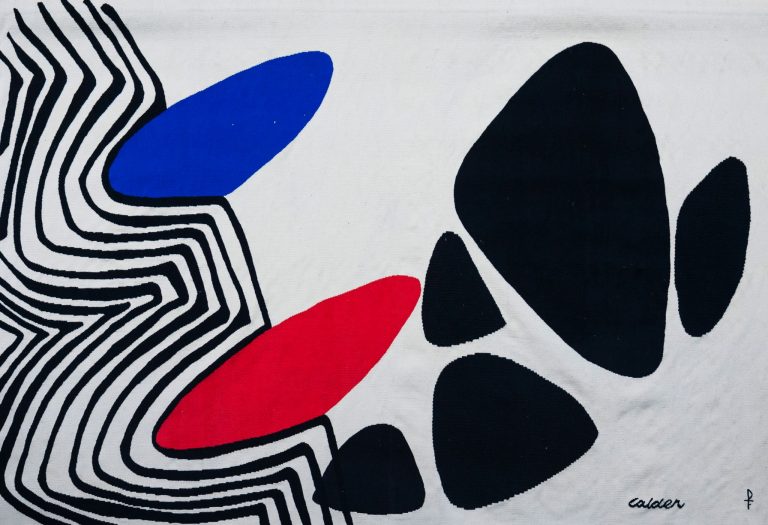 In December on Tuesday 4th Lot 274, Alexander Calder's "Blue and Red Nails" c.1975;handwoven wool tapestry, executed by Ateliers Pinton, France, 160 cm high x 230cm wide was offered at Roseberys. The large wall hanging that was estimated£10,000-15,000, over exceeded its estimate to make £35,000. Calder is widely regarded as one of the most important American Sculptors of the 20th century.But, he wasn't always destined for art – He originally trained in Mechanical engineering on a whim but, this technical ability definitely played a part in what he would be most famous for – The mobile. Calder was also an avid fan of the circus early on in his career to the extent of creating his own miniature circus – Cirque Calder, from found materials. He would give performances in the street and to friends and make a modest earnings from this. It is clear to see this playfulness within the tapestry, excitement and colour was a great source of inspiration for him as he finally found his feet as an artist.
Islamic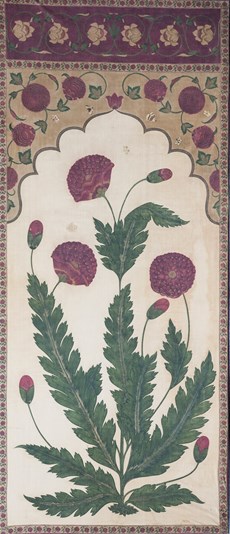 In November a large Islamic printed cotton textile sold in the Islamic & Indian Art sale for an impressive £32,500.00.Exceeding its estimate by over £31,700. The grand printed cotton textile,India, 18th/19th century, depicts a large flowering plant with red blooms in a cream ground within a cusped arch. The arch decorated with similar flowers and butterflies on a brown ground, a further panel of cream blossoms on a red ground above, within an outer border of blossoms. Beautifully mounted on a frame, 225 x 97.5cm.
~Ends~
For further information please contact our Press Office pressoffice@roseberys.co.uk +44 (0) 20 8761 2522
Roseberys is a privately owned auction house operating at the heart of the fine art market for 30 years.
With offices in London's Mayfair and Lambeth Roseberys offer a calendar of antiques and collectibles auctions each year.
Specialist sales include a wide range of Asian and Islamic Arts, Modern and Contemporary Art and Design, Decorative Art, Fine Silver and Jewellery, Ceramics, Paintings, Prints, Photography, Antique Textiles,and Fine Wine and Whisky.
Roseberys team of world-renowned specialists also provide a wide range of art market services to professional clients, including valuations for insurance and probate.
Roseberys is a member of SOFAA – The Society of Fine Art Auctioneers.