Results: 'The first female Cubist'
10/12/2018 News Stories & Press Release, Impressionist, Modern & Post War Art, Single Owner Collections
LONDON: Roseberys London capped off a bumper 2018 with the intriguing studio dispersal of Marie 'Marevna' Vorobieff (1892-1984), the well-connected Russian-born painter best known for her work with Cubism. The single-owner sale offered a rare opportunity to acquire art produced during the Cubist period, as well as Marevna's later works, and comprised over 300 lots of paintings, drawings, photographs and letters. The collection came with impeccable provenance from the estate of David Ellie Phillips, the grandson of Marevna and Diego Rivera.
Tess O'Brien, Head of Department at Roseberys, commented:
'I am delighted with the success of the sale. We were worried that the current trend in the Russian art market would affect this sale, however we saw bidders from all over the world including, Russia, USA, China and France. Some of the works were purchased by private collectors, dealers and institutions. I think because many of these items were so unique and fresh to the market it was a wonderful opportunity for many collectors to buy a piece of history particularly with Marevna's depictions of the La Ruche artists. Marevna's works are like photographs, she captures the spirit and the times of a unique period in history. And in many cases, one cannot afford works by these artists but to be able to buy an image of Chagall, Modilginai, Picasso, Léger and others, one is able to own a piece of this great period of art history.'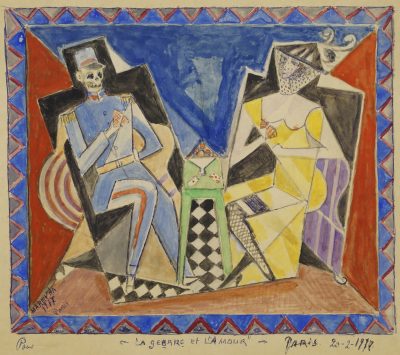 Marevna, reputedly the nickname given to her by the Soviet writer Maxim Gorky after a Russian fairy sea princess, worked closely with Pablo Picasso, Georges Braque and her lover Rivera. Regarded as the first female Cubist painter, she played a significant role in the movement's discourse – a legacy that has sadly been overlooked on account of her gender. Marevna moved to Paris in 1912 where she became acquainted with some of the greatest artists and writers of the early 20th century, then resident in Montparnasse and especially at La Ruche. Picasso, Braque, Chagall, Modigliani and Matisse were just a handful of the famous names she knew. It was also here where she met Mexican muralist Diego Rivera (who would later marry Frida Kahlo), with whom she began a tempestuous and complicated relationship that produced a daughter and continued until Rivera abandoned Paris for Mexico in 1921.
The sale at Roseberys London offered a comprehensive archive of the lives of these La Ruche artists. While Marevna sat for many painters based in La Ruche, including Modigliani, Rivera and Picasso, she was also busy painting them, and the sale included a number of these sketches and paintings.
Marevna's strongest performing early Cubist images were those depicting a solider and woman wearing gas masks (lot 98 & 99). Presenting the market with a wonderful opportunity to acquire Cubist period works on paper, they got away for a combined total of £6,200. Marginally more expensive was the 16 x 19cm gouache and pencil work, inscribed Paris 1917, which tipped over top estimate to sell to a telephone bidder at £3,200 (£4,000 with premium). The other work, an identically-sized mixed media with gouache watercolour on card, also sold to a telephone bidder on top estimate at £3,000 (£3,750 with premium). It too was inscribed Paris, but the artist had gone back at a later date to add blue pen and re-date the work to 20-3-1918 in the margin. It was something Marevna did on a number of her works.
A wonderful example of the artist's mastering of the Constructivist style – and one of her last paintings – was a 50 x 40cm mixed media on canvas of the artist's front garden in Ealing, London (lot 235). Dated to the verso 74 or 77, her unique constructivist style had fully developed by this period and the work was secured by a telephone bidder towards the upper estimate at £2,300 (£2,875 with premium).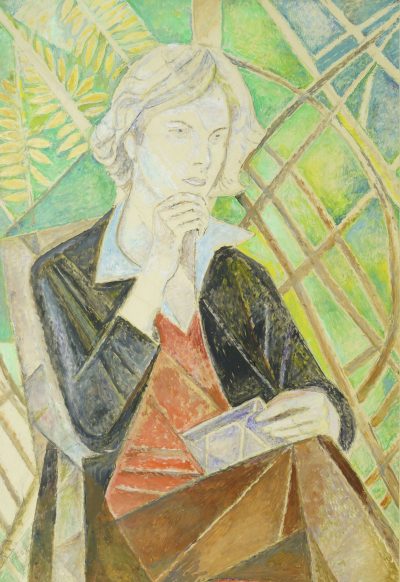 From the same period was a striking oil portrait of the Marevna's friend Dimitri Kullman, previously thought to be Alexandra Kullman, seated in a garden and dated to 1975 (lot 276). Although the face was never finished, it drew plenty of interest and sold above its £1,000-1,500 estimate to a bidder in the room for £2,100 (£2,625 with premium).Elsewhere, was a wonderful collection of works imitating the painting styles of Marevna's friends, Marc Chagall, Braque and Picasso (lot 64). This was a scarce opportunity to buy work in the style of these world-famous artists, created by a friend who worked closely beside them – but for a fraction of the price. The five watercolours over traces of charcoal, including the landscape after Braque pictured here, sold to an online bidder for a multi-estimate £1,500 (£1,875 with premium).
Another copy was Staircase 1914, an exquisite oil and pencil on paper of a well-known work by French painter Joseph Fernand Henri Léger (lot 58). Marevna likely saw the picture when she visited the painter's studio in Paris. Another wonderful opportunity to acquire a contemporary copy for a fraction of the price of an original, it sold to an online bidder at £1,300 (£1,625 with premium), 13 times the estimate.
Léger was also the sitter in a 39 x 47cm black ink and pen and charcoal drawing that had been rolled up in a cupboard for many years (lot 59). Dated 1916, this early depiction of the painter was keenly contested and sold to a telephone bidder for £1,050 (£1,312 with premium) against a £100-150 estimate.
One of the most admired lots in the sale was Femme Nue, an early nude dating from 1942 (lot 180) when Marevna was creating life drawings in the South of France. Today, these works do well on the secondary market. Despite needing some restoration (the piece had multiple tears and some foxing), it nevertheless drew multiple bids before it was knocked down to a commission bidder at £1,200 (£1,500 with premium), 12 times the estimate.
~Ends~
For further information please contact Press Office pressoffice@roseberys.co.uk +44 (0) 20 8761 2522
Roseberys is a privately owned auction house operating at the heart of the fine art market for 30 years.
With offices in London's Mayfair and Lambeth Roseberys offer a calendar of specialist fine art, antiques and collectibles auctions each year.
Specialist sales include a wide range of Asian and Islamic Arts, Modern and Contemporary Art and Design, Decorative Art, Fine Silver and Jewellery, Ceramics, Paintings, Prints, Photography, Antique Textiles, and Fine Wine and Whisky.
Roseberys team of world-renowned specialists also provide a wide range of art market services to professional clients, including valuations for insurance and probate.
Roseberys is a member of SOFAA – The Society of Fine Art Auctioneers.