Results: Jewellery & Watches
23/11/2018 News Stories & Press Release, Jewellery & Watches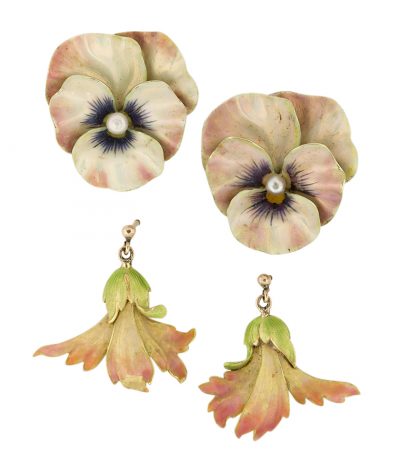 LONDON: Fierce competition emerged for this rare and exquisite natural pearl and Belle Epoque diamond necklace (lot 287), offered as the final lot in a sale of jewellery and watches at Roseberys London. Bidding in the November 20 sale commenced at £50,000, rising quickly to £100,000 before it was finally secured by one of three phone bidders, a London based buyer, for £150,000 (£187,500 with premium). The estimate was £70,000-100,000. The drop-shaped natural pearl, suspended in a rose-cut diamond cap with an old-brilliant-cut diamond single stone surmount, weighs approximately 128 grains (32 carats) and was admired for its symmetrical shape and good lustre. It has generally been accepted that the pearl is of South American origin. The rarity of natural pearls, also known as the 'Queen of Gems', make them among the most coveted gemstones on the secondary market. Even fewer gem quality saltwater pearls of more than 120 grains like this appear on the market, making this an exceptionally rare opportunity, which bidders responded to.
More precious gems came in the form of a rectangular-cut cornered sapphire and diamond ring by Bulgari (lot 273). The strong unheated single sapphire with speculative origin, weighed approximately 4.20 carats and was flanked by two clean top colour diamonds. Bidding was buoyant with several phone bidders contesting it before it was eventually knocked down at £11,500 (£14,370 with premium), just below the top £12,000 guide.
A star of the watch section was this rare Swiss gold three motion automaton pocket watch (lot 132), dating to c.1810. Operated by a lever, the automation springs a three-colour gold scene to life. A mounted huntsman's horse moves up and down as if drinking from an ornamental basin while a young girl pulls a water pump beside a tree. Pre-sale interest was encouraging and bidding from several telephones was evidence of the response. With an estimate of £8,000 12,000, the watch sold for £14,500 (£18,125 with premium).
An 18ct gold, diamond-set, Day-Date automatic wristwatch, by Rolex, Ref. 118348.
Luxury modern wristwatches generate plenty of excitement on today's market, with currently unrelenting demand for the world's most recognisable brands. The section was led by a platinum 'Ice Blue' Rolex Day-Date wristwatch (lot 151), reference 228206, with an ice blue 'glacier' dial, luminous baton markers and matching hands with a magnified date aperture. The c.2017 timepiece was in exceptional condition and came in a presentation case with a card box and documents. Estimated at £12,000-16,000, it drew six telephones and absentee bids before it sold for £24,500 (£30,000 with premium).
Selling for a multi-estimate sum was an 18ct gold and diamond Day-Date Rolex wristwatch (lot 150) with deep green dial and reference number 118348. This too was in immaculate condition and came complete with its box and papers, making it particularly desirable for collectors. The estimate was £4,000-6,000 and with interest in the room, absentee bids and five telephone bidders the price realised was £15,000 (£18,750 with premium).
Perhaps spurred on by bidders looking for Christmas purchases, good quality period jewellery performed well in the sale.
A classic pair of Art Deco platinum drop earrings (lot 271) of typical geometric design and extremely wearable were constantly viewed prior to the sale and sold on the day for £2,600 (£3,250 including premium) to an online bidder.
Dating from c.1950, was a pair of well-made platinum and diamond cluster earrings (lot 260), modelled as attractive windmill designs. These were quickly spotted by potential buyers with bids coming in the room and the telephones before selling to the latter for £1,450 (£1,810 including premium), nearly double the top estimate.
A fine example of late 19th century enamelling came in the form of two pairs of Art Nouveau drop earrings (lot 239) designed as flower heads. Probably made in America in c.1900, they generated a great deal of interest and sold for a multi-estimate £880 (£1,100 including premium).
Elsewhere, an appealing serpent necklace (lot 34) drew eager interest. In crisp condition and set with opals, the 1840s piece was contested by several bidders in the room selling for £1450 (£1,810 including premium), nearly three times its top guide.
~Ends~
For further information please contact Peigi Mackillop peigimackillop@roseberys.co.uk +44 (0) 20 8761 2522
Roseberys is a privately owned auction house operating at the heart of the fine art market for 30 years.
With offices in London's Mayfair and Lambeth Roseberys offer a calendar of more than twelve specialist fine art, antiques and collectibles auctions each year.
Specialist sales include a wide range of Asian and Islamic Arts, Modern and Contemporary Art and Design, Decorative Art, Fine Silver and Jewellery, Ceramics, Paintings, Prints, Photography, Antique Textiles, Vintage Fashion and Fine Wine and Whisky.
Roseberys team of world-renowned specialists also provide a wide range of art market services to professional clients, including valuations for insurance and probate.
Roseberys is a member of SOFAA – The Society of Fine Art Auctioneers.