Results: Fine & Decorative
30/11/2018 Ceramics & Glass, News Stories & Press Release, Works of Art, Sculpture & Clocks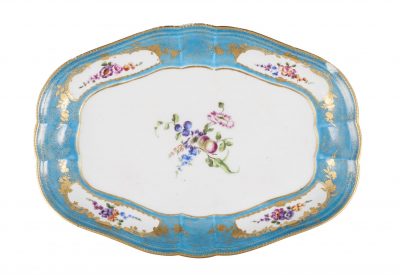 November 22, 2018
LONDON: A fine Vincennes Sèvres porcelain dish that raced to £5,200 (£6,500 with premium), was among numerous examples at Roseberys London where keen bidding outstripped estimates. The 18th century dish (lot 198), offered alongside nearly 400 lots of furniture, works of art ceramics, silver and glass in a Fine & Decorative sale on November 22, had been estimated at £500-800 but sold to a telephone bidder for significantly more. Both rare and early, the 29cm wide piece had been decorated to the factory's exceptional standards with floral sprays, flowers and gilt tooled borders on a dot and turquoise bleu celeste ground – the most expensive ground colour in the 1750s and used only on the most luxurious objects. Bleu celeste was invented by the chemist Jean Hellot in 1753 to decorate Louis XV's newly-designed and extensive dinner and dessert service for use at Versailles. A letter mark to the base dated the dish to c.1753-54, by then Vincennes had been an object of royal patronage for a couple of years. It also places the piece before its factory move to Sèvres, west of Paris, in 1756. In 1759, with the enterprise threatening to go bankrupt, King Louis XV bought the factory outright, initiating the career of world-famous Sèvres porcelain, which was a direct outgrowth of Vincennes.
A Regency bust (lot 159) of a British War General who served under the Duke of Wellington attracted interest from connoisseurs of military history and was secured by a telephone bidder at £4,600 (£5,750 with premium), nearly four times its top guide. The Viscount William Carr Beresford (1768-1854) served in the Peninsula War of 1808-14 and was responsible for reorganising the Portuguese as an effective fighting force. The 73cm high painted plaster bust was made by Humphrey Hopper (1765-1844) at the height of Beresford's career in 1812. A wonderful example of Hopper's work, it shows the decorated general wearing the Army Gold Cross and Collar of Honour, the Most Honourable Order of the Bath and the Portuguese Order of the Tower and Sword. Hopper exhibited at the Royal Academy between 1799 and 1834, producing a wide range of ornamental figures in plaster and terracotta of the great and the good during the late 18th and 19th century. His most famous work is the marble monument to General Hay in St Paul's Cathedral commissioned by the House of Commons in 1814.

There were also multiple bids on this George III Irish ebonised wood and veneered bracket clock by David Gordon of Dublin (lot 249). Dublin makers are always desirable and this unusual piece, with an eight-day five pillar fusee movement and crown wheel escapement, came in the original condition of the movement. It is also rare to find clocks from that period with a single fuse. It was knocked down to a telephone bidder at £5,200 (£6,500 with premium), over four times its upper guide.

Drawing interest from stamp collectors was a large album of Great Britain and British Commonwealth stamps (lot 380). It contained a good selection of George VI examples, including an Aden 1937 set, a Bahrain 1938 – 42 set, a Falkland Islands 1938 set £1 and a good selection of Indian states. It sold to a commission bidder within estimate for £13,000 (£16,250 with premium).

Stiff competition emerged for a charming 19th century mahogany occasional table (lot 317) carved with a central Noah's ark and frieze of animals, including a camel, bear, lion and elephant. The 72cm high table, on a tapering column and tripod legs triggered a bidding battle that went beyond its £150-250 to £1,050 (£1,312 with premium), where it was knocked down to a commission bidder.

Another multi-estimate sum was paid for an attractive Zeyhur rug (lot 233) – a type of Caucasian rug from the Kuba District in Azerbaijan. Radiating with diagonal cross medallions on a dark blue ground with a pink carnation inner border and 'running dog' ivory outer border, it sold to an online bidder at £4,000 (£5,000 with premium), around nine times its top guide.

Another star lot was an impressive scratch built mechanical scale model of a travelling three-ring circus (lot 382), featuring over 100 hand crafted and painted moving figures and animals. The Silver's Model Circus was built by David Hardie and his family in 1930s and was the original model used by salesmen to show circus owners a scale model of the tent they could buy. The model is based on a real travelling Australian circus set up by David Hardie, his brother Les, and their partner Mervyn King after the Second World War. Roseberys London was delighted to offer such a special model, which encapsulates the magic of the circus and the maker's passion, skill and dedication. The detail of each element mesmerised visitors young and old who came to view the lot over the course of the eight weeks it was on view. Offered at £10,000-20,000 as the final lot of the sale, it sold to a buyer in the room at £10,000 (£12,500 with premium).

Among the works of art was a pair of Regency hexagonal tortoiseshell tea caddies (lot 290) made in c. 1825 by Lund of Cornhill, London makers of high-quality items including boxes in the 19th century. It is unusual to find a pair in such good condition. The 13.5cm high mother-of-pearl finial topped pieces, which opened to reveal an ivory and felt lined interior, sold over estimate to a commission bidder for £1,150 (£1,437 with premium).
Pieces made by the renowned London furniture makers Howard & Sons, are always hotly contested due to their enduring style and comfort. The sale included this c.1900 sofa (lot 328) with a green floral upholstered slipcover on short square tapering legs, each stamped Howard & Sons London. Guided at £1,000-1,500, they sold for £4,800 (£6,000 with premium) to an online bidder.
~Ends~
For further information please contact Peigi Mackillop peigimackillop@roseberys.co.uk +44 (0) 20 8761 2522
Roseberys is a privately owned auction house operating at the heart of the fine art market for 30 years.
With offices in London's Mayfair and Lambeth Roseberys offer a calendar of more than twelve specialist fine art, antiques and collectibles auctions each year.
Specialist sales include a wide range of Asian and Islamic Arts, Modern and Contemporary Art and Design, Decorative Art, Fine Silver and Jewellery, Ceramics, Paintings, Prints, Photography, Antique Textiles, Vintage Fashion and Fine Wine and Whisky.
Roseberys team of world-renowned specialists also provide a wide range of art market services to professional clients, including valuations for insurance and probate.
Roseberys is a member of SOFAA – The Society of Fine Art Auctioneers.
Lot 328: A Howard & Sons sofa, c.1900 – £4,800 (£6,000 with premium