Results: Asian Arts
21/11/2018 News Stories & Press Release, Chinese, Japanese & South East Asian Art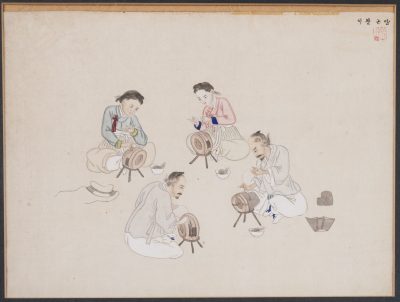 LONDON: Paintings showing a rare glimpse into the forgotten ways of traditional Korean life starred in a sale of Asian art at Roseberys London on November 12. The set of sixteen paintings on silk (lot 502) were created by Kim Jun Keun, better known by his artistic name Kisan, who focused on genre scenes of everyday life in Korea including its many rites, crafts and customs.
T
hese were already disappearing by the time Kisan was painting in the late 19th and early 20th century. His works were primarily acquired in port areas such as Pusan and Wonsan as souvenirs by Western travellers, who came in great numbers after Korea was forcibly opened up by Japan in 1876.
Today his genre scenes are valuable repositories of knowledge for ethnologists and cultural historians, with examples in The British Museum, the Rijksmuseum, The State Museum of Oriental Art in Moscow and the Smithsonian Institution in the US. Bidding on the group at Roseberys London opened online and steadily rose to £29,000, a room bidder then came in and bid against the internet to £32,000 before two online bidders took the lot to £40,000 where it was knocked down at over 26 times its guide.
Matching that sum was a rare pair of lemon-yellow glazed bowls (lot 132), conceived during the reign of the Emperor Yongzheng. Consigned from the private collection of a man of nobility, these sought after bowls drew eight phone bidders, two room bidders and various online bids, before it eventually sold to the phone for £40,000 – eight times the high estimate.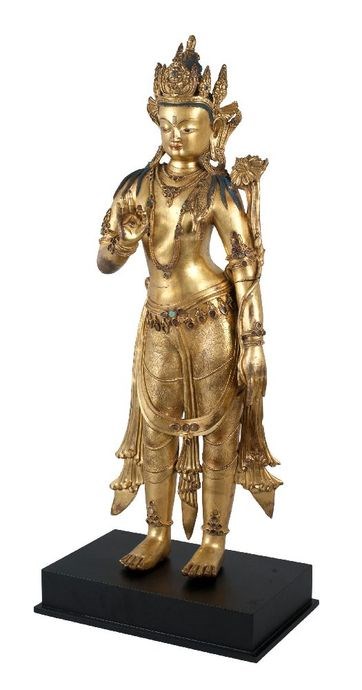 Another Chinese porcelain highlight was a Qianlong period vase (lot 87) made for the imperial palace.
Sadly, at some point in the last two hundred years, it had been smashed and crudely repaired in several places making it merely an interesting study piece. The 25.5cm high porcelain famille rose bottle vase, painted to the body with two quatrifoil panels depicting figures in expansive landscapes, made £9,000 against a £3,000-£5,000 guide. Chinese cinnabar lacquer – the delicately carved resin coloured in a mercury sulphide that gives it its deep red 'cinnabar' hue – was favoured for domestic items throughout Asia. Two examples were hotly pursued in the sale. The first was a circular 'lotus' box and cover (lot 221) dating to the Ming dynasty in the 15th century. Finely carved to the lid with a central lotus seed pods inside an engraved lozenge band and a row of stylised lotus petals, it was bought by a phone bidder at £21,000, more than double its top £10,000 guide.
The second piece of cinnabar lacquer was a later 18th century hexalobed box and cover (lot 220). Finely carved to the cover with a cartouche of scholars engaged in a game of wei qi, the 17.5cm long piece sold for £18,000 against a £10,000-£15,000 estimate.
Tibetan artefacts were another area of strength in the sale. An early and unusually large 35cm high ritual chopper with an iron crescent form blade (lot 497) known as a Karttrka, sold to a phone bidder for £13,500, more than double the top estimate. The blade on Karttrkas, which are often depicted in the hands of Buddhist deities, symbolise the severance of material and worldly bonds that are the obstructions to enlightenment.
A Stupa is another Buddhist object proving popular in the current market. Typically, it comes in the form of a large mound and contain relics, sometimes the remains of Buddhist monks, and are used for meditation.
A small, portable gilt jeweled bronze example (lot 491) produced for worship, sold to a bidder on Roseberys Live for £5,800 against £1,500-2,500 estimate.
Dating to the 17th or 18th century, the piece is decorated with two opposing bands of stylised lotus leaves beneath a globular mid-section decorated with festoons and set beneath a turquoise and coral inlaid harmika. Sino-Tibetan works are a popular collecting area for the Chinese, especially among the younger generation of collectors with a Communist background, who are rediscovering their country's Buddhist heritage.
A Sino-Tibetan gilt copper 'jewelled' figure of Padmapani Avalokiteshvara (lot 343), acquired in China between 1942-46 by the grandfather of the vendor, tipped over top estimate to sell to a phone bidder against a commission bid for £10,500. The large 68cm high sculpture, set with a semi-precious stone in one palm, is a copy of a 14th century Nepalese bronze and dates to the 17th or 18th century. Another stand out Tibetan piece was a large 19th century gilt copper and zinc oracle mirror (lot 496). The ornate piece, measuring 26.5cm in diameter, is set with the Tibetan syllable Hrih inside a gilt copper repousse border with rope twist and fleur-de-lys edges and turquoise encrusted jewels. Estimated at £1,500-2,500, it sold to a phone bidder at £8,000.
Among the selection of Japanese offerings was this 19th century antler horn netsuke (lot 458) by Hoshunsai Masayuki. Carved as a badger dressed as a priest holding a mokugyo (a decorative temple gong), it sold to an Invaluable online bidder at £5200. This is a fine example of a netsuke made by the well-regarded carver Masayuki, whose work also appears in The British Museum. The rarity and quality of this carving, coupled with the fact that this is not, as so many netsuke are, carved from elephant ivory, contributed to its strong hammer price.
~Ends~
For further information please contact Peigi Mackillop peigimackillop@roseberys.co.uk +44 (0) 20 8761 2522
Roseberys is a privately owned auction house operating at the heart of the fine art market for 30 years.
With offices in London's Mayfair and Lambeth Roseberys offer a calendar of more than twelve specialist fine art, antiques and collectibles auctions each year.
Specialist sales include a wide range of Asian and Islamic Arts, Modern and Contemporary Art and Design, Decorative Art, Fine Silver and Jewellery, Ceramics, Paintings, Prints, Photography, Antique Textiles, Vintage Fashion and Fine Wine and Whisky.
Roseberys team of world-renowned specialists also provide a wide range of art market services to professional clients, including valuations for insurance and probate.
Roseberys is a member of SOFAA – The Society of Fine Art Auctioneers.