Results: Artsy Contemporary & Urban Prints
5/12/2018 Prints & Multiples , News Stories & Press Release

Rising stars of the Urban and Contemporary art scene joined an array of blue-chip names in an exciting collaborative sale between Roseberys London and online platform Artsy. Concluding on December 3, the online Urban and Contemporary art auction comprised prints and mixed-media works created by artists from around the world including Julian Opie, Yayoi Kusama, Banksy, and many more.
Shane Xu, Head of department at Roseberys London, said after the sale: "I am overjoyed to partner with Artsy again for our urban and contemporary sales of prints and multiples. I think what we have to offer is perfect for Artsy collectors. It is always interesting to see how different works are received on their platform. This has been the first time we have sold mixed media as well as prints and I am very happy with the outcome."
Among the headline lots was a trademark optical illusion piece by Patrick Hughes (b.1939), which featured replicas of famous works of art by renowned contemporary artists including Jeff Koons and Damien Hurst. The London-based artist is the creator of 3D reverspective painting, where parts of the picture that seem farthest away are actually physically the nearest. Similar to a piece of work displayed in the British library, the hand-painted multiple print titled Poppy (2010) (lot 1) was one of seven artist's proofs made for a limited edition of 50. It came housed in its original Perspex box and sold for £4,000.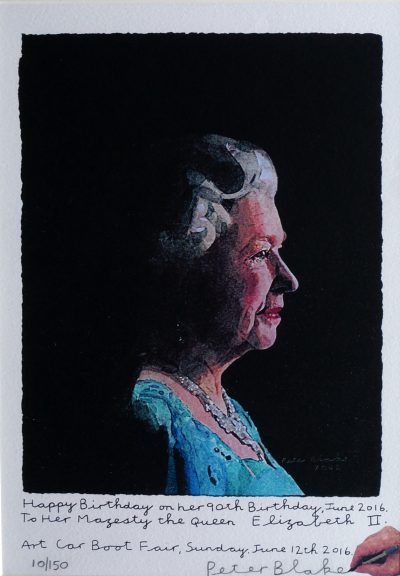 Alongside Hughes, another British art favourite is Sir Peter Blake (b.1932). Widely regarded as the godfather of British pop art and the Young British Artists movement, he is perhaps best known for co-creating the sleeve design for the Beatles' album Sgt. Pepper's Lonely Hearts Club Band. Blake's standout piece in the sale was a 2016 giclee coloured print titled To Her Majesty the Queen Elizabeth II (2016) (lot 2). This iconic image of the queen was a similar print to the one he produced for London's outdoor Art Car Boot Fair. To the bottom is a message wishing the monarch a happy 90th birthday, Blake's signature and print number 10/150. It sold for a bumper £1,700. Another print from the same edition sold at auction earlier this year for less than half this total at £750.
Described as "one of the hottest names on the contemporary art scene today" by London's Maddox Gallery, celebrated LA-based artist Danny Minnick draws comparisons with the creations of Jean-Michael Basquiat and Keith Haring.
The Seattle-born painter is attracting increasing interest this side of the pond with work in the Barbican and around Shoreditch and a first UK solo show. Minnick's powerful Light My Fire (2017) (lot 58), an acrylic ink on Somerset satin, sold for £5,500.
Another name to watch out for is David Shrigley (b.1968). The British painter recently tapped into the Asian market with exhibits at the Power Station of Art in Shanghai, and Yumiko Chiba Associates in Tokyo. He also took over the booth of Stephan Friedman Gallery at Frieze Art Fair, with images circulating widely across social media. The British painter finds meaning in snippets of text and overheard conversations. Tackling serious issues, such as unemployment and child welfare, as well as more absurd subjects, his fragmented narratives can be both poignant and funny. His screenprint FH10 – The Futureheads – Chaos (2010) (lot 74), sold for £300.
A recurring theme in the work of American artist Mel Bochner (b.1940) is the relationship between language and physical space or colour. This was famously demonstrated in his Measurement installations of the late 1960s, which visualised the exact dimensions of rooms and exhibition spaces, and thesaurus-inspired paintings of a single word and its synonyms. Offered for sale was a unique double-sided screenprint, Blah, Blah, Blah + Background Noise (2012) (lot 69). The composition, wording and colour clash made it particularly desirable and it sold for £1200.
~Ends~
For further information please contact Peigi Mackillop peigimackillop@roseberys.co.uk +44 (0) 20 8761 2522
Roseberys is a privately owned auction house operating at the heart of the fine art market for 30 years.
With offices in London's Mayfair and Lambeth Roseberys offer a calendar of more than twelve specialist fine art, antiques and collectibles auctions each year.
Specialist sales include a wide range of Asian and Islamic Arts, Modern and Contemporary Art and Design, Decorative Art, Fine Silver and Jewellery, Ceramics, Paintings, Prints, Photography, Antique Textiles, Vintage Fashion and Fine Wine and Whisky.
Roseberys team of world-renowned specialists also provide a wide range of art market services to professional clients, including valuations for insurance and probate.
Roseberys is a member of SOFAA – The Society of Fine Art Auctioneers.