Results: 20th Century Art & Design
7/12/2018 News Stories & Press Release, Decorative Arts & Modern Design , Impressionist, Modern & Post War Art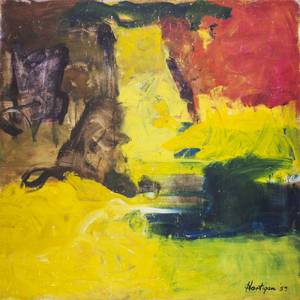 December 4, 2018
LONDON: This explosive example of Abstract Expressionism by one of the movement's leading female talents was the star turn in a sale of 20th century Art & Design at Roseberys London.Simply titled Kanvas, the fiery work was created in 1958 by American painter Grace Hartigan (1922-2008) (lot 374). The New Jersey-born artist, (who occasionally showed under the pseudonym "George"), dedicated the painting to American playwright William Inge (1913-73), who owned it until it passed into a private London collection. Estimated at £15,000-20,000, the signed 223 x 220cm oil on unstretchered canvas drew plenty of interest before eventually selling to a phone bidder at £38,000 (£47,500 with premium). It was after a move to New York in 1945 when the young Hartigan became heavily involved with and influenced by the Abstract Expressionist movement, by then in full swing. Her large-scale gestural paintings are reminiscent of Mark Rothko and Jackson Pollock, but distinct from both. Hartigan's paintings sold well, unlike most women of the time, especially after they were included in '12 Americans' at the Museum of Modern Art in New York in 1956, and in The New American Painting, which was co-organized by MoMA and the United States Information Agency and travelled across Europe from 1958-59. Interest in her work then tailed off in the 1970s. Revered today as one of Abstract Expressionism's most individual artists, her star is rising once more. A new auction record was set earlier this year for another of Hartigan's Abstract Expressionist paintings. Her current success is also a symptom of the wider demand at auction for female artists, which has grown apace over the last decade. The success of The Studio Collection of Marie Vorobieff Marevna, offered at Rosberys London the following day, is also testament to this.
Contrasting with the vibrancy of Hartigan's work was an intensely somber and gloomy creation by Polish artist Zdzislaw Beksinski (1929-2005) (lot 460). Beksinski specialised in the field of dystopian surrealism and has been compared to Swiss painter H.R. Giger, who creates images of humans and machines in cold biomechanical relationships. Untitled (the artist refused to provide titles for any of his drawings or paintings), the 76 x 60cm graphite on paper is typical of this Polish and Eastern European style. Heavily worked with detail, superbly finished and with an old gallery label for Galerie Simone van Dormael in Brussels, it set pulses raising and was eventually knocked down to an online bidder at £10,500 (£13,125 with premium). It was estimated at £2,000-3,000.
Keen bidding also emerged for a 130 x 89cm oil on canvas of a seated female nude painted in 1946 by Lancelot Ney (1900-1965) (lot 436). The talented Hungarian-born painter was a successful caricaturist in his early life before going on to produce figural pictures, abstract painting, ink drawings and etchings. This painting was especially appealing as it combined a good format, size and composition with a highly sought-after period. Estimated at £600-800, it eventually sold to an online bidder for £3,200 (£4,000 with premium).
Ceramics was another category in the sale that yielded plenty of highlights. A collaboration between two of the hottest names in studio pottery, Lucie Rie (1902-95) and Hans Coper (1920-81), propelled a finely decorated 'sgraffito' beaker and saucer to sell to an online bidder at £1,200 (£1,500 with premium) (lot 106), nearly double its top guide.
Dating to c.1950-60, the rare and early beaker was particularly fine in quality, despite an old hairline crack that seemed not to deter interest. Bernard Leach (1887-1979), the so-called father of British studio pottery, was represented by a trio of charming animal stoneware tiles made in c.1930-40, which all found new homes. Leach was a superb artist as well as potter, and collectors are always after good examples of his paintings and brushwork. Small works by Leach are also in demand and these tiles, 4 inches square, had excellent animal brushwork decoration and came in decorative period oak frames. The top seller at £1,300 (£1,625 with premium) was a snail tie (lot 169), which carried a guide of £500-700 and sold to an online bidder.
Produced in Stoke-on-Trent during the city's boom years was a 'pomegranate' ceramic advertising plate from c.1949-1986 (lot 26) emblazoned across the centre with 'Moorcroft Pottery'. Tube-lined, coloured and glazed with banded decoration, it was signed in blue with the initials 'WM' and impressed 'Moorcroft Made in England'. Such plates are rare, which enticed collectors to forgive its condition (it has a chip on the back and glaze flakes to the rim). Estimated at £300-600, it was eventually knocked down to an online bidder for £3,600 (£4,500 with premium). Another Moorcroft creation, desired for its good condition and printed 'Hesperian' mark, fetched £1,900 (£2,375 with premium) from a buyer on the phone, well over double its top estimate. The daisy pattern ceramic vase, dated from c.1902 (lot 30), and had white tube-lining and was coloured in shades of blue with a hint of mauve on the flowers.
Incorporating two massive names in Italian Post war Design – the genius of Duilio Barnabe (1914-61) and the precision and quality of Design House Fontana Arte, this side table, with its abstract reverse painted glass top is a true collector's piece (lot 224). Dating to c.1950s and raised on brass and black enamelled steel legs, it sold to a phone buyer for £2,500 (£3,125 with premium).
Another furniture highlight was a model 5011 sofa by Kaare Klint (1888-1954), known as the 'father of modern Danish design' (lot 237).With its simple and elegant lines, it epitomised the move towards modernism that would make Danish furniture of the 20th Century so revered and sought after. Upholstered in blue fabric on mahogany legs with chamfered stretchers, it sold for (£2,100 (£2,625 with premium).
~Ends~
For further information please contact Peigi Mackillop peigimackillop@roseberys.co.uk +44 (0) 20 8761 2522
Roseberys is a privately owned auction house operating at the heart of the fine art market for 30 years.
With offices in London's Mayfair and Lambeth Roseberys offer a calendar of more than twelve specialist fine art, antiques and collectibles auctions each year.
Specialist sales include a wide range of Asian and Islamic Arts, Modern and Contemporary Art and Design, Decorative Art, Fine Silver and Jewellery, Ceramics, Paintings, Prints, Photography, Antique Textiles, Vintage Fashion and Fine Wine and Whisky.
Roseberys team of world-renowned specialists also provide a wide range of art market services to professional clients, including valuations for insurance and probate.
Roseberys is a member of SOFAA – The Society of Fine Art Auctioneers.