Results - Design: Decorative Arts 1860 to the Present Day
8/11/2019 News Stories & Press Release, Decorative Arts & Modern Design
LONDON: Mid-century modern furniture and choice pieces by household names across late 19th and 20th century design emerged as the best sellers in Roseberys London's latest Design: Decorative Arts 1860 to the Present Day sale. Three quarters of the 215 lots got away with the auction embracing decorative arts from the Gothic Revival, Aesthetic and Arts & Crafts movements, Art Nouveau and Art Deco periods, as well as Studio Ceramics and Modern Design of the post-war decades and contemporary pieces.
Alex Tonkinson, Rosebery's consultant specialist, commented on the overall sale: "We were pleased to see so many private buyers looking for good mid-century items for their homes, some of which sold for record UK auction prices, and there were very few unsold items in this category. Roseberys sold 75% of the lots offered and look forward to the next sale on 3rd March 2020".
Four 'Galleon' six-inch tiles by Arts & Crafts great William de Morgan (1839-1917) attractive competitive bidding to sell for a combined £4,200 - a testament to the enduring popularity of de Morgan and his tiles designs. As a ceramicist, de Morgan experimented widely with techniques and glazes, re-discovering methods for making and applying lustres and the colours of Iznik and Persian pottery and using them for a range of complex fantasy designs featuring galleons, birds, flora and animals. De Morgan produced tiles and lustre-ware in Chelsea from 1872, and at Merton Abbey (next door to William Morris's factory) from 1882-88. From 1888-98 - the period when these tiles were produced - he set up at Sands End, Fulham, in partnership with the architect Halsey Ricardo (1854-1928). [Lot 21]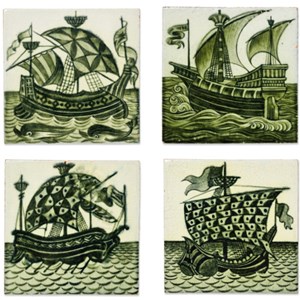 One of René Lalique's (1860-1945) elegant and streamlined 'Victoire' car mascots sold for £5,800, despite a bruise to the base. Also known as 'Spirit of the Wind', the androgynous, open-mouthed figure is an enduringly popular mascot designed in 1928 as a striking symbol of speed.Lalique added car mascots to production in the late 1920s producing 29 designs in all which were made from high quality glass. [Lot 62]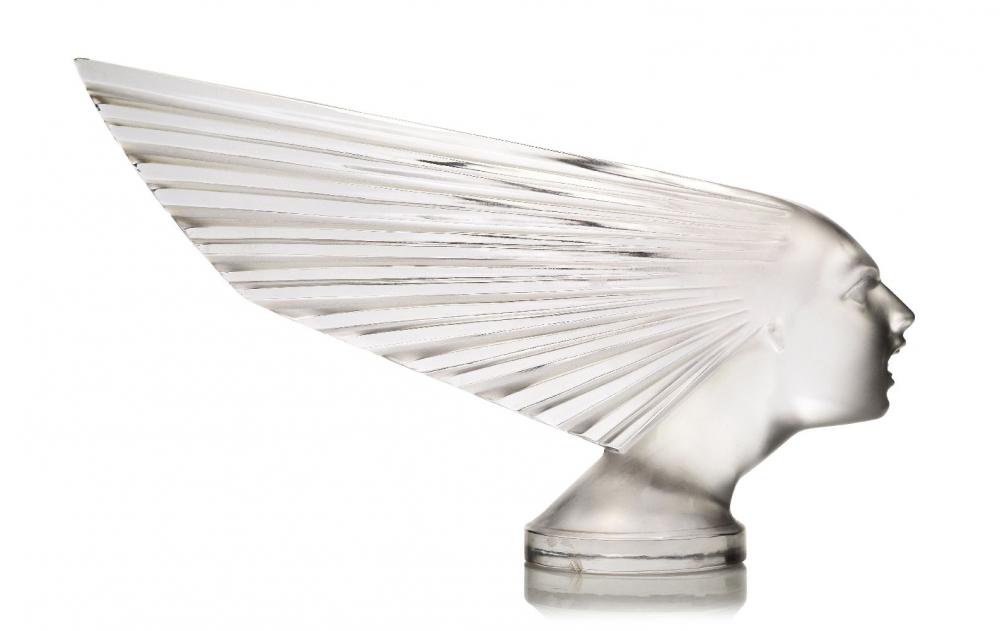 A topical inclusion in the November sale was a c.1920 Louis Sosson (Act.1905-1930) bronze and ivory figure of a lady skier dressed for a day on the slopes with her skis strapped to her back. In good condition, having been well cared for, it proved rather popular finding a buyer at £2,200 against an estimate of £1,200-1,800. Sosson primarily produced high-quality chryselephantine statuettes of ivory and bronze of young women during the Art Deco and Art Nouveau eras, though not much else is known about his life. [Lot 70]
An unusual Georg Jensen (1866-1935) gold and aquamarine pendant from c.1925 attracted competitive bidding and realised £1,600 on the hammer. Jensen, who opened his silverworks in Copenhagen in 1904, created affordable pieces of silver jewellery, often paired with enamel or semi-precious stones, designed to be accessible to all levels of society. [Lot 129]
A set of four armchairs used in 1954 in the salon of the French Presidential train of René Coty, President of France from 1954-59, were fought over by French bidders eventually selling for £3,400. They were designed in 1928 by Jules Leleu (1883-1961) who became famous for tempering Modernism with classical lines. His designs were highly sought-after with his furniture seen on the ocean liners SS Ile de France and SS Normandie, and in several French Embassies around the world and the Grand Salon of the Ambassadors at the Society of Nations in Geneva. [Lot 97]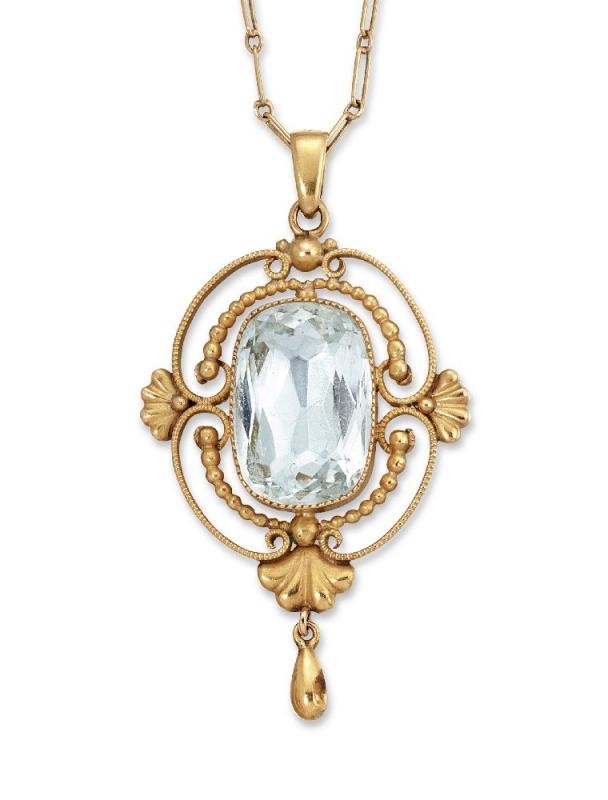 An elegant post-war British Kingwood 'Spink' table with a cut-out aperture and sinuous legs, designed by John Makepeace (b.1939) and made in his workshops in 1980, achieved £2,000. Often hailed as the father of modern British furniture design, Makepeace is credited with reviving the art and craft of fine furniture making in late 20th century Britain. His early commercial work in the 1960s was sold by Heal's, Liberty and Harrods, but in the mid-1970s he decided to scale down and concentrate on developing furniture-making into high art. [Lot 111]
A lot with links to Heal's was a pair of Ekström's 'Lamino' sheepskin armchairs made by Swedish furniture designer Yngve Ekström (1913-1988) in c.1950 for Swedese, the furniture manufacturer he co-founded. The pair were originally purchased by the previous owner from Heal's in the 1950's and sold for £1,700, which is believed to be the highest made for the design at a UK auction. Ekström's Lamino design is still being produced by Swedese and was recently voted as the most popular chair in Sweden of the 20th century. [Lot 184]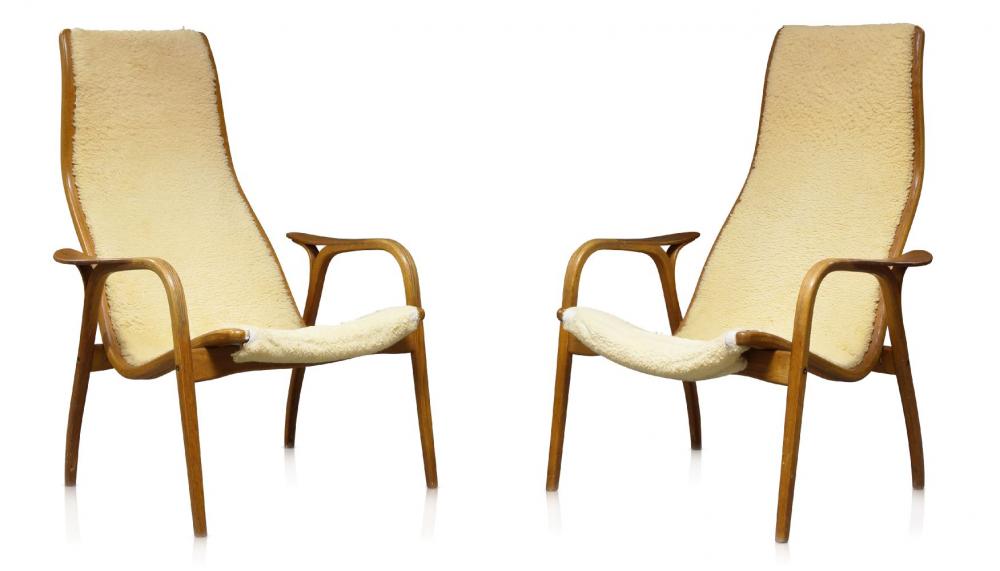 English sideboards on the whole are not in the same league as their Scandinavian counterparts but this c.1960s teak White and Newton example is an exception to the rule. With simple lines and superb construction, it was fiercely contested and sold for a hammer price of £1,200, a UK auction record for this model.
Under the design direction of the talented Arthur Edwards, White and Newton of Portsmouth were at the cutting edge of furniture design and production in Britain throughout the mid 20th century. As well as clean modern lines and stark linear form, the company favoured the use of teak as a staple design material but also on occasion embraced luxurious timbers such as rosewood. [Lot 150]
A set of six c.1990 'CN II' chairs in aluminium attributed to the Belgium furniture designer Maarten van Severen (1956-2005) and bought by the vendor in c.1999, nearly doubled hopes to sell for £2,300. Like other popular designer-makers in the 1990s, Van Severen produced his own editions of furniture. By the end of the 1990s, however, he had licensed his designs to the Belgian manufacturer Top Mouton who manufactured his furniture under his name and guidance. About 150 'CN II' chairs are purportedly still made each year. [Lot 209]
Alan Wallwork's (b.1931) British studio pottery are always popular. This stoneware example from the c.2nd half of the 20th century attracted multiple bidders despite its modest size, selling for a hammer price of £550. It was a particularly elegant form from the British studio potter with the two tips coming together at the top and glimpses of vivid blue glaze in the perforations. [Lot 134]
For further information please contact Peigi Mackillop peigimackillop@roseberys.co.uk +44 (0) 20 8761 2522