Recurring iconology within Damien Hirst's artwork
25/06/2021 Modern & Contemporary British Art, Prints & Multiples , News Stories & Press Release
Damien Hirst (b.1965) is a British contemporary artist. He is one of the Young British Artists (YBAs), who dominated the art scene in the UK during the 1990's. His varied practice explores the complex relationships between art, religion, science, life and death. From serialized paintings of multicolored spots to animals preserved in tanks of formaldehyde, his work challenges contemporary belief systems, tracing the uncertainties that lie at the heart of human experience.
Here we explore the recurring iconology that is in connection with his themes of religion, science, life and death, that appear in his artwork.
Butterflies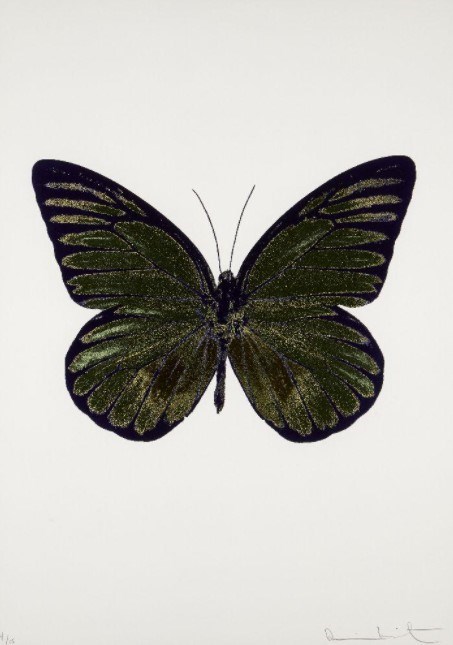 Damien Hirst, British b.1965- Leaf Green/Oriental Gold/Westminster Blue, 2010; foil block print in colours on 300gsm Arches 88 wove
Butterflies, dead or alive, have appeared in Hirst's work since the late 1980's. For Hirst, the appeal of butterflies is created largely by the appearance of life which they retain in death. A simplified symbolization of death and resurrection. The British artist debuted the butterfly motif when he was a young 26-year-old, with his ambitious installation "In and Out of Love" (1991).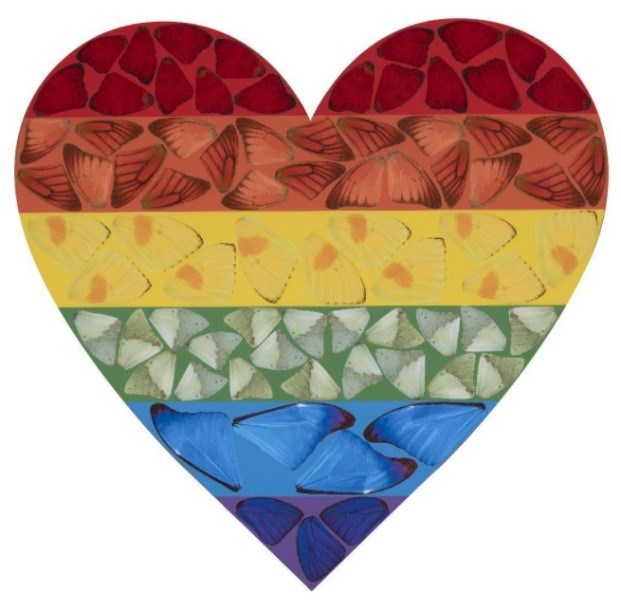 Damien Hirst, British b.1956- Butterfly Heart [H7-3], 2020; laminated giclée print in colours on aluminium composite panel
His use of the butterfly speaks to the concept that a unique approach to his art lies in the concept that art is a reflection of life, as the butterfly symbolizes the circle of life, growth, and change. Each butterfly is also born with a completely unique pattern, representing the individuality of the human race.  On the butterflies repeated appearance in his work, Hirst noted: "I think rather than be personal you have to find universal triggers: everyone's frightened of glass, everyone's frightened of sharks, everyone loves butterflies." Hirst has used this symbol not only in his printed editions, but also in an exhibition at the Tate Modern, where visitors interactively immersed in a room of butterflies. 
Skulls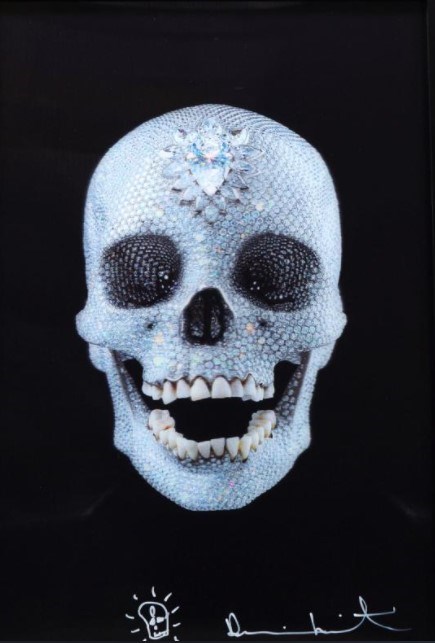 Damien Hirst, British b.1965- For the Love of God, 2012; lenticular, digital print on PEGT plastic sold for £1,313 in Roseberys Modern & Contemporary Prints & Multiples auction in 1.5.18
Pictured above is a print that sold at Roseberys of Hirst's 'For the Love of God'. The original was a platinum skull set with diamonds, which is one his most important and widely recognised artworks. The symbol of a skull acts as a reminder that our existence on earth is transient. Hirst combined the imagery of classic memento mori with inspiration drawn from Aztec skulls and the Mexican love of decoration and attitude towards death. He explained of death: "You don't like it, so you disguise it or you decorate it to make it look like something bearable – to such an extent that it becomes something else." Another recurring icon within Hirst's work is diamonds. Alongside their beauty, Hirst's magnetism with diamonds results partly from the uncertainty surrounding their worth.
Spots


Damien Hirst, British b.1965- Pyronin Y, 2005; etching in colours on 350g Hahnemühle paper sold for £9,750 in Roseberys Prints & Multiples auction on 08/04/2019
'Damien Hirst's 1,500 career-spanning, geometrically relentless spot paintings have took over the planet' - was a headline that featured above an article within the Guardian. 'They (the spot paintings) have no discernible secrets, and that's part of the deal. Nothing more is revealed, however long you look. They're as unsatisfying as cigarettes, calming but addictive. Avoid prolonged exposure.' – the article within the Guardian also mentioned.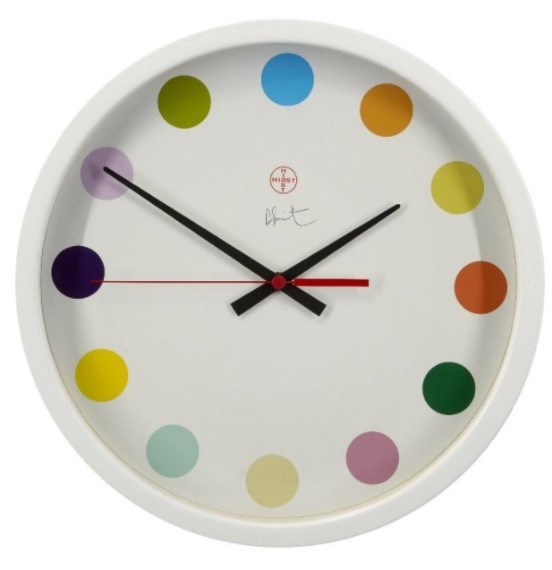 Damien Hirst, British b.1965- Spot Clock (Large), 2009; powdered metal clock in colours, with printed signature to face, published by Other Criteria, with original packaging.
The spot paintings are one of Hirst's most important series. Of their conception, he explains: "To create that structure, to do those colours, and do nothing. I suddenly got what I wanted. It was just a way of pinning down the joy of colour." One of his earliest spot paintings on board (1986) was originally shown at his first solo show whilst in his second year at Goldsmiths, 'Constructions and Sculptures' (1988). From their inception in 1986, Hirst's purpose was always to create a collective installation of spot paintings. As he explained of the idea in 2000: "It's something I've been excited about for years. Ever since I first started making them. it's an assault on your senses. They grab hold of you and give you a good shaking. As adults, we're not used to it. It's an amazing fact that all objects leap beyond their own dimension."
Mickey Mouse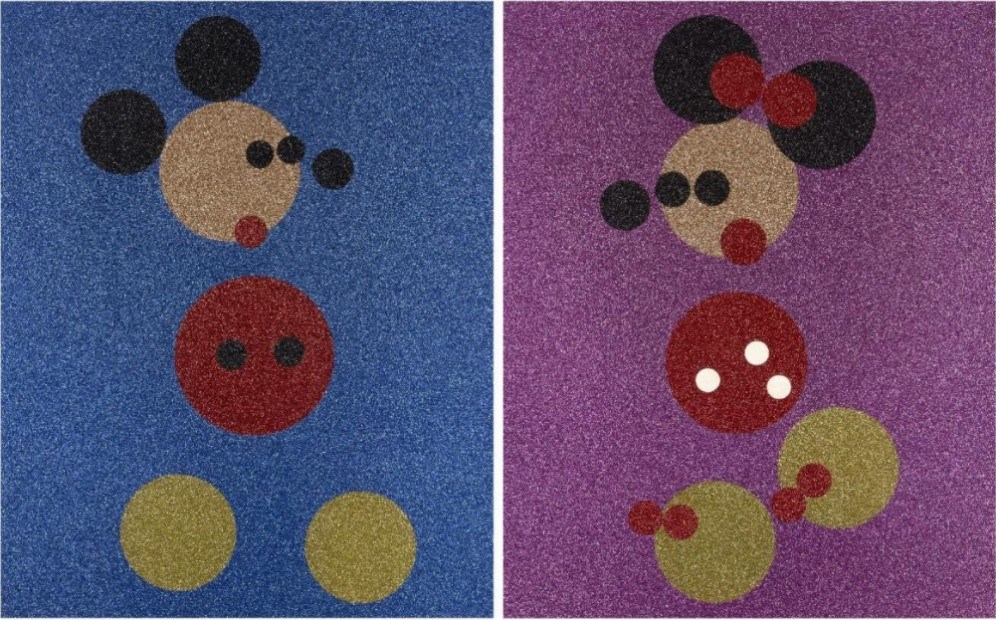 Damien Hirst, British, b.1965- Mickey and Minnie (Blue and Pink Glitter), 2016; two screenprints in colours with glitter on wove
The works pictured above is a playful continuation on from Hirsts' spot paintings, using simplified versions of well-loved cartoon characters, in particular Mickey Mouse.

Damien Hirst, British b.1965- Swatch Mirror Spot Mickey [SUOZ290S]; unisex Swatch watch in plastic, created to commemorate the 90th anniversary of Mickey Mouse
"The thing about Mickey is that even though he's gone through so many shifts in form and association, he's timeless. In a way, he means the same in the 21st century as he did decades ago. I watched the cartoons as a kid, and my kids watch them too. He's relevant because he's remained so culturally ingrained and he still just looks so great. The way children are entertained today has obviously changed dramatically, but kids are still kids, and love the same things. It's using simple means to capture the very essence of his form solely through the power of colour. I love that the imagery is so powerful that it only takes twelve different coloured dots to create something so instantly recognisable." Damien Hirst, Interview Magazine, December, 2013
Medicine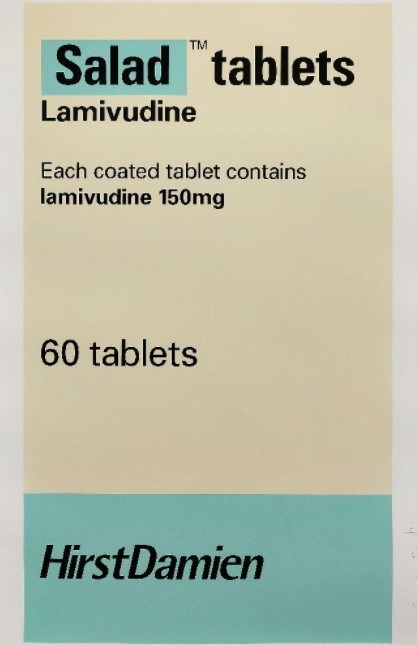 Damien Hirst, British b.1965- The Last Supper (Salad), 1999; screenprint in colours on wove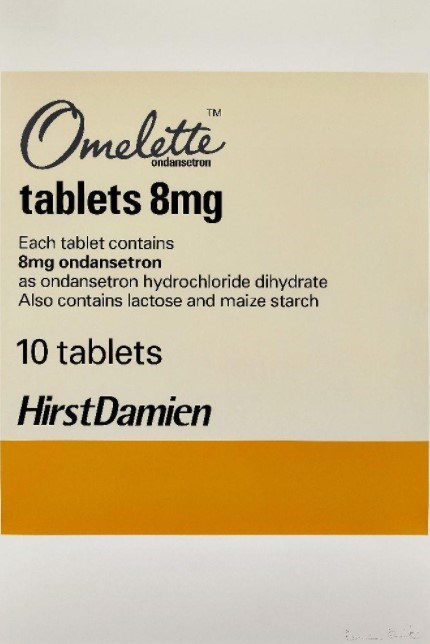 Damien Hirst, British b.1965- The Last Supper (Omelette), 1999; screenprint in colours on wove
In a series of memorable works, often involving medicine, Hirst has made many statements about the transience of life. Through his work, he views medicine as a powerful belief system: we are seduced by drugs, believing they will cure all ills and preserve life, though rarely questioning their side-effects. Growing up in Leeds, Hirst remembers going into a chemist with his mother and wondering why she could put her faith in drugs, yet had no faith in art. He explained: 'I like the way art works, the way it brightens people's lives up…but I was having difficulty convincing the people around me that it was worth believing in. And then I noticed that they were believing in medicine in exactly the same way that I wanted them to believe in art.' 'Art's about life, and it can't really be anything else'.
You can find out more about the Modern & Contemporary Prints & Multiples department here