Rare painting by Indonesian Chinese artist Lee Man Fong makes £58,000
21/11/2019 News Stories & Press Release, Chinese, Japanese & South East Asian Art
LONDON: Bullish prices were generated throughout the autumn offering of Chinese, Japanese & South East Asian Art at Roseberys, with strong interest and fierce bidding coming from a wide international audience. Rare Chinese ceramics and jades were particularly sought after but it was an important painting of two horses by the major Indonesian Chinese artist Lee Man Fong (1913-1988) that topped the auction, selling for £58,000.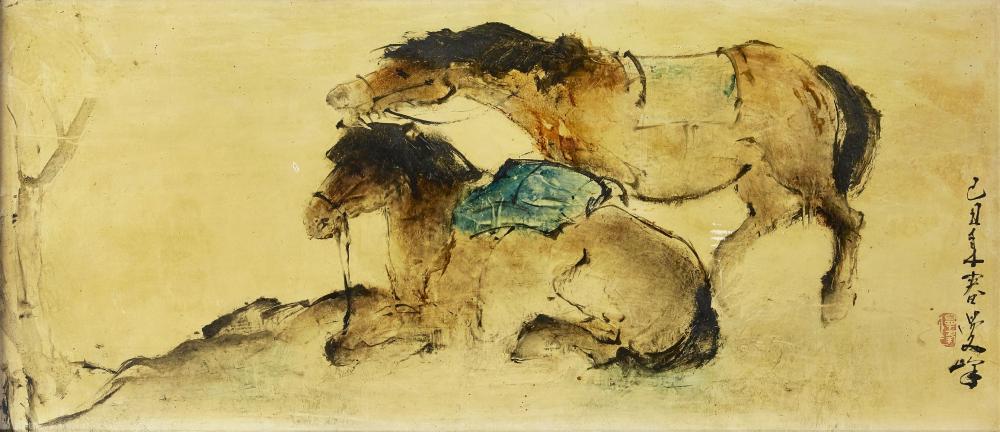 LEE MAN FONG, (Indonesian, 1913-1988), oil on masonite board, study of two horses, signed and dated 1949, 40cm x 90.5cm Provenance: Justus Blank, Dutch East India Company
Bill Forrest, Head of Chinese, Japanese & South East Asian Art Department, commented on the sale: We were delighted to offer such a varied selection of rare and high-quality Chinese, Japanese and south east Asian works of art during Asian Art Week in London. The huge amount of interest in the auction and fierce competition for top lots clearly indicates that London remains the premier destination to offer such items at auction.
Lee Man Fong's painting was purchased from an exhibition in The Hague in 1950 by Justus Blank, a collector who worked for the Dutch East India Company in Jakarta during the late 19th and early 20th century. The 40 x 90cm oil on masonite board was consigned by Blank's descendants together with other fiercely contested Chinese works of art in the sale.
Ahead of the auction, it was shortlisted for 'Best Object' at the prestigious event Asian Art in London and shown publicly, giving people a rare opportunity to study a work by this important artist up close. Bidders from Indonesia, Singapore, and the USA competed by phone to buy it, with the winning bid coming from Jakarta. Man Fong moved to the Netherlands in 1946 after he was awarded a Malino scholarship. He stayed for six years, holding four solo exhibitions in Amsterdam and The Hague and participating in an international salon in Paris. Classically trained in Chinese ink painting whilst embracing the style of the Dutch Impressionists, he moved fluidly between Eastern and Western aesthetics, with horses a favourite subject. The horse painting at Roseberys combined airy brushstrokes with a keen sense of light and shade and sits proudly among his own developed vernacular. [Lot 364]
On the Justus Blank Collection, Bill Forrest commented: It was a privilege to handle such a wonderful Dutch East Indies collection consigned by the descendants of Justus Blank, led by the important painting of horses by Lee Man Fong, an artist whose works seldom appear on the market in the UK. After a fierce bidding war, the painting was hammered at £58,000, and fittingly, the painting will be making its way to Jakarta, where the artist was born. Jades from the Justus Blank collection also drummed up significant interest on the day. Hotly contested to £21,000 was a large white jade pouring vessel carved as a mythical beast. Though relatively late in date (late Qing dynasty), the flawless white jade it was made from secured its popularity among bidders. [Lot 268]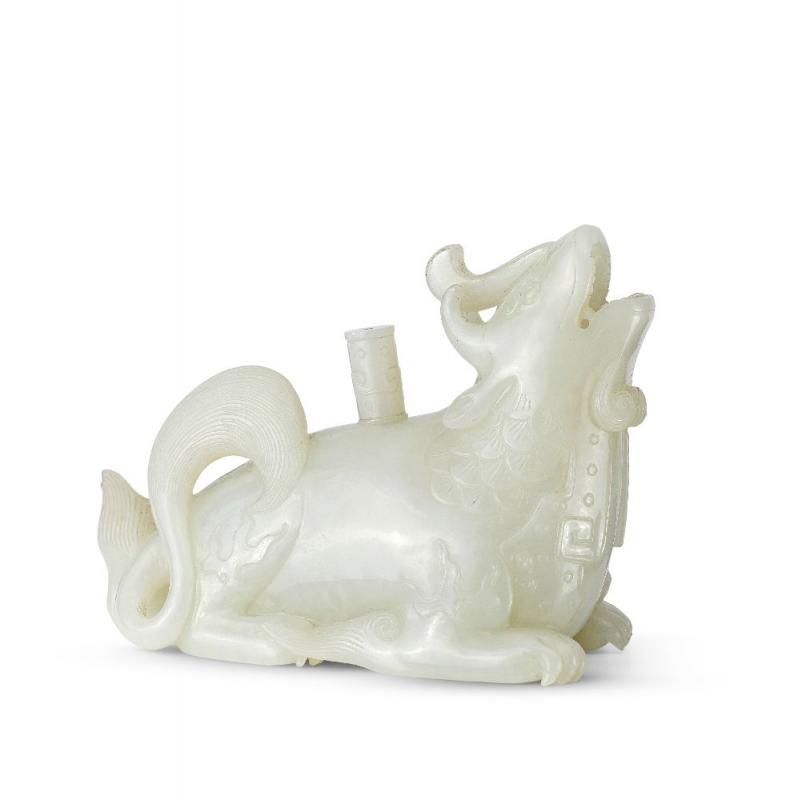 Another sought after piece was a Qianlong white jade brush washer, carved in low relief with butterflies (symbolic of love and everlasting happiness in marriage) and a flowering begonia branch (a wish for family honour and distinction). Well carved and of a very good colour, this fine scholar's object attracted four phone lines, two room bidders, and a Roseberyslive bidder who took it to £21,000. [Lot 272]
Concluding the Blank highlights was an exquisite example of an 18th century Chinese marriage bowl from the Qianlong period which made £18,000. It was fashioned from a large lump of spinach jade and would have been gifted to a couple after their nuptials to bestow sentiments of a long and happy marriage. [Lot 271]
One of the big surprises of the sale was this Cultural Revolution vase, knocked down at £40,000, many times its £500-800 estimate as eleven phones and two buyers in the room competed for the lot. The garlic-head vase was finely painted to the bulbous body with a father and son repairing a railroad in a winter landscape. Twentieth century porcelain rarely appears among the best-selling lots in Asian art sales and perhaps indicates a shift in the appetite of Chinese collectors. [Lot 163]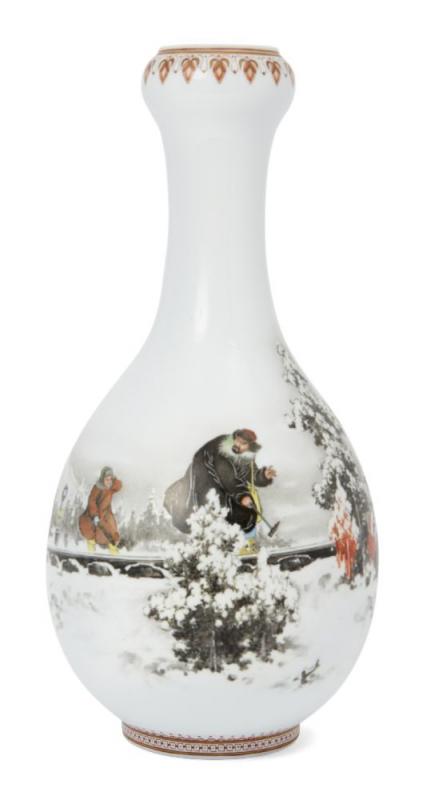 The unusual form of this Chinese vase proved to be the driving factor behind a strong performance on the rostrum. The Ming-style facetted vase is rare as it is an extremely challenging shape to pot. Such works, which include a comparable Qianlong version in the Shanghai Museum, imitated the facetted shapes found on an early metal prototype, probably of Middle Eastern origin.
In addition, the painting on the vase was of superb quality. It sold to a telephone bidder after competition from the room and three other telephones for £52,000. [Lot 88]
These 'sleeve' vases, c.1650, typically appear on their own, so to offer a pair was particularly appealing to collectors. In spite of some later Dutch enamel decoration, these attracted huge interest with international bidders on all three internet platforms, two bidders in the room, and no less than nine telephone lines. They sold for £40,000. [Lot 28]
Large and impressive, these early 19th century Japanese carved wood figures depict the fierce looking Niō temple guardians Agyō (mouth open) and Ungyō (mouth closed). Due to their size, it is likely these rare carvings were placed outside a temple or shrine in Japan to ward off evil spirits. The pair, estimated at £600-800, attracted multiple bids and were knocked down for £22,000. [Lot 456]
This very rare piece of 18th century cinnabar lacquer was contested by two phone bidders to £11,500, almost double the top £6,000 guide. The Chinese square vase was finely decorated with bats, peonies, chrysanthemums and lotus blossoms and shared similarities with a red lacquer vase is in the National Palace Museum Collection in Taiwan. [Lot 232]
For further information please contact Peigi Mackillop peigimackillop@roseberys.co.uk +44 (0) 20 8761 2522
For more information contact the Chinese, Japanese & South East Asian department. 
The Chinese, Japanese & South East Asian are now welcoming consignments for 2020.