Rare Lalique scent bottle sails to £7,800
8/03/2019 News Stories & Press Release, Decorative Arts & Modern Design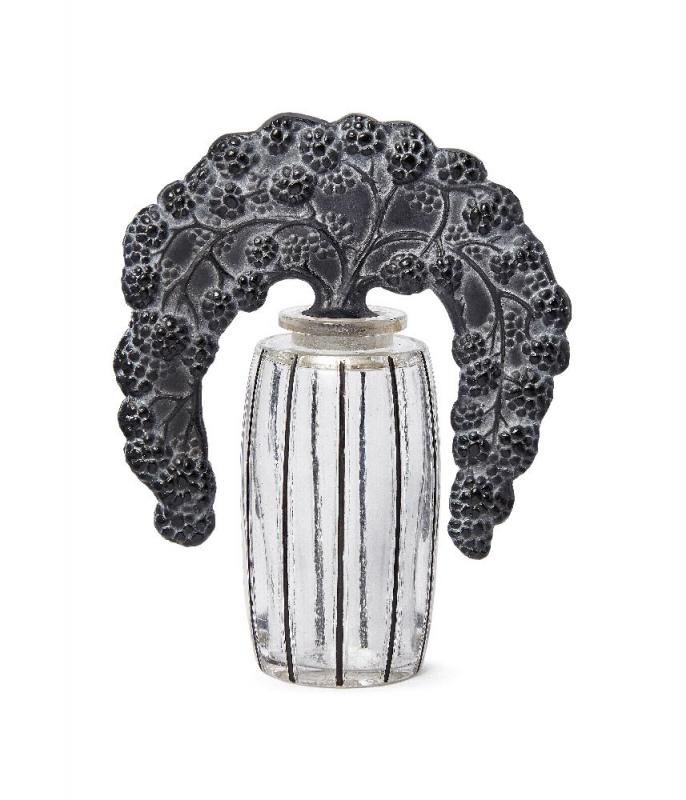 René Lalique (1860-1945), a rare glass scent bottle with parabola-shaped stopper 'Bouchon Mûres'
LONDON: A rare scent bottle designed in 1920 by the legendary glassmaker René Lalique (1860-1945) was the star turn in a sale of Decorative Arts 1860 to the Present Day at Roseberys London on March 5 (lot 29). Moulded and engraved R. Lalique, the coveted clear bottle was decorated with vertical lines of heightened black enamel and an elaborate parabola-shaped Bouchon Mûres stopper of fruiting brambles. Despite restoration to two breaks on one arm of the stopper, a number of bidders were determined to own it and it was eventually knocked down at £7,800 – well above the £2,000-3,000 estimate. It was René Lalique's collaboration with perfumer François Coty in 1907 that revolutionised the perfume industry - making it possible for the first time to offer scents in attractive bottles at affordable prices. In 1913, these modest experiments led to a factory at Combs- La-Ville in south east of Paris where he began the mass production of vases, ornaments, car mascots and other glassware for which Lalique is now well known. Vintage Lalique perfume bottles – particularly the Bouchon Mûres - have long attracted collectors. At the height of the market for Lalique in 1990, a Bouchon Mûres bottle sold at auction for £38,000.
A high performing sculpture section was led by a signature Art Deco dancing creation by Demetre Chiparus (1886-1947). The dynamic bronze Dancer with Ring was made in c.1925 and sold over top estimate at £9,200 (lot 50). Engraved D.H. Chiparus and Etling Paris to the marble base, the sculpture of the young dancer, standing on one leg holding a hoop between her hands, is based on the prodigious dancer Zoula de Boncza of the famous Parisian cabaret music hall Folies Bergere. Chiparus was captivated by dancers – most famously Diaghilev's Ballets Russes. He experimented with small bronze sculptures during the early 20th century but it was not until after the First World War that demand for his work began to grow among the elite of Paris.
A star lot of the furniture section was a fine adaptable table and console by the Parisienne architect and decorator Paul Dupré-Lafon (1900-71) (lot 54). Made from rosewood and oak with a nickel-plated drop-leaf and a central frosted glass panel with a concealed light fitment, the table was both well designed and engineered, its construction and quality obvious to see. Estimated at £7,000-9,000, it drew competitive bidding from the room and the telephone, with the latter triumphing at £11,000. Born in Marseille, Dupré-Lafon is best known for his furniture designs and Art Deco buildings, the former executed largely in the Art Deco style with inspiration also coming from Cubism. He created traditionally crafted, functional furniture with geometric forms and used contrasting materials in his work to create bold designs. The c.1935-1940 table was made around the time Dupré-Lafon was working on one of his renowned projects; a private Parisienne hotel in Avenue Foche, which was realised in 1938. A similar model is illustrated in Thierry Couvrat Desvergnes' 1990 tome, Paul Dupré-Lafon: décorateur des millionnaires. 

British-made highlights in a diverse section of ceramics and studio pottery included a large lidded porcelain jar made in c.1998 by Edmund de Waal (b.1964) (lot 172). Created using celadon glaze with impressed decoration, it was keenly competed for on the telephones and ended up realising a multi-estimate £5,200 hammer.

The section also contained the work of British studio potter John Ward (b.1938). A monumental c. late 20th century cream coloured stoneware vase sold above estimate for £4,200 (lot 174). It was a good example of Ward's simple hollow forms, decorated with concentric dark grey bands in more subtle colours than the in vogue black and white forms that usually make the headlines at auction. 
A Greek-inspired 'Affecter Stool' by the iconic 20th century architect, designer and tastemaker Terence Harold Robsjohn-Gibbings (1905-1976) sold for £5,200 (lot 199). The striking walnut and gilt bronze piece, with woven leather cord seat, x-shaped frame and terminating animal paw feet, was made in c.1960 as part of the Klismos line for Saridis of Athens. The company was run by the Greek furniture makers Susan and Eleftherios Saridis who commissioned Robsjohn-Gibbings and his collaborator, Carlton Pullin, to design the Klismos line in 1960. Robsjohn-Gibbings modelled his pieces after classical Greek forms and aesthetics, which he detailed in his 1963 book Furniture of Classical Greece.
~Ends~
For further information please contact Peigi Mackillop peigimackillop@roseberys.co.uk +44 (0) 20 8761 2522