Rainbow Kwok #Takes5
13/05/2022 News Stories & Press Release, Chinese, Japanese & South East Asian Art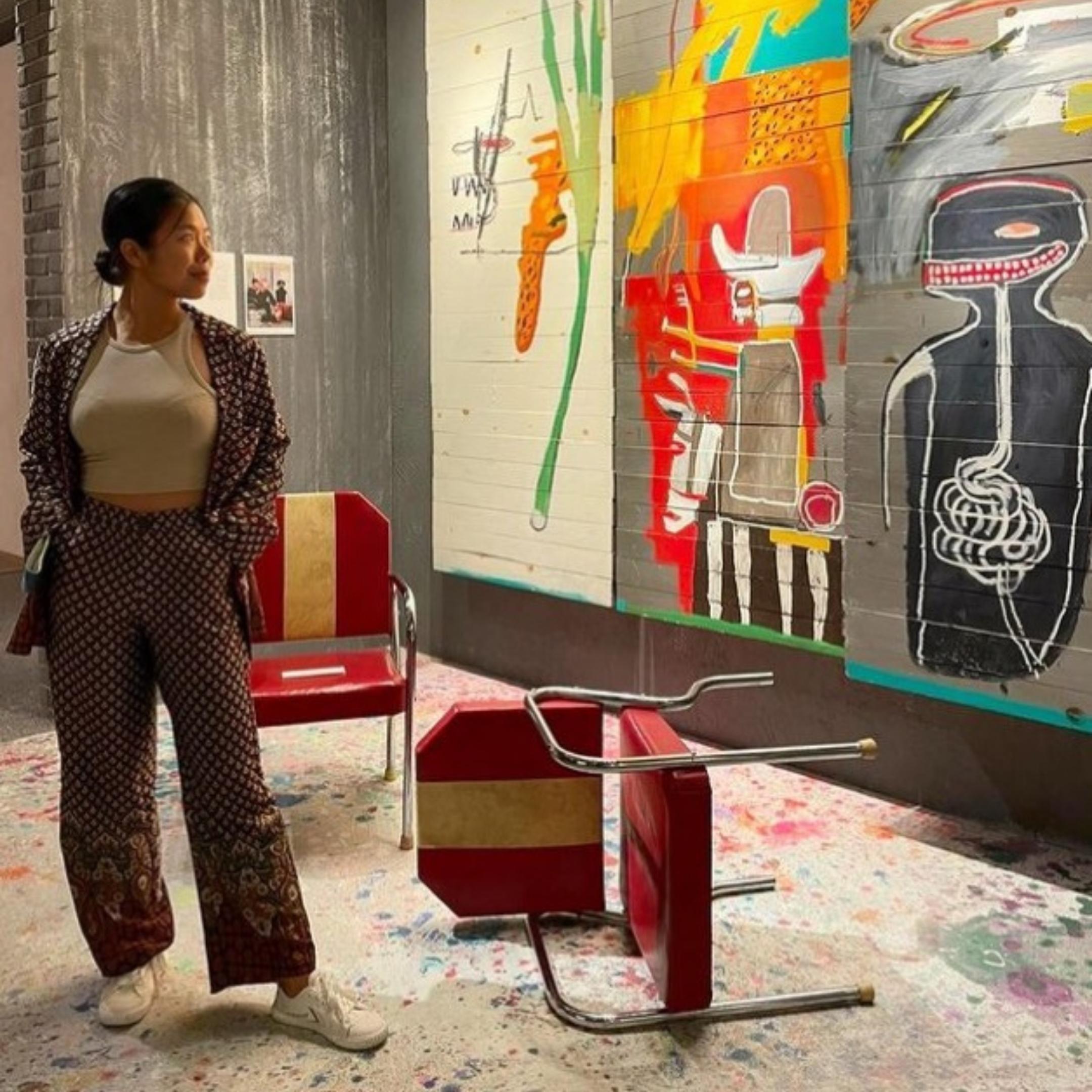 Meet Rainbow Kwok.

Rainbow is a private art advisor working with artists and clients worldwide to develop their contemporary art collections. After finishing her studies in Visual Arts in Hong Kong, she began working with several international art galleries including Hauser & Wirth. Specialising in the Asian art market, Rainbow brought European and American artists to exhibit in Hong Kong and represented them in numerous contemporary art fairs. Now Rainbow is traveling around the world, working with various creative individuals, managing art projects, and connecting the dots between collectors and artists.
Here Rainbow took 5 with us, to pick five of her favourite lots in the upcoming Chinese, Japanese & South East Asian Art auction that will take place at Roseberys on Tuesday 17 and Wednesday 18 May.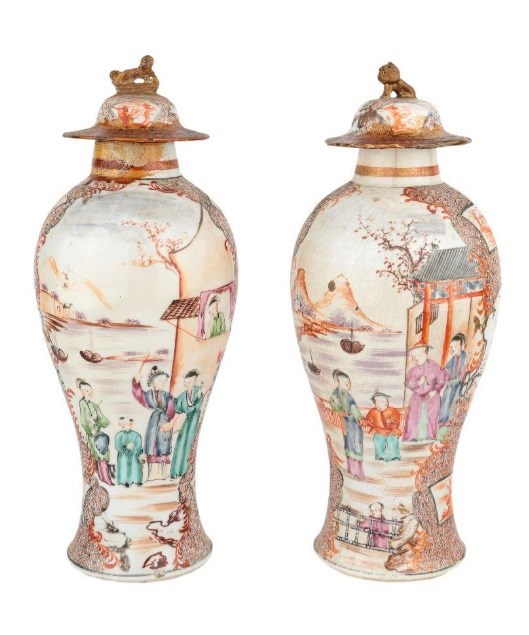 Lot 465: A pair of Chinese export porcelain 'Mandarin palette' vases and covers, Qianlong period, painted with figures in traditional dress within coastal landscape scenes, 30cm high (2) 清乾隆 外銷粉彩人物圖蓋瓶一對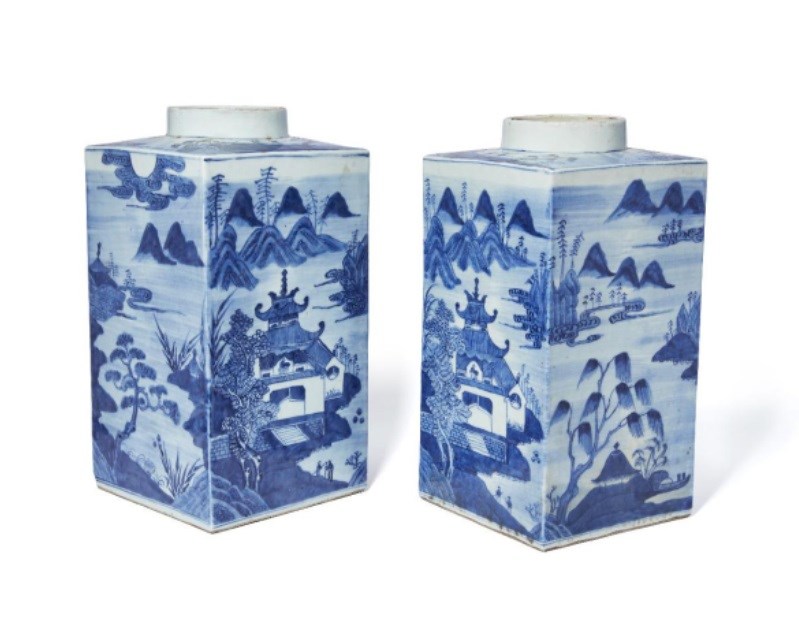 Lot 457: A pair of Chinese export porcelain blue and white square tea cannisters, late 18th century, painted with pagodas, pine trees and boats amidst mountainous coastal landscapes, 33.8cm high (2) 十八世紀晚期 外銷青花山水樓閣圖方罐一對
Lot 441: A pair of Chinese porcelain famille verte lobed 'peony and chrysanthemum' jars, Kangxi period, each painted to the exterior with a bouquet of flowering peonies and leafy blossoming stems, the reverse decorated with a similar bouquet of flowering chrysanthemums, the necks painted with gilt blossoms on peach grounds, the bases glazed white, 19.5cm high (2) 清康熙 五彩瓜棱式牡丹紋罐一對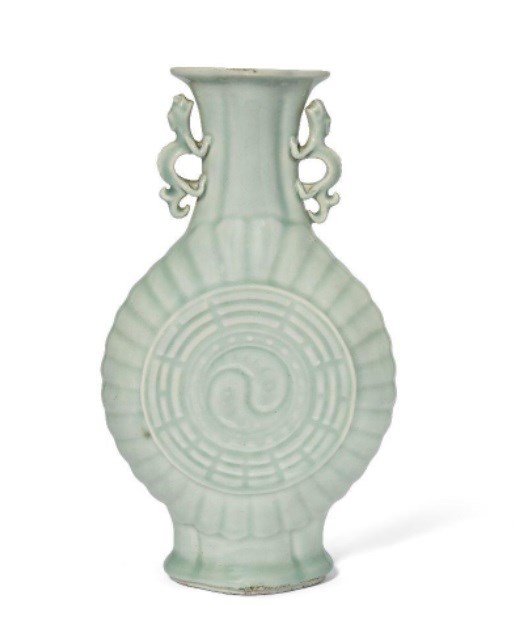 Lot 23: A Chinese porcelain qingbai 'Taoist' moon flask, Republic period, each side of the exterior moulded with the yin yang enclosed by the Eight Trigrams, the neck flanked by a pair of moulded chilong dragon handles, impressed apocryphal six-character Qianlong seal mark to base, 33cm high Provenance: Maurice Collis (1889-1975) Collection, purchased in Rangoon, 1928, from a Tuchun War Lord's collection. 民國 青白釉刻陰陽八卦紋螭龍耳抱月瓶 《大清乾隆年製》仿款 來源:Maurice Collis (1889-1975)收藏,於1928年購自仰光督軍收藏。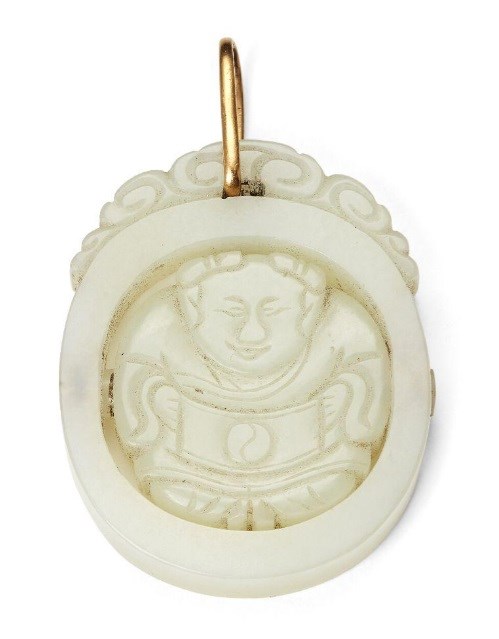 Lot 39: A Chinese pale greenish-white jade rotating 'boy' pendant plaque, 18th/19th century, carved to the top edge with stylised clouds above an oval aperture enclosing a rotating plaque carved with a crouching boy, 5.5x4.5cm 十八/十九世紀 青白玉雕童子轉心牌 Cf. For a similar example, see Christie's New York, Fine Chinese Jade Carvings from Private Collections, 13th September 2018, lot 957
More about the sale

Day one will include: Fine Chinese Art, South East Asian Works of Art and Japanese Works of Art, taking place on Tuesday 17 May.

Day two will include: Chinese Ceramics & Works of Art, taking place on Wednesday 18 May.
Viewing at Roseberys
Thursday 12th May 10am-5pm 
Friday 13th May 10am-5pm 
Sunday 15th May 10am-2pm 
Monday 16th May 10am-5pm
Contact asian@roseberys.co.uk for further details