Private collection of stunning family portraits leads Old Master Sale
14/09/2020 News Stories & Press Release, Old Master & 19th Century Pictures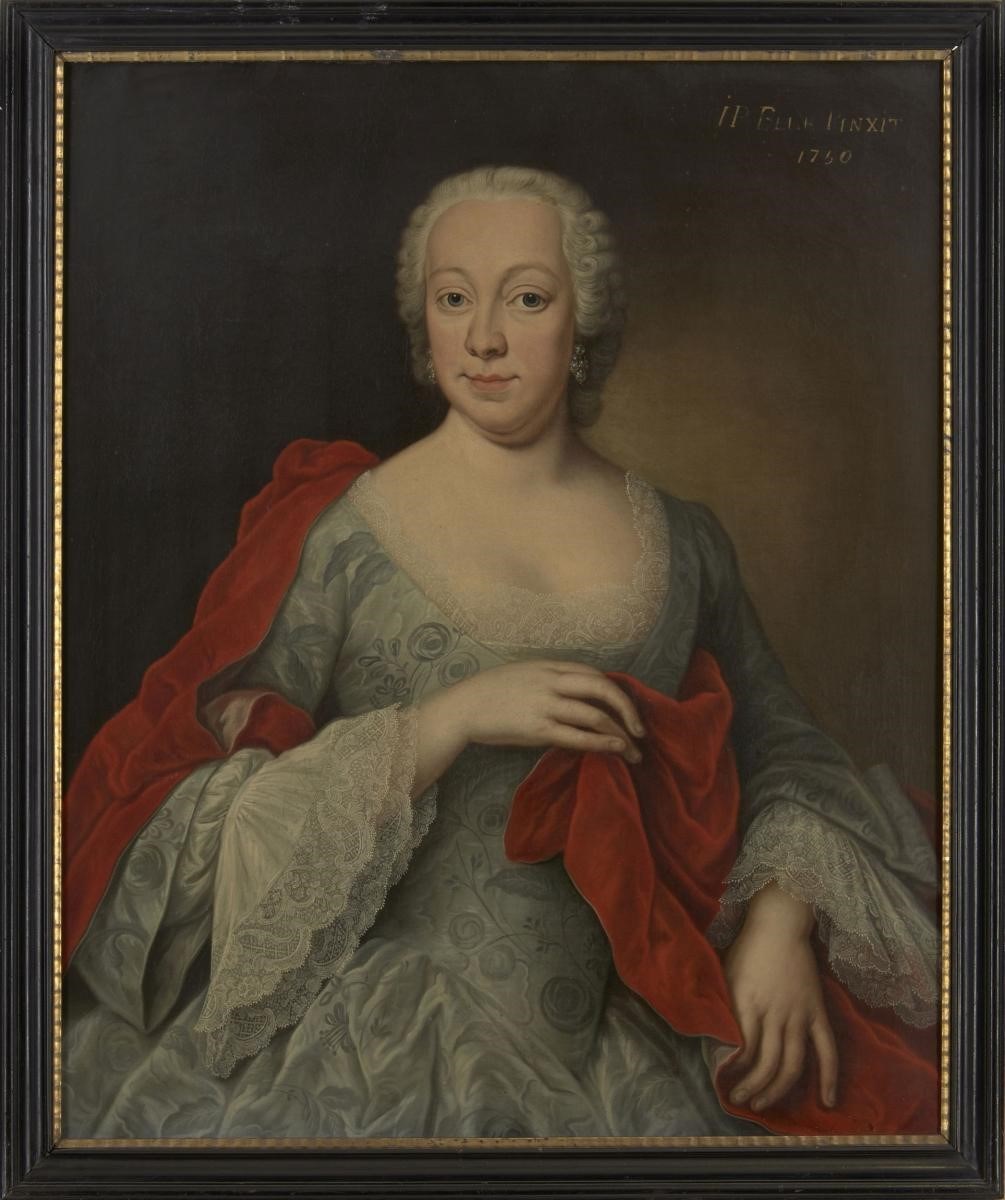 Johann-Philipp Behr, German, fl. 1740-1756- Portrait of Susanna Judit von Stokum (1720-1750) three-quarter length wearing a floral embroidered grey silk dress and a red cape; oil on canvas
ROSEBERYS LONDON: A grand selection of stunning family portraits are primed to whip up some excitement in the sale of Old Master, 18th & 19th Century Pictures at Roseberys London. The collection of astounding portraits that have spent their history being handed down a family tree will be presented to the market for the first time on Wednesday 23 September. The portraits in question are from lots 1 - 12 and are from the same UK private collection. The overall sale compromises of 315 lots in total, ranging in prices, styles, genres and mediums, spanning decades by various old masters from around the globe.
Marcus Grey, Head of the Pictures Department comments on the upcoming auction 'With our expanding interest and specialisation in 16th and 17th Century European Portraiture we are very pleased to be offering a collection of 13 portraits from a private collection, all being newly presented to the market, having been passed down from generation to generation since their conception.  Following on from our successful sale of 17th – 19th century paintings in our last auction in June we have seen an influx of high-quality portraiture over the last few months which will be presented on the 23rd September. The strong presence of portraiture in this auction also coincides with the sale of the private collection of John Abbott, the nephew of Roger Abbott, who with Eric Holder founded the partnership of Abbott & Holder, now Abbott & Holder Ltd., the well-known London gallery. The works being sold in this collection give every buyer the opportunity to invest in works on paper by renowned 18th and 19th century artists, all with excellent provenance. We are also very excited to be offering a newly discovered landscape by Alexander Nasmyth, previously unidentified, but now confirmed by Lady Poppy Cooksey.'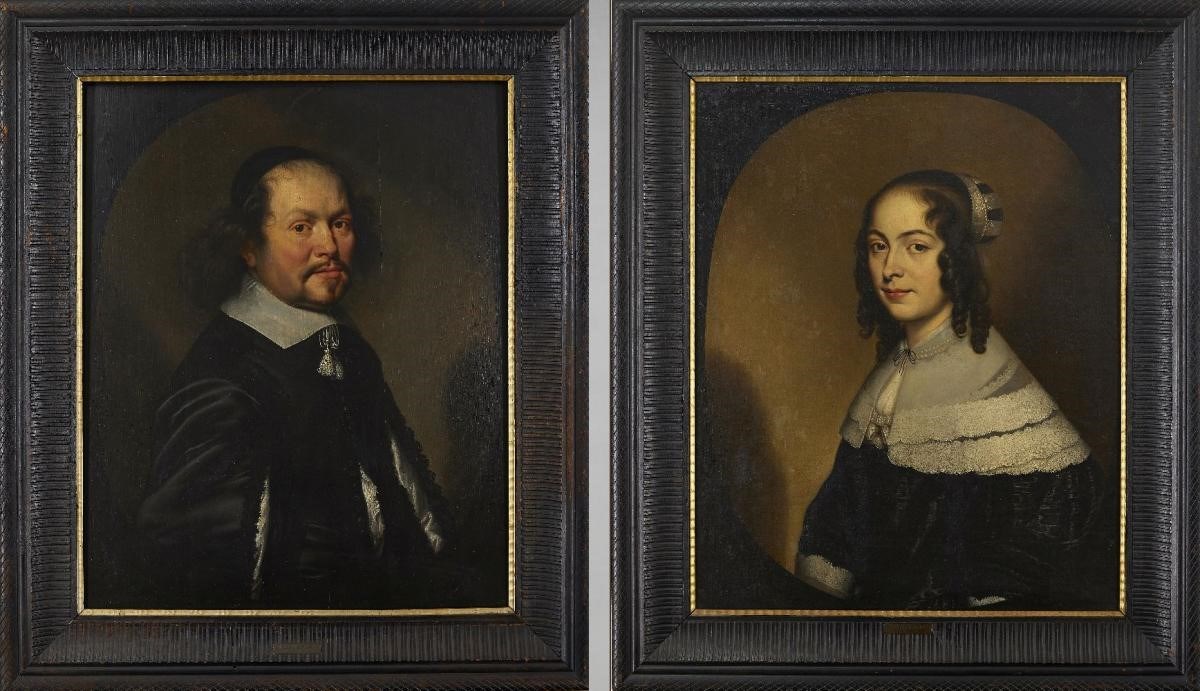 Jacob Frans van der Merck, Dutch c.1610-1664- Portrait of Ludwig Ziegler (1608-1681), half-length, wearing a black silk tunic and white collar; and a Portrait of Elizabetha Margaretha Spina (1626-1702), half-length, wearing a black silk dress with elaborate white lace triple collar, her hair dressed in ringlets; oil on oak panel and oil on canvas
Leading the portraits in the auction coming from the private collection is lot 4 estimated to make £8,000-12,000. Lot 4 includes two oils, one on canvas and one on oak panel, by Dutch artist Jacob Frans van der Merck, c.1610-1664. The sitters of the portraits Ludwig Ziegler (1608-1681) and Elizabetha Margaretha Spina (1626-1702) are believed to have been married, with three sons and four daughters. Born in 'S-Gravendeel around 1610, the artist Jacob Frans van der Merck was apprenticed in Delft, and subsequently worked in The Hague and Leiden, producing works spread across multiple genres, including portraiture, still life and genre scenes, all completed in the distinctive Dutch manner of the period. The present paintings, although similar in composition and technique, were likely to have been produced at different times during the artist's career due to one being completed on panel and the other on canvas. According to records van der Merck was a member of the painters' guild in Dordrecht from 1640 to 1649, so around the time these portraits were painted. These engaging portraits display his highly accomplished and realistic technique much sought after during the period.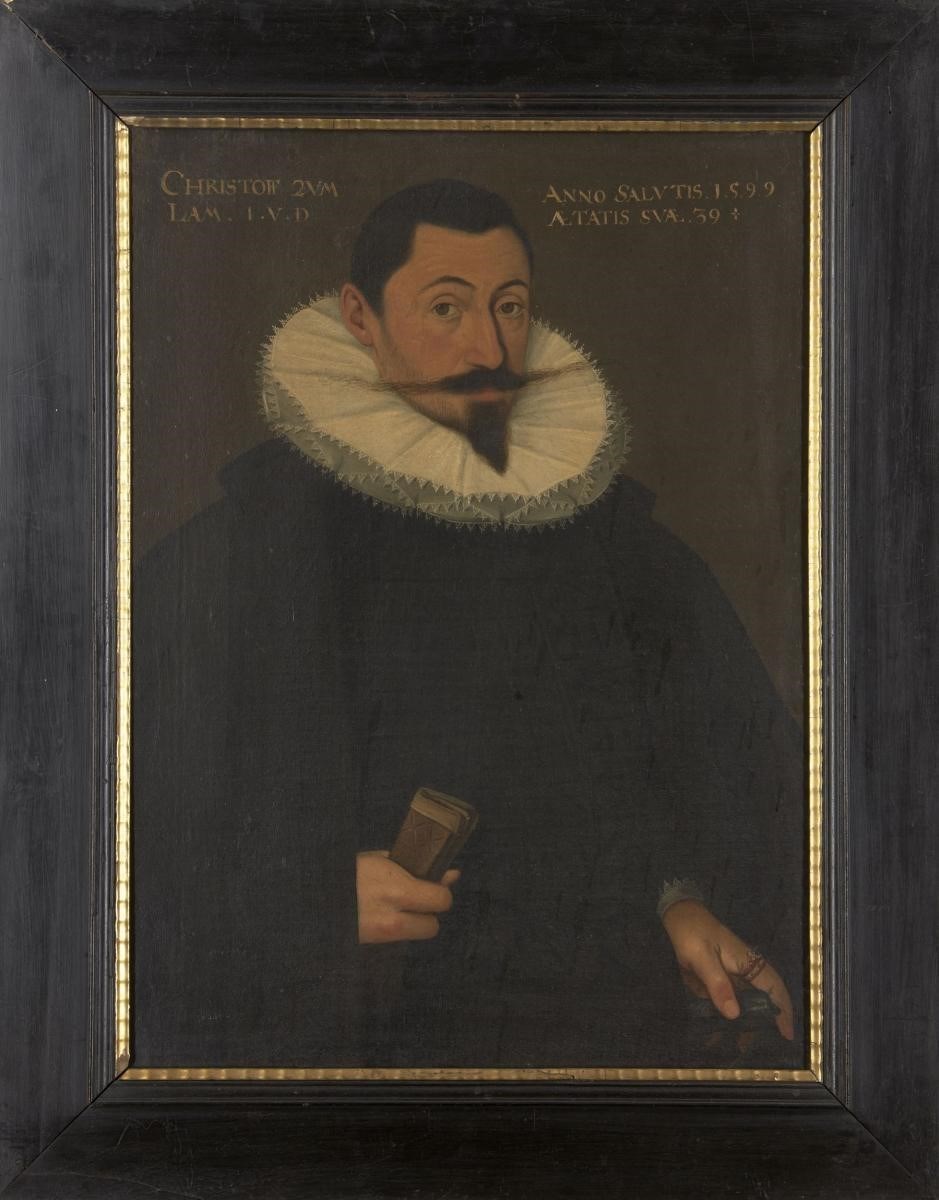 German School, late 16th century- Portrait of Christoff zum Lamm, half-length, with stiff white collar and black coat, aged 39 years; oil on canvas
Coming from the same private collection of portraits is Lot 2 . The German School oil on canvas late 16th century portrait of Christoff zum Lamm is estimated to sell for £2000-4000. The zum Lamm family are known to have been a noble family living in Speyer, Germany, during the 15th and 16th centuries. Records state that Christoff zum Lamm born c. 1560 worked for the Reichskammergericht in Speyer (the Imperial Chamber Court); the highest court of the German Empire of the period. Katharina's grandfather, Markus, and great uncle Dr. Heironymus zum Lamm (depicted in the other German School portrait lot 1 included in this sale) had also worked for the Reichskammergericht in Speyer with their professions being lawyers and counsellors to the court.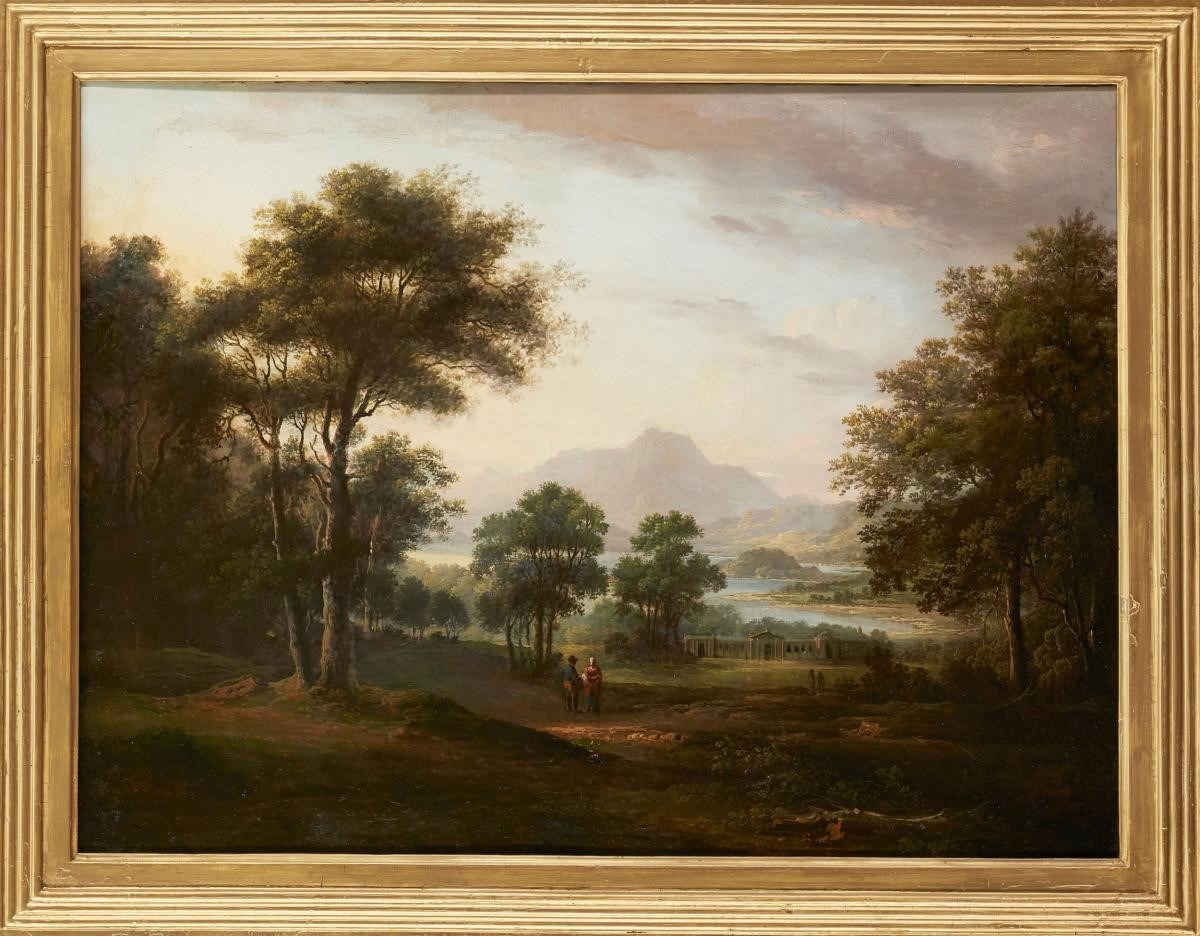 Alexander Nasmyth, Scottish 1758-1840- Rear view of John Wilson's new house, Elleray; oil on canvas
Estimated to make £3,000-4,000 is lot 133 the 'Rear view of John Wilson's new house, Elleray', oil on canvas by Scottish artist Alexander Nasmyth, RBA. As well as being an artist, Alexander Nasmyth was frequently asked to view his patron's landscapes, and ask for help to improve them, or to build a new property or extend an existing one.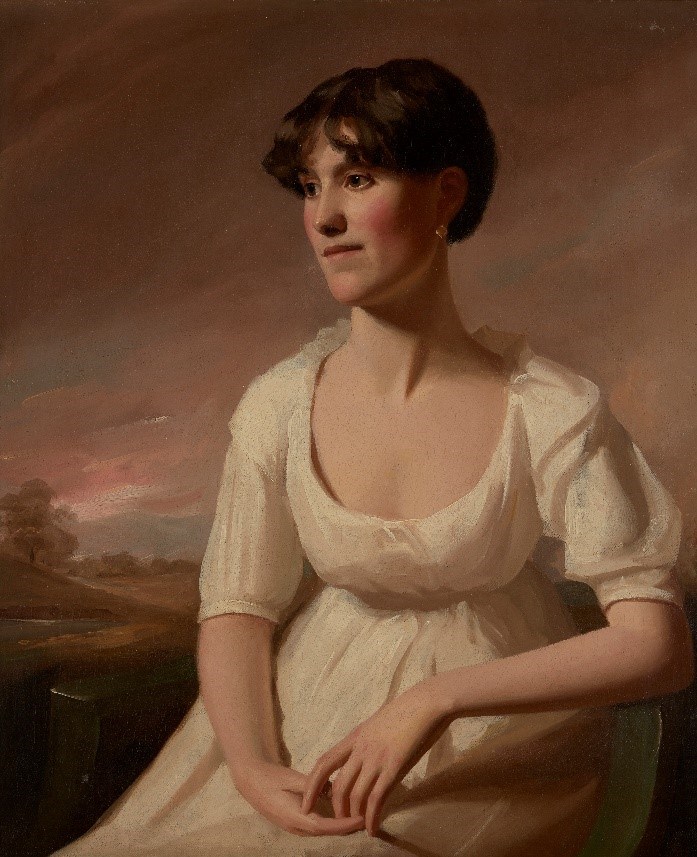 George Watson PPRSA, Scottish 1767-1837- Portrait of Janet (Jessie) Ruskin, seated half-length turned to the left in a white dress with a landscape beyond, c. 1805; oil on canvas
Another artwork coming from a Scottish artist and peer of Alexander Nasmyth is lot 134 by George Watson PPRSA,1767-1837. Portrait of Janet (Jessie) Ruskin, c. 1805 pictured above is thought to depict the leading English art critic John Ruskin's aunt, Janet Ruskin (1783-1828). The present portrait is likely to have been executed around a similar time to Watson's portrait of John James Ruskin; the brother to the sitter and father to John Ruskin, held by The Brantwood Trust, Coniston. Watson was initially based in Edinburgh where he was introduced to fellow Scottish artist Alexander Nasmyth, however at 18 years old he decided to relocate to London where he was received as a pupil of Sir Joshua Reynolds. After two informative years in Reynold's studio he returned to Edinburgh and established himself as a portrait painter by the end of the 1780s. Watson eventually went on to be one of the founding members of the Royal Scottish Academy in 1826 and its' first president. The exquisite oil on canvas is estimated to make £4000-6000 at auction.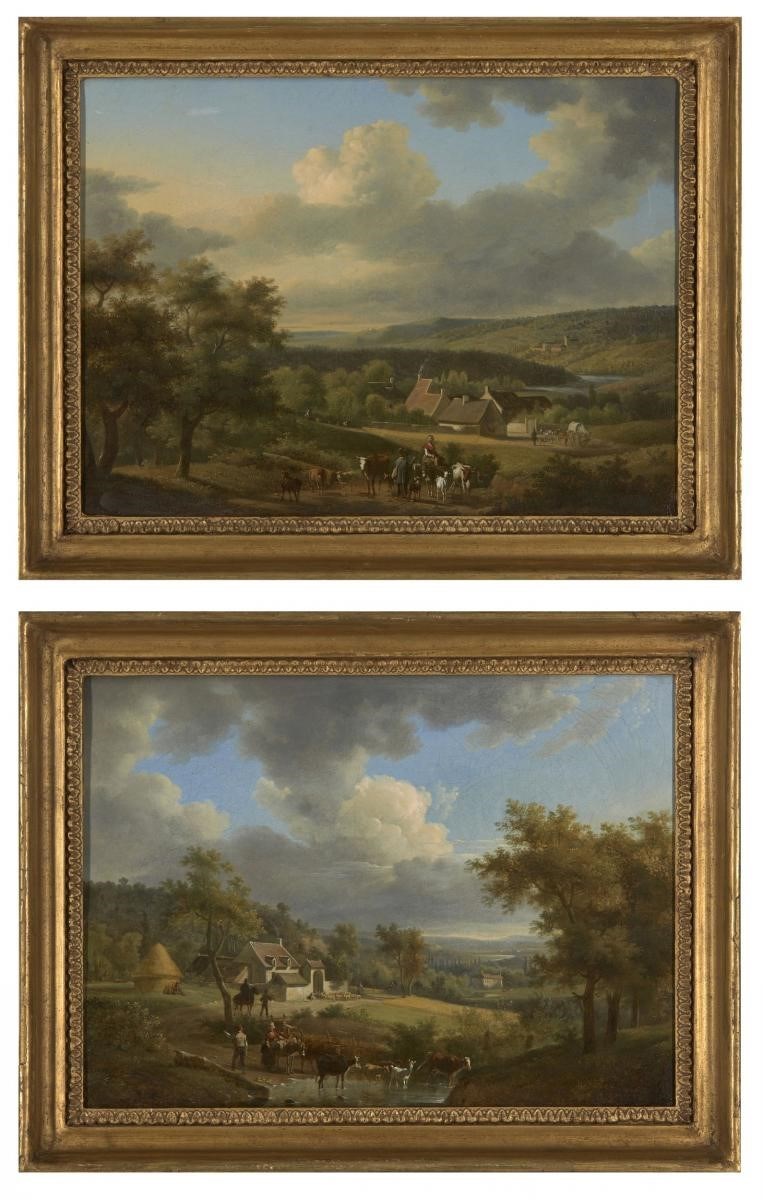 Attributed to Jan Baptiste de Jonghe, Flemish 1785-1844- Wooded landscapes with figures, cattle, cottages and distant hills; oils on canvas
The pair of oils on canvas (lot 144) depicting wooded landscape with figures, cattle, cottages and distant hills attributed to Flemish artist Jan Baptiste de Jonghe, 1785-1844 are estimated to make between £3,000-5,000. Jan Baptiste de Jonghe was a painter, draughtsman, etcher and lithographer, but was predominantly known for his Romantic landscapes and city views. Following similar formats to Dutch 17th Century landscape painting, de Jonghe's early compositions were mostly taken up by sky, and were comparable to the works by Jan van Goyen (1596-1656). It is possible that de Jonghe would have completed the landscapes of these two paintings before entrusting Eugène Joseph Verboeckhoven (Flemish 1798-1881) to paint the staffage, a common practice he employed in his artistic career. Verboeckhoven was an accomplished painter of animals and appears to have been one of the last artists of a tradition that begun in the 17th century which linked observation of nature, studied composition, and idealised reproduction of reality.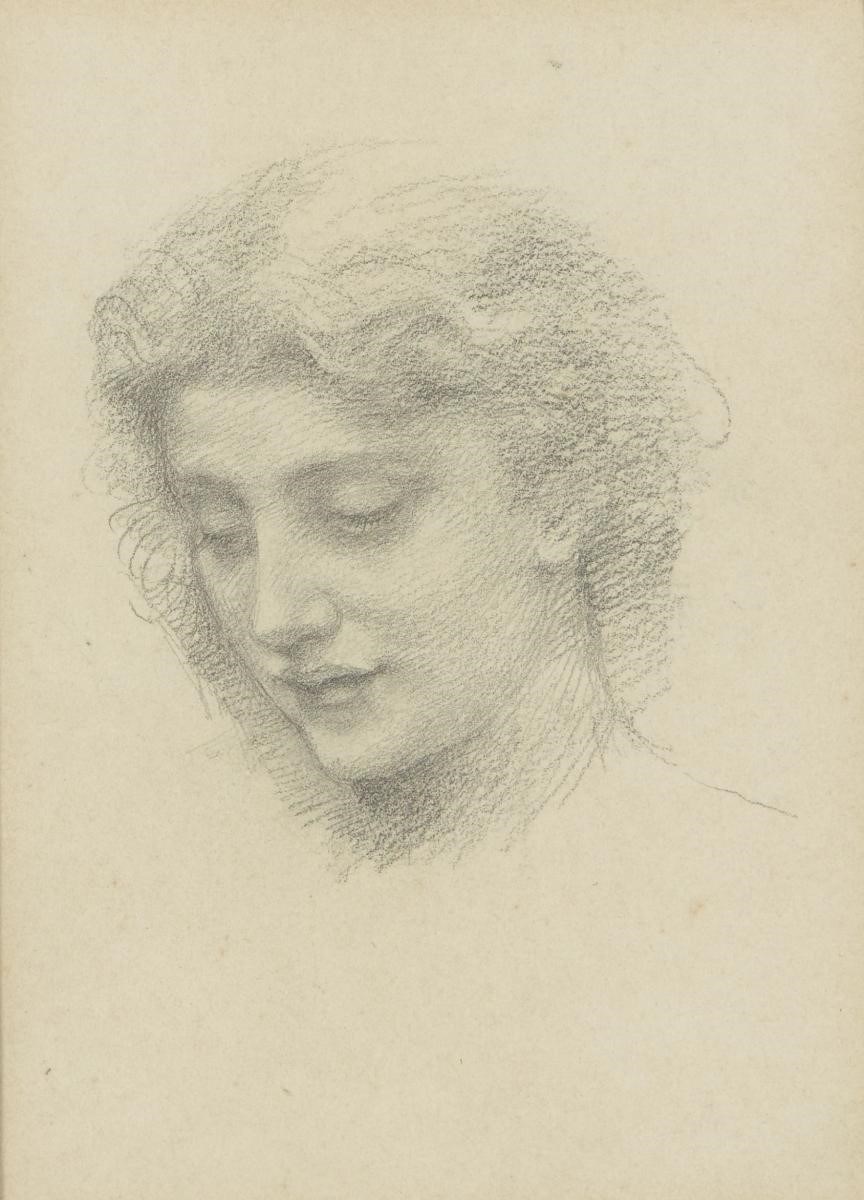 Henry Holiday, British 1839-1927- Woman's Head; soft pencil on paper
Among the other highlights on sale is this portrait of a women's head by British artist Henry Holiday, 1839-1927. The soft pencil on paper is estimated to sell for £2000-3000. The present work is part of a much larger private collection owned by John Abbott, which is being offered in the sale. The majority of these works from John Abbott's collection are on paper and are by largely prominent British artists of the 18th and 19th centuries. This elegantly drawn portrait is one of the highlights of this collection, presenting the opportunity to own a drawing linked to the renowned Pre-Raphaelite Brotherhood. Through his friendship with Albert Moore and Simeon Solomon, Holiday was introduced to the artists Dante Gabriel Rossetti, Edward Burne-Jones and William Morris. These artists were to be pivotal in his future artistic career, and after spending considerable amounts of time in the studios of Burne-Jones the influence of his work can be seen in Holiday's drawing and paintings.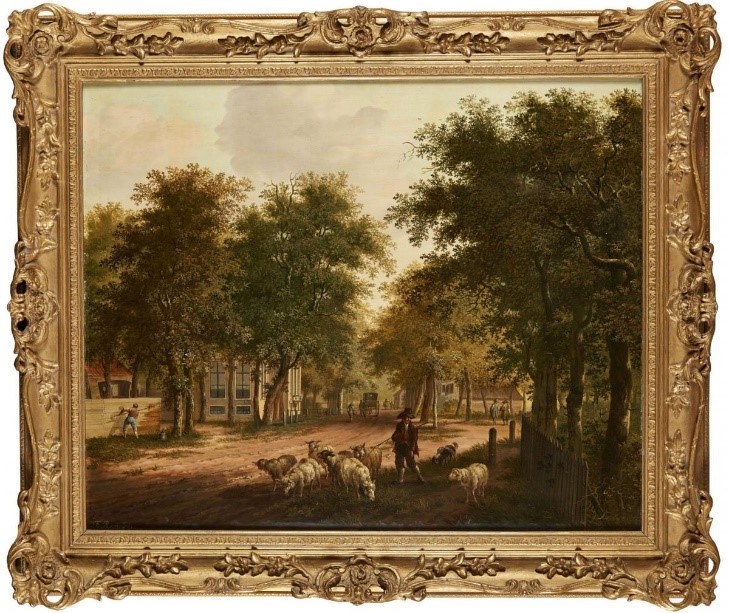 Fredericus Theodorus Renard, Dutch 1778-1820- Outskirts of a Dutch town, c.1800; oil on panel
The oil on panel pictured above ( lot 143 ) depicting the outskirts of a Dutch town, is by Dutch artist Fredericus Theodorus Renard, c.1800.  Fredericus Theodorus Renard was a topographical artist from Amsterdam who painted in the style of Hendrik Keun (1738-1787), Jacob Cats (1741-1799) and Isaac Ouwater (1750-1793).  These Dutch landscape painters from the late 18th century painted mainly after prints by Jan de Beyer (1703-c. 1785), Pieter van Liender (1727-1779) and Hermanus Pieter Schouten (1747-1822).  This particular work is possibly an early work by the artist displaying a closely cropped scene of a town in a woodland. The artist's work ranges from romanticised rural landscape to topographical compositions, often set in Amsterdam or its environs. The detailed depiction of the houses in this work indicate the portrayal of a specific location. It is entered into the market at £3000-5000.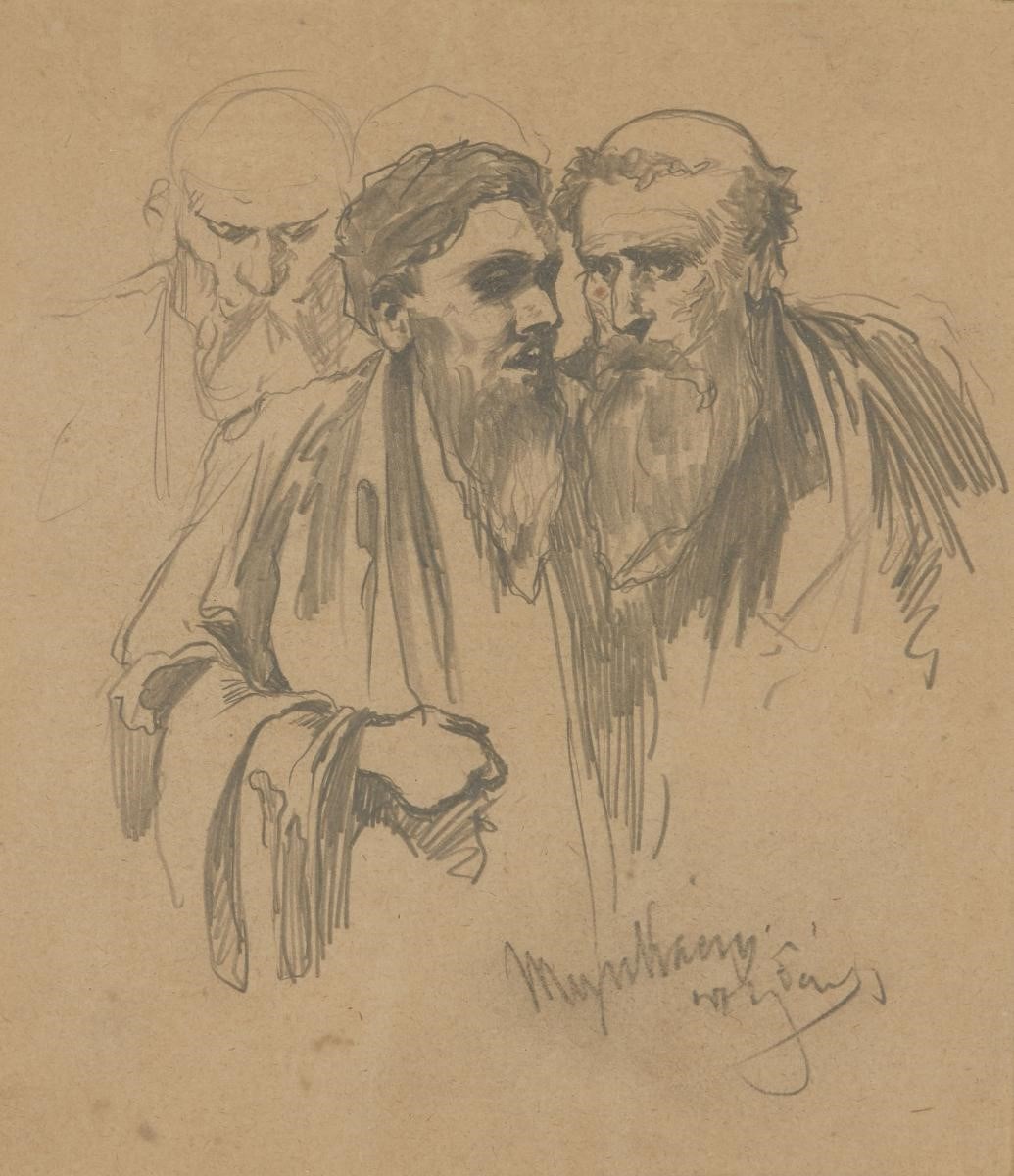 Mihály Munkácsy, Hungarian 1844-1909- Study of men; pencil, signed and inscribed
Lot 226, Study of men, by Hungarian artist Mihály Munkácsy, 1844-1909, in pencil is estimated to sell for £800-1200. Munkácsy today is considered to be the main contributor towards the rise of Hungarian art, and a significant member of the development of 19th century European art. He earned international reputation with his genre pictures and large-scale biblical paintings. In 1865, Munkácsy studied at the Academy of Vienna under Karl Rahl, before studying at the Munich Academy in 1866. In 1868 he moved to the Kunstakademie Düsseldorf to study with the popular genre painter Ludwig Knaus. This sketch is typical of the artist's style.
View the full catalogue here
Old Master, 18th & 19th Century Pictures 
Wednesday 23 September, starting at 11am
Attendance to the auction by appointment only
Contact the pictures department for more information: pictures@roseberys.co.uk
Viewing information 
 Viewing information (Viewing by appointment only)

Thursday 17 September 10am-5pm (last appointment 4pm)
Friday 18 September 10am-5pm (last appointment 4pm)
Sunday 20 September 10am-2pm (last appointment 1pm)
Monday 21 September 10am – 5pm (last appointment 4pm)
Tuesday 22 September 10am – 5pm (last appointment 4pm)
Please contact pictures@roseberys.co.uk  to book an appointment 
-ENDS-

 For any press or marketing related questions please contact Peigi Mackillop peigimackillop@roseberys.co.uk