Private collection of 'Paris School' art leads diverse sale
18/11/2019 News Stories & Press Release, Impressionist, Modern & Post War Art
LONDON: The city of Paris where many ground-breaking and revolutionary artistic movements took place in the 19th and 20th centuries, is at the forefront of Roseberys London's Impressionist, Modern, Post War & Contemporary Art sale this December.
The auction includes a private offering of 20th century 'Paris School' art by both foreign and French painters, such as Jean Souverbie, Gaston Andre and Panayiotis 'Takis' Vassilakis, and is further complimented by a selection of paintings and sculpture by other great artists drawn to Paris during its artistic prime, including Roger Bissiere, Arthur Aeschbacher and Alexander Archipenko. In all, the auction contains over 250 lots of paintings, works on paper and sculpture by artists who have pioneered a great array of artistic styles and movements. Many of them are pitched at affordable price levels and include a string of stand-out works by artists originating not only from Europe but Africa, North and South America and Australia as well.
School of Paris
The three works pictured above were created by artists drawn to Paris during the 20th century. Shown left is a c.1960 abstract composition in mixed media collage on canvas by the Swiss artist and prominent member of the 'Nouveau Réaliste', Arthur Aeschbacher (b.1923). It is offered with a £3,000-5,000 estimate [Lot 97]. In the middle is a c.1925 gouache of a stylised standing figure by the Ukrainian-born American artist Alexander Archipenko (1887-1969) which is valued at £10,000-15,000. It closely resembles a relief construction in wood, copper, brass, and new silver, titled 'Woman' and executed in 1923 in the Yale University Gallery's collection [Lot 25]. On the right is a rare figurative work from 1922 by the abstract painter Roger Bissiere (1886-1964) which carries modest hopes of £2,500-3,500 and is thought to depict the wife of the French Cubist painter, André L'hote [Lot 24].
Further highlights include Composition, a large, bright and bold canvas in oils by Marie Raymond (1908-1988) returning to auction for the first time in nearly two decades with an estimate of £3,000-5,000. Raymond is perhaps best remembered as the mother of the renowned artist Yves Klein, despite her success as a leading female exponent of 'Abstraction Lyrique'. [Lot 32]
A large and decorative oil by Gaston Andre (1884-1970), who is regarded as one of the most notable figures of the Belle Epoque period, is estimated at £5,000-8,000 [Lot 62]. There is also a typical neoclassical-inspired Greek nude by Jean Souverbie (1891-1981) from 1976, which carries hopes of £10,000-15,000. [Lot 111] 
A late 1920s oil on canvas by the Hungarian artist Bela Czobel (1883-1976) is offered in the sale at £4,000-6,000. Formerly owned by the Hungarian art collector, Paul Szeben, Intérieur à Paris has passed by direct descent. It was most likely painted in Montparnasse where Czobel had a studio between 1925-1939. [Lot 20]
Among the Paris School sculpture is Miroir Magnetique, a piece from 1971 by the late Greek artist Panayiotis Vassilakis (1925-2019), known professionally as Takis, who had a major retrospective this year at Tate Modern. Made in an edition of 100 from magnets, nylon thread, mirror, nails and metal fixings, it carries hopes of £2,000-4,000. [Lot 124]
Northern Europe, Belgium, Germany & Russia
The auction contains four lots by Marcel Delmotte (1901-1984), a largely self-taught artist who originally worked commercially as an interior decorator and lived his whole life in Belgium. His output was prolific and oscillated from biblical, figurative and abstract compositions to strong geometric statements made in multiple mediums. A highlight on offer at £1500-2500 is this mixed media collage on board, Valeur Travail, top left, which is signed and dated '1951'. [Lots 67]
German works include a 1960s oil on canvas by Karl Weschke (1925-2005) titled Sturmfloten, which was exhibited at the Whitechapel Gallery in the early 1970s and shares similarities to another painting in the Tate. It is for sale at £5,000-8,000 [Lot 45]. There are also a dozen figurative works by the German painter Friedemann Hahn (b.1949), consigned from the estate of Robert Heller, the journalist and former director of the renowned Flowers Gallery whose collection is being offered over several sales at Roseberys. Hahn's powerful 1984 canvas Jane Russell in "The Outlaw", shown here, is estimated at £2,500-3,500 [Lots 144].
In addition to the Heller estate, there are nine lots of Austrian, German and American works from the estate of Charles B Moses, who owned Galleria 88 in Rome. The group contains a mix of oils and works on paper from the 1950s and '60s by the likes of Eugene Berman (1899-1972), Gene Charlton (1909-1979) and Jacques Gabriel (1934-1988), and range in price from £300 to £800. [Lots 80-88]
Nearly 60 lots have been consigned from Galerie Natalie Boldyreff, a Russian gallery run for 31 years by Natalie Boldyreff, who recently closed its doors. The gallery was located close to the Louvre Museum in Paris on rue Saint Honoré. Boldyreff is known for her speciality in 20th and 21st century Russian art. The gallery featured contemporary French and Eastern European artists.Among the lots is a gouache by Russian painter Larissa Gousterina (b.1943) titled Composition N518 (1992), which has hopes of £800-1,200. [Lot 196]
 Africa
The auction contains three works by the Nigerian born artist Benedict Chukwukadibia Enwonwu (1917-1994), one of the most influential and pioneering African painters of the 20th century. Enwonwu studied fine art at Government College in Nigeria before being awarded a scholarship in 1944 to study in the UK at the Slade School of Fine Arts. It is likely that lot 65 and 66 were completed during his time at the Slade where he received academic and classical training in art education. Pictured here is a portrait of a young girl, dated '1950', which is estimated at £1500-2000. [Lot 64]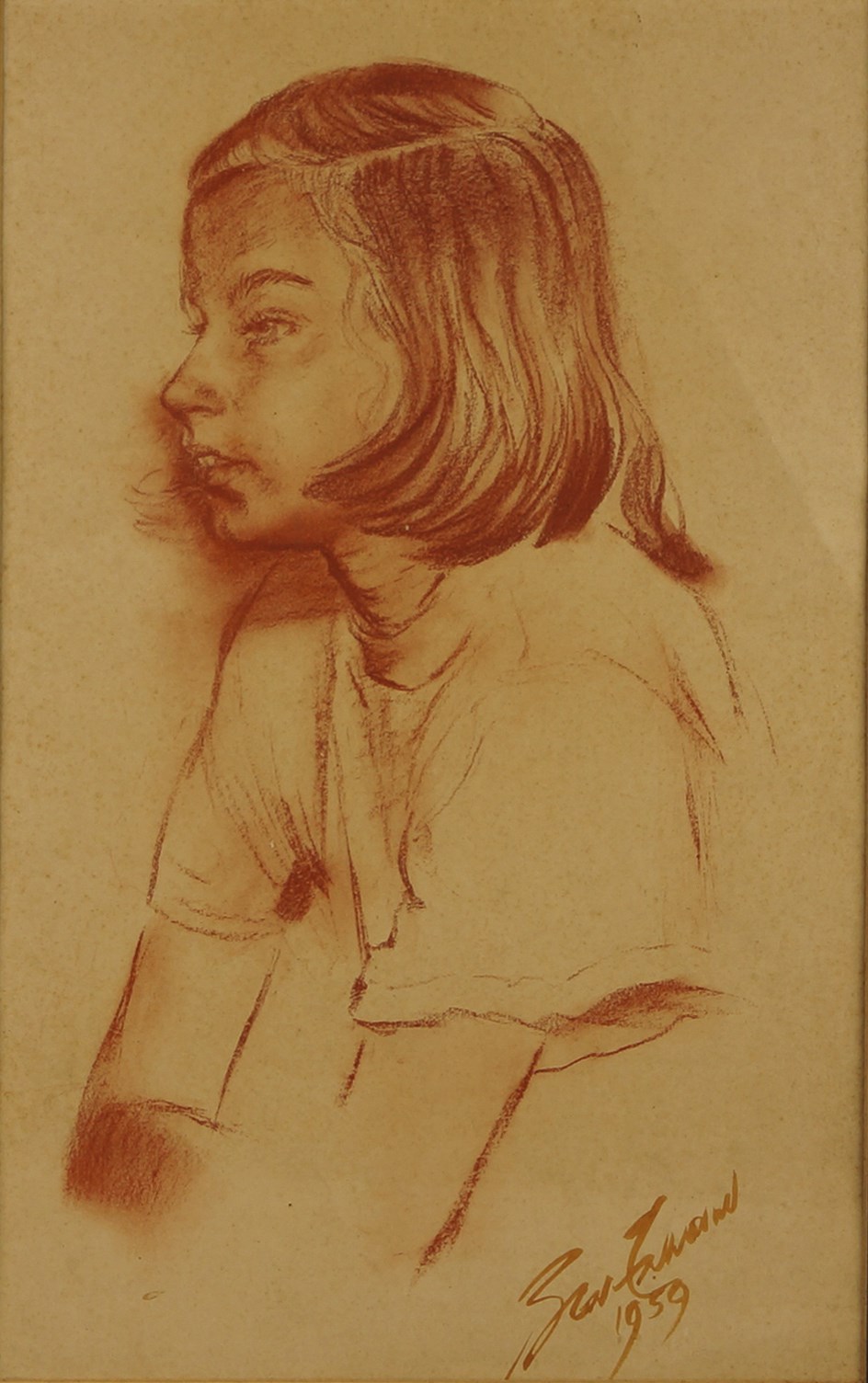 Estimated at £10,000-15,000 and appearing at auction for the first time is an interior scene by the significant South African woman painter, Freida Lock (1902-62). Lock explored a number of genres throughout her artistic career but is perhaps most renowned for her balanced and colourful interior scenes. She was one of the founding members of the New Group (1938-54), an artistic circle made up of young South African artists, including Gregoire Boonzaier, Lippy Lipshitz, Cecil Higgs and Terence McCaw. Lock and her contemporaries brought a unique and innovative style to the conservative South African art scene, sometimes even being referred to as the 'Cape Impressionists'. [Lot 63]
North & South America
This Pop Art style acrylic and fabric canvas, Creamsicle, shown right, by Donald Baechler (b.1956) carries hopes of £4,000-6,000. Naïve child-like depictions of iconic items such as flowers, birds and ice cream (like Creamsicle), are iconic for the American artist, who was a key figure in the Neo-Expressionist and Pop Art movements during the 1980s. [Lot 182]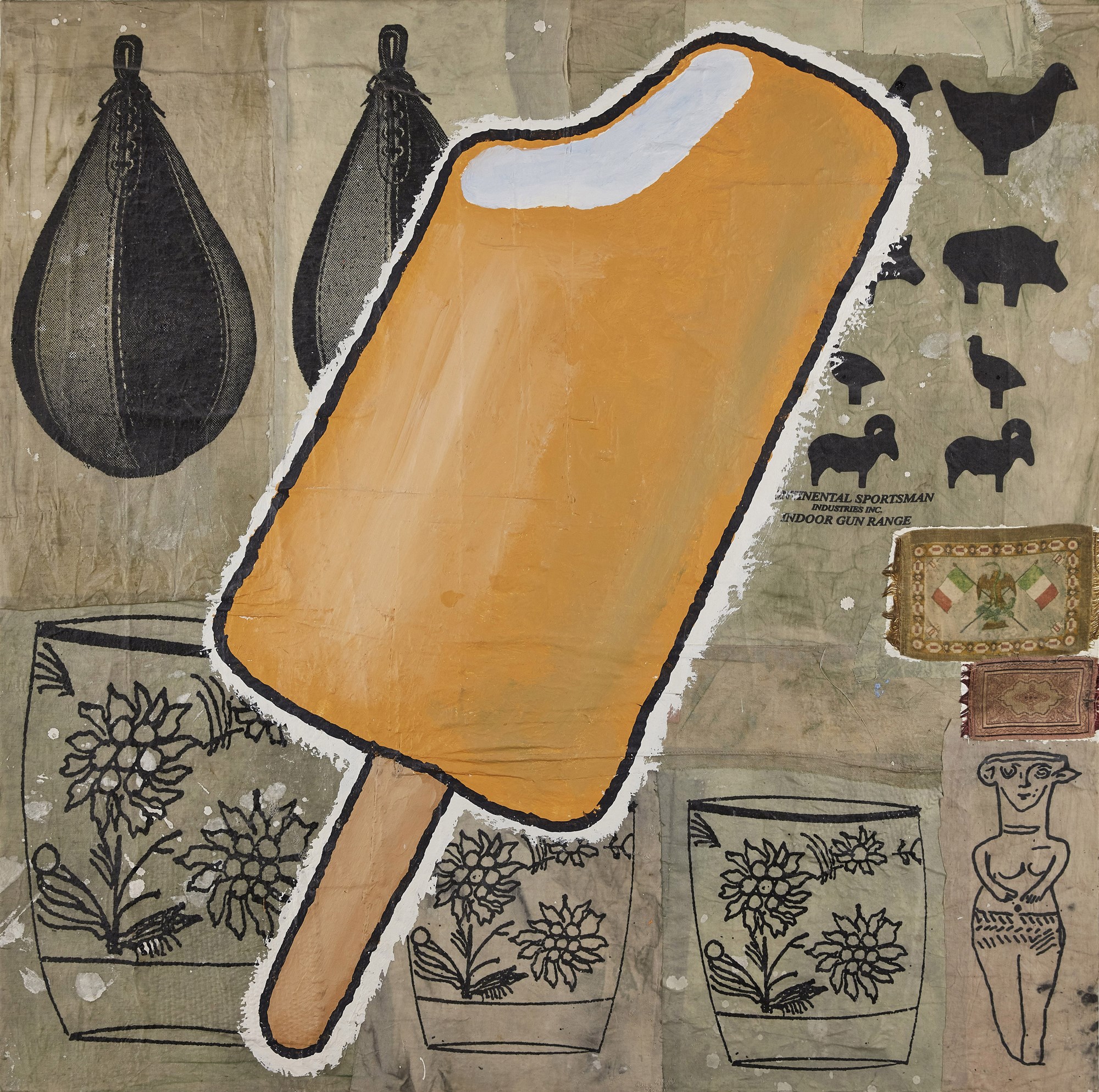 Estimated at £3,000-5,000 is a mixed media collage on paper by the Argentinian artist Alicia Perez Penalba (1913-1982). Silk Papers, dated 1981, was acquired from the artist's estate by the vendor and is the second work by the artist to be offered at Roseberys this year after a 1950s sculpture made £27,000. Penalba moved to Paris in 1948 where she enrolled in engravings at the School of Fine Arts, and from 1950 she worked in the studio of the prominent Russian sculptor, Ossip Zadkine. During the 50s and 60s her work became widely recognised, however it was her retrospective Totems et Tabous at the Musee d'Art Moderne de la Ville de Paris in May 1968, with Wifredo Lam and Roberto Matta, which finally assured her international recognition. Penalba's works can be found in private and public institutions, including Centre Pompidou. Paris and the Brooklyn Museum and the Schulhof Collection in New York. [Lot 130]
Australia
Charles Blackman (1928-2018), a key figure in Australian art, gained the support of art patrons John and Sunday Reed in the early 1950s. Sunday introduced him to the poetry of John Shaw Neilson, which informed his compelling Schoolgirl painting series, while his wonderous Alice in Wonderland series is infused with references to life at Heide - the property owned by the Reeds. However, it was in his subsequent series of young girls and flowers, when this painting - Young Girl and Old Cat, c.1958 - was created, which truly found him popular acclaim. The inspirational muse for the whole series was Blackman's wife, Barbara.  A writer and poet, Barbara was already legally blind when she married him in 1952. Her condition worsened considerably over the next decade, to the point many believe, these paintings may have been the last she saw. Blackman focussed his attention on the senses of touch and smell, which gained greater importance in Barbara's reality. It was bequeathed by the artist Gerald Moore to Eltham College in London and is being sold to benefit the college with a guide price of £10,000-15,000. [Lot 115]
The sale also includes pictures by the Australian artists Sidney Nolan, David Boyd, and Ray Austin Crooke.
Impressionist, Modern, Post War & Contemporary Art 
Wednesday 4 December, starting at 12 noon
Viewing Times at Roseberys 
Sunday 1 December 10.00am - 2.00pm
Monday 2 December 9.30 am - 5.30pm
Tuesday 3 December 9.30 am - 5.30pm
Wednesday 4 December 9.30 am - 11.45am
For further information please contact Peigi Mackillop peigimackillop@roseberys.co.uk +44 (0) 20 8761 2522