Postponed Fine & Decorative auction given unique selling advantage
17/06/2020 Ceramics & Glass, News Stories & Press Release, Furniture & Rugs , Works of Art, Sculpture & Clocks
London Roseberys: The Fine & Decorative auction that included a treasure trove of art, antiques and collectables from across the centuries produced excellent results on Friday 5th June.
Like the Old Master, 18th & 19th Century Pictures and Jewellery auctions that were due to take place in March, the Fine & Decorative sale was also postponed due to lockdown restrictions.

Ian Cadzow, Chairman commented: Although at first the idea of a postponement seemed unnerving, it turned out to give the sale a unique advantage. With the extended period of the sale being online, it benefited from increased levels of interest. The shortage of auction material and supply in the UK also played a part in the sales success too. In addition, the live only format, not allowing bidders to bid in the room, ran smoothly too, with bids being placed online and, on the phone, instead. Overall, the sale took over six hours to get through 457 lots, 82% of which were sold.
An impressive Russian silver tazza, by Ivan Khlebnikov, Moscow c.1888

The sale began with just over 100 lots of silver, with only three lots failing to find a buyer. The popularity in the silver section of the sale could be reflective of current market trends, as gold and silver have been showing a major spike in value. Individuals in the silver industry expect that this bull market will continue grow higher for the next two years.  Lot 104, an impressive Russian silver tazza, by Ivan Khlebnikov, Moscow c.1888, assay master Anatoly Artsybashev made over double its estimate reaching a price of £3,500. Khelbinkov's works are acclaimed throughout the world for their fine decorative enamel work and the traditional Russian style and are popular among silver aficionados.
A large English pearlware pottery printed platter, 19th century
Sixty lots of ceramics followed the silver and one of the more keenly fought over lots was a group of 19th Century pearlware which outstripped a modest estimate to take £2,000. The large English pearlware pottery platter,  lot 128, decorated with Neoclassical motifs, came together with a larger dish and with four other plates of similar design, a chestnut basket and a Spode drainer.
A French enamelled cloisonné repeating carriage clock, late 19th century
Two interesting French enamel decorated clocks attracted a lot of interest in the sale. Lot 171, a French champlevé and brass mantel clock, 20th century, mounted with an urn finial made £2125. Following was lot 172, a beautiful enamelled cloisonné repeating carriage clock, also French but made earlier in the late 19th century, made £2,250 respectively.
An Italian micro mosaic Grand Tour picture of an Italianate landscape with a colonnaded temple and house, 19th century
Some Grand Tour items were led by an Italian micro mosaic panel lot 181, selling for £6,875. The Italianate landscape with a colonnaded temple and house, created around the 19th century, showing a lady carrying a basket along a path to a grand building, in a Dutch ebonised frame, is thought to portray the Temple of Vesta at Tivoli, which could reflect the high selling value.
Tribal headdress from Yoruba Nigeria 
Within the tribal section of the sale, lot 217 a tribal headdress from Yoruba, Nigeria, of conical form with a bird finial at the top and bands of birds below made £1,625. Lot 218, another tribal headdress also from Yoruba, Nigeria, that followed swiftly after, made a further £200, reaching the price of £1,875. Both selling to the same lucky bidder.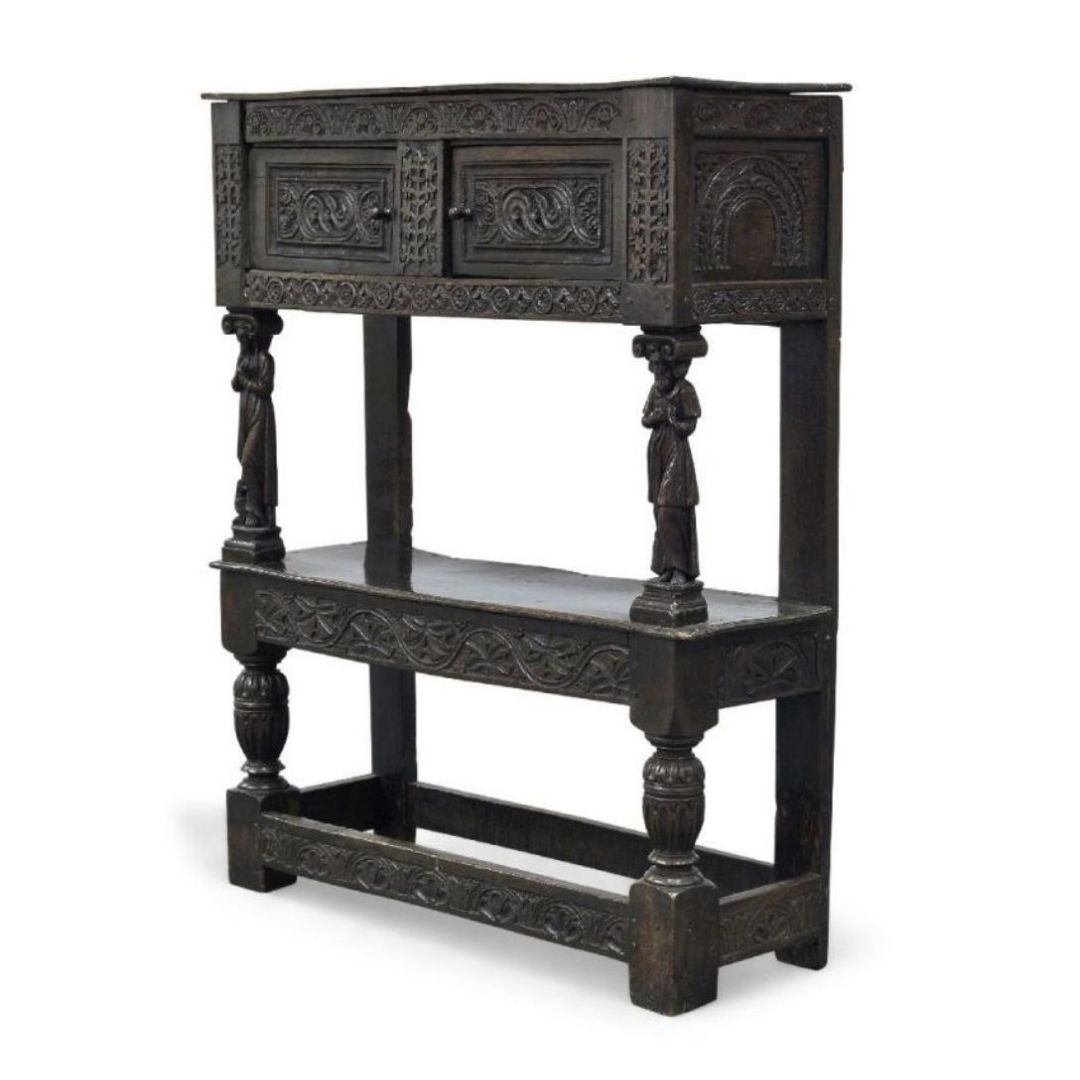 Carved oak court cupboard, 17th century 
The furniture that followed was led by an interesting carved oak court cupboard, lot 328. The  carved oak court cupboard, incorporating 17th century elements made £11,250, three times its original top estimate.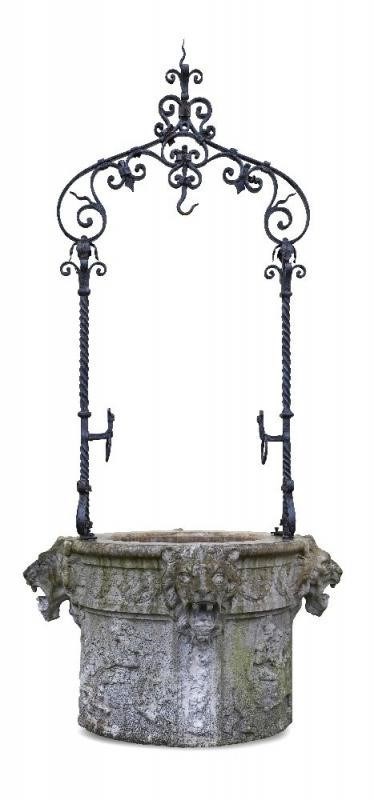 A marble well from the 19th
Toward the end of the sale, the garden furniture produced a series of outstanding results. This included lot 437 a Regency bench, that made £3,500. It was originally estimated to sell for £300 - £600. Lot 442, a large carved sandstone herm of Pan created in the 18th to19th century sold for £4,500. The herm of Pan depicted laughing merrily with pipes and a rustic branch below was originally estimated to sell for £800 - £1,200. Lot 441, a green patinated bronze armillary sphere made £8,750. The outdoor sphere parts late 19th/ 20th century, mounted on a Portland stone column was originally estimated to make  £1,200 - £1,800. The ultimate highlight from the whole sale was Lot 440. The marble well from the 19th century sold for a staggering £10,000. Making more than £7000 over its top estimate price.
For any press related enquiries please contact Peigi Mackillop peigimackillop@roseberys.co.uk
Please note that all prices include a buyer's premium of 25%