Portraiture by Dutch Old Masters highlights auction
31/03/2021 News Stories & Press Release, Old Master & 19th Century Pictures
Roseberys first Old Master, 18th & 19th Pictures auction of the year, proved that demand is high for works that are new to the market and of high quality. The strong and varied tri-annual sale, that compromised of 249 lots in total on Tuesday 23rd March boasted numerous noteworthy results, with work by Jacob Frans van der Merck and Antonietta Brandeis, leading the sale.  A strong theme throughout the auction was 17th century European portraiture, particularly Dutch portraiture. Industry results prove that Dutch portraiture is a popular area of the market at present, particularly in the last year, and an area of expertise Roseberys is increasingly expanding upon.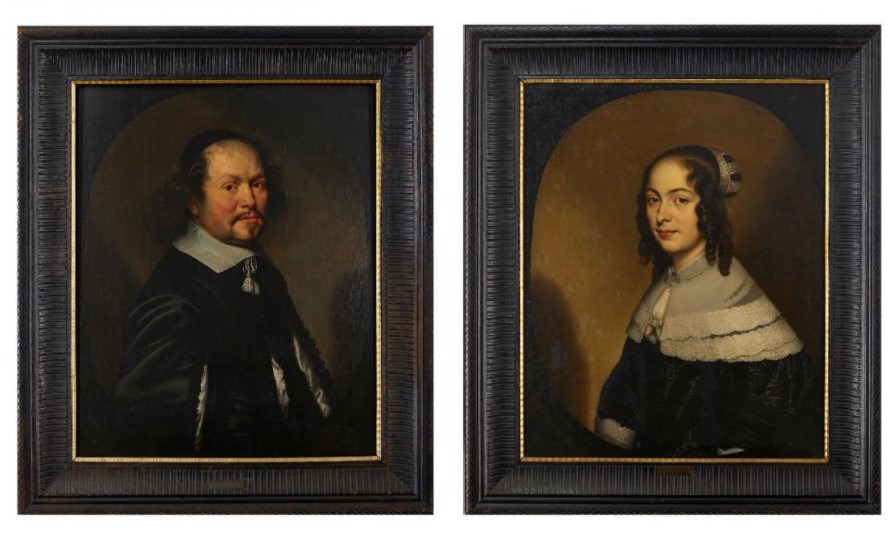 Jacob Frans van der Merck, Dutch c.1610-1664- Portrait of Ludwig Ziegler (1608-1681)
The works by Dutch artist Jacob Frans van der Merck, c.1610-1664, on offer coming from a private UK collection was a pair portraits of Ludwig Ziegler (1608-1681), and Elizabetha Margaretha Spina (1626-1702). The sitters of the portraits are believed to have been married, with three sons and four daughters. Born in 'S-Gravendeel around 1610, the artist Jacob Frans van der Merck was apprenticed in Delft, and subsequently worked in The Hague and Leiden, producing works spread across multiple genres, including portraiture, still life and genre scenes, all completed in the distinctive Dutch manner of the period. The paintings sold at Roseberys, although similar in composition and technique, were likely to have been produced at different times during the artist's career due to one being completed on panel and the other on canvas. According to records, van der Merck was a member of the painters' guild in Dordrecht from 1640 to 1649, so around the time these portraits were painted. These engaging portraits display his highly accomplished and realistic technique much sought after during the period. Entered onto the market at £6,000 - £8,000, the pair of portraits beat their top estimate realising a price of £11,875.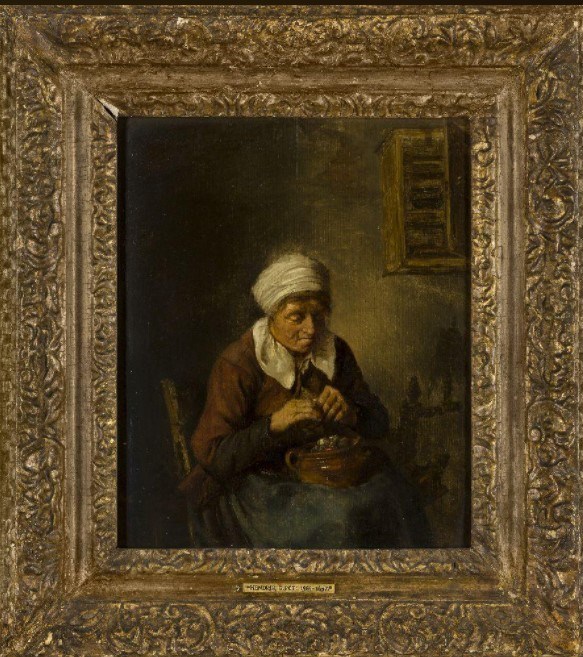 Dutch School, early-mid 17th century- An old woman warming her hands over a pot of coals; oil on panel
Another highlight coming from Holland, was an oil on panel depicting an old woman warming her hands over a pot of coals; from the Dutch School, early-mid 17th century. Measuring 32x26.7cm, the work came with a provenance from Miss Ruth S. Buller; Christie's, London sale on the 1st July 1966; Thos. Agnew & Sons Ltd., London, item no 27282. The present work is likely to be the same work referenced in the RKD file of Cornelis Hofstede de Groot, box no. 203, card number 1409897. Estimated to make £2,000 - £3,000, this lot produced the result of £5,750 at auction.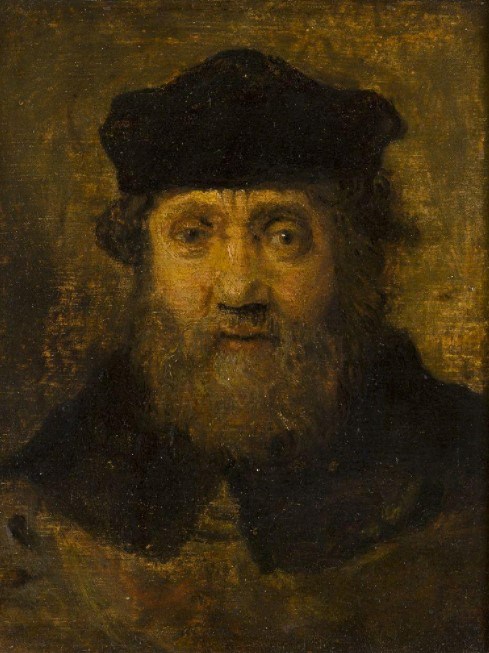 Circle of Pieter Hermansz Verelst, Dutch c.1618-c.1678- A bearded old Man, head and shoulders; oil on panel
Elsewhere in the sale, Circle of Dutch artist Pieter Hermansz Verelst, c.1618-c.1678, depicting a bearded old man, reached a value over its top estimate, realising £3,000. The oil on panel measuring 19x14.5cm came with a provenance from Christie's, London 29th November 1968 sale, lot 11. Pieter Harmensz Verelst was a Dutch Golden Age painter. Three of his sons, Simon, Herman, and Johannes Verelst, also became notable painters.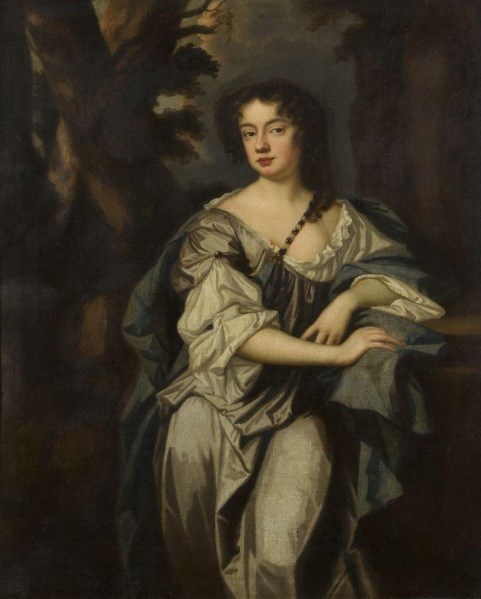 Studio of Sir Peter Lely, British 1618-1680- Portrait of Elizabeth Willoughby, Countess of Ranelagh (c.1633-1695), seated full-length in a landscape, circa 1660; oil on canvas
Another leading portrait highlight within the sale was an oil portrait of Elizabeth Willoughby, Countess of Ranelagh (c.1633-1695), circa 1660, by the studio of British artist Sir Peter Lely, 1618-1680. The striking portrait made the sale result of £5,000. Sir Peter Lely was arguably the most fashionable portrait painter of his day. It was in this capacity that he depicted many of the key figures of mid-seventeenth-century England, including Charles I, Charles II, and Oliver Cromwell. Lely's work shows the influence of a number of contemporaries, most notably his predecessor as court painter, Anthony van Dyck. Lely was known for being heavy reliant on his workshop. Many of his works were painted, in large part by his studio assistants, with Lely himself painting the sitter's face, or adding final details to the piece.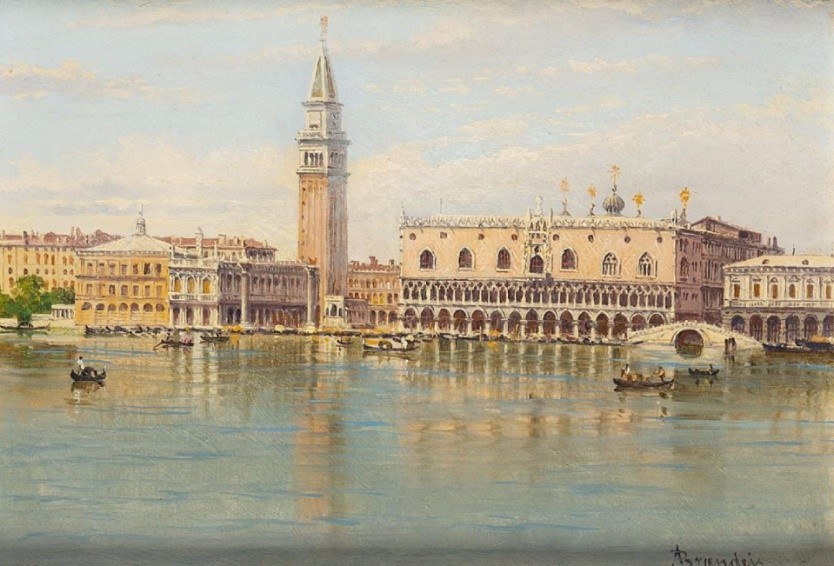 Antonietta Brandeis, Czech 1848-1926- St Mark's, Venice from the Grand Canal; oil on board
Joining the portraits by Jacob Frans van der Merck as the joint highest value lots in the sale was an exquisite scene of St Mark's, Venice from the Grand Canal, by Czech artist Antonietta Brandeis, 1848-1926. The oil on board doubled its top estimate to make £11,875. The artwork that measured 17.8x24.5cm came with a provenance from the Rayner MacConnal, London, according to the label attached to the reverse. Brandeis, was most well-known for his Italian landscapes such as the lot sold at Roseberys, as well as a painter of religious subjects for altarpieces.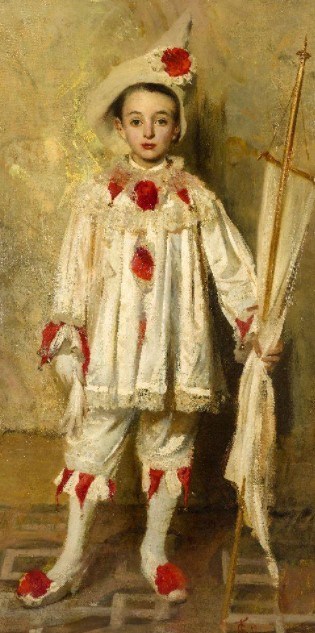 Cesare Tallone, Italian 1853-1919- The Little Pierrot; oil on canvas
This quaint oil on canvas titled 'The Little Pierrot' by Italian 19th century artist, Cesare Tallone, 1853-1919, realised £7,500 at Roseberys auction. The work that measured 157.5x81cm came with a provenance from Sotheby's, London, 21st June sale in 1989, lot 208. Tallone studied at the Brera Academy in Milan, under Giuseppe Bertini, Raffaele Casnedi, and Luigi Riccardi. He was connected to a number of contemporary artists, including Francesco Paolo Michetti and Antonio Mancini, and was encouraged in his endeavours by the artist Francesco Hayez. Tallone became established as a portrait painter to members of the intellectual and aristocratic elite in his native Milan in the late-nineteenth century. He began teaching at the Carrara Academy in Bergamo in 1885, and was appointed to the same position at the Brera Academy in 1899. A retrospective of his work was held at the Brera Academy in 1921, not long after his death in 1919.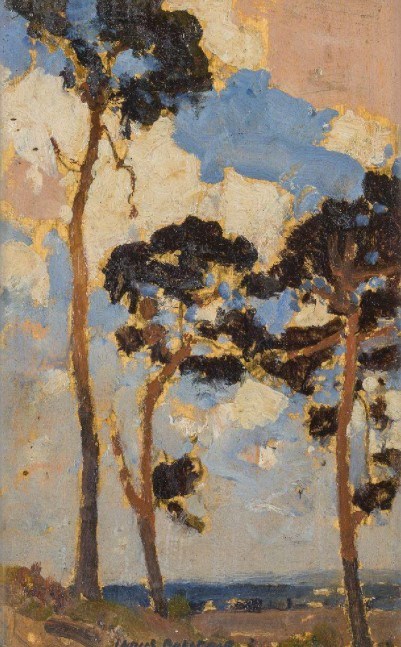 James Paterson ARSA, Scottish 1854-1932- Fir Trees; oil on panel
Work by Scottish landscape and portrait painter James Paterson ARSA, 1854-1932, titled 'Fir Trees' was the surprising sale result of the auction, beating a top estimate of £800, making the price of £5,500. The oil on panel, measuring 22x14cm came with provenance with The Fine Art Society Ltd., London. Paterson was associated with The Glasgow Boys movement of artists. He is best known for his landscape paintings of Dumfriesshire, where he lived, at Moniaive from 1885 to 1905. The Old Master, 18th & 19th Century Pictures department has had previous success with works by Paterson. A watercolour of a lute player by the Scottish artist sold for £1,750 in Roseberys June auction.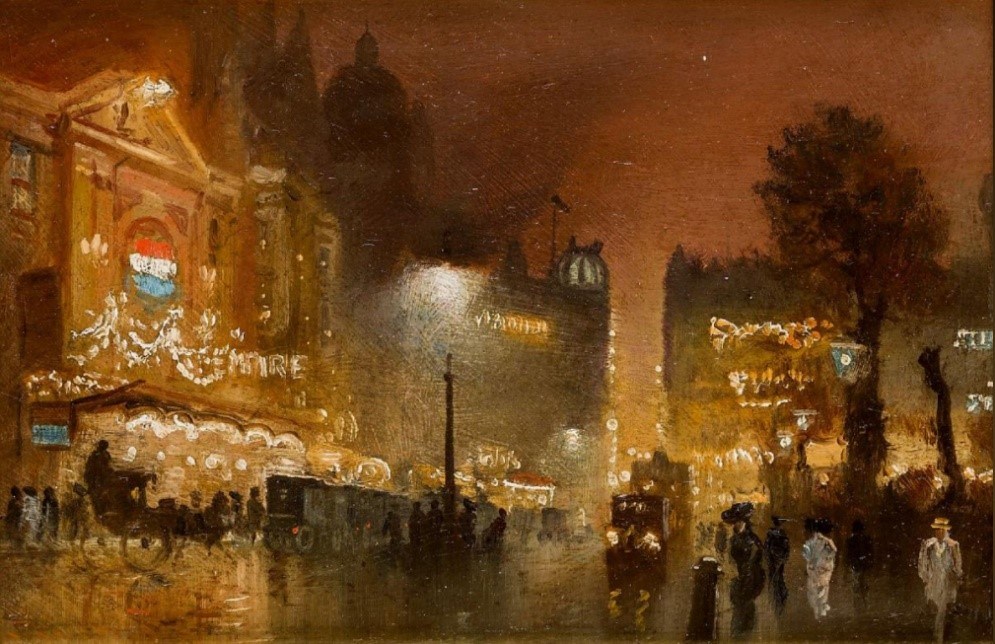 George Hyde-Pownall, British 1876-1932- The Empire Leicester Square; oil on board
Lots 233 – 238 in the auction by British artist George Hyde-Pownall, 1876-1932, that consisted of various scenes of London had a 100% sell through rate, realising a combined total £20,750. Lot 238 was the highlight out of the group of works by the artist depicting the The Empire Theatre in Leicester Square at night, which now usually serves as a cinema. Entered onto the market with an estimate of £2,000 - £3,000, it was bought for £6,875, over double its top value. Hyde-Pownall is famed for his depictions of London street scenes, such as the lots on offer at Roseberys. He later emigrated to Australia where he painted the expanding city of Melbourne. He was also a noted musician in England and continued his musical career in Australia.
-ENDS-
View all the results from the Old Master, 18th & 19th Century auction here
The next Old Master, 18th & 19th Century auction at Roseberys will take place on Tuesday 20 July
Contact pictures@roseberys.co.uk for more information