Pictures 1500-1900 Preview Highlights
12/11/2018 News Stories & Press Release, Old Master & 19th Century Pictures
LONDON: All is not what it seems in these impressive Venetian views, which will go under the hammer in a sale devoted to pictures at Roseberys London on November 21.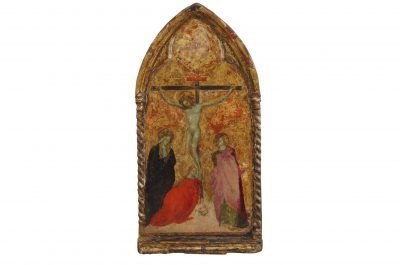 Inspired by the great Canaletto, these so called 'capriccio' oils (lot 62) are comprised of a fantastical mix of real and imagined buildings.
The setting for the compositions is the Grand Canal – though not as it has ever actually looked.
In the oil pictured left, the central element is not the real Rialto Bridge constructed in 1590, but rather the design for another version of the bridge, published by the preeminent Venetian architect Andrea Palladio in 1570. The painter here drew very precisely on the illustration found in Palladio's 'I Quattro Libri dell'Architettura', only adapting it slightly by adding further sculptures and a few small details.
While a couple of different versions exist, this specific composition with Palladio's Rialto Bridge design flanked by two of his buildings in Vincenza was commissioned by essayist and art critic Francesco Algarotti.
Algarotti was a fervent advocate of the capriccio art form, as he believed it combined the best of both reality and the ideal through uniting nature and art.The best-known example of the Algarotti composition of the Palladian Rialto is held in the Galleria Nazionale in Parma, though there are several versions. A pendant picture, matching the panel with the imaginary round building, is also held in Parma.
Art collecting was an integral part to the Grand Tour undertaken by young aristocrats during the 18th century, and capriccio paintings were particularly popular souvenirs.Canaletto's compositions were incredibly sought-after by wealthy foreigners travelling through Venice, particularly with travellers from Britain where he was well-known. Many artists and followers imitated his style and made highly-skilled copies of his pictures to fulfil the demand for Venetian views. These fine 61 x 82cm oil on panels are estimated together at £15,000-25,000.
The 341-lot sale also includes an Italian oil of a boy with a lute (lot 55) attributed to Antonio Amorosi (1660-1738), a painter of the late Baroque, active in Ascoli Piceno and Rome.
The 97.5 x 72cm oil on canvas has museum pedigree, having hung in the Los Angeles County Museum of Art in Los Angeles, where according to a label attached to the verso, it was ascribed to fellow Italian Baroque painter Bernardo Strozzi.
It carries an estimate of £8,000-12,000.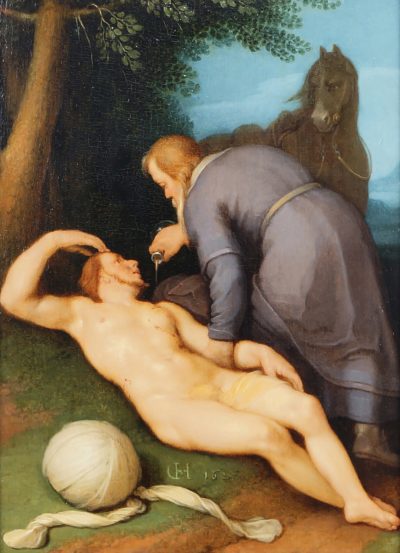 Another Italian highlight is an earlier 14th century crucifixion scene (lot 1). Catalogued as 'Sienese School', the 43 x 22cm tempera on panel is guided at £600-1200.
Representing Royalty in the sale through his steely gaze is a portrait of King James I (lot 6), painted after the Flemish artist John de Critz the Elder. The 47 x 36cm oil on cradled panel is guided at £1200-1800.
Another Low Countries entry is a painting of the famous parable of the Good Samaritan (lot 7) by the Dutch painter Cornelis van Haarlem (1562-1638), well known for his religious and mythological subjects.
Born in Haarlem, he was a leading painter in the group of Haarlem Mannerists, whose style was strongly influenced by the artists at the court of Rudolf II in Prague.
The signed 32 x 23cm oil on panel on offer at Roseberys London dates to 1627 and is guided at £8,000-12,000.
Female artist Elizabeth Gulland (1890-1910) was a genre painter and mezzotint engraver of mainly 18th century portraits.
The sale includes this tondo creation of a girl in a red dress (lot 245) estimated at £1,000-1,500. The diminutive 11.5cm wide watercolour graced the walls of the Royal Academy in 1894 and appeared at Christie's London over 100 years later in 2005.
In a similar vein is an attractive portrait of a Spanish lady holding a fan (lot 185) by Tito Conti (1824-1924), estimated at £3,000-5,000.
The 52 x 42cm oil on canvas is typical of the popular genre costume scenes he painted with aplomb throughout the 19th and early 20th century.
The sale also includes a small selection of antique German maps. The pick of the group is two woodblock printed world maps (lot 35) from Laurent Fries's (1485-1532) 1515 Ptolomeic atlas Claudii Ptolemaei Alexandrini, Geographicae. Prepared by the noted German cartographer Martin Waldseemuller (1470-1520), the pair are estimated at £500-700.
PICTURES 1500 – 1900 Roseberys London
Wednesday 21st November 2018
Starting at 11am
VIEWING
Friday 16 November 1pm – 5pm
Sunday 18th November 10am – 2pm
Monday 19th November 9.30am – 5.30 pm
Tuesday 20th November 9.30am – 5.30pm
Wednesday 21st November 9.30am – 10.30am
70/76 Knights Hill, London, SE27 0JD
+44 (0)2087612522
auctions@roseberys.co.uk
~Ends~
For further information please contact Peigi Mackillop peigimackillop@roseberys.co.uk +44 (0) 20 8761 2522
Roseberys is a privately owned auction house operating at the heart of the fine art market for 30 years.
With offices in London's Mayfair and Lambeth Roseberys offer a calendar of more than twelve specialist fine art, antiques and collectibles auctions each year.
Specialist sales include a wide range of Asian and Islamic Arts, Modern and Contemporary Art and Design, Decorative Art, Fine Silver and Jewellery, Ceramics, Paintings, Prints, Photography, Antique Textiles, Vintage Fashion and Fine Wine and Whisky.
Roseberys team of world-renowned specialists also provide a wide range of art market services to professional clients, including valuations for insurance and probate.
Roseberys is a member of SOFAA – The Society of Fine Art Auctioneers.