Pair of Blue John cassolettes achieve £15,000
22/07/2019 News Stories & Press Release, Furniture & Rugs , Works of Art, Sculpture & Clocks
LONDON: Roseberys London's latest Fine & Decorative auction contained an eclectic range of fine and decorative furnishings pitched at a variety of price points that enticed both connoisseur collectors and interior decorators.
The sale, held on July 18, contained around 500 lots of antique and modern pieces ranging from a pair of George III ormolu mounted blue-john cassolette attributed to Matthew Boulton to a rare archive of Dr Who colour negatives and photographs - both of which drew eager bidding on the day.  The archive of coloured photographs taken on set when Doctor Who was broadcast in black and white attracted the attention of fans just months after Roseberys sold another tranche from the same collection in March. The strong performance of these archives has proved the enduring demand for rare material from the popular television series.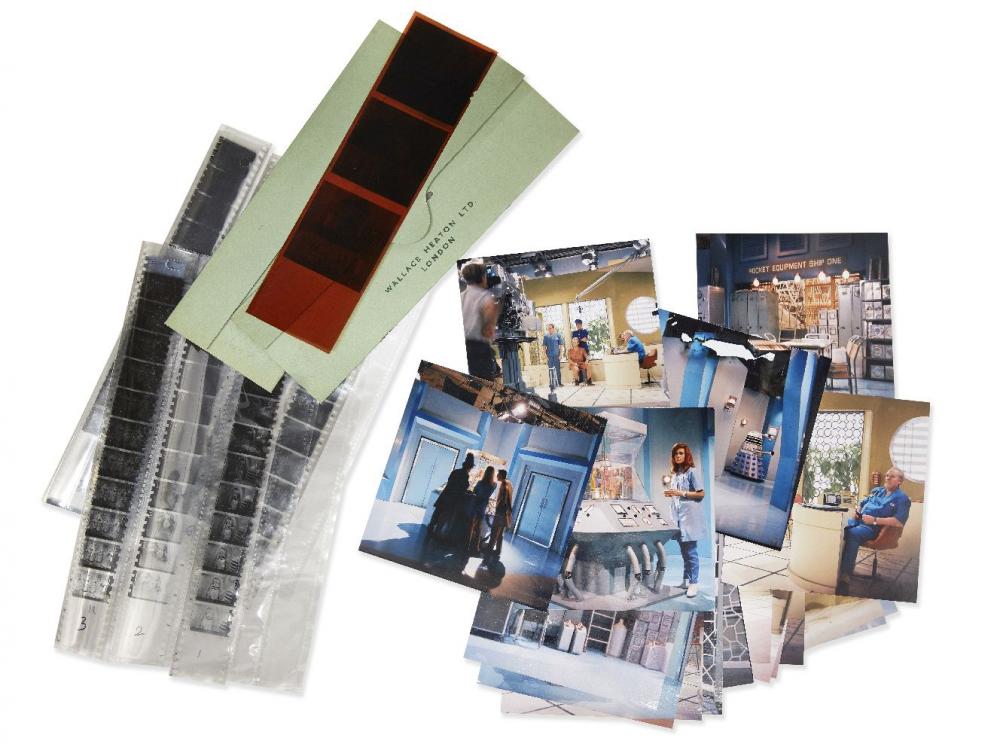 Derek Dodd, British, 1937-2018 a collection of twenty one colour negatives and developed photographs of scenes from the Dr Who series The Power of the Daleks
This archive contained vivid colour negatives and modern photographs of sets designed by Derek Dodd (1937-2018) for the Doctor Who series The Power of the Daleks, first broadcast by the BBC in six weekly parts from November to December 1966. Famously, the master tapes of all six episodes from the series were erased in the late 1960s, while the copies kept for foreign sales on 16mm film were destroyed in 1974. Their destruction meant that the only information to survive on the series was limited to stills photography and films made by fans when the programmes were broadcast. The group included photos of the actors and a candid shot of the Doctor played by Patrick Troughton. The archive was eventually knocked down for £5,200, against an £800-1,200 estimate. (Lot 432)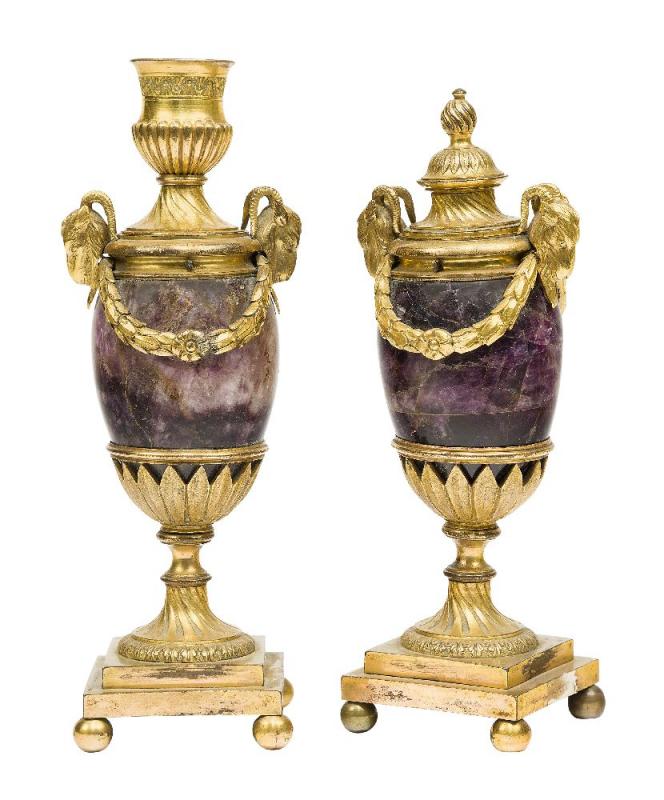 A pair of George III ormolu and blue-john cassolettes, attributed to Matthew Boulton, c.1770, each of urn shape with a pair of goat's masks holding laurel swags, with reversible spiral-twisted nozzle and finial
 The rare pair of period George III ormolu and blue-john hardstone cassolettes, shown above, are attributed to the great industrial pioneer Matthew Boulton (1728-1809). The pair made £15,000 - £5,000 more than the top guide - and shows the continued interest in the work of Boulton, one of the first recognisable modern industrialists in late Georgian England. Josiah Wedgwood described Boulton in 1767 as 'the most complete manufacturer in England in metal'. The c.1770 cassolettes - each of urn shape with a pair of goat's masks holding laurel swags – combine Boulton's great skill in ormolu with his wonderful eye for elegant classical design. The 'goat's head vase' is derived from a sketch illustrated in Boulton and Fothergill's pattern books. The model was one of the most popular of the smaller vases and first appeared in 1769. (Lot 105)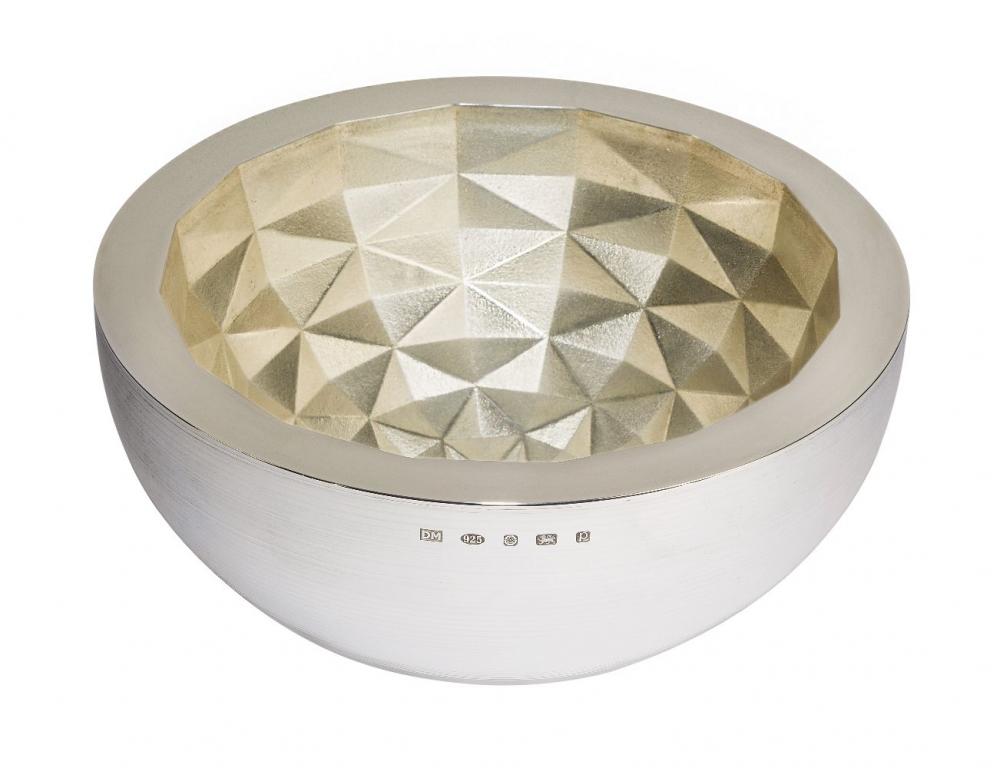 An impressive David Mellor silver bowl, Sheffield c.2014, the interior cast with three -dimensional diamond design
Mellor (d. 2009) was a key figure in British design with an international reputation as a designer, manufacturer and retailer. Born in Sheffield and originally trained as a silversmith, Mellor specialised in metalwork. He is particularly famous for his cutlery, which won numerous design awards and can be found in many international collections. (Lot 89)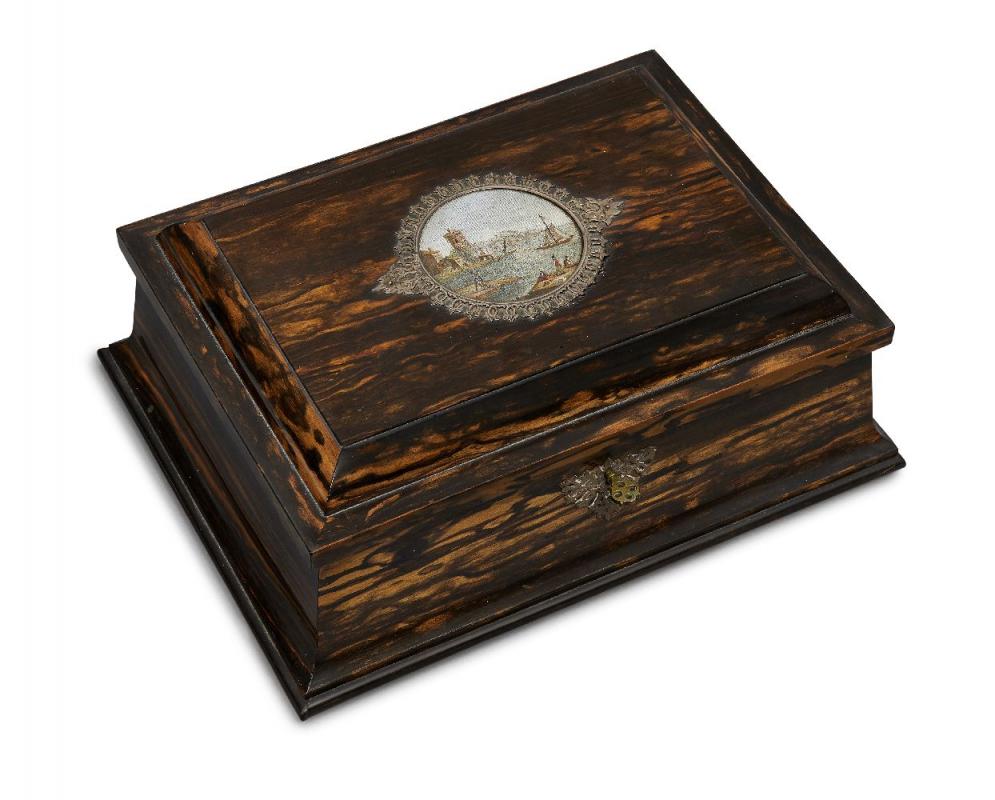 A Victorian micro-mosaic mounted and coromandel jewellery casket box, retailed by Parkins & Gotto
Among the silver an impressive c.2014 bowl by David Mellor (1930-2009) was secured over estimate for £2,500, proving that there is a strong market for collectable silver by Contemporary designers. Cast to the interior with a striking three-dimensional diamond design, the piece came in a fitted wooden and burgundy suede lined box. An interesting box with a named plaque for a Victorian retailer and a good quality micro-mosaic panel made it particularly desirable on the secondary market. It was retailed by Parkins & Gotto with the silver lock, escutcheon and hinges by George Betjeman & Sons, London 1878. Showing a scene of a boat entering a forted harbour with buildings on the shore and people looking on, it sold for £1,900 against a £1000-1500 guide. (Lot 130)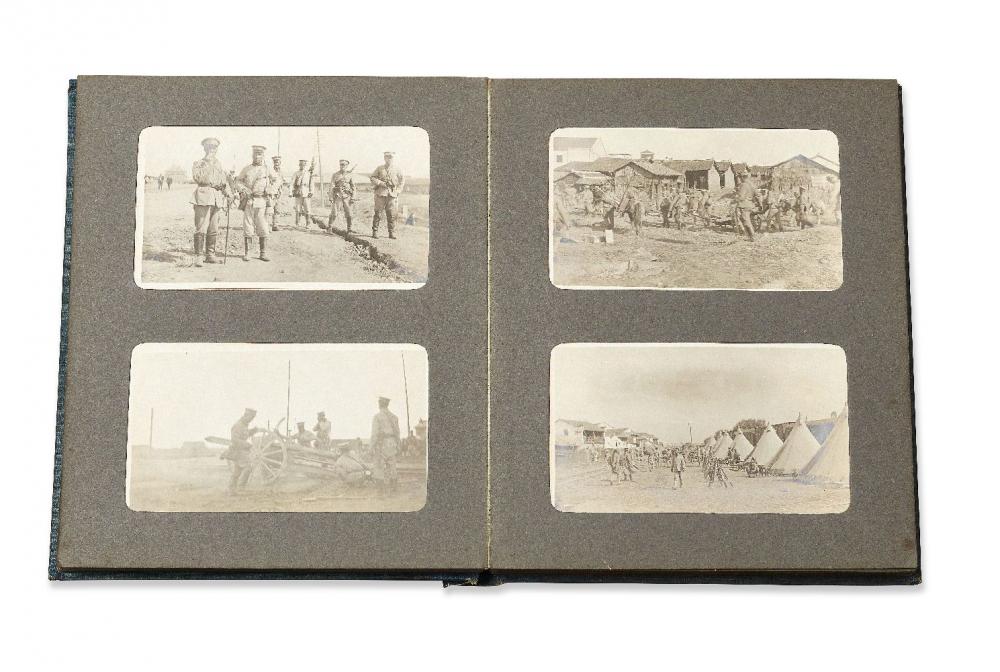 An album of seventy eight photographs, attributed to show images of the Battle of Yangxia in1911, early 20th century

 An album of 78 photographs, attributed to show images of the Battle of Yangxia in1911, made £1,800, over three times the top estimate. These interesting images portrayed the armed struggles that took place to forge the formation of the Modern-day China and were purchased by a Chinese buyer keen to repatriate records back to their place of origin. The battle of Yangxia was the largest battle in the Xinhai Revolution from 18th October to 1st December 1911 in the Wuhan area of Central China. It was fought between the revolutionary forces of the Wuchang and the loyalist armies of the Qing Dynasty, with both parties eventually leading to a resolution that saw the abdication of the Last Emperor and the establishment of the New Republic of China. The photographs depicted troop movements, trains, barricades, a steamer with full dress flags, gun emplacements, prisoners and explosions, in a cloth covered album. (Lot 234)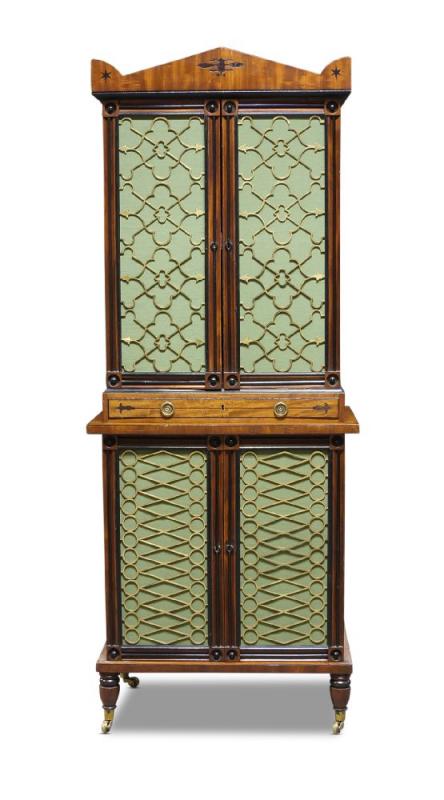 A Regency mahogany and ebonised cabinet, early 19th century, in the manner of George Bullock, the shaped cornice flanked by acroteria with ebony inlaid decoration
There is still a market for good English furniture and, as was the case here, pieces with references to the main cabinet makers of the Regency age. Making £2,700 was an elegant Regency cabinet with design elements to the influential furniture maker and sculptor, George Bullock (c.1777-1818). During his short life Bullock secured an illustrious clientele consisting of the Duke of Atholl at Blair Castle, the Earl of Mansfield at Scone Castle, Sir Walter Scot at Abbotsford and also supplied the furnishings for Napoleon's home on the Island of St. Helena. His career started in Liverpool and later took him to London where he was locally celebrated for his remarkable craftsmanship. He used exotic woods and designs influenced from the Neo-Classical, Gothic, Jacobean and Elizabethan styles. Similarities to the piece at Roseberys were displayed in two bookcases by Bullock illustrated in the 'Lowe Papers' on a sheet inscribed 'Breakfast Room for St Helena'. The pediments on these cabinets, to which the lot is a variant, probably derived from a plate in Thomas Hope's 'Household Furniture' of 1807. (Lot 336)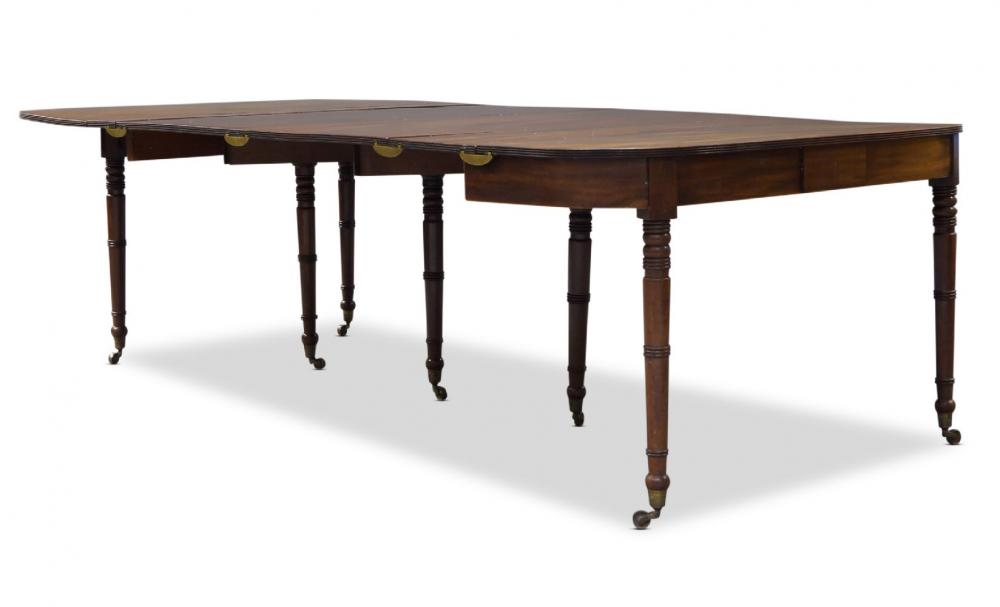 A George IV mahogany folding and extending dining table, with rounded rectangular top
This fine George IV mahogany folding and extending dining table, with rounded rectangular top and four additional leaves that opened with a concertina action, made £4,800, comfortably over the £2,000-3,000 guide. (Lot 333)
 Forming the sale's core were two collections with exceptional provenance; a group of fine and highly decorative Continental oak carved elements from Rheola House in Wales and a selection of wine racks, flooring and lighting from the legendary Café Royal in central London. All of these lots came from private collections proving items with provenance are still desirable in the current market. The eight lots of carved oak elements from the collection of the 19th century Welsh politician John Edwards Vaughan were believed to have been acquired during his Grand Tour of Europe in 1817-21 when he was accompanied by his cousin, the architect John Nash.  Nash had been instructed to design Vaughan's home Rheola House in Neath, South Wales, in 1809 - one of his last private commissions before being almost exclusively occupied in works for the Prince Regent.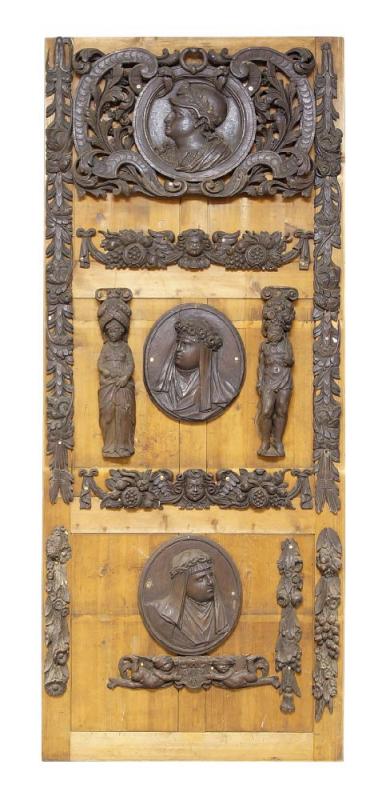 A collection of thirteen Continental carved oak mouldings, late 17th and 19th century, in the Renaissance style
In the late 19th century the carvings were displayed in the entrance hall of Rheola House and may well have been in-situ since John Vaughan's time at the property. The collection, which dated from the late 17th to 19th centuries, sold to total nearly £4,000. (Lot 203)

The wrought-iron wine racking from the Cafe Royal Wine Cellar, late 19th/early 20th century, comprising ten sectional shelves, an enclosed cupboard section with stencilled name Molliere Rue Constantine, Lyons, two bottle racks
The late 19th/early 20th century wrought-iron wine racking from the Cafe Royal Wine Cellar, together with bottle racks zinc measures and other pieces, sold for £3,200. The Café Royal opened in 1863 at the southern end of Regent Street, in one of the famous colonnaded terraces conceived by the pre-eminent architect John Nash in the early 1800s. It was founded by the French wine merchant Daniel Nicholas Thévenon who arrived in London with £5 after fleeing his creditors in Paris. He changed his name to Daniel Nicols and under his management - and later that of his wife - the Café Royal flourished. At one point, it was considered to have the greatest wine cellar in the world. At the turn of the 21st century the Café Royal closed its doors to be replaced by a five-star hotel. (Lot 289)
~Ends~
For further information please contact Peigi Mackillop peigimackillop@roseberys.co.uk +44 (0) 20 8761 2522