PONY, by Patrick Caulfield Presented to the open market for the first time
9/08/2018 Modern & Contemporary British Art, News Stories & Press Release
Presented to the open market for the first time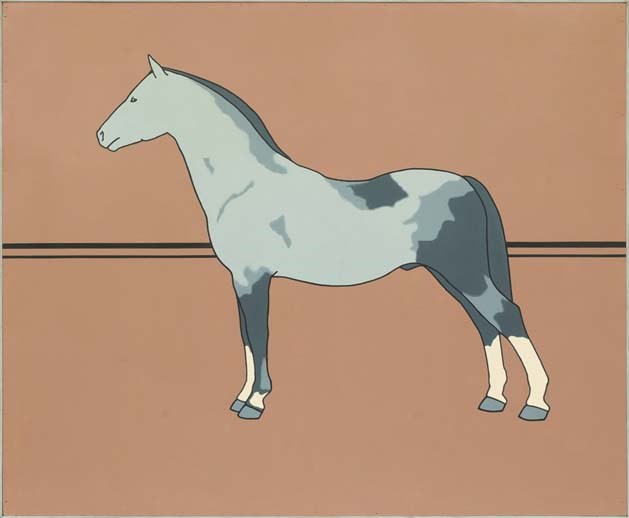 'Pony' 1964 by British artist Patrick Caulfield, CBE, RA is a revolutionary post-war painting being released from a private collection onto the open market for the first time since its original purchase directly from the artist in 1964.
The importance of this revolutionary piece is that, at the time it was painted a broad revolution in the art world was taking place with the Pop Art scene, But this piece is a personal revolution for the artist; Caulfield, was considered one of the leaders of the pop art movement, but scratch away at the surface and it soon becomes apparent why the title didn't sit well with the artist.
Firstly, Caulfield considered himself a formal painter using simple objects from everyday life to create timeless views, theatrical vistas with absent actors, giving a glimpse into a frozen moment in time - moments just after an event for the viewer to piece together, often tainted with a subtle amount of irony. The stylised line, bold colours and flattened surface areas in his works are almost definitely the only cross over between Pop Art and his work.
Where Pop Art focussed on the throw away culture, Caulfield was looking to challenge himself and the viewer by presenting often traditional, romanticised subject matter that many other modern artists of the time shied away from. He did not consider himself to be reproducing previous works, more using this imagery as reference although an ironic homage to previous masters is present.
Caulfield studied at the Chelsea School of Art, and then the RA where he rubbed shoulders with fellow artist such as David, Hockney, Allen Jones and R D Kitaj. While these artists were looking at consumerism and the future, Caulfield was looking at art history, tradition and structure.
'Pony', painted on board in household oil based paint is a painting laced with historical reference and elegant structure, in his continued exploration of shock in the ordinary, Caulfield took an unimportant black & white image of a horse from a magazine and turned it into a painting with two distinct influences, Equestrian paintings of the 18th century and ancient Greece.
For Caulfield, the image of the horse presented an odd thing to replicate in terms of the currents trends, yet at the same time an image that sat within his ideas of breaking down structure and tradition. 'Pony' is a simplistic depiction of a horse – at first glance with little or no meaning apart from being a painting of a horse. However, what is in this image is the nod towards 18th and 19th century equestrian paintings – especially the works of George Stubbs. Caulfield is quoted as being interested in this image because 'the Englishman's favourite paintings are of horses', But in stark contrast to the silken stallions in Stubbs work, 'Pony' is thought by some, rather than a homage to tradition; a mocking of Victorian Romanticism.
The second reference in this piece is to the structure Minoan frescoes in Knosos, Greece. Caulfield visited Greece twice before this painting was produced, with this in mind it becomes immediately apparent that the dusty pinks, minimal lines and decorative black bar framing the work are taken potential directly from the Throne Room on the Minoan ruins. It is clear this country was to have a long lasting influence on his work.
Pony was on loan to Tate Gallery, in 1981 as part of the artists retrospective and included in the 1999 exhibition of the artist at The Hayward Gallery.
Apart from these public appearances the painting has remain in the same family since 1964.
Pony, 1964
Oil on board
122 x 152.5cm
Estimate: £300,000-500,000
Auction takes place on Wednesday 26 September
Provenance: Purchased directly from the artist in 1964; thence by descent.
Note: This painting was purchased along with Still Life with a Dagger, (1963), now held by the Tate Gallery, London, T02032.

~Ends~
*Prices include Buyers Premium of 23%.
For further information please contact Charlotte Meddings charlottemeddings@roseberys.co.uk +44 (0) 20 8761 2522
Roseberys is a privately owned auction house operating at the heart of the fine art market for 30 years.
With offices in London's Mayfair and Lambeth Roseberys offer a calendar of more than twelve specialist fine art, antiques and collectibles auctions each year.
Specialist sales include a wide range of Asian and Islamic Arts, Modern and Contemporary Art and Design, Decorative Art, Fine Silver and Jewellery, Ceramics, Paintings, Prints, Photography, Antique Textiles, Vintage Fashion and Fine Wine and Whisky.
Roseberys team of world-renowned specialists also provide a wide range of art market services to professional clients, including valuations for insurance and probate.
Roseberys is a member of SOFAA – The Society of Fine Art Auctioneers.