Over 100 lots owned for decades to be sold predominately without reserve
28/09/2020 News Stories & Press Release
LONDON: Alongside its main sale of Islamic & Indian Arts this October, Roseberys is delighted to offer over 100 lots of Islamic manuscripts, miniatures and calligraphies spanning decades of collecting by one family. The collection, to be sold predominately without reserve, will be offered in a single-owner sale on October 23. 
Alice Bailey, Head of the Islamic and Indian Arts department, comments: We are very fortunate and pleased to be able to bring to auction a private collection of over 100 fine Islamic manuscripts, most of which are to be offered without reserve. Spanning a family's decades of collecting, the items offered are mainly religious in nature and acquired with a keen eye. Ranging from 14th century Mamluk Qur'an folios to an early 20th century Qur'an, and from Morocco to Southeast Asia, the collection contains a number of manuscripts of the Dala'il al-Khayrat, nearly 20 qurans, and prayerbooks as well as texts on music, geography and law.
Sale Highlights              
A monumental Ilkhanid-style Qur'an, Central Asia, possibly Uzbekistan, 15th century, with added inscription and date of 1147AH/ 1734AD, 324ff.
One of the potential top sellers is this rare example of an early and complete Qur'an from Central Asia. Dating to the 15th century and possibly Uzbekistan, this monumental Ilkhanid-style Qur'an is estimated at £8,000-10,000 + Fees. [Lot 5]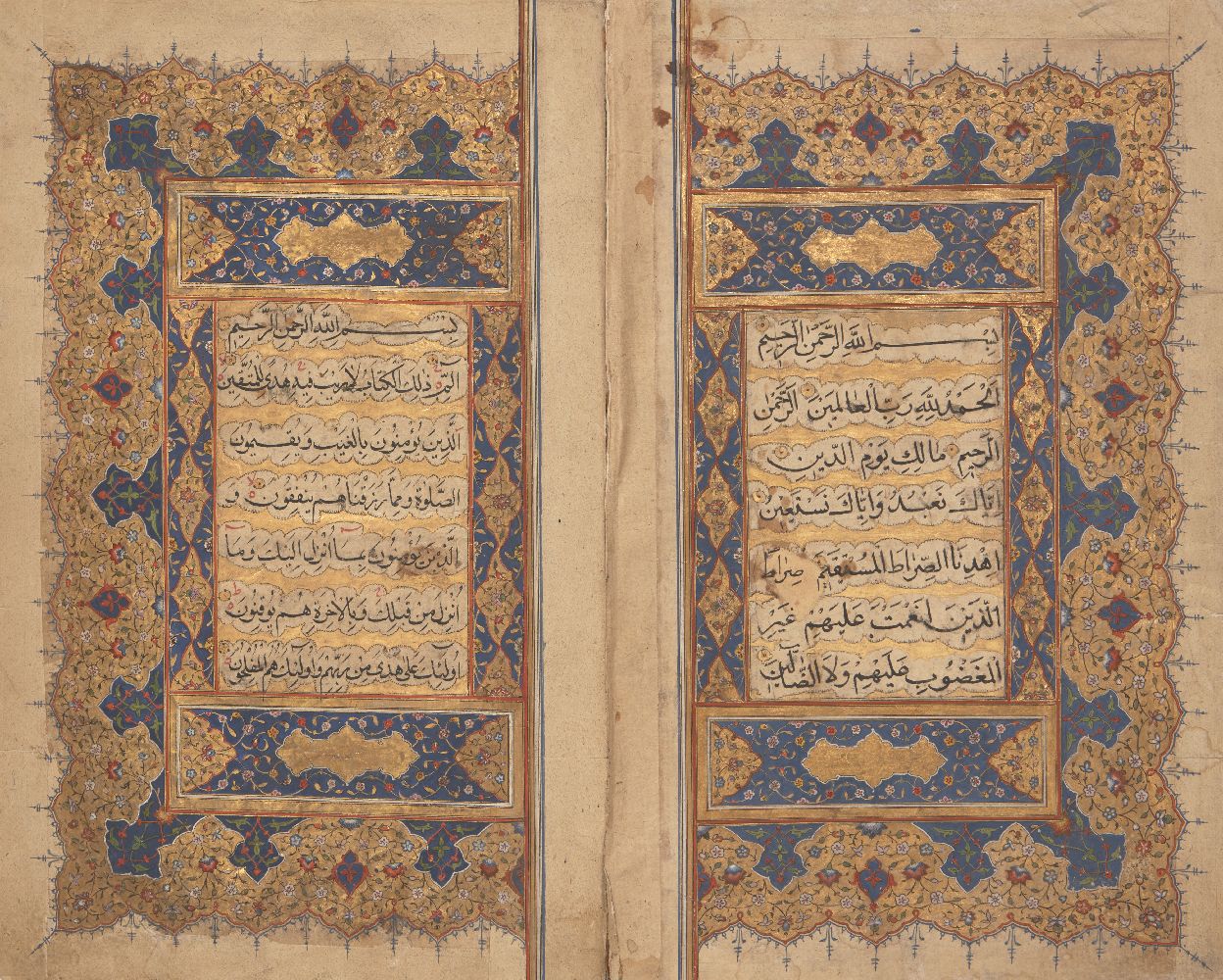 A Safavid Qur'an, Iran, copied on 11 Rabi' II AH 1061/3 April 1651 AD, 387ff., Arabic manuscript on paper
A fine large late Safavid Qur'an from Iran, this profusely decorated example comes in its original binding and is estimated at £2,000-3,000 + Fees. [Lot 23]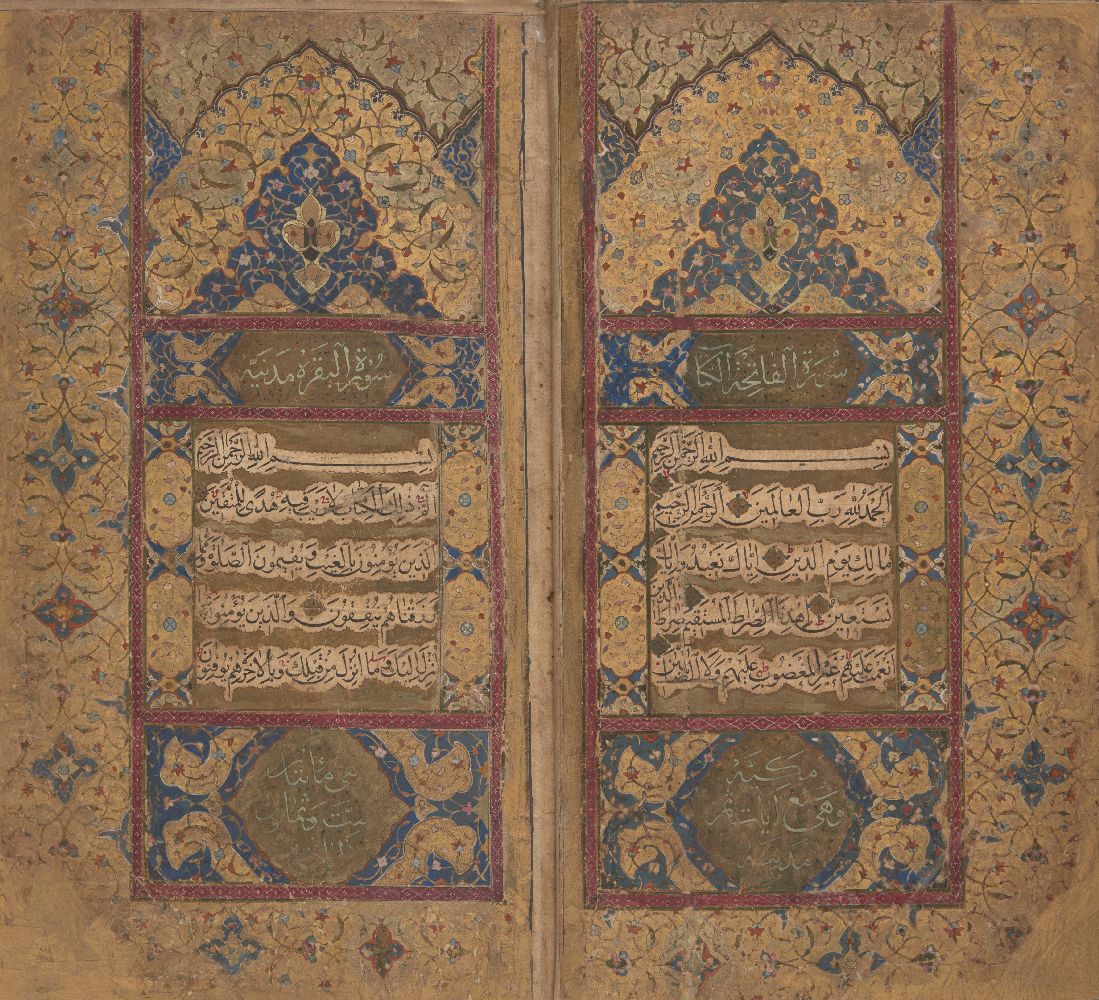 A large Zand Qur'an, Iran, late 18th century, 613ff., Arabic manuscript on paper
This late 18th century manuscript was once in the library of Muhammad Khudayar Khan. He was Khan of Kokand in the Fergana Valley (in present day Uzbekistan) between 1845-1875 and is well-known for the large palace complex he built there in 1871. The Qur'an carries an estimate of £2,500-3,500 + Fees. [Lot 42]
Shaykh Muhammad al-Mu'ta bin al-Salih al-Sharqi: Dhakhira al-Muhtaj fi sala 'ala Sahib al-Liwa, Morocco, dated 1315AH/1897-98AD, 119ff., Arabic manuscript on paper
Estimated at £2,000-3,000 + Fees, this manuscript contains a number of beautifully decorated folios including a double page representation of Paradise and a depiction of sidrat al-muntaha - the Sidra Tree that marks the end of the seventh heaven, the boundary which no creation can pass according to Islamic beliefs. [Lot 91]
With fine depictions in silver, gold and polychrome of the Masjid al-Haram and Ka'ba in Mecca and the Mosque of the Prophet in Medina, this Dala'il al-Khayrat prayer book from early 19th century Ottoman Turkey is guided at £1,200-1,500 + Fees. [Lot 71] 
This c.1600 Mughal manuscript folio is illuminated with the familiar small birds often used to decorate the works of the famous Mughal calligrapher Muhammad Husayn Kashmiri 'Zarrin Qalam'.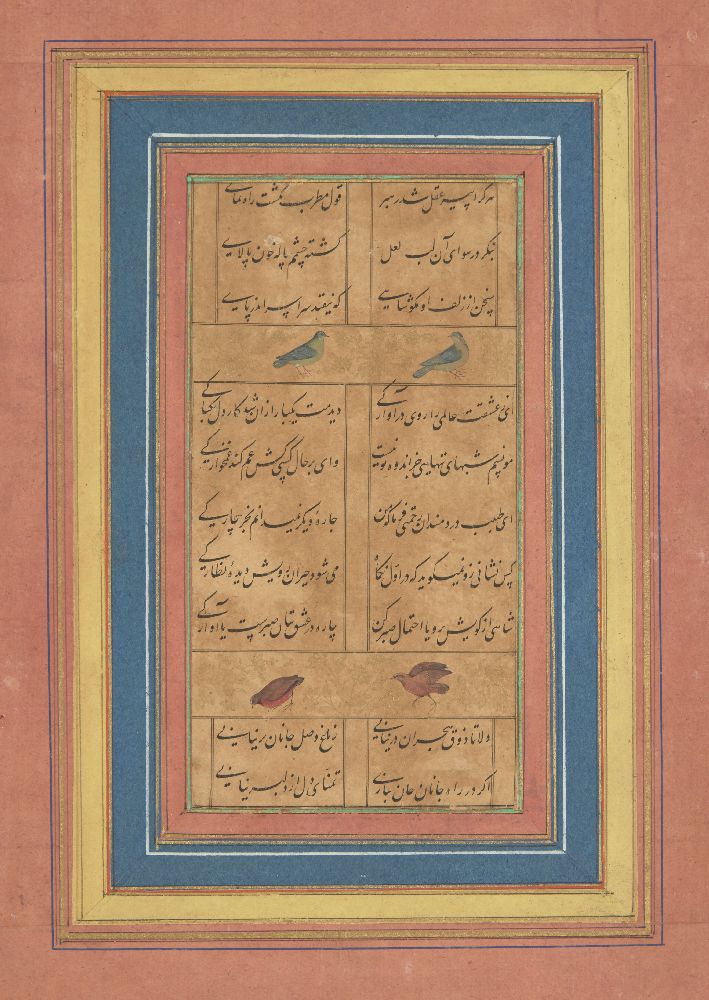 A very fine Mughal manuscript folio illuminated with birds, India, circa 1600, Persian manuscript on paper
This folio compares favourably to a copy of Nizami's Khulasat al-Khamsa signed by Muhammad Husayn that sold at auction in London two years ago. Estimate £1,500-2,000+ Fees. [Lot 18]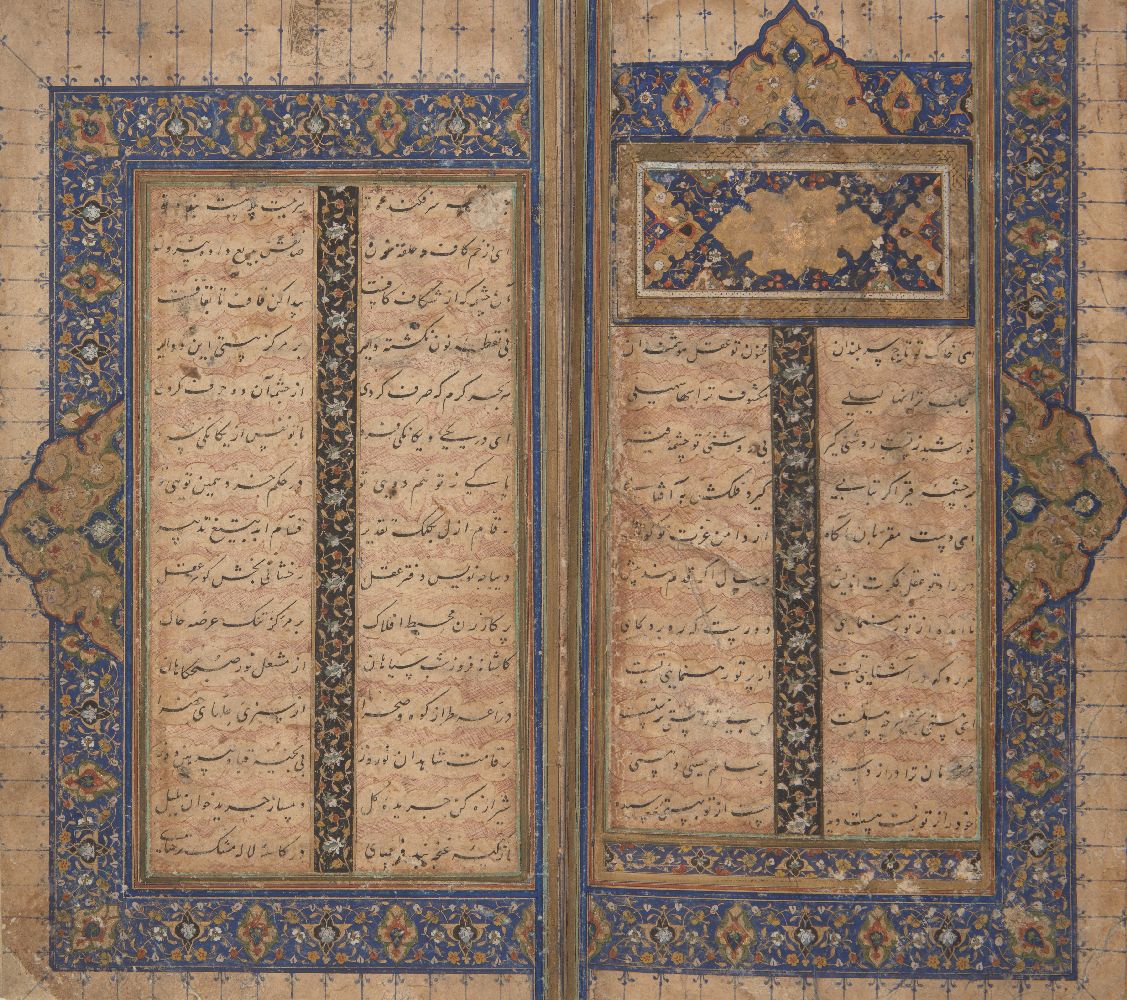 Nur al-Din 'Abd al-Rahman Jami (d. 1492 AD): Layla wa Majnun, signed Sultan Muhammad Khandan, Safavid Iran or Afghanistan, dated beginning of Rabi' I AH 921/April 1505AD
This manuscript, estimated at £2,000-3,000 + Fees, is the work of celebrated nasta'liq scribe Sultan Muhammad Khandan. He worked in Herat (in present-day north-western Afghanistan) and spent his early years working for the Turkic poet and writer Mir 'Alishir Nava'i. [Lot 13]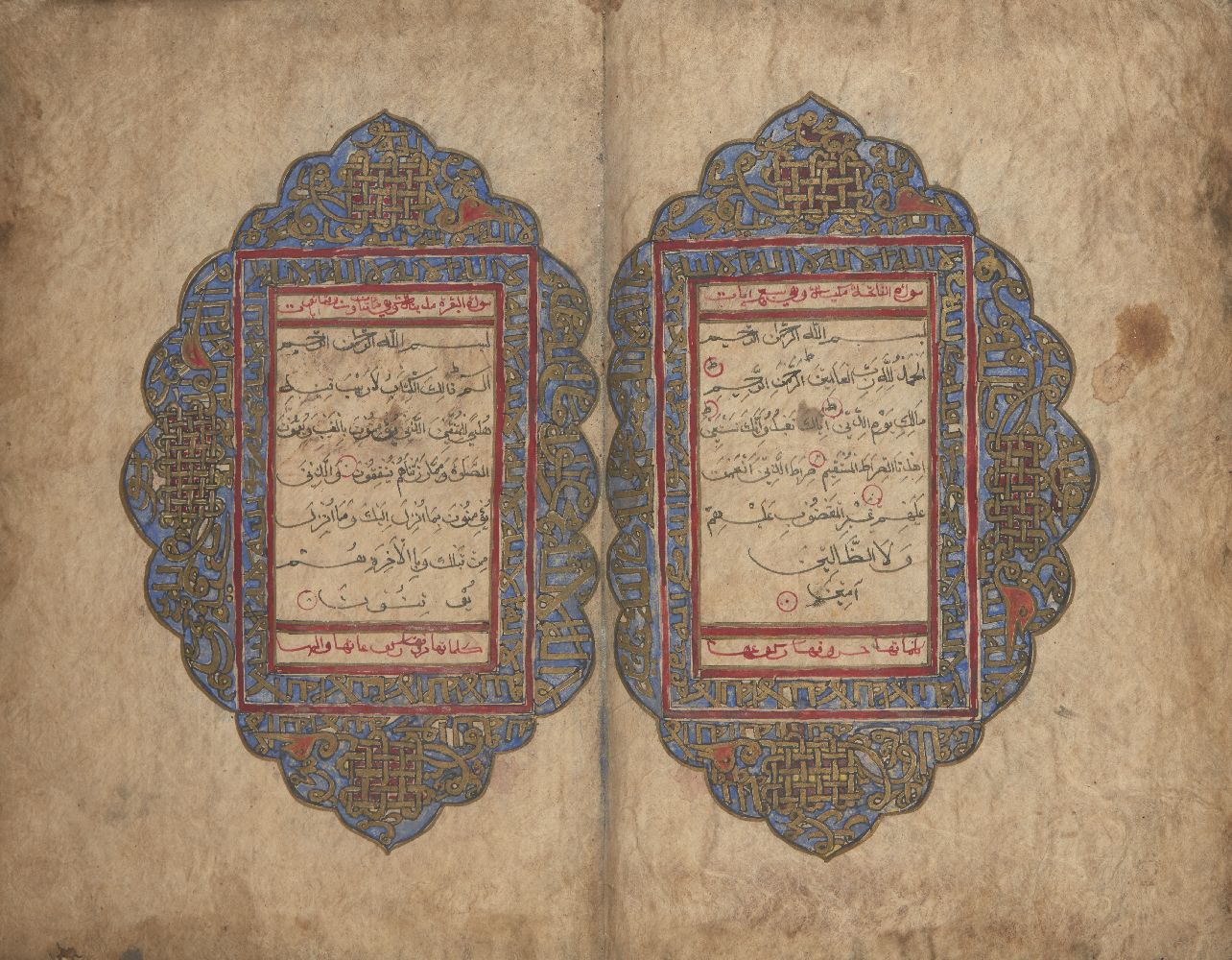 A Qur'an, Southeast Asia, dated 1358AH/ 1939-40AD, 307ff., Arabic manuscript on rice paper, with 15ll. of black naskh within black rule, frontispiece decorated with gold ornamental kufic compositions including the shahada and the names of Allah and the Prophet Muhammad
Although decorated in a much older style with knotwork, this manuscript is exemplary of a group of Qur'ans written in southeast Asia during the first half of the 20th century. Estimate £500-700 + Fees. [Lot 104]
A Private Collection of Islamic Manuscripts, Miniatures and Calligraphies
Friday 23rd October, 10.30

ROOM BIDDING STRICTLY BY APPOINTMENT ONLY
Contact the Islamic & Indian Arts Department for more information: islamic@roseberys.co.uk
Viewing Information 
(Viewing by appointment only)
We will be facilitating time slot appointments of one hour each
VIEWING AT THE CLUBHOUSE, ST JAMES'S
(SUBJECT TO CONFIRMATION, PLEASE CONTACT DEPT TO CONFIRM)
Mon 19th Oct 11.00 - 16.00
VIEWING AT ROSEBERYS KNIGHT'S HILL SALEROOM
Tues 20th Oct 09.30 - 17.00 (last appointment 4pm)
Weds 21st Oct 09.30 - 17.00 (last appointment 4pm)
To make an appointment please email: islamic@roseberys.co.uk