Old Master & 19th-Century Paintings at Roseberys
27/06/2022 News Stories & Press Release, Old Master & 19th Century Pictures
Roseberys are delighted to present the summer sale of Old Master & 19th Century Pictures to the market on 19th July. Included are 321 lots in total, spanning a rich variety of artists, schools, and genres. The sale is nicely weighted across the centuries with a fine early section at the start of the sale. 17th- and 18th-century Dutch works appear in good numbers and quality, including works by Ariaen Jansz. van Ostade, Izaac van Ostade and Johannes Christianus Roedig. Further into the sale is a fine group of works on paper by Thomas Rowlandson and a nice maritime section beginning with lot 131 by John Wilson Carmichael. The subject of Venice is a recurring theme with the highlight of the sale a first-class Venetian scene by Viennese master painter Franz Richard Unterberger. Painted on panel, which is rare for his oeuvre, it was presumably painted 'in situ, as the sun was setting over the iconic Santa Maria Della Salute. In excellent condition, this is a rare opportunity to pick up the very best of the artist's work. The sale also features Venetian works by Jacopo Fabris (96), Antonio Diziani (94), and Antoine Bouvard (lot 287).
Lara L'vov-Basirov, Head of Sale & Specialist, comments: 'This summer's Old Master & 19th-Century Pictures auction at Roseberys is particularly strong across the board. With a fine 16th-century grouping to kick off the sale, the auction unfolds with many outstanding examples of some of Europe's most talented and historically interesting artists. Notable themes include some especially fine paintings and works on paper from the 17th-century Dutch 'golden age'; several 18th- and 19th-century views of Venice by leading artists of the time; a strong maritime section; and a particularly impressive suite of Victorian landscapes by the likes of George Morland, Edmund Bristow, Thomas Sidney Cooper and William Shayer Senior. At least three works represent significant rediscoveries by prominent artists – two allegorical oils by Francesco Celebrano (lot 99), a Venetian landscape by Antonio Diziani (lot 94), and a vivid and free small oil sketch on panel by Theodore Rousseau (lot 192). I am thrilled to be offering up these 321 lots to the market, and immensely look forward to following their progress on 19th July.'

Lot 197, Franz Richard Unterberger, Austrian 1837-1902
Leading the sale is lot 197, Franz Richard Unterberger, Austrian 1837-1902- Sunset at the Santa Maria Della Salute, Venice, which comes with an estimate of £20,000-30,000. The oil on panel measures 35.6 x 65 cm and comes with provenance from Richard Green, London. It was painted in the last decade of Unterberger's life, after 1888, when he was prone to revisiting his most successful subjects from the late 1870s and treating them again with higher levels of virtuosity. The subject found favour with the artist as he captured it in several versions which are known today.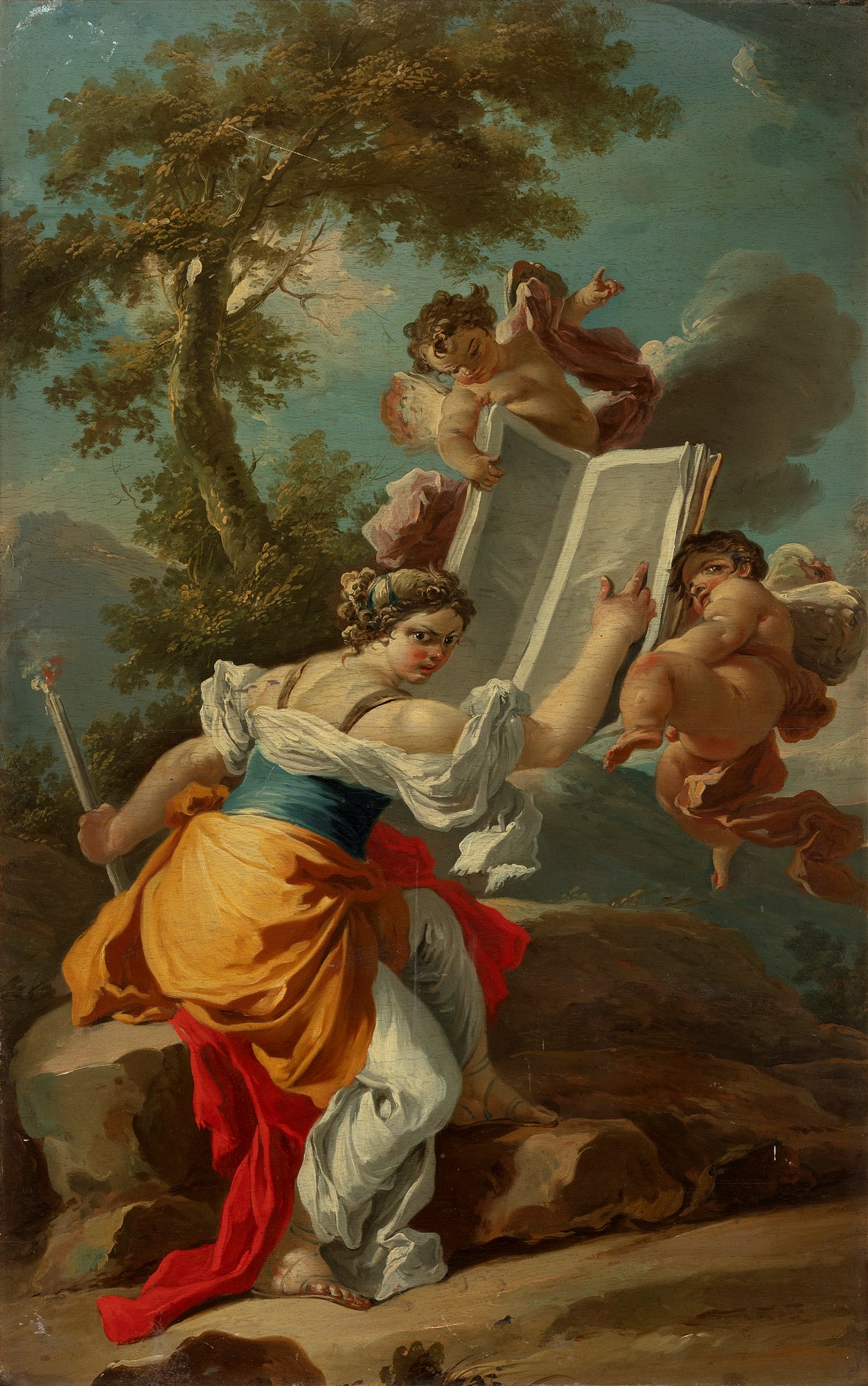 Lot 99, Franz Richard Unterberger, Austrian 1837-1902
(Lot 99) These striking allegorical oils on panel by Italian artist Francesco Celebrano, 1729-1814, represent an important re-discovery of two outstanding examples of the 18th-century Neapolitan artist's work. Their attribution has been confirmed by the leading scholar in this field, Dr Nicola Spinosa. From an important Private Collection, 'The Personification of Sight; and The Personification of Smell' come with an estimated price of £7,000-10,000. Neapolitan painter and sculptor Celebrano was a royal painter in the court of King Ferdinand IV of Naples (1751-1825). Nicola Spinosa dates the present works to the artist's early maturity, between 1770 and 1775. Indeed, their elegance, colour and form are typical of his compositions, with the latter especially noticeable here in the treatment of the figures' overtly muscular arms and legs. It is likely that three other related panels - depicting the other senses of touch, taste, and hearing - exist. For a particularly close comparison, notably of the central figures and putti, see the pair of allegories in oil which appeared at Christie's, New York, 3 June 2015, lot 34. For more information on Celebrano, see N. Spinosa, 'Pittura napoletana del Settecento dal Rococò al Classicismo', Naples, 1993.

Lot 69: Adriaen Jansz van Ostade, Dutch 1610-1685
This intimate depiction of a peasant man in oil on panel (lot 69), belongs to a small group of studies of single-figure peasants executed by Dutch artist Adriaen van Ostade, 1610-1685, in the 1640s. These were intended not as portraits but as studies of physical types and expression and should be viewed in the context of sixteenth-century comic low-life traditions and strongly caricatured peasant types, in particular the bust-length studies by Pieter Breueghel the Elder (c.1525-1569). Overall, in its subject matter and a restrained palette, the present work further recalls the works of Adriaen Brouwer (1605/6-1638), the heir of Bruegelian peasant art, who had a strong influence on the young Ostade. Ostade's tender treatment of his subject, however, marks an altogether novel approach. Measuring 18.2 x 15.6 cm the highlight portrait on offer comes with a pre-sale guided price of £10,000-15,000.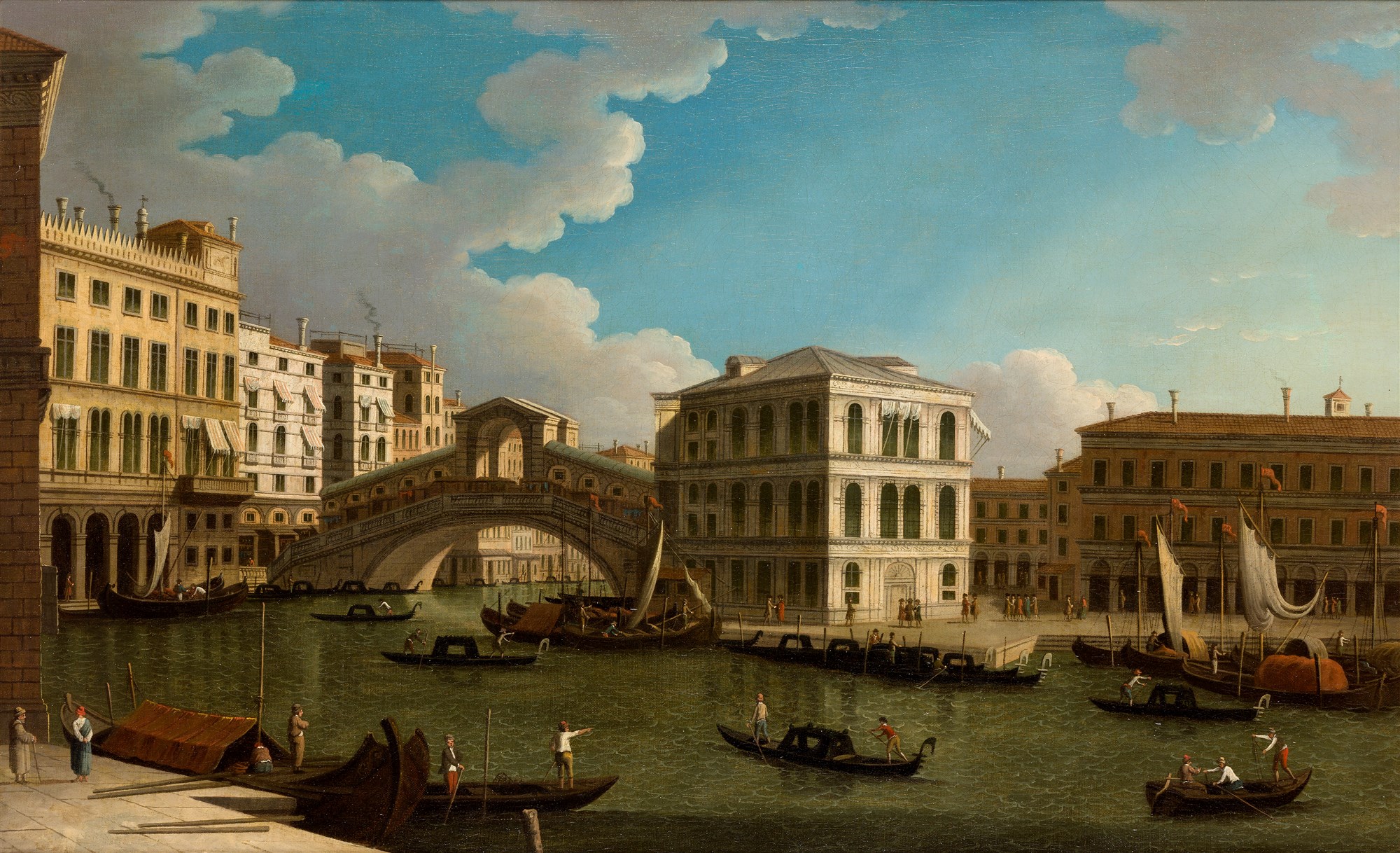 Lot 96: Jacopo Fabris, Italian 1689-1761
(Lot 96) The Rialto Bridge from the North; oil on canvas, measuring 60 x 101.5 cm, by Italian artist, Jacopo Fabris, 1689-1761, is based on plate VII from the series of fourteen engravings entitled 'Prospectus Magni Canalis Venetiarum' by Antonio Visentini (1688-1782), published in 1735. The plates were themselves derived from the twelve views of The Grand Canal (c.1730) by Canaletto (1697-1768) which were formerly owned by Joseph Smith (British Consul in Venice), then purchased by the young King George III in 1762, and which are today in the Royal Collection, UK. Visentini's engraving 'Il Ponte di Rialto con il Palazzo dei Camberlenghi' is reproduced in Dario Succi, 'La Serenissima Nello Specchio Di Rame', Vol.1, 2013, p.192, no.9. Fabris left Venice for good in 1720 and so the majority of his Venetian views are indeed based on the engravings and paintings of other artists. Fabris specialised in painting such architectural views in Venice. He was in Rome in his early years and was likely in contact with Canaletto who had arrived in the city in 1719. For much of his life, he worked in Germany, as a court painter at Karlsruhe (1719-21), in Hamburg (1724-8), and at the Berlin Opera in the service of Frederick II the Great. In 1746 he moved to Copenhagen and entered the court of Frederick IV, subsequently teaching architecture and perspective at the Academy of Art, Charlottenburg. Dario Succi has suggested that the present work was painted towards the end of his life. Fabris specialised in painting such architectural views in Venice. This work has been entered onto the market with an estimate of £10,000-15,000.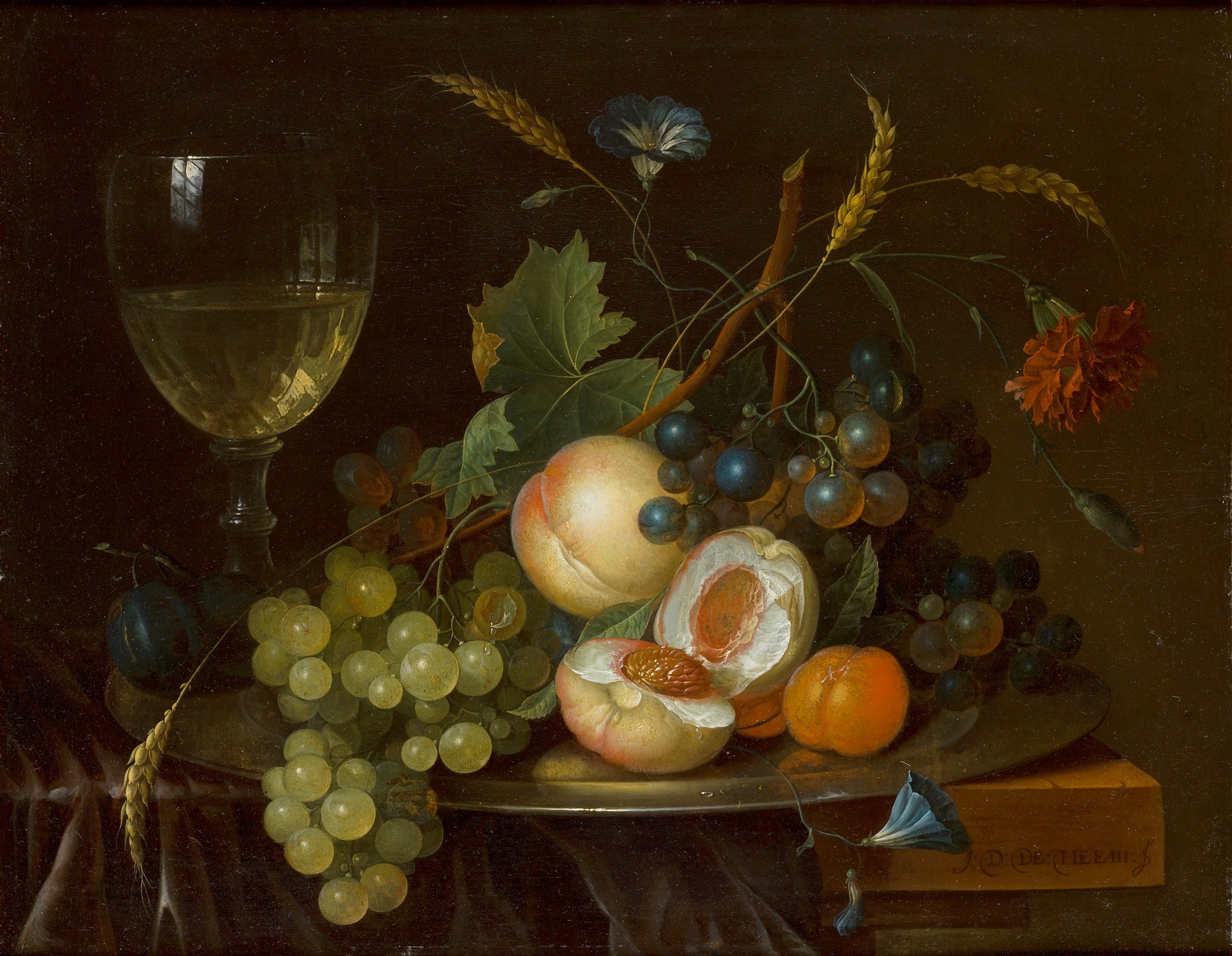 Johannes Christianus Roedig, Dutch 1750-1802
Coming with an estimate of £8,000-12,000 is lot 57, oil on panel by Dutch artist Johannes Christianus Roedig, 1750-1802. Still, life with fruit and flowers on a pewter plate and a glass of wine on a draped table, measuring 37 x 47.8 cm was painted after 1785. It was almost certainly purchased by William Jones of Clytha in the 1790s when he was furnishing Clytha Castle in Monmouthshire, the building of which was completed in 1790. After entering the Northbrook Collection in 1852, it most probably remained there until 1929 at least, when, after the death of Francis Baring, the 2nd Earl, it would have been amongst the numerous works sold by his widow in dispersals between 1929 and 1945. By 1945 it was with an M. Bernard who sold it to Arthur Tooth, with the work still ascribed to de Heem. Records next emerge from Sotheby's in 1992 when it was sold as part of the estate of the Hon. Michael Langhorne Astor (who himself possibly purchased it from Arthur Tooth), where it was catalogued as 'Manner of Jan Davidsz. de Heem'. Around this time, following research by Dr Fred Meijer, it was re-ascribed and fully attributed to Roedig. The attribution is based in part on a closely related work by Roedig – also signed as by de Heem – which last appeared at Christie's, Amsterdam, 14 November 1991, lot 166. In an extensive catalogue note to a pair of floral still life works by Roedig that sold at Bonhams, London, 9 December 2009, lot 81 (for £1,196,000) – establishing Roedig as an important if the overlooked artist - Dr Meijer suggests that the present work and others are probably examples of deliberate forgeries by Roedig. Interestingly, as Dr Meijer has pointed out, the 'forged' paintings are clearly by Roedig and make no concentrated effort, other than the signatures, to imitate de Heem. By the end of his career, however, Roedig had clearly emerged as a fully established and highly respected Dutch painter in his own right, with his fame extending as far as Saint Petersburg. Indeed, from correspondence between Roedig's son and the nineteenth-century art historian Adriaen van der Willigen, we know that the artist sold a large number of his works to Russia during his lifetime, which explains why so few remained in his native Holland. For example, in 1783, Count Alexander Stroganoff commissioned two paintings from the artist which he then gave to Empress Catherine the Great. The present work, therefore, provides a rare opportunity to acquire an example of Roedig's work of this high calibre.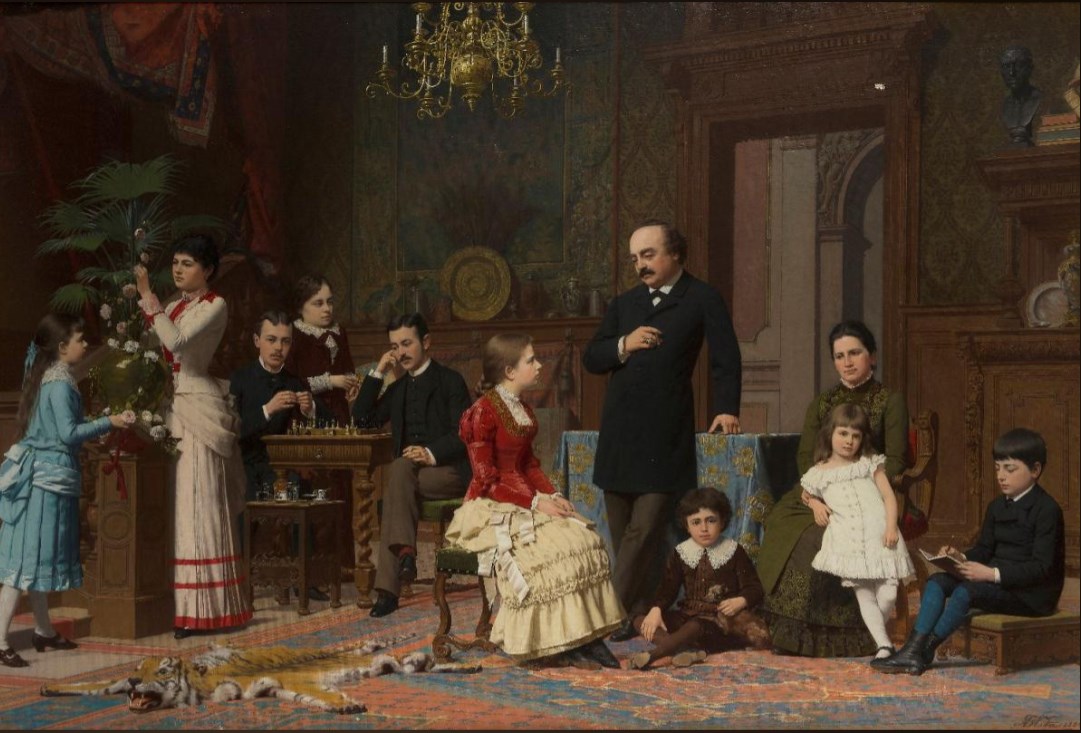 Lot 166: Ferdinand-Victor-Eugène Delacroix, French 1798-1863
(Lot 166) Two highlight sketches offered within the sale are: 'The head and shoulders of ten Arab men'; and 'A seated boy wearing a turban'; the first pencil, brush and brown ink, and watercolour on paper, the second pencil and watercolour on paper by French artist Ferdinand-Victor-Eugène Delacroix, 1798-1863. The first measuring 4.2 x 17.2 cm, and the second 8.8 x 8 cm., two in the common mount, have been given the appraisal pre-sale price of £7,000-10,000. Delacroix's 1832 journey to Morocco as a member of Comte Charles de Mornay's diplomatic retinue profoundly influenced the young artist. His prolific output of drawings and watercolours executed 'in situ' during his six-month sojourn were sources for many compositions throughout his career. Probably originating in dismembered sketchbooks of the artist, the present works are vivid and confidently rendered sketches in watercolour, presumably taken rapidly and 'en plein air'.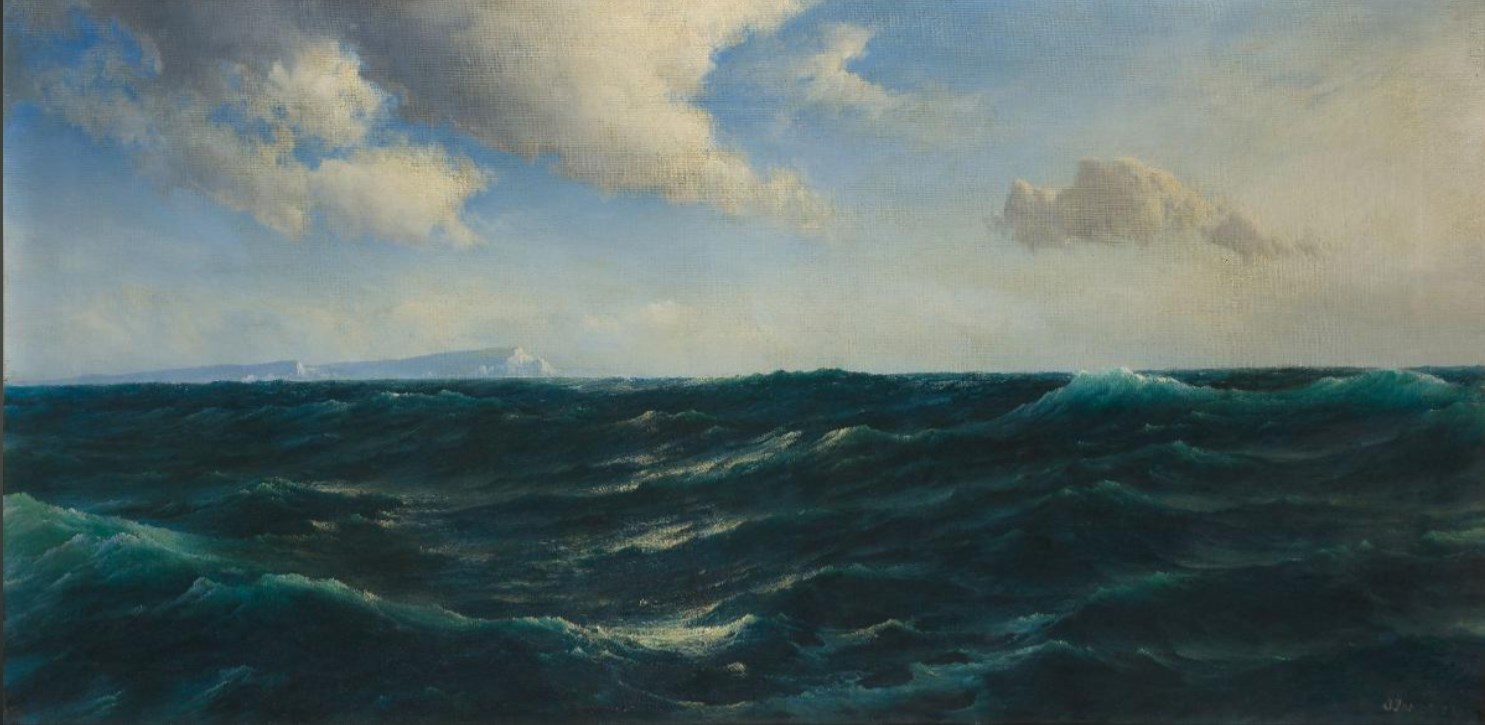 Lot 140: David James, British 1853-1904
(Lot 140) David James, British 1853-1904- Heavy seas; oil on canvas, comes with an estimate of £7,000-10,000. This work, measuring 64 x 127 cm., demonstrates the lifelong fascination with the sea which defined James's oeuvre. His emphasis on the constant movement of the water serves as a symbol of the impermanence of the natural world in an eternal state of flux. Through his treatment of the subject here, he suggests the deep swell of the sea, building up over a vast expanse, rather than purely crashing waves, and thereby imparting a sense of tension which renders it particularly powerful, hinting towards a build-up of energy yet to be released.
Lot 254: Wilhelm Vita, Austrian 1846-1919
(Lot 254) Wilhelm Vita, Austrian 1846-1919- A family gathering; oil on canvas, measuring 100 x 157 cm, is estimated to make £6,000-8,000. The present work exemplifies Vita's skill as a portrait painter, with the exquisite attention to detail given to each sitter combined with the subtle suggestion of the relationships between family members. Vita's canvas very much continues in the vein of the 18th-century British tradition of conversation pieces by artists including Johann Zoffany, RA (1733-1810) and Philippe Mercier (1689-1760) and in this way he is imbuing his sitters with a sense of grandeur and gravity. At the same time, however, he gestures towards their more informal relationship as a family unit, with his sitters engaged in there, albeit refined, leisurely and domestic pursuits. The highly-detailed scene is a testament to Vita's skill as a painter, with his depiction of a lavish interior decorated with rich fabrics and shining gilt recalling the minutely-finished genre scenes of Dutch interior painters such as Gerard ter Borch (1617-1681) and Pieter de Hooch (1629-1684). Amongst his Vita's sitters include the Austrian Emperor Franz Josef and the Crown Prince Rudolf.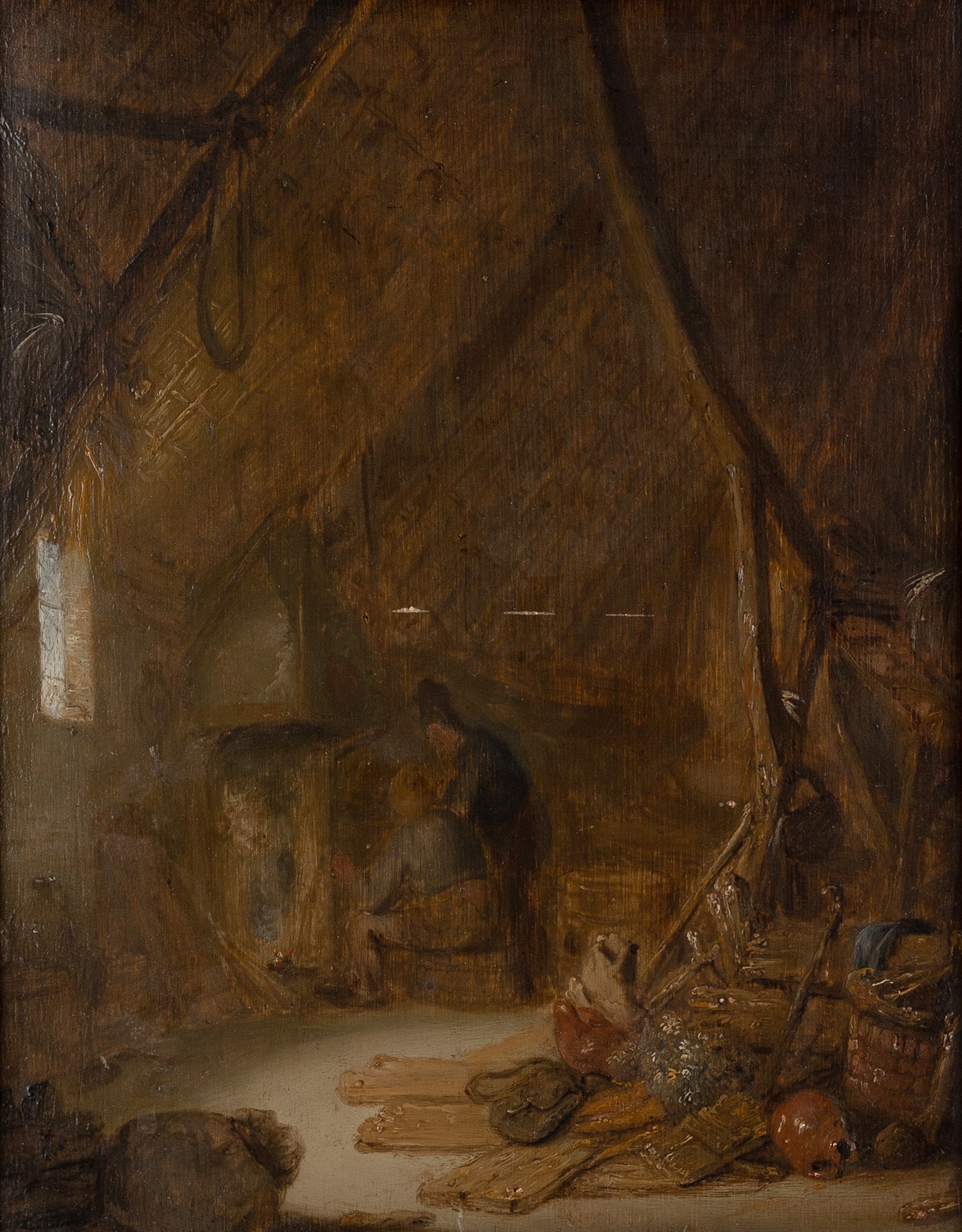 Lot 

67

:

 Isaac van Ostade,1621-1649
Coming with an estimate of £5,000-7,000 is lot 67, attributed to Isaac van Ostade, Dutch 1621-1649. The Interior of a barn, with two peasants by a fire; oil on panel, measuring. 35.2 x 28.4 cm rounds up the top highlights on offer within the auction. With a strong provenance, this appears to be a fine early work by the celebrated artist.