News: Silvers Model Circus
12/10/2018 News Stories & Press Release, Works of Art, Sculpture & Clocks
Roseberys London, Fine Art Auctioneers and Valuers are delighted to present to the open market for the first time a truly unique piece. Silvers Model Circus was created by David Hardie and his family over a period of nearly 70 years. It depicts, in perfect detail, every aspect of a travelling circus and is brought to life by tiny, beautifully crafted, moving figures, from the artistes high in the Big Top to the cooks preparing a meal for the tent hands and the children playing outside their caravans.
David was apprenticed to his family's tent-making business in Sydney, Australia, and in 1931, when he was 17 years old, he made the miniature Big Top and menagerie tents which form the heart of the model.
After the Second World War, David built his own full-size show which he named Silvers Circus and spent eight years travelling around Australia. Unfortunately, he then became seriously ill with meningitis and was forced to close the circus.
After his wife persuaded him to move to England, in the hope that a cooler climate would aid his recovery, David slowly regained his health. His love of circus was as great as ever, so he decided to make a perfect miniature replica of a three-ring circus to capture the unique world of a travelling show.
Over the years, David taught his son, David Jnr and daughter, Diana, the skills needed to work in miniature and Silvers Model Circus became a family project.
The model was first exhibited to the public in 1982 and, over the next 30 years, it toured the United Kingdom and drew large crowds wherever it was shown.
In 1984 it formed the centrepiece of the Christmas festivities in Cheltenham and was officially opened by Earl Spencer, the father of Princess Diana.
In 1985, Clowns International invited the model to be the main display at the first International Clowns Convention in Bognor Regis.
The entire model is powered by one motor and is operated by a complicated system of belts and pulleys connected to a single drive-shaft approximately 7m long.
Every item in the model has been made by hand and is exactly 1:24 scale.
Many of the materials used to build the circus have been recycled and were sourced from a wide variety of places. Copper bearings were made from tubing from broken refrigerators, gear wheels came from toys or old clocks, wood was cut from piano cases, metal plate was taken from empty oil tins, and many of the circus figures are dressed in outfits made from the family's old clothes.
David continued to create new items for the circus until shortly before his death in 2002.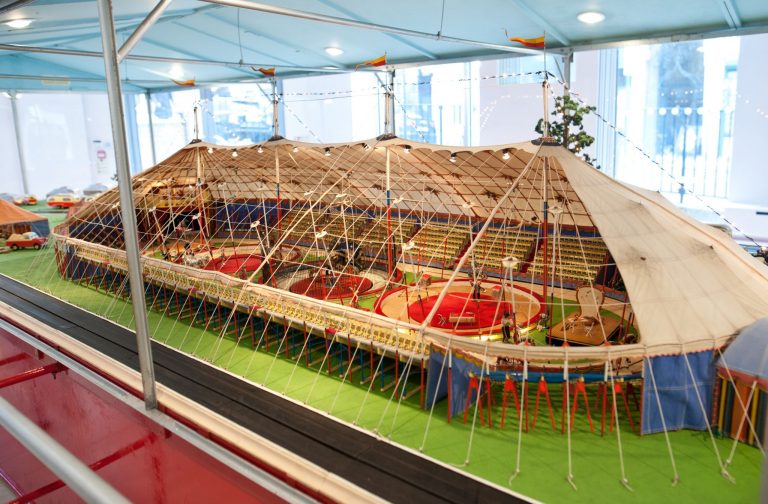 Bill Forrest, Roseberys Specialist comments:
"Silvers model circus has an enviable ensorcelled quality in that every single person who lays eyes upon it, cannot help but smile in wonder and amazement.  The result of 70 years of passion, skill, patience, and sheer dedication, is surely one of the purest forms of entertainment around today, in an age dominated by electronic tablets, games consoles, television, and computers, and its importance should never be overlooked."
Silvers Model Circus is available to view at Roseberys, and will be offered in the Fine & Decorative auction: Thursday 22 November.
~Ends~
*Prices include Buyers Premium of 25%.
For further information please contact the Press Office
pressoffice@roseberys.co.uk  +44 (0) 20 8761 2522
Roseberys is a privately owned auction house operating at the heart of the fine art market for 30 years.
With offices in London's Mayfair and Lambeth Roseberys offer a calendar of more than twelve specialist fine art, antiques and collectibles auctions each year.
Specialist sales include a wide range of Asian and Islamic Arts, Modern and Contemporary Art and Design, Decorative Art, Fine Silver and Jewellery, Ceramics, Paintings, Prints, Photography, Antique Textiles, Vintage Fashion and Fine Wine and Whisky.
Roseberys team of world-renowned specialists also provide a wide range of art market services to professional clients, including valuations for insurance and probate.
Roseberys is a member of SOFAA – The Society of Fine Art Auctioneers.