New Collectors
16/01/2019 News Stories & Press Release, Impressionist, Modern & Post War Art
LONDON: High-quality modern and contemporary art pitched at accessible prices are the hallmarks of New Collectors, an online-only sale now live at Roseberys London.
The 118-lot assemblage offers buyers, especially those new to the world of collecting, a wealth of choice in the dynamic areas of modern and contemporary art, with prices starting from less than £100 and rising to over £8,000.

Pieces in a variety of mediums by a host of established artists, a number of which have been celebrated in major museums and galleries around the world, will be for sale at roseberys.co.uk until January 31, ending at 5pm.
Leading the online auction with an estimate of £8,000-12,000 is L'homme Fait L'Amour (2008) by Seattle-born painter Sam Durant (b.1961). The forceful 118 x 217cm work is spray-painted with enamel on to a mirror mounted on plywood (lot 1).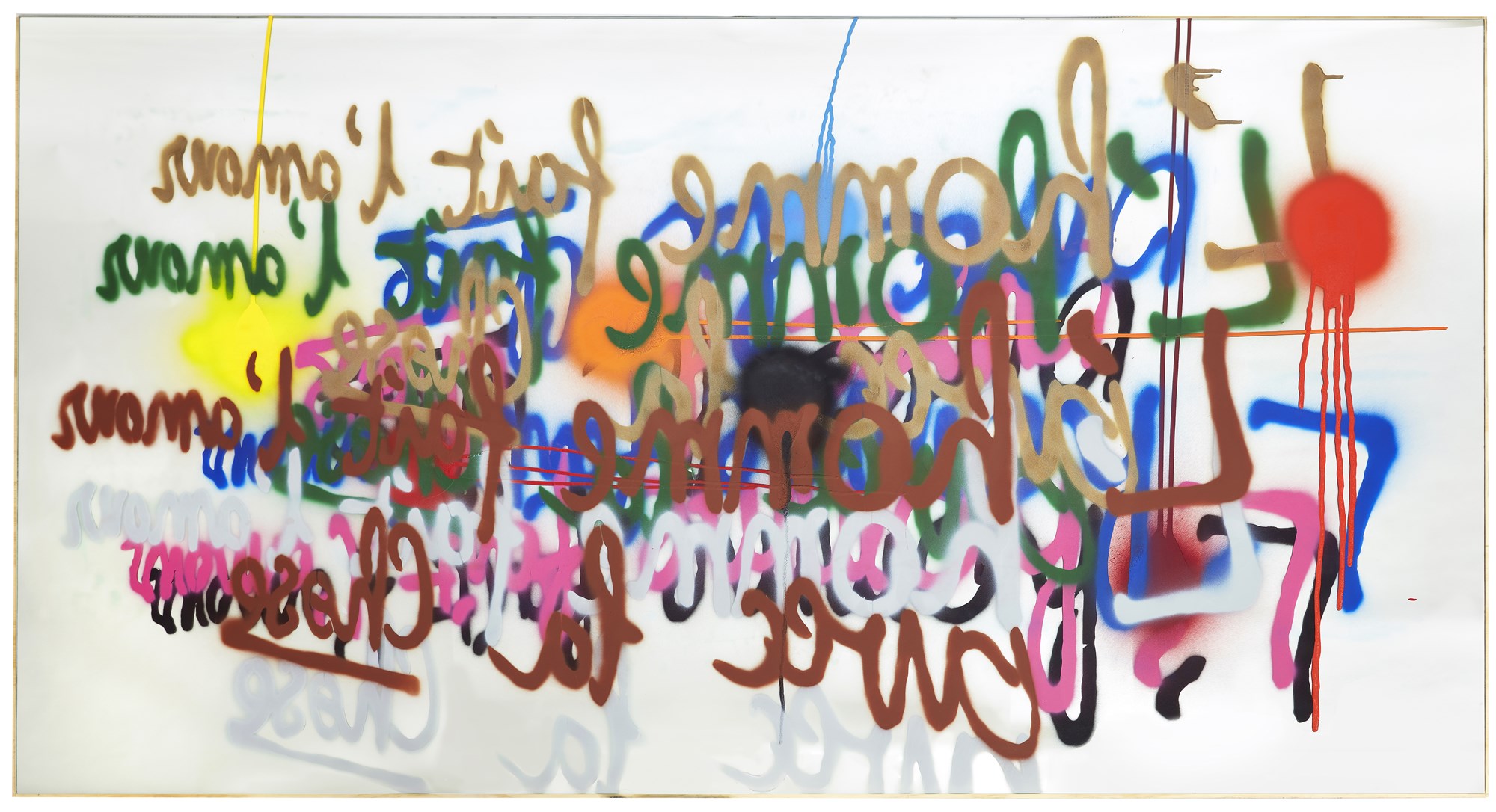 Durant's work engages a variety of social, political, and cultural issues. Often referencing American history – such as the Civil Rights movement, international trade relationships, and conflict between Native Americans and settlers - his work explores the varying relationships between culture and politics. Durant's projects draw widely from a range of disciplines and techniques, including ceramic, printed matter, interactive websites and photography.
Justin Lieberman (b.1977) is another American artist whose work is not limited to a particular medium, choosing first to conceive an idea before seeking the ideal medium to express it in.
The result is that his work is characterised by a combination of media and techniques: collage, sculpture, painting, installations and digital media.
The Florida painter is represented here by the vibrant collage 'Much, More' (2004). Signed and bearing a label on the verso for the Sutton Lane Gallery in London, this 85 x 64cm mixed media on paper is estimated at £800-1,200 (lot 2).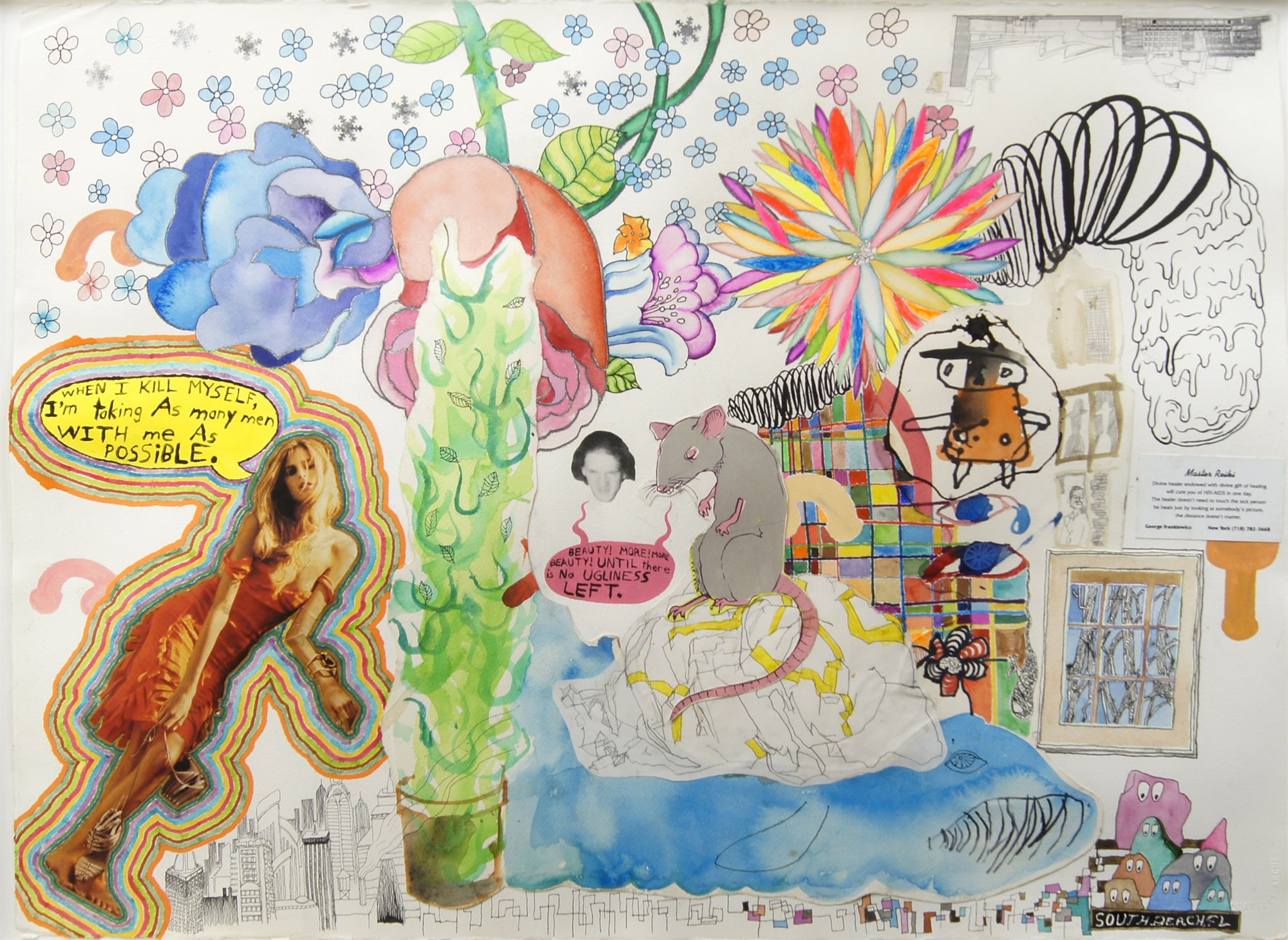 Australian artist David Noonan (b.1969) is known for transforming black and white or sepia found imagery into dreamlike monochrome creations, evoking the subconscious realm through fragmented imagery and the layering of historical and cultural references.
Animals and figures, masked and hooded, are recurring motifs in his works, suggesting half-forgotten dreams or distant childhood memories. In 2006, his work was shown at Tate Modern in London.
Included in the sale at £1,500-2,000 is 'Untitled 6' (2008), a brooding 150x109cm screen printed jute and linen collage, signed on the reverse and with an exhibition label for the Roslyn Oxley9 Gallery in Australia (lot 3).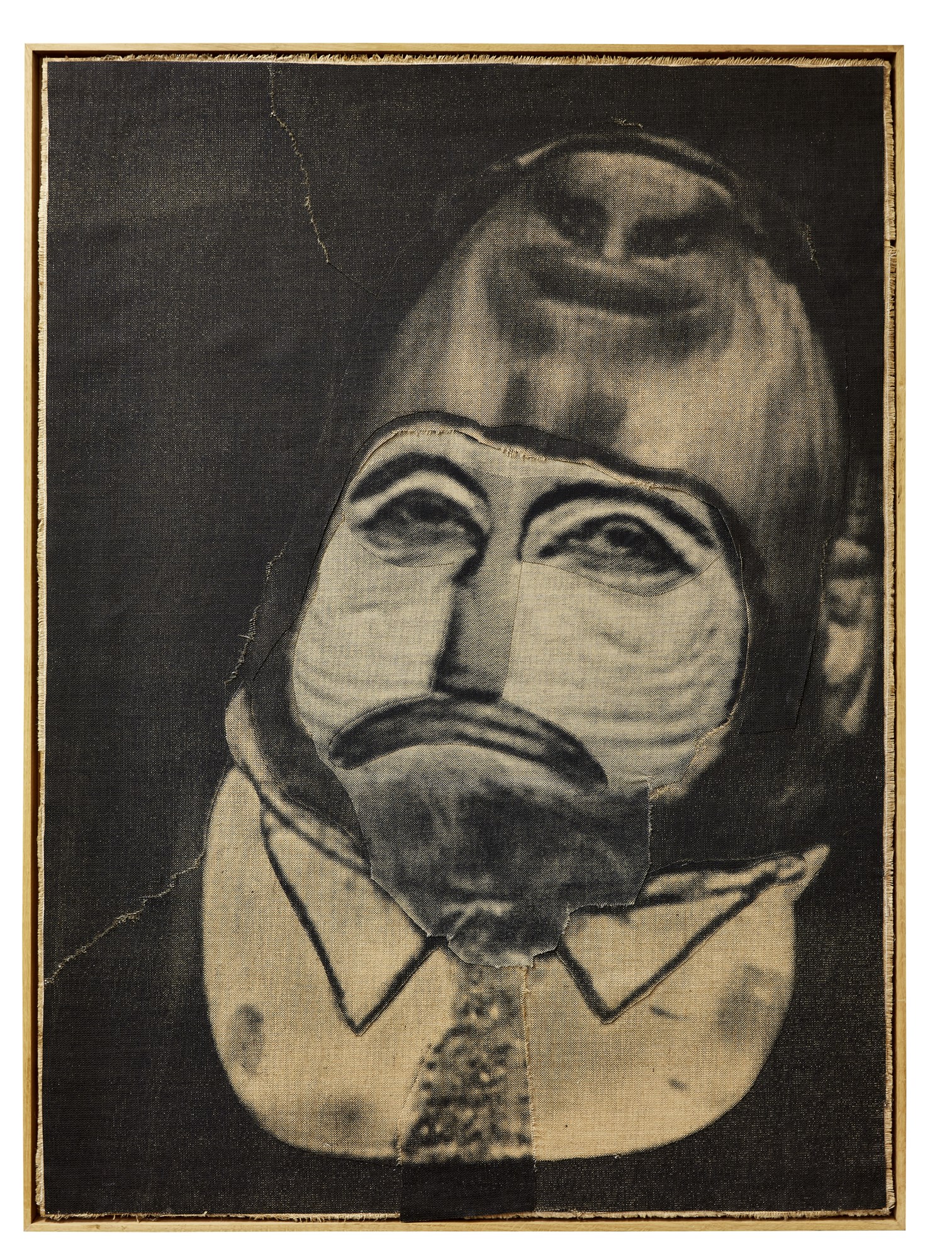 Elsewhere, a collection of modernist Italian pieces consigned from a London collection offers buyers a great opportunity to own a superior piece of avant garde art at an affordable price. Examples include Gianni Pinna's (b.1934) Nativita (1970) a signed 44.5x39cm mixed media relief construction (lot 17) and Sergio Santi's signed aluminium relief construction, Untitled, dating to the late 20th century and measuring 61x1.01m (lot 13). Both are estimated at £150-200.
The online sale is also distinguished by a number of art works by Russian and Eastern European artists. 
Among them is Old Man (1988), a striking signed 140x100cm gouache on two joined sheets of paper from 1988 by Croatian artist and graphic designer Boris Bucan (b.1947) and comes with a price tag of £1,000-1,500 (lot 48).
Bucan belongs to the New Art Practice generation of artists who took an interest in combining visual art with newly available technologies such as photography, Polaroids, photocopies, film, video and graphic design. His work has been celebrated by a number of museums, including The Museum of Modern Art in New York.
Since 2006, Ukrainian artist Oleg Tistol (b.1960) has been producing a series of works based on the palm tree in a variety of media, including painting, photography and graphic arts.
Palm trees, which are not native to Ukraine, were planted in holiday destinations during the 20th century, and as such have come to symbolise paradise, consumerism and human desire in Tistol's work.
Livadia (2010), a 200x145cm acrylic on canvas of a palm tree and building, carries a guide of £2,000-3,000 (lot 67).
Among the Russian material is Quotation (c.1972), a 90x70cm oil on canvas by the New York-based Russian artist Vitaly Komar (b.1943), known best as one half of the artistic duo Komar & Melamid (lot 69).
The somewhat foreboding piece, which has been authenticated by the artist and sold previously at Sotheby's, is estimated in the sale at £2,000-3,000.
There is also a trademark example of Peter Belenok's (1938-1991) so-called 'catastrophism', characterised in his work by a central motif of a cosmic catastrophe, which dominates over characters, usually tiny figures of people from cut-out newspapers and magazines.
The 105x85cm mixed media on fibre board here, titled Andrei Rublev (1991) after the 15th-century Russian icon painter, is signed in Cyrillic and carries a guide of £2,000-3,000 (lot 70).
Click here to view the full catalogue. 
~Ends~
The catalogue is now live on our website: New Collectors: Catalogue Now Online
 Online Auction: Tuesday 15 January - Thursday 31 January ending from 5pm

Viewing by appointment only: Contact Tess O'Brien tessobrien@roseberys.co.uk 
For further information please contact our Press Office pressoffice@roseberys.co.uk +44 (0) 20 8761 2522