Musings of two old friends
10/06/2022 News Stories & Press Release, Islamic & Indian Art
Ahead of the Arts of India sale on June 14th we are delighted to present four works by renowned Indian contemporary artist F.N. Souza (Lots 262-265). The following article was kindly written by Simon Brandenburger, a family friend of the Goel family.
Francis Newton Souza (1924-2002), father of Indian Modernism and K.B. Goel (1930-2018), distinguished art critic.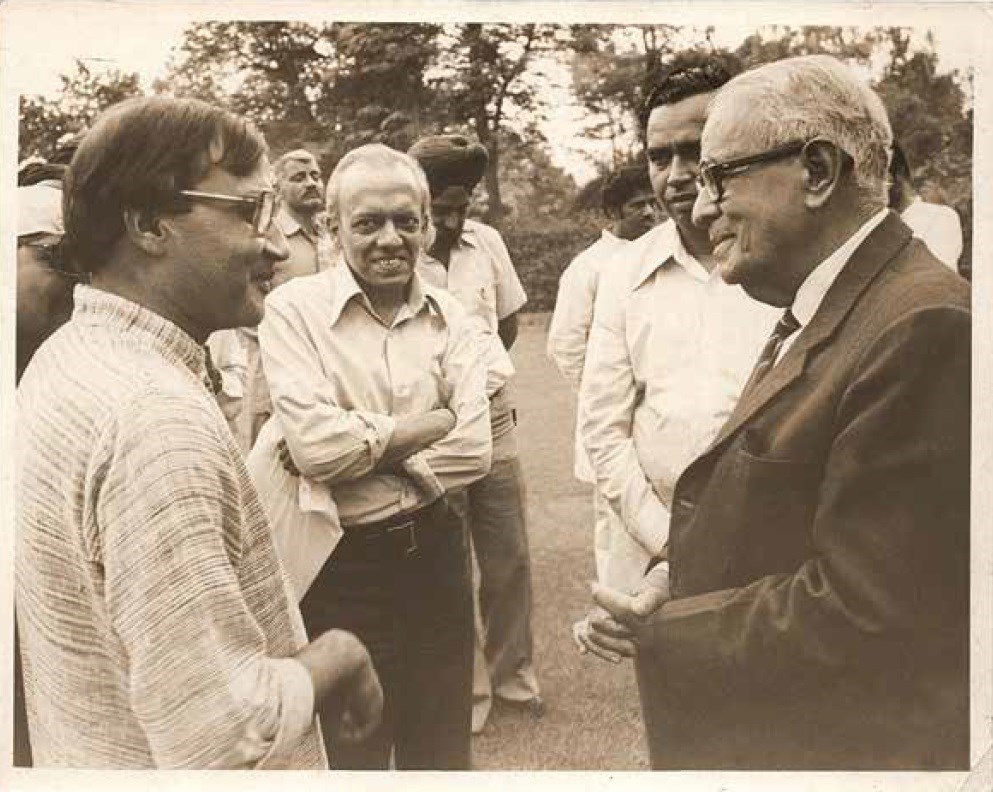 Left to right: Mr. K.B. Goel, Francis Newton Souza and former Vice-President of India M. Hidayatullah
'Souza is famous for his inflammatory treatment of heads. The iconography is morbidly personal, the distortion grotesque to the point of a neurotic edge; the image proper shows mannerisms played to the dark labyrinth of the psyche'. So wrote the eminent art critic K.B. Goel in an article in the Times of India, Delhi August 1990.
In another article, in the same year Goel described Souza's chemicals as 'pictures of things taken from glossy art magazines ... defaced and chemically altered, they achieve a new emotional and personal content...'. He continued 'Their closeness to print culture demands that they are read as a self-apparent play of graffiti space. They also speak of how the artist's whimsies have transparent windows and how we ourselves enjoy looking through them to admire the compositional sense of how the game is played. It is the same old game Souza is adept at, one which allows him to break (down) our inhibitions and undo our muscle-bound understanding'.
The two men had, by then, been friends for many years as Souza related in a letter to Goel from New York, 20 October, 1976, 'My friendship with you goes back to early 1965 when I was in Delhi, just married, on a honeymoon with my seventeen-year-old bride, and you used to accompany us to the melas (festivals) etc. and show us the city, and we'd talk of all kinds of things. I had noted that your writing in Thought on art – you had written an article on me - was the best of its kind'.
Souza's great affection for the Goel family was materially demonstrated by a number of his remarkable works which he gifted to them.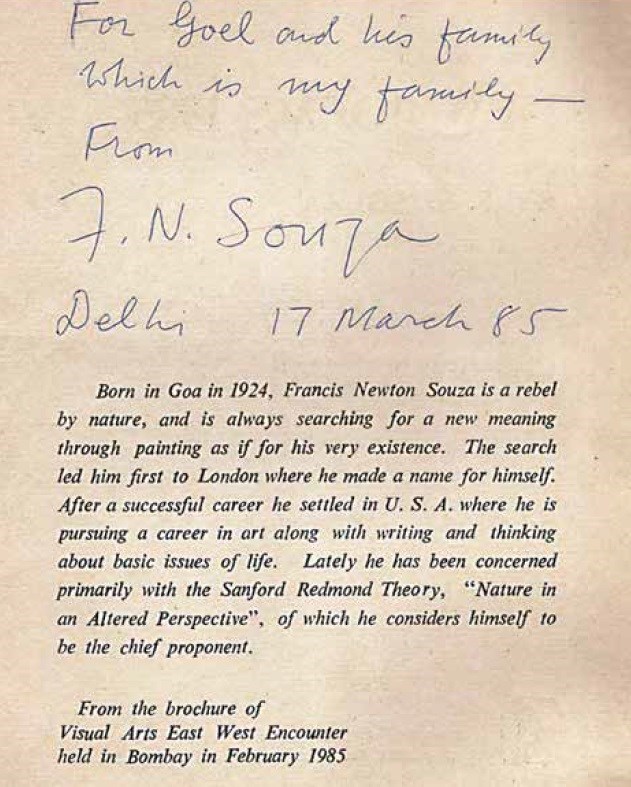 Exhibition catalogue, Bombay 1985, inscribed by Souza to K.B. Goel and family
The distinguished art critic, Geeta Kapur wrote in her foreword to K.B. Goel: Critical Writings on Art 1957-1998 (editor Shruti Parthasarathy), Tulika Books, New Delhi 2020, p.vi: 
In the last two decades there has been an advance in both retrieving and formulating critical accounts of modern and contemporary art in India. Placed within this process, K.B. Goel emerges as a critic who recognised, as early as in the 1960s, how practice and theory were abutting each other in art history  discourse – and even within the art review.
And when, from the 1970s, Souza decided to 'return' to India almost every year, Goel became a close friend and wrote about this provocative artist with fervour and forthright confidence: 'Souza's frontier-jumping acts, his extremisms, his readiness to shock the audience, and if the audience is ready for it, his readiness for the next: so his antics, the love of the irony and his Dali-like bluntness and cantankerous honesty. Souza's egotistical, almost condescending superiority exhibits the old kind of consciousness which is princely as if it were part of a throne, issuing from a centre without a margin' ('The Fall of Man and Other Images', p. 70).

Four chemical works by Francis Newton Souza
K.B. Goel, sometime art critic for the Indian Express and The Patriot, contributor to The Economic Times and the Times of India, former art editor of Design, was part of a remarkable group of intellectuals and artists in Post- Independence India. His friends included the novelist Dom Moraes; Ebrahim Alkazi, the great collector, patron of the arts and founding director of the National School of Drama in Delhi; Mulk Raj Anand, one of India's greatest novelists and founder of Marg, India's most distinguished periodical on the arts - and amongst his artist friends were M.F. Husain, Syed Haider Raza,Vasudeo Gaitonde and Krishen Khanna. At the 1986 Festival of India in Paris, M.F. Husain remarked to a distinguished gathering of fellow artists, diplomats and writers – 'K.B. Goel is an original think tank...we just paint.'
Ends 
Arts of India
Tuesday 14 June, 11.00 am


Viewing times

Roseberys Showroom Viewing 
Friday 10 June 9.30am – 5.00pm
Sunday 12 June 10.00am – 2.00pm
Monday 13 June 9.30am – 5.00pm

Please contact islamic@roseberys.co.uk for more information