Modern British heavyweight Artists on offer at Roseberys
16/10/2020 Modern & Contemporary British Art, News Stories & Press Release
ROSEBERYS LONDON : Roseberys are looking forward to offer their final Modern & Contemporary British Art auction of the year on Wednesday 4 November, starting at 11am. This auction features a wide selection of paintings, sculpture, and works on paper by British artists, providing exciting opportunities for the new and seasoned collector alike.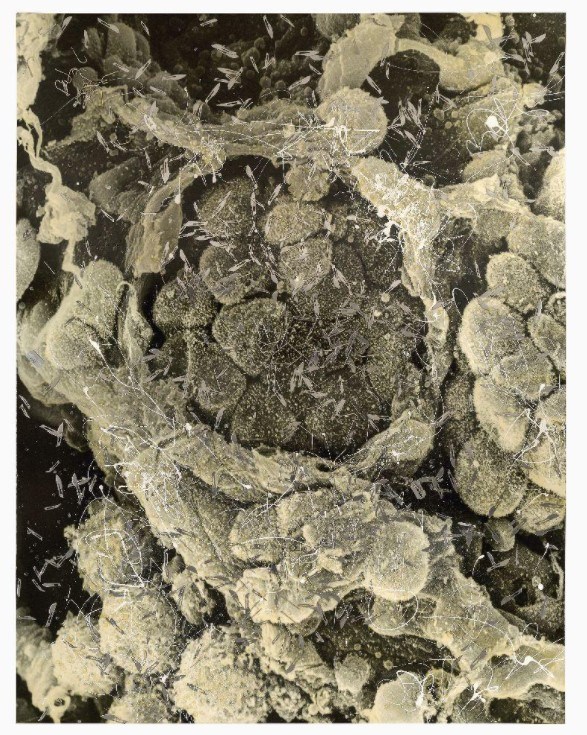 Damien Hirst, British b.1965- Second Series Biopsy: M132/246-Lung_cancer._scanning_electron_micrograph-SPL.jpg, 2010; ink jet on canvas, gloss paint, scalpel blades, fish hooks, pins, glass and religious trinkets
Without a doubt, leading the highlights of the sale is lot 48 by the founder of the YBA artists, Damien Hirst. On offer is work titled 'Second Series Biopsy: M132/246-Lung_cancer._scanning_electron_micrograph-SPL.jpg' created in 2010. The artwork is formed by ink jet on canvas, gloss paint, scalpel blades, fish hooks, pins, glass and religious trinkets, and is signed, titled, dated 2010 and bears Science label on the reverse. It comes with a provenance from Blain Southern Gallery in London. This piece is from Hirst's 'biopsy paintings' series, first exhibited at the White Cube in 2007. For this series, Hirst started with a series of medical photographs of diseased cells, sourced from a scientific library, which are printed onto canvas and then worked on further by the artist. Through his technique of collage Hirst 'decorated' these prints with human hair, needles, and scalpels, clearly expressing his interest in the contrast between the dark subject-matter and materials of his work, and its attractive appearance.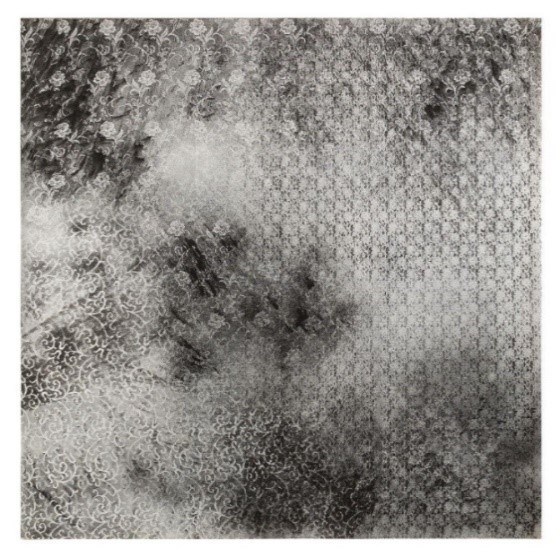 Rachel Howard, British b.1969- Interior (Square) 2013; oil on canvas
Highlights by top tier contemporary British Artists include two works created in 2013 by Rachel Howard. Howard is considered to be one of the most influential British Contemporary artists of the 21st Century, producing emotionally charged abstract compositions that explore the way in which paint can be applied to the canvas to imbue reaction from a viewer. Graduating from Goldsmith's College, London in 1991, Howard would go on to receive The Prince's Trust Award in 1992, shortlisted in 2004 for the Jerwood Drawing Prize, and eventually gain a British Council Award in 2008. Early on in her artistic career, Howard would use household gloss paint, often mixed with oil and acrylic, to create unique compositions through the mixture of mediums. Now using predominantly oil paint, Howard applies turps and varnish to the surface to then 'unpick' and destruct these layers - as seen in the present paintings for auction at Roseberys. Lot 45, titled 'Interior (Square)' is estimated to sell for £15,000- £25,000, and  lot 46 titled 'What's Left to Say' which estimated make £10,000- £15,000.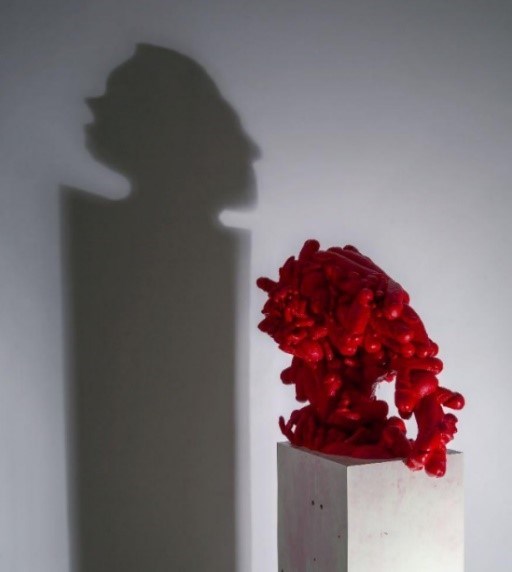 Tim Noble & Sue Webster, British b.1966 & b.1967- BLOODY HAEMORRHAGING NARCISSUS, 2009; red silicone rubber, steel, wood, light projector
Entered into the auction at £18,000- £22,000 is lot 47 by Tim Noble & Sue Webster, who take a range of everyday objects , such as waste items, scrap metal and transform them into artworks. The artist duo are particularly interested in the way in which viewers recognise familiar forms and apply clear meaning to abstract arrangements of shapes and colours.  Titled 'BLOODY HAEMORRHAGING NARCISSUS' created in 2009, made up of red silicone rubber, steel, wood and a light projector, the work from a quick glance looks like a tumbling bouquet of flowers. However, on closer inspection it is a cornucopia of phallus shaped objects. The red silicon ornaments appear to be moulded together in a random placing, however when in shadow, the light projector gives the illusion of two men's faces against a backdrop, possibly nodding toward a phallocentric connotation behind the art piece. The artwork on offer at Roseberys is emblematic of the artists' principal approach, through which Noble and Webster contrast extremes of high art and base images to shock and engage all who see their work. This artwork clearly demonstrates its inheritance from the works of YBA artists such as Damien Hirst and Tracey Emin, whose influence on Noble and Webster has been noted by a number of commentators.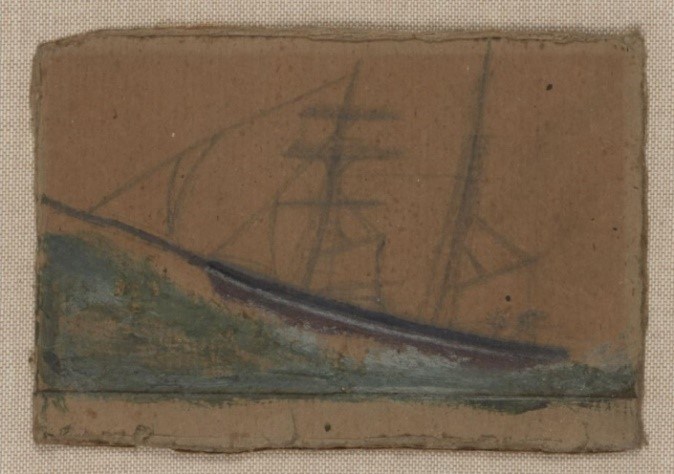 Alfred Wallis, British 1855-1942- Sailing in Stormy Seas; pencil and oil on card
Starting off the 241 lot sale is work by artist Alfred Wallis, 1855-1942. Entitled 'Sailing in Stormy Seas' (lot 1) the pencil and oil on card has been entered into the market with an estimate of £3,000- £5,000. This picture hasn't been on the open market for over 15 year, with good provenance from Sotheby's Olympia 24 November sale in 2004 (lot 251), where it was purchased by the present owner. Depicted within the artwork artist Wallis remembers a personal epic expedition at sea aboard the illustrated ship. Wallis started painting at the age of 70, painting on discarded materials, particularly cardboard. It is a wonderful example of his practice and use of materials; the verso reveals a period advertisement for Pure Quick Quaker Oats. Through his influence among a group of artists who were to become central figures in the British Modernist movement, Wallis's work has earned a place in the history of British art.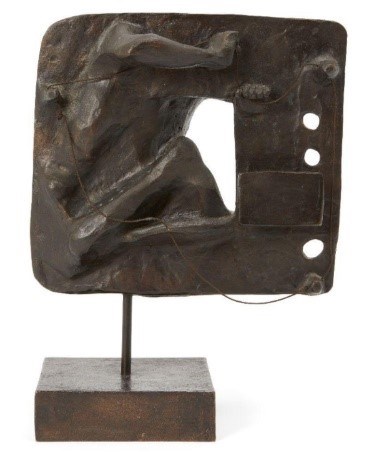 Michael Ayrton, British 1921-1975- Maze Maker III, 1964/65; bronze, edition 7/9
Estimated to make £3,500- £4,000, is lot 19 by Michael Ayrton, 1921-1975. The bronze titled 'Maze Maker III' created in 1964/65, comes with a provenance from Bonhams, London, Modern British & Irish Art auction, 22nd November 2016 (Lot 199). Michael Ayrton was a British artist who produced work in a wide range of media, including sculptures, prints and paintings, over the course of his career. His style was influenced by artists including Graham Sutherland, Pavel Tchelitchew, and Henry Moore. Ayrton was particularly preoccupied with the Classical Greek myth of Daedalus and Icarus, which he connected with on his struggles and ambitions as an artist. This artwork, entitled Maze Maker III, is an example of his interest in the story of Daedalus, which in this instance is focused on his construction of the labyrinth to contain the Minotaur. The figures of Daedalus and the Minotaur, alongside other mythological characters, repeatedly recur in bronzes made by Ayrton, making this theme a key feature of Ayrton's most famous work.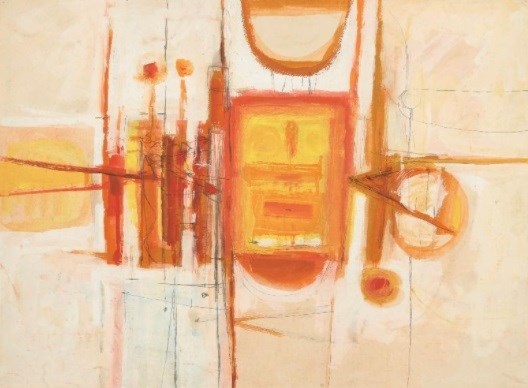 Henry Cliffe, British 1919-1983- Blue at Night; gouache and graphite, bears title and date '60 to the reverse in pencil
Lots 34 to 42 are by Henry Cliffe, who was one of an extraordinary group of artists (including William Scott, Sir Terry Frost, Bryan Wynter, Howard Hodgkin, Peter Lanyon and Tom Phillips) that made up the teaching staff of the Bath Academy of Art at Corsham Court in Wiltshire in the 1950s and 1960s. All works on offer come with provenance from the estate of the artist. The collection ranges from contemporary bronze forms and studies of human figures in pencil, to abstract gouache works. Prices also vary with the lowest estimate being £200 to the highest estimate price of £800. Lot 38 is the highlight by the artist within the sale, titled 'Blue at Night' the gouache and graphite comes together with two other abstract gouaches in blue and black, one titled 'Storm 12' and the other titled 'No.9'.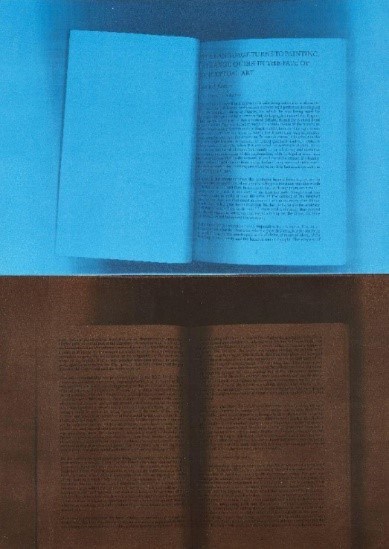 Art & Language, Active since 1967- Sighs Trapped By Liars (Rosalind Krauss), 1996; mixed technique with acrylic on paper laid down on canvas
Two artworks both created in 1966 by the pioneering conceptual art group Art & Language are a rare addition to the sale with works by this group scarcely coming onto the market. The art group founded in Coventry, England 1968 by Michael Baldwin, David Bainbridge, Terry Atkinson and Harold Hurrell questioned the critical assumptions of mainstream modern art practice and criticism. Up for auction s is lot 43, titled 'Sighs Trapped By Liars (Rosalind Krauss)' .The mixed technique with acrylic on paper laid down on canvas is estimated to sell for £1,000- £1,500. Following with the same estimate is lot 44, titled 'Sighs Trapped By Liars (the convertible exploded)', a mixed technique acrylic on paper laid down on canvas, two sheets on a shared canvas.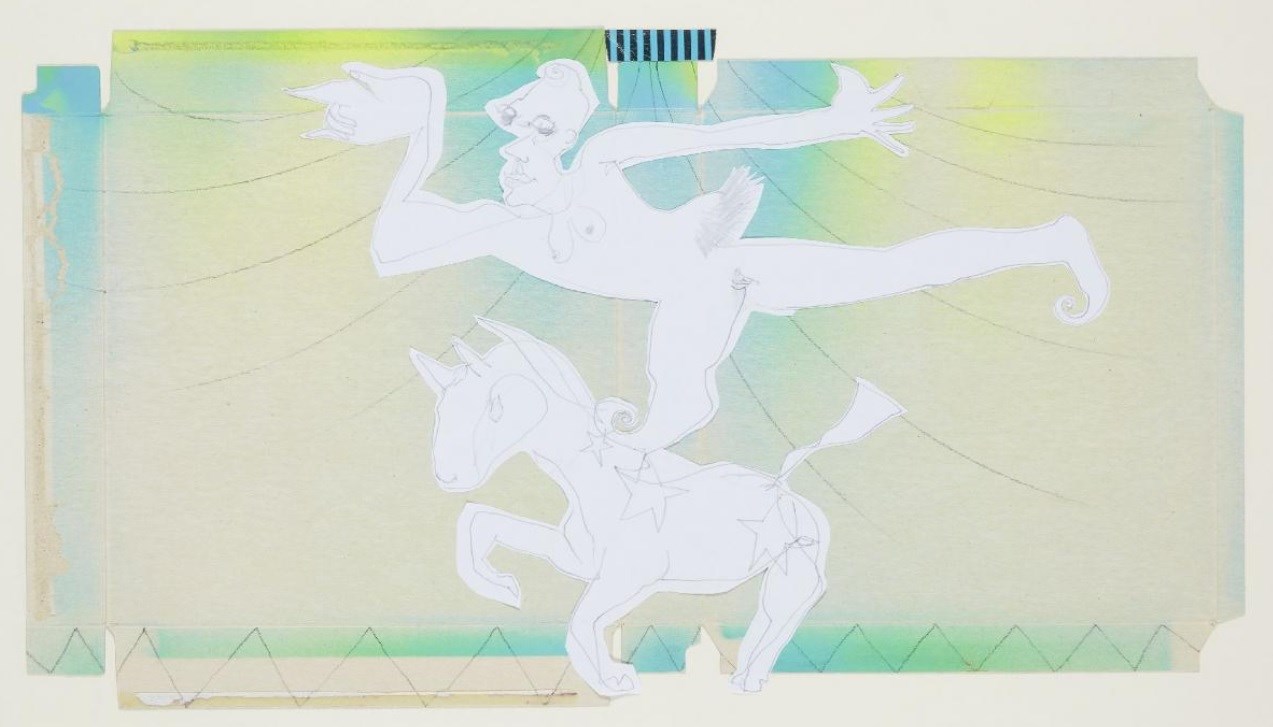 Colin Self, British b.1941 - The Circus Drawings (on carton) - Circus Horsewoman, 1997 & 2000; blindfolded one line drawing collaged onto spray painted and drawn pizza carton, laid onto mount sheet
Lot 49 to 54 are by English pop artist Colin Self, whose work has addressed the theme of Cold War politics. As a student at the Slade School of Fine Art from 1961 to 1963 Colin Self received encouragement for his drawings and collages from the artists David Hockney and Peter Blake. The highlight on offer at Roseberys from the collection is lot 54, which is a collection of works by the artist, compromising of eight works in total, seven being charcoal and pencil on paper together and one which is a gouache on paper.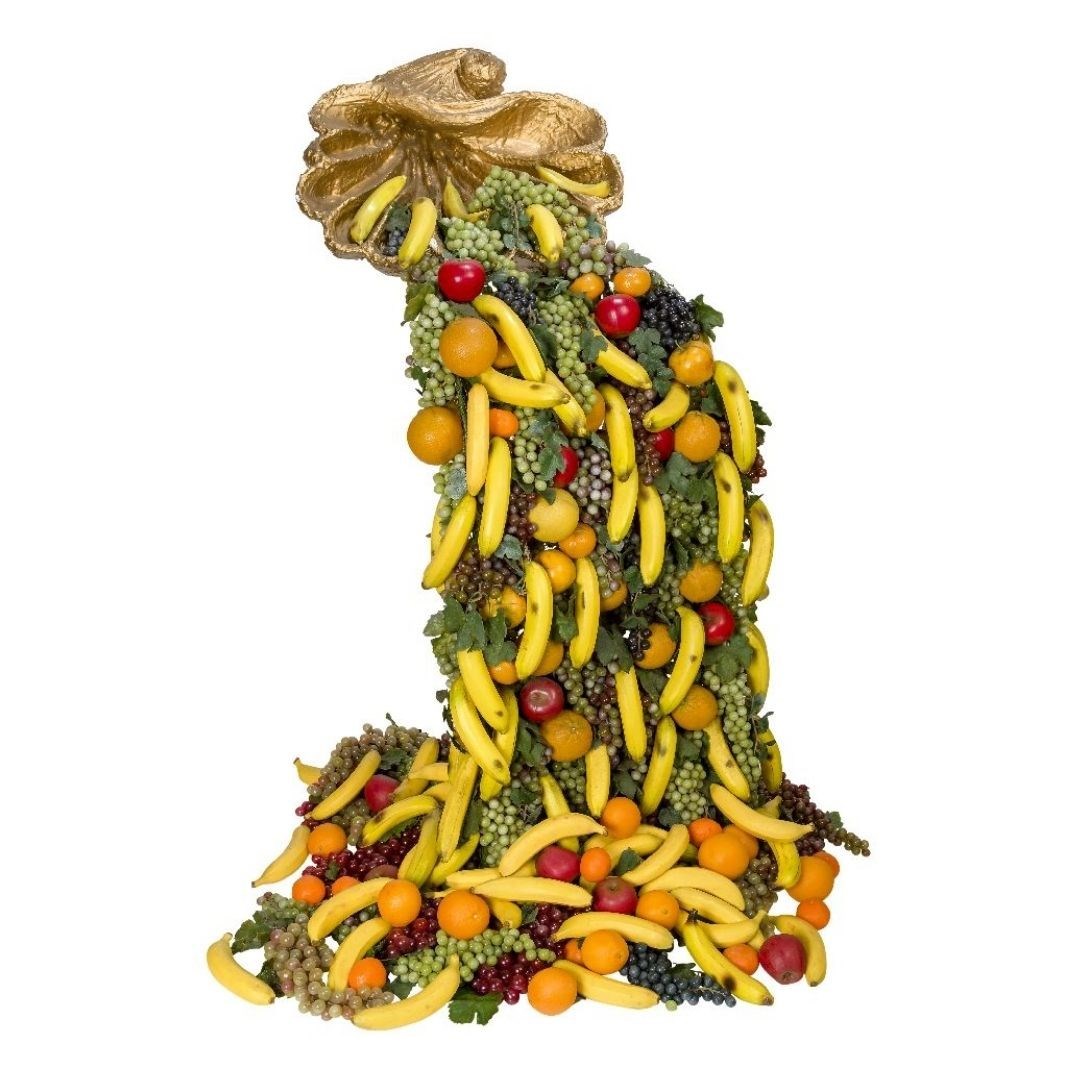 Edward Allington, British b. 1951- With Poisonous Libation, 1983 [EA.83.25]; mixed media
Lots 178 and 179 come from artist Edward Allington, both showcasing his talents as an artist and sculptor, best known for his part in the 1980s New British Sculpture movement. Estimated to sell for £600- £800 is lot 178 titled 'With Poisonous Libation' using mixed media created in 1983, it comes from private collection within the Diane Brown Gallery in New York. Lot 179 titled 'Incomplete Instrument' which was created later in 1989 using acrylic and paper on canvas has a provenance from Kunstgalerij, Lokeren Belgium according to the label attached to the reverse and is estimated to make £300- £400.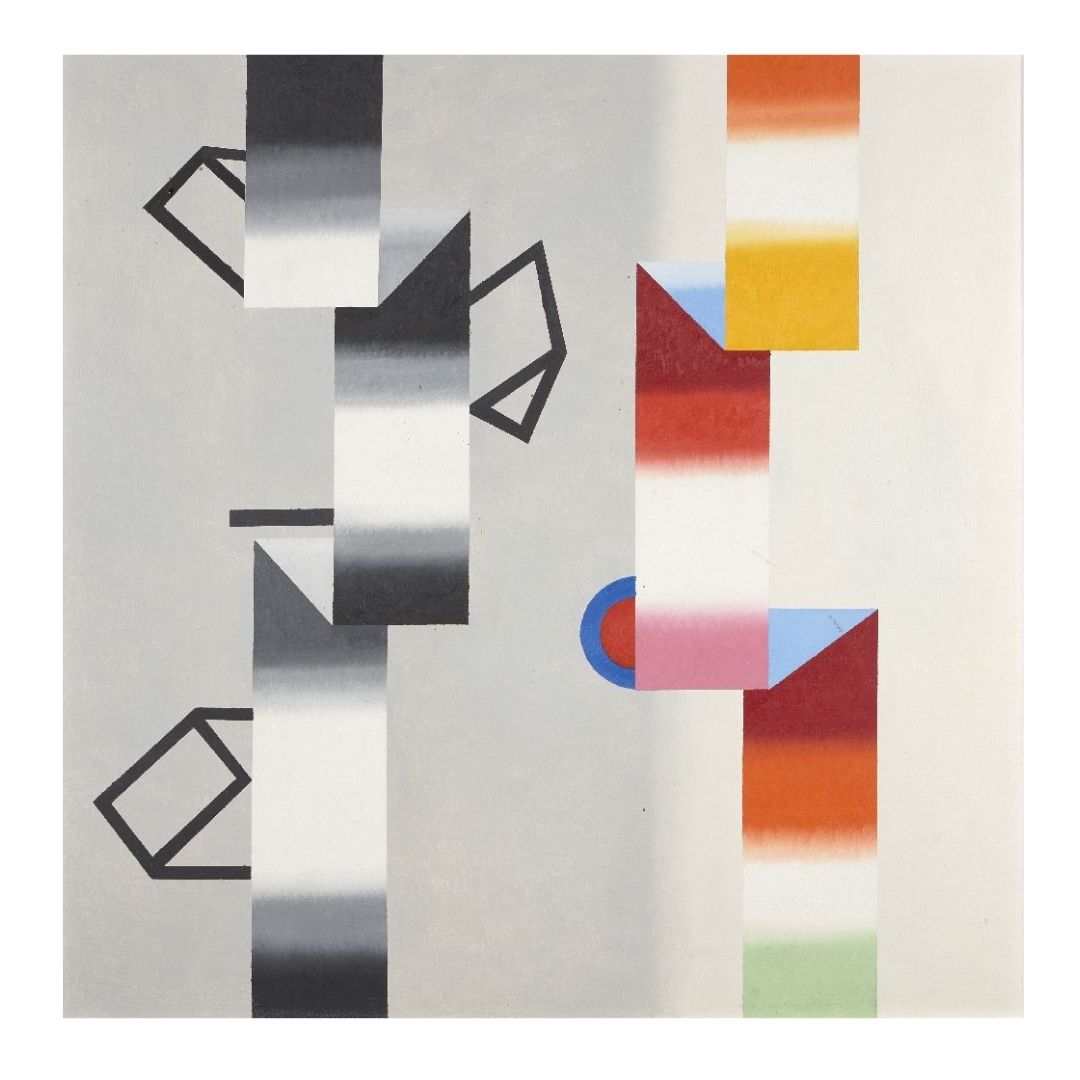 Jack Smith, British 1928-2011- Dialogue, Light Sensation, 1997; oil on canvas
Lots 210 to 214 are by Jack Smith with a provenance from a  private collection from the Flowers Gallery in London.  Lot 211, an oil on canvas is one of the highlights pictured above, titled 'Dialogue, Light Sensation' estimated to sell for £1,000- £1,500. Jack Smith had one of the most fascinating careers in the history of modern British art. He was a central figure in British painting from the early 1950s, and is renowned for his powerful realist works.
Completing the highlights in the sale is artworks from the Leonard Rosoman estate, from lots 227-242. Please find more information on that collection in the other article by clicking here.
View the fully illustrated catalogue here.
Modern & Contemporary British Art

Wednesday 4 November, 11am
Room bidding strictly by appointment only. Please contact pictures@roseberys.co.uk to book in an appointment
Viewing times
Viewing is by appointment only.

Please contact pictures@roseberys.co.uk to book an appointment
Friday 30 October 10am-5pm (last appointment 4pm)
Sunday 1 November 10am-2pm (last appointment 1pm)
Monday 2 November 10am-5pm (last appointment 4pm)
Tuesday 3 November 10am-5pm (last appointment 4pm)
For any press or marketing related questions please contact Peigi Mackillop
peigimackillop@roseberys.co.uk