Miró, Picasso, Chagall, Banksy and Lowry among the best sellers
22/10/2019 Prints & Multiples , News Stories & Press Release
LONDON: Roseberys London's Prints & Multiples sale on October 14 posted the highest total to date and saw strong demand for a range of artists from the greats of European modernism to internationally recognised names on the contemporary market.  
Shane Xu, Head of Department, comments on the sale: This Prints & Multiples sale again broke the record for the category at Roseberys and moved up to a new level. This sale offered a good variety of prints from Modern British, classic European Masters to the extremely popular contemporary, featuring a few small but interesting sections such as Henry Bortoia, Greek artists and photography. Despite the current political climate, the overall result is very positive. Oversea buyers are definitely taking the advantage of weak sterling, but local domestic clients are not hesitating to bid on the works they like. Overall, it demonstrated the ability of Roseberys Prints & Multiples category and it as definitely reached a wider and bigger audience"
The sale's top lot was contained in a section dedicated to some of the best Joan Miró (1893-1983) prints that spanned the artist's career from the 1930s-1980s. Bid to £20,000 was a rare complete set of lithographs from Miró's Album 21 series produced in 1979 in an edition of 75. [Lot 135]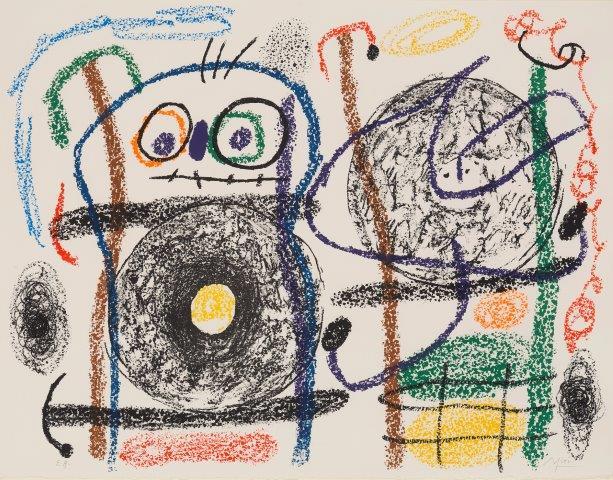 Also included was a vibrant print made in 1935 titled Femme et Chien devant la Lune ('Woman and Dog in front of the Moon'), which made £12,000. The signed early work was published in an edition of 60 for an association of artists in Barcelona when Miró was taking his first tentative steps into printmaking. Miró evolved his visual language of signs through contact with Surrealist poets and painters in Paris in the 1920s. He rejected the constraints of traditional paintings by creating works "conceived with fire in the soul but executed with clinical coolness". The prints offered at Roseberys showed how Miró used curvilinear lines and biomorphic shapes to meld the realm of the unconscious into essential life forms. (Lot 127)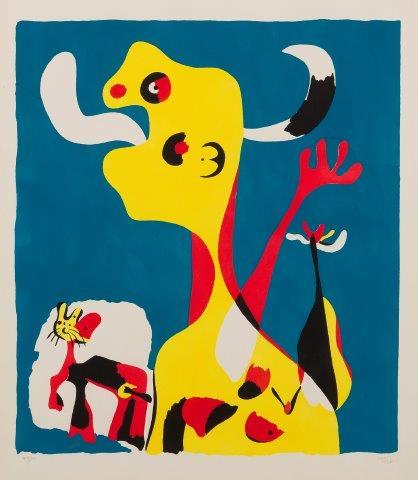 A yellow version of the ever-popular Pumpkin print by renowned Japanese contemporary artist Yayoi Kusama (b.1929) was the most expensive individual lot selling well above estimate for £16,000. It was made in 2000 in an edition of 200 and published by the Serpentine Gallery in London. The pumpkin is one of Kusama's best-known motifs, which she employs as both an allegory and a form of self-portraiture. She describes it as a "charming and winsome form, their generous unpretentiousness and solid spiritual base". [Lot 365]
A lithograph of Pablo Picasso's (1881-1973) muse and second wife Jacqueline Roque was another stand out lot at £11,000. Roque's trademark high cheek bones and classical profile are clearly defined in the 1956 lithograph, which was signed and numbered 89/100. Picasso met Roque in 1953 at the Madoura Pottery in southern France when she was 26 and he was 72. He courted her by drawing a dove on her house in chalk and for six months brought her one rose a day until she agreed to date him. Their marriage lasted 11 years until his death, during which time he created over 400 portraits of her - more than any of Picasso's other loves. [Lot 155]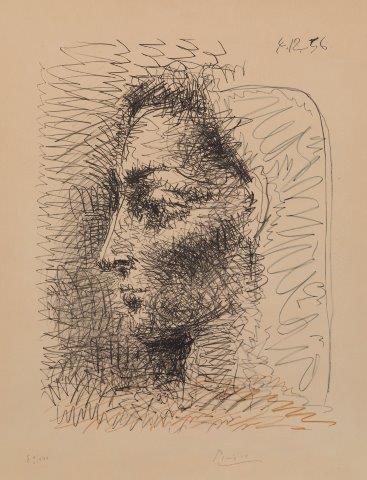 British artist and architect Victor Pasmore (1908-1998) who pioneered the development of abstract art in Britain in the 1940s and 1950s, was represented in the sale with an incomplete set of 11 etchings from his 1992 series Images on the Wall. Published by Marlborough Graphics Ltd in an edition of 50, the set was eagerly contested over the estimate and eventually sold for £8,800. [Lot 108]
Monkey Queen by the renowned British street artist Banksy (b.1974) is another highlight. The controversial early urban art screenprint depicting Queen Elizabeth II as a chimpanzee was created in 2003 in an edition of 750 works, 150 of which were signed. This unsigned work was accompanied by a certificate of authenticity issued by Pest Control - Banksy's verification body – and sold for £6,800. The chimpanzee has appeared as a recurring motif in Banksy's oeuvre since 2002, when the artist produced a six-meter-long stencilled graffiti work entitled Laugh Now. Just a few weeks before the result at Roseberys, a major new auction record was set for the elusive artist when his vast and bitingly satirical oil painting Devolved Parliament showing chimpanzees in the House of Commons chamber sold for over £9m. (Lot 325)
The star of the 22 photography lots - the first such dedicated section in a Roseberys Prints & Multiples sale - was a 2001 gelatin print from Roger Ballen's (b.1950) series Platteland. The influential American photographer worked on the series between 1986 and 1993, focusing on white people living in poverty in South Africa. He began taking photographs while working as a geologist there, a job which took him to nearly every small town and village across the country. This print of 1992 image, Sergeant F de Bruin, Department of Prisons Employee, Orange Free State, was gifted to British photographer Barry Lategan, and was inscribed in pencil to verso 'Dear Barry, I am pleased that we are friends and thanks for your elegant documentary on my London, 2001 exhibition, Roger Ballen, March 2004, Johannesburg'. Acquired directly from Barry Lategan by the vendor, it sold well above the £1,000-1,500 for £6,500. [Lot 376]
There was no shortage of competition for Oli Epp's (1994) Carpe Diem, a screenprint inspired by the 24-hour McDonald's drive-thru near the artist's home. Commercially, the Canadian British painter is on the up, with his work featuring in Time Out during Frieze Week last month. This work, printed and published by the Jealous Gallery in an edition of 30, duly found a buyer over top estimate for £1,400. [Lot 361]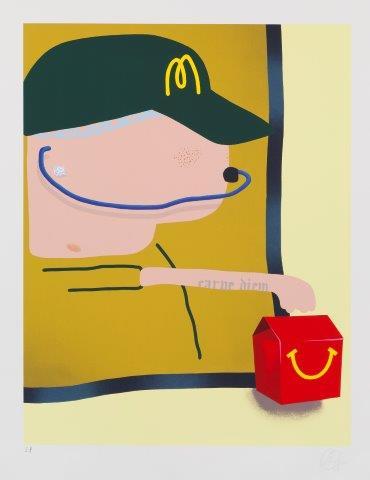 Marc Chagall (1887-1985), took £6,000. The composition centres on the suspended poet and siren who hold each other so close that their forms merge into one. Created in 1967, it comes from Chagall's Nice and the Côte d'Azur series comprising 12 colour lithographs and made in an edition of 150. (Lot 184)
A rare 1970s print by David Hockney (b.1937) that has rarely appeared at auction sold above estimate for £3,600. Smaller Study of Lighting was produced in an edition of 75 in 1973 and forms part of the artist's Weather Series inspired by the representation of weather in Japanese prints. [Lot 264]
Signed prints by the famous Salford painter LS Lowry (1887-1976) are in huge demand on the secondary market. Doubling its estimate at Roseberys to sell for £4,800 was Britain at Play. A great example of Lowry's famous industrial scenes, it was made in an edition of 850 and bore a Fine Art Trade Guild blindstamp. [Lot 28]
For further information please contact Peigi Mackillop peigimackillop@roseberys.co.uk +44 (0) 20 8761 2522
To get a complimentary valuation of your Prints & Multiples works of art click on the button below or contact our Prints & Multiples department.