Market for traditional craft and fine art is alive and well
10/01/2022 News Stories & Press Release, Professional Services & Valuations
Roseberys has over 30 years of experience providing a range of valuations for private institutional and professional clients in the UK and overseas, striving for the highest possible level of service with the strictest policy of confidentiality for our clients. We tailor each valuation to the client and the collection, working with single items through to large multi-category collections. We recognise the importance of carrying out valuations at a sensitive time, where speed is often of the essence.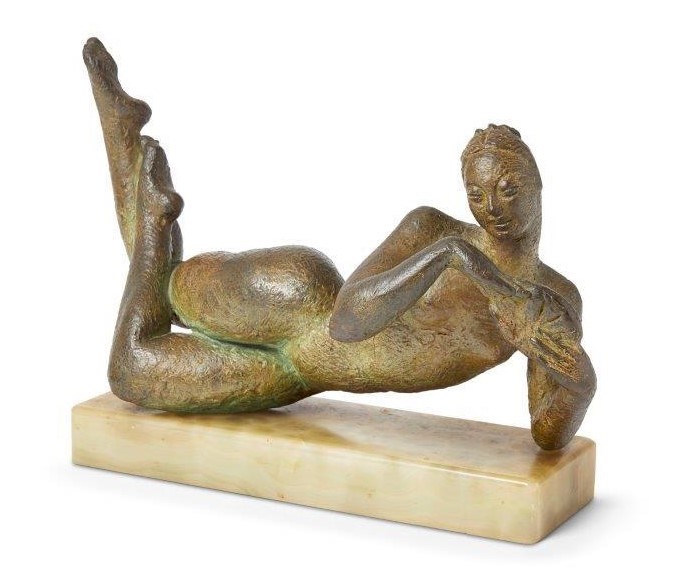 Dora Gordine, Estonian/British 1895-1991- Sea Rose; bronze with marble base
The lifetime collection of artist, collector and all-around art patron, Berthe Wallis was a recent highlight starting with a probate valuation. Like many other creatives, she chose to live in the Barbican Estate in the heart of London. The Barbican not only served as a home for Wallis, but also her large collection of art, which would later be auctioned at Roseberys, 228 lots in total. Names such as Patrick Hughes, Barbara Hepworth, Maggie Hambling, David Bomberg and Frank Auerbach, were included. Her wide-reaching collection required not only Modern & Contemporary British Art specialists to appraise, but also valuers from Roseberys Jewellery, Furniture, Ceramics and Glass departments.
Noteworthy, works from the collection included an oil by Walter Sickert which sold for £8,125, a work on paper by Leon Kossoff made £7,750 and a bronze by Dora Gordine realised £6,250.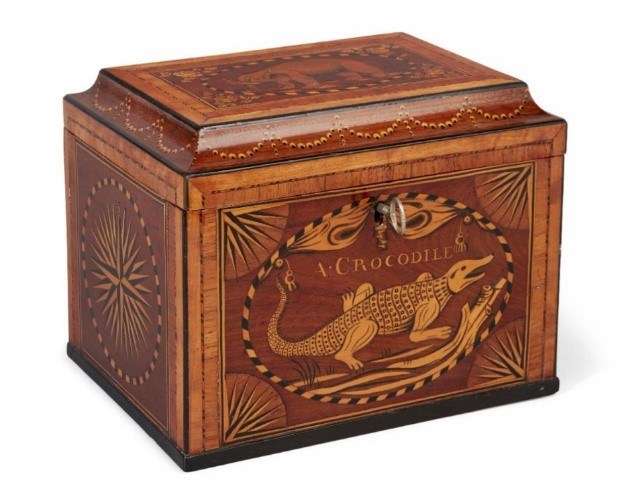 A rare George III inlaid satinwood three-division tea caddy
Another remarkable sale came from the late Herbert Kennard. Mr Kennard still lived in the apartment in which he was born, almost 100 years earlier. Kennard had a passion for late 18th Century English furniture, satinwood in particular. As well as furniture, he also collected all manner of associated works of art including a variety of different boxes, tea caddies and trays. The high level of interest proved that the traditional furniture and works of art market are very much alive for pieces of fine quality and provenance. A rare George III inlaid satinwood three-division tea caddy, early 19th century was the highlight of the auction, realising £13,750.
Other recent highlights from esteemed estates include important works of Chinese Art from the Van Daalen collection, from magnificent archaic bronzes to Tang ceramics. A cabinet of curiosities from Oliver Hoare, an English art dealer, described as arguably the most influential dealer in the Islamic art world, ranging in sold prices from £100 up to £17,500. A white glove sale of a Private Collection of Silver & Judaica, with Sefer Torah Scrolls doing particularly well.
As illustrated in the examples above Roseberys Valuations team possess a wealth of experience working with single items through to large multi-category collections including furniture, ceramics, silver, pictures, jewellery and Asian and Islamic art. At Roseberys in 2021, the nine specialist department's auctions, forty-six in total, have yielded many outstanding results. Many of the highlight sales have come from probate valuations. The top three highlights include a rare xizun, Yuan/Ming dynasty Chinese bronze tapir-form ritual vessel selling for £137,000, a 7.50-carat diamond realising the price of £175,000 and 'Three Punchinelli' a work on paper by Italian artist Giovanni Battista Tiepolo making £100,000 at auction.
Contact our team who can guide you through the process of the type of valuation you require. Our fees are tailored depending on the type of service that you require and generally based on the length of time taken to conduct the valuation, please contact us and we would be happy to discuss your requirements with you with no obligation.

Email: valuations@roseberys.co.uk

www.roseberys.co.uk