Magnificent Chinese archaic bronzes among 50 lots from The van Daalen Collection
26/10/2020 News Stories & Press Release, Chinese, Japanese & South East Asian Art
LONDON: Over 700 lots spanning many epochs and categories of Asian Art, from Chinese archaic bronzes to Japanese prints and Singaporean Modern art, will go under the hammer at Roseberys this autumn. Leading the Chinese, Japanese & South East Asian Art sale on November 11 is a hanging scroll by one of China's most important artists, Bada Shanren, making its auction debut (£50,000-80,000), and two rare archaic bronzes from the extensive van Daalen Collection (£50,000-80,000 each).
Bada Shanren's Hanging Scroll                    
Lot 545: ZHU DA (BADA SHANREN) (c. 1626 - 1705), ink on paper, hanging scroll, two birds on a rock | £50,000-80,000 + Fees
Bada Shanren (c.1626-1705), also known as Zhu Da, was born in the Jiangxi province of China into the illustrious Ming dynasty but later fled, after the dynasty fell, to a monastery where he became a Buddhist monk. He is regarded as one of the greatest painters of all time, credited with invigorating Chinese painting and inspiring future generations of 'eccentric' and 'individualist' artists.
Certain to generate keen interest, the hanging scroll depicts two birds on a rock and has never been offered at auction before. It has passed by descent from Edward Osman Bruce, an avid collector of Asian art who spent most of his life in China and later Hong Kong where he died in 1974. (His extraordinary collection of imperial costumes and embroideries today forms the backbone of Hong Kong Museum of Art's collection of Chinese textiles.)
The offering presents a rare opportunity for connoisseurs of Asian art to acquire a delightful painting by this important and enigmatic Chinese artist with impeccable provenance and museum pedigree (it was exhibited at the Ashmolean Museum from 2016-2018). 
It carries an estimate of £50,000-£80,000 and will be exhibited during the prestigious international event Asian Art in London which runs from October 29 – November 7.
Chinese art from The van Daalen Collection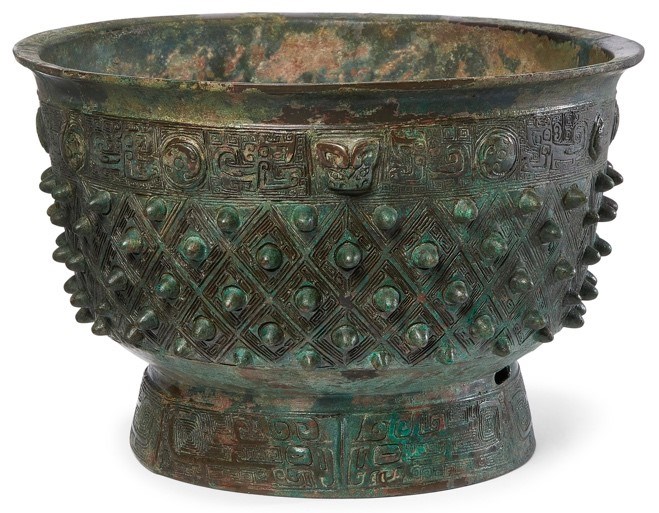 Lot 51: A rare Chinese archaic bronze ritual food vessel, Yu, late Shang dynasty | £50,000-80,000 + Fees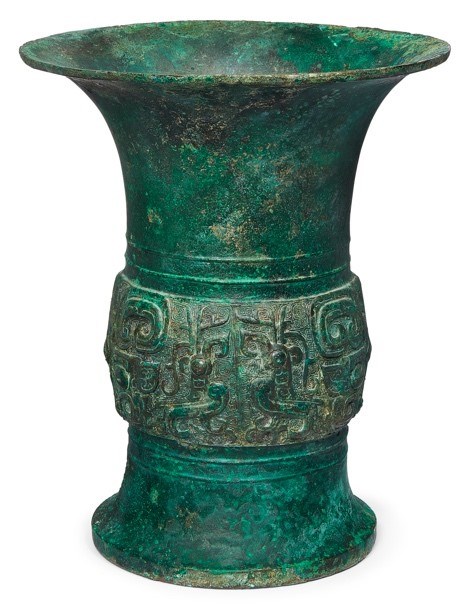 Lot 52: A rare Chinese archaic ritual bronze wine vessel, Zun, Fu Yi mark, early Western Zhou dynasty | £50,000-80,000 + Fees
Albert (1927-2018) and Leonie van Daalen-Roell (1930-2018) were descendants of well-respected Dutch families who followed family tradition in amassing an extensive art collection. Roseberys is delighted to offer around 50 lots from their estate, including magnificent archaic bronzes, Tang ceramics and export porcelain. This offering showcases the breadth in the couple's collecting tastes and eye for the magnificent and rare.
Estimated at £50,000-80,000 is a Yu archaic bronze ritual food vessel from the late Shang dynasty. The deep bowl, used for making offerings of grains and vegetables in ancestral rituals, features a striking combination of diamond cartouches and boss decoration. Such vessels were popular during the late Shang dynasty and demonstrate the high level of casting and skillful techniques bronze craftsmen at Shang foundries achieved by this period. [Lot 51]
Equally desirable and offered with an identical estimate is an archaic bronze ritual wine vessel from the early Western Zhou dynasty. Distinctive for its wide mouth to facilitate the pouring of wine, this particular example belongs to a very small group of bronzes decorated with two repeating 'bowstring' bands around its body. The body is also exceptionally well-cast with a striking design of two taotie masks and is covered in an appealing malachite-green patina. [Lot 52]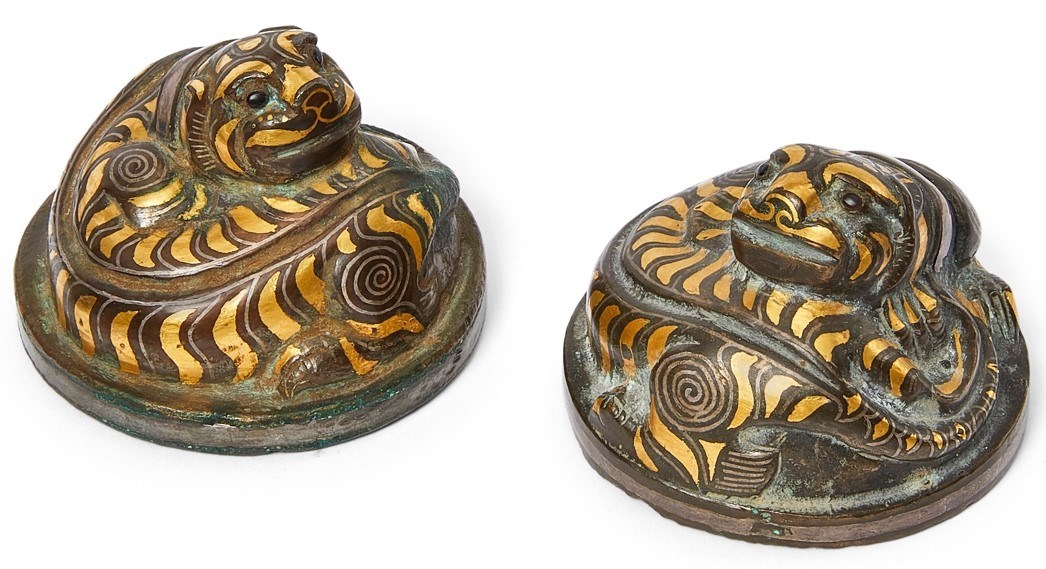 Lot 50: A rare pair of Chinese bronze and inlaid 'tiger' mat weights, Western Han dynasty| £8,000-12,000 + Fees
Elsewhere are two Chinese bronze 'tiger' mat weights from the Western Han dynasty that share similarities to a set in the Met Museum. The pair, guided at £8,000-12,000, are finely cast as coiled tigers with gold and silver inlaid stripes and glass eyes. [Lot 50]
 Further Highlights                                           

Lot 556: Cheong Soo Pieng (Singapore, 1917-1983), ink and colour on paper, abstract fishing village with figure and boats | £15,000-25,000 + Fees
Roseberys will offer three works by Singaporean artist Cheong Soo Pieng (1917-1983), a pioneer of the 'Nanyang' art style and a driving force to the development of Modernism in visual art in early 20th-century Singapore. His methods mirrored his dual Western and Eastern educations and the melting pot of cultures and influences he witnessed while living in China and Southeast Asia. His profound impact on Singaporean modern art was due to his ability to learn many different styles throughout his career. Quickly mastering each he continuously moved on to the next art style, from Post-Impressionist to abstract to traditional Chinese painting on cotton. The two landscapes and one portrait in the sale were purchased directly from the artist by the parents of the vendors. The abstract ink on paper of a fishing village with a figure and boats pictured here is estimated at £15,000-25,000. Although undated, it may have been completed during the 1950s when Cheong was experimenting with Cubism after seeing Picasso's works on a trip to Europe. [Lot 556]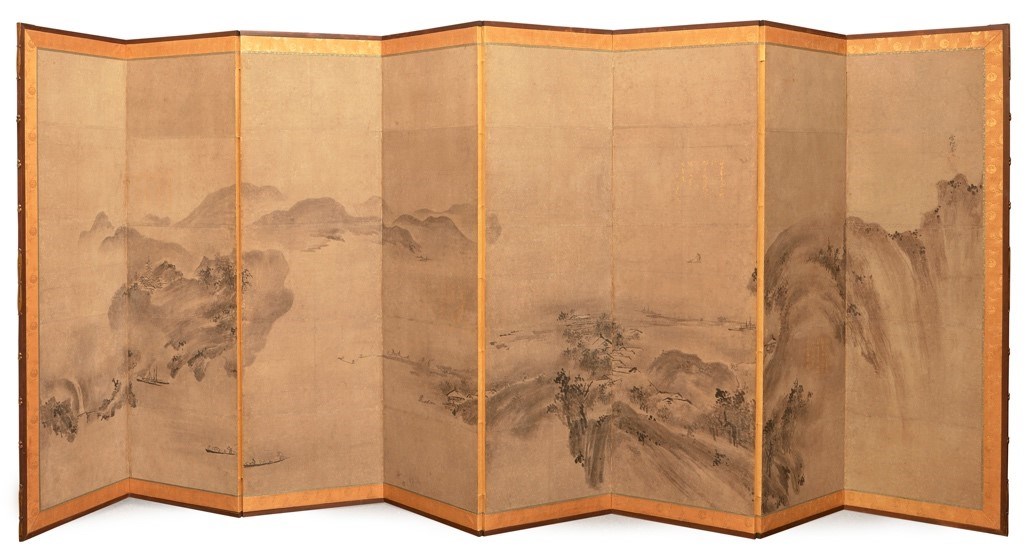 Lot 650: A Pair of Japanese Eight-Panel Screens, After Sesson Shukei, 17th century | £10,000-15,000 + Fees
The sale's Japanese highlights include a pair of 17th century eight-panel screens decorated with mountain landscapes and seasonal poems in gold. Painted after the rhythmic and fluid landscapes of the 16th century Zen monk and painter Sesson Shukei, these exquisite panels are guided at £10,000-15,000. [Lot 650]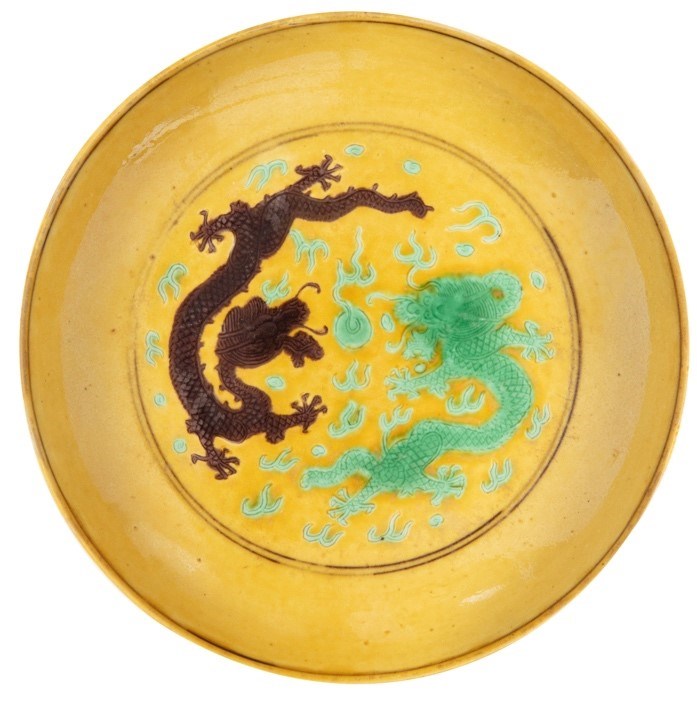 Lot 240: A Chinese imperial porcelain saucer dish, Tongzhi mark and of the period | £2,000-3,000 + Fees
No comprehensive Asian sale is complete without some exemplary pieces of Chinese porcelain. Among the highlights in this auction is a fine imperial porcelain saucer dish purchased in Beijing in the 1920s-40s. Painted in green and aubergine enamels with two five-clawed dragons encircling a flaming pearl, it comes with a period Tongzhi mark and is estimated at £2,000-3,000. [Lot 240]
Chinese, Japanese & South East Asian Art
Including the van Daalen Collection of early Chinese Art
Wednesday 11 November, 10am
Room bidding strictly by appointment only. Please contact asian@roseberys.co.uk to book in an appointment
Viewing times
Viewing is by appointment only.

Please contact asian@roseberys.co.uk to book an appointment
Sunday 8 November 10am-2pm (last appointment at 1pm)
Monday 9 November 10am-5pm (last appointment at 4pm)
Tuesday 10 November 10am-5pm (last appointment at 4pm)
~Ends~
For further information please contact the Asian Department asian@roseberys.co.uk +44 (0) 20 8761 2522