Limited edition prints by Pablo Picasso, Joan Miró & Gerhard Richter
26/09/2019 Prints & Multiples , News Stories & Press Release
LONDON: Prints by the greats of European modernism together with contemporary editions by internationally recognised names will form the backbone of Roseberys London's latest Prints & Multiples sale on October 14. 

Supplementing this is a group of Chinese works led by Contemporary artists Yue Minjun and Zhang Xiaogang, and a collection of monotype prints by Italian American artist Harry Bertoia. 

For the first time the sale will also include a dedicated photo section. The 22 lots will feature works by such 20th century masters as Irving Penn, Barry Lategan (whose famous images of Twiggy and Sharon Tate will feature) and George Barris, one of the last photographers to photograph Marilyn Monroe alive.
Shane Xu, Head of Department, comments: "European Masters represent the best level of printmaking in terms of techniques and artistic taste. We have a great Picasso, depicting his muse and second wife Jacqueline Roque; a fabulous Chagall, 'Double Visage', and a fantastic collection by Joan Miro including a complete 'Album 21', which is rarely offered as a complete set. We are also very pleased to offer another Kusama Yellow Pumpkin, which are always in high demand."
A vibrant print by Joan Miró (1893-1983) made in 1935 titled Femme et Chien devant la Lune ('Woman and Dog in front of the Moon') is estimated at £12,000-18,000. One of ten Miró prints in the sale, this signed early work was published in an edition of 60 for an association of artists in Barcelona when Miró was taking his first tentative steps into printmaking. Miró evolved his visual language of signs through contact with Surrealist poets and painters in Paris in the 1920s. He rejected the constraints of traditional paintings by creating works "conceived with fire in the soul but executed with clinical coolness". The prints on offer show how Miró used curvilinear lines and biomorphic shapes to meld the realm of the unconscious into essential life forms. (Lot 127)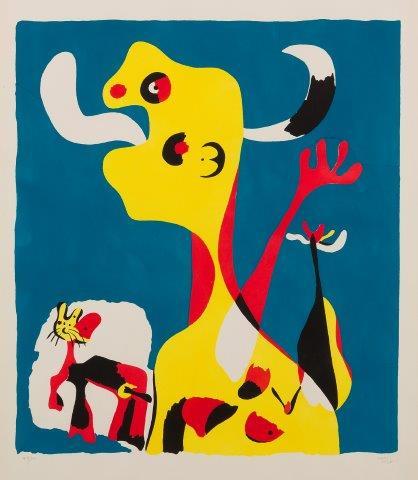 Gerhard Richter's (b.1932) Nine Objects is a series of elaborate optical illusions constructed from three-dimensional objects that were photographed and edited into intriguing images of spatially impossible objects. The series was born out of Richter's interest in the artifice and subjectivity of photographic images. A rare complete folio of Nine Objects from a numbered edition of 80 is offered for sale estimated at £18,000-22,000. (Lot 285)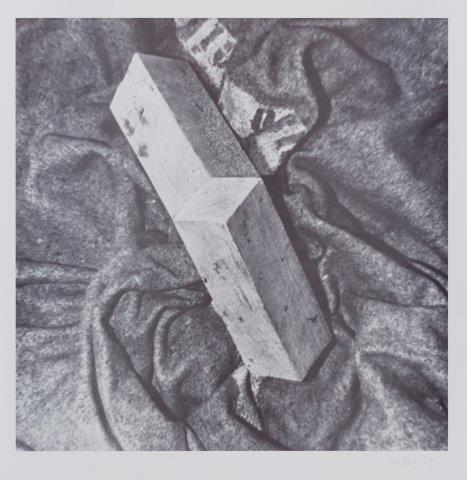 A lithograph of Pablo Picasso's (1881-1973) muse and second wife Jacqueline Roque is another stand out lot at £6,000-10,000. Roque's trademark high cheek bones and classical profile feature strongly in the 1956 lithograph, which is signed and numbered 89/100. Picasso met Roque in 1953 at the Madoura Pottery in southern France when she was 26 and he was 72. He romanced her by drawing a dove on her house in chalk and bringing her one rose a day until she agreed to date him six months later. Their marriage lasted 11 years until his death, during which time he created over 400 portraits of her - more than any of Picasso's other loves. (Lot 155)
Sirène au Poète, a quintessential print by Marc Chagall (1887-1985), carries hopes of £6,000-8,000. The composition centres on the suspended poet and siren who hold each other so close that their forms merge into one. Created in 1967, the work is from Chagall's 'Nice and the Côte d'Azur' series comprising 12 colour lithographs and made in an edition of 150. (Lot 184)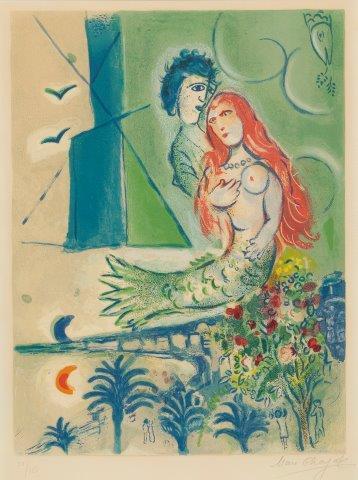 A yellow version of the ever-popular Pumpkin print by Japanese contemporary artist Yayoi Kusama (b.1929) is estimated at £7,000-9,000. It was made in 2000 in an edition of 200 and published by the Serpentine Gallery in London. The pumpkin is one of Kusama's best-known motifs, which she employs as both an allegory and a form of self-portraiture. She describes it as a "charming and winsome form, their generous unpretentiousness and solid spiritual base". (Lot 365)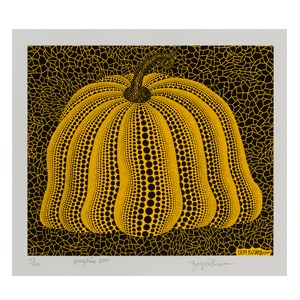 Memento Mori Stone Black, Off White and Fluorescent Orange is a 2018 collaboration between Japanese artist Takashi Murakami (b.1962) and American fashion designer Virgil Abloh (b.1980). Estimated at £5,000-7,000, the work comprises three colour screenprints numbered 21/100 and is signed by both artists. Abloh founded Off-White fashion house in 2013 and became the artistic director of Louis Vuitton's men's wear collection last year, the first American of African descent to hold the position. Murakami collaborated with Abloh in the exhibition 'Future History' at the Gagosian held during London Fashion Week in 2018. The pair worked together in Murakami's Tokyo studio producing a series of works in a style Gagosian described as a "stream of freewheeling, punkish mash-ups". (Lot 364)
Among the British material on offer is David Hockney's (b.1937) 1977 etching I Say They Are. The work, estimated at £1,500-2,000, forms part of 'The Blue Guitar' series which Hockney published both as a print portfolio and a book. The artworks were created to accompany the poem 'The Man with the Blue Guitar' (1937) by the modernist American poet Wallace Stevens. (Lot 267)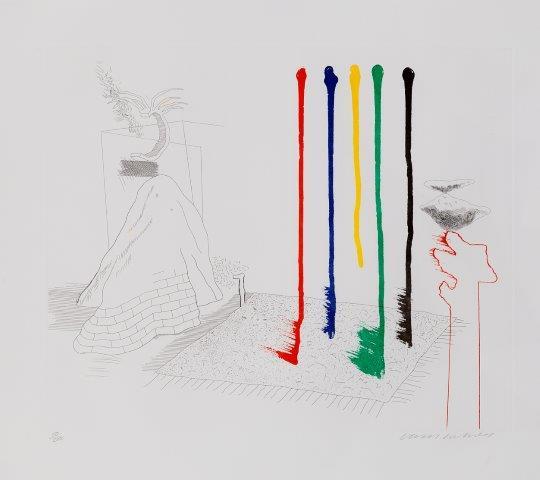 Monkey Queen by the renowned British street artist Banksy (b.1974) is another highlight. The controversial early urban art screenprint depicting Queen Elizabeth II as a monkey was created in 2003 in an edition of 750 works, 150 of which were signed. This unsigned work is accompanied by a certificate of authenticity issued by Pest Control, Banksy's verification body, and carries hopes of £5,000-7,000. (Lot 325)
There are five works by the American artist Harry Bertoia (1915-1978), one of the most renowned American sculptors and furniture designers of the 20th century. Bertoia was born in a small village in Italy and moved to America at 15 to study painting and drawing at the School of the Detroit Society of Arts and Crafts. He went on to develop his style at the Cranbrook Academy of Art where in 1939 he was asked to reopen the school's metalworking shop. Bertoia found a passion for monotype prints, a medium he came back to time and time again throughout his life. The method involved applying ink to a glass surface then placing rice paper onto the glass. He then created the images with his fingers and other pointed tools through the reverse of the paper, making each monotype a unique handcrafted piece. Bertoia did not work with other print makers and did not receive much formal training. He also did not sign his works, as he believed his creativity derived from divine sources, or 'the great Oneness' claiming that his art should not be prescribed to one man's name. Prices range from £1,000-2,000 for the five works on offer at Roseberys. (Lots 199-203)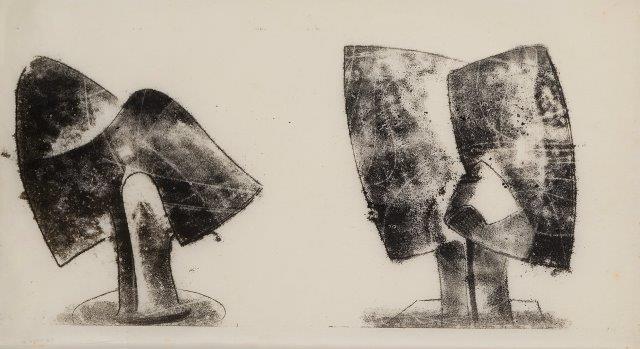 Internationally famous artists Yue Minjun (b.1962) and Zhang Xiaogang feature in a section dedicated to Chinese contemporary art. Estimated at £2,500-3,500 is Yue Minjun's (b.1962) typical 2001 screenprint You're so Manet – a take on Manet's famous work, 'A Bar at the Folies-Bergère'. Minjun is widely considered to be one of the most humoristic and unique artists to emerge from China in recent decades. The Beijing-based painter and sculptor uses the same motif in every single piece he creates – his own face, usually pink and frozen in a state of hysterical laughter. (Lot 349)
The section also contains Wang Guangyi's (b.1957) 2002 lithograph Coca Cola (red) valued at £800-1200. The work comes from 'Great Criticism', the artist's best-known series, a cycle of works on canvas in which Guangyi juxtaposed images from political propaganda manifestos of the Cultural Revolution with the most famous Western commercial logos. Through these works, he argues that the principal goal of both is to convince the population of the authenticity and singularity of its products. Guangyi began this cycle in 1990 and ended it in 2007 when he became convinced that its international success would compromise the original meaning of the works, namely that political and commercial propaganda are two forms of brainwashing. (Lot 342)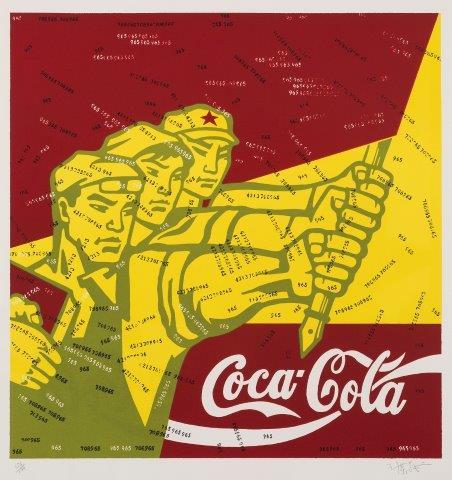 The inaugural photo section in Prints & Multiples will include Barry Lategan's (b.1935) iconic print of Twiggy taken in 1966. This signed artist's proof, printed later in 2012 from a numbered edition of 35, is estimated at £5,000-7,000. Lategan is credited as the photographer who helped make Twiggy the world's first supermodel when this photograph was selected by Daily Express journalist Deirdre McSharry to be in the paper under the headline 'The Face of 66'. (Lot 382)
Two famous images of Marilyn Monroe taken by American photographer George Barris (1922-2016) during a photo shoot that would turn out to be her last are valued at £300-500 each. Barris took the photographs in 1962 on Santa Monica beach and in the Hollywood Hills in a series that became known as 'The Last Photos'. The two signed images for sale here were printed in 1987. (Lot 370, 371)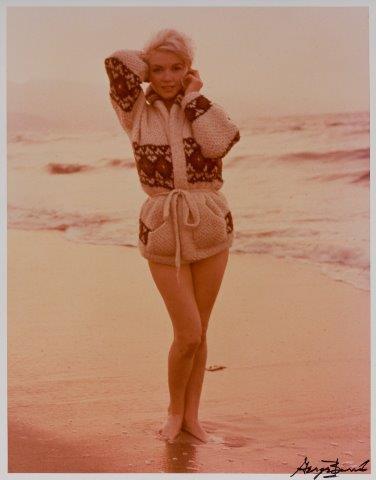 A 2008 platinum print of Sharon Tate taken by Barris in 1969 only a few days before the American actress and model was murdered by the Manson Family cult, is estimated at £1,000-1,500. The Manson Family murders, described by social commentators as one of the defining moments of the 1960s, has been the subject of a number of films including Quentin Tarantino's recent movie 'Once upon a time in Hollywood' in which Tate is played by Margot Robbie. (Lot 381)
Among the contemporary highlights is Candida Höfer's (b.1944) 2017 print 'Coloured Wood', made in an edition of 100 in 2017 and estimated in the sale at £800-1,200. Her large-format colour photography captures the "psychological residue" left behind in empty public and institutional spaces. She composes her shots by positioning herself symmetrically either in the centre of rooms or along a diagonal that best reveals the space's internal architecture. Preferred places to photograph are those that contain an institutional history, embodied either in texts or in structures, such as libraries, museums, and zoos. (Lot 366)
Prints & Multiples
Monday 14 October, 12 noon 
Viewing times

Thursday 10 October 1.00 pm - 5.00 pm 
Friday 11 October 9.30am - 5.30 pm 
Sunday 13 October 10.00am - 2.00 pm 
Monday 14 October 9.30 am - 11.30 am
 For further information please contact Peigi Mackillop peigimackillop@roseberys.co.uk +44 (0) 20 8761 2522