July Treasures
5/07/2018 News Stories & Press Release, Jewellery & Watches
July sees the much anticipated Roseberys summer Jewellery & Watches sale. The 236 lot sales comprises of desirable designers, modern classics, pocket watches and the more unusual.
Mark Bowis – Head of Department offers an insight into the sale:
"The sale includes a range of jewellery dating from the 15th century to the present day. Special features are a section of vintage and later jewellery and objects by Cartier, a selection of signed pieces from jewellery houses such as Van Cleef & Arpels, Bulgari, Rene Boivin, Kutchinsky, Lalaounis and Christian Dior. Also featured in the sale are two American jewels by Marcus & Co and Black, Starr & Frost. The sale offers a chance to acquire natural pearls, diamonds, emeralds and Indian jewellery as well as pieces from the Belle Epoque period and earlier."
Our top treasures in the sale are: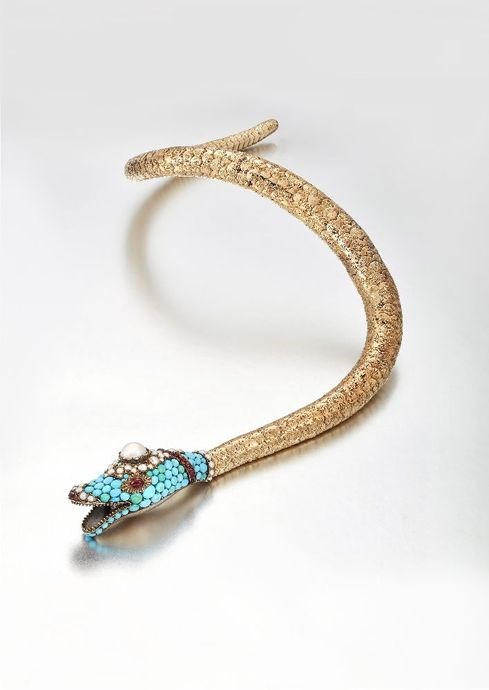 Lot 228
An unusual Serpent choker – From the property of a Noble Lithuanian Family, The early 19th century gold, turquoise and garnet serpent collarette necklace, composed of a series of gold graduated articulated scalloped links each engraved with a dot and striation pattern to a modelled silver-gilt serpent head pave-set with turquoise and half-pearls, the centre with collet-set half-pearl crest and applied gold and cabochon garnet set eyes and faceted garnet chevron shaped collar detail, circa 1830, 36cm long.
Provenance: The Romer family of Lithuania The vendor states that according to the family records the collarette was purchased in the early part of the 19th century in St. Petersburg by a
Polish nobleman Hieronim Przeciszewski as a gift for his daughter Celina Przeciszewski who married Izydor Romer of the Romer family, one of the oldest noble families in Lithuania. The necklace was later passed to Anna Romer who presented it to her brother's wife the painter Zofia Dembowska, thence by descent.
Serpents have been popular throughout the ages in jewellery, expressing many different interpretations such as good vs evil, wisdom or prolonged life but, for Queen Victoria, in receipt of her engagement ring styled like a serpent from Prince Albert it signified the circling of everlasting love.
Estimate £3000-5000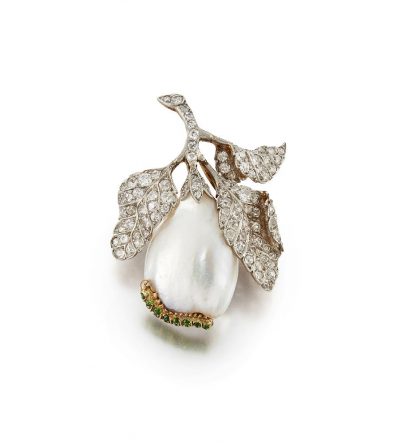 Lot 217
A late 19th / early 20th century American, pearl, diamond and demantoid garnet pendant/ brooch, by Marcus & Co. Designed as a pave old-brilliant-cut diamond leaf spray set with a pearl pear with applied gold and demantoid garnet caterpillar, the leaf mount to the reverse with engraved decoration, signed Marcus & Co, circa 1900, 4.5cm long
Accompanied by report number 218529488, dated 27th October 2017, from the Gemmological Institute of America, GIA, stating that the pearl was found to be Natural Pearl, Saltwater.
Founder, Henry Marcus emigrated to America from Germany in 1850, following from his initial employment at Tiffany & Co. he went on to set up partnerships, which remained in the family until 1941. The company were known for their innovative designs incorporating coloured stones and plique-a-jour enamelling, a trend that was very popular in French Art Nouveau jewellery at the time.
Pearls in ancient cultures were thought to be symbols of the moon holding magical powers. Later symbolising wisdom and elegance.
Estimate £10000-15000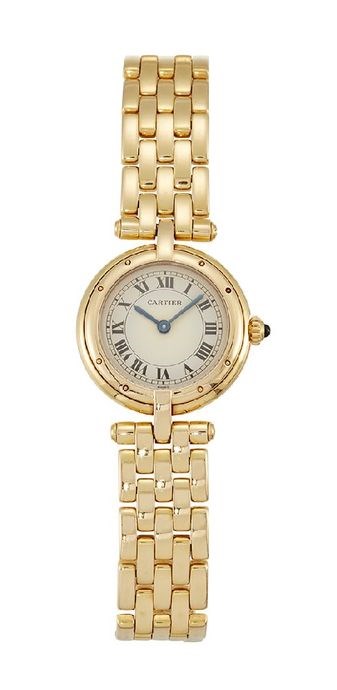 Lot 77
A delightful lady's 18ct. gold 'Panthere Vendome' quartz wristwatch, by Cartier, the silver circular dial with Roman numerals with secret signature at 7 o'clock, signed Cartier, the bezel with screw-head motifs, cabochon sapphire crown, quartz movement, the case back secured by eight screws, signed Cartier number, 8057921 001464, to 'Panthere' design bracelet with double deployant clasp, signed Cartier, European Convention hallmarks, case 23mm diameter.
Cartier first started designing wristwatches around 1904 with the introduction of the Santos Designed by Louis Cartier and produced for the Aviator Aberto Santos-Dumont. This was followed by the introduction of the famous Baignoire and later Tank models which appeared as early as 1917.The Panthere Vendome with its typical Cartier look of elegance and slim case is another timeless model by this world recognised leader of watch design. The Cartier Panthere watch collection was originally created by Domique Perrin and the classic Vendome first appeared in the 1990s and is a
typically timeless example of the Panthere tradition.
Estimate £1500-2000
A selection of highlights will be on view to the public on Tuesday 10 July at
The Clubhouse, 8 St James's Square, London, SW1Y 4JU from 11am – 5pm.
Specialist, Mark Bowis will be on hand to guide you through the collection and answer any questions; you can also pick up a fully illustrated catalogue of the 236 lot auction.
Viewing Times at Roseberys
Friday 13 July 1-5pm
Sunday 15 July 10am-2pm
Monday 16 July 9.30am-5.30pm
Tuesday 17 July 9.30am-12.30pm
AUCTION: TUESDAY 17 JULY 1PM
~Ends~
*Prices include Buyers Premium of 27.6%.
For further information please contact Charlotte Meddings charlottemeddings@roseberys.co.uk
+44 (0) 20 8761 2522
Roseberys is a privately owned auction house operating at the heart of the fine art market for 30 years.
With offices in London's Mayfair and Lambeth Roseberys offer a calendar of more than twelve specialist fine art, antiques and collectibles auctions each year.
Specialist sales include a wide range of Asian and Islamic Arts, Modern and Contemporary Art and Design, Decorative Art, Fine Silver and Jewellery, Ceramics, Paintings, Prints, Photography, Antique Textiles, Vintage Fashion and Fine Wine and Whisky.
Roseberys team of world-renowned specialists also provide a wide range of art market services to professional clients, including valuations for insurance and probate.
Roseberys is a member of SOFAA – The Society of Fine Art Auctioneers.