July Treasures
23/07/2018 News Stories & Press Release, Jewellery & Watches
The 236 lot sale comprised of desirable designers, modern classics, pocket watches and the rare and unusual. Pieces on offer dated from the 15th Century to present day and included jewellery houses such as; Van Cleef & Arpels, Bulgari, Rene Boivin, Kutchinsky, Lalaounis and Christian Dior and Cartier.
The sale had strong bidding throughout, confirming the strength of the current market.
Mark Bowis commented, "I was delighted with the results of the sale and the enthusiastic response to the catalogue. It was encouraging to see that there were worldwide bidders from Australia, Hong Kong, Singapore, China, Las Vegas, New York, France and Germany as well as a healthy participation from the UK reaffirming the Global following that Roseberys enjoys. With regard to results I was particularly pleased to see competition for good antique stones which included lot 236 an emerald lavaliere and lot 153 an emerald and pearl necklace.
Lot 202 more than exceeded expectations as there was much speculation as to the origin of the sapphire".
A number of highlights from the sale include:
Lot 202
A stunning diamond and sapphire spray brooch, designed as a collet-set old brilliant-cut diamond cluster flower with pave diamond leaves and square-cut diamond and diamond ribbon bow claw-set with a single oval-cut sapphire, circa 1950, (5.5cm long)
Stole the show, and the hearts of bidders, exceeding its initial estimate of £1200-1800 by reaching a final price of £16,000*
Lot 49
A beautiful Edwardian gold, diamond bracelet, composed of a series of openwork navette shaped links each with central circular-cut diamond star motif, circa 1905, registered pattern number to tongue, 19cm long. The Edwardian design of star motif made the piece very desirable amongst bidders online and on the phones.
From an estimate of £300-500, the hammer came down to a delighted bidder for £1,130*
Continuing the star theme:
Lot 142
A wonderful 19th century diamond star brooch, mounted in the centre with an old mine-cut diamond and rose-cut diamond cluster and with old-brilliant-cut diamond rays with rose-cut diamond points, circa 1880, detachable brooch fitting, 3.0cm wide, reaching a final price of £1850*
For the more unusual, we had animal inspired pieces;
Lot 181 (The Dragon)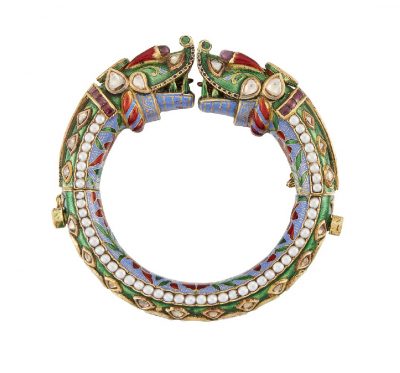 An early 20th century Indian, gold, diamond pearl, and enamel Indian bracelet (Kada), of tapering tubular form the exterior of green enamel set throughout with foiled table-cut diamonds on a green enamel base, with dragon head terminals of polychrome enamels and diamond eyes and crest, the interior of blue enamel with red and green enamel floral detail, and half-pearl edging, the head sections detachable, inner diameter 5.7cm
£10,460*
Lot 228 (The Serpent)
An early 19th century gold, turquoise and garnet serpent collarette necklace, composed of a series of gold graduated articulated scalloped links each engraved with a dot and striation pattern to a modelled silver-gilt serpent head pave-set with turquoise and half-pearls the centre with collet-set half-pearl crest and applied gold and cabochon garnet set eyes and faceted garnet chevron shaped collar detail, circa 1830, 36cm long
Provenance: the Romer family of Lithuania The vendor states that according to the family records the collarette was purchased in the early part of the 19th century in St. Petersburg by a Polish nobleman Hieronim Przeciszewski as a gift for his daughter Celina Przeciszewski who married Izydor Romer of the Romer family, one of the oldest noble families in Lithuania. The necklace was later passed to Anna Romer who presented it to her brother's wife the painter Zofia Dembowska, thence by descent.
£6,400 final price.
Lot 85 An early 20th century and highly collectible gold and enamel stylograph, by Cartier, the barrel of pink guilloche enamel with white enamel repeated pellet terminals and central chased gold foliate collar detail, signed Cartier Paris, French guarantee mark, circa 1910, 9.5cm
£3570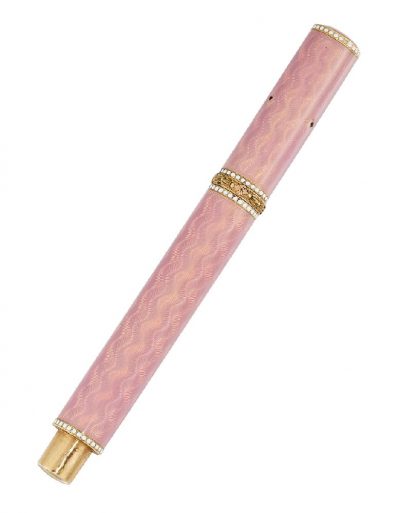 Finishing the sale was lot 236 – An impressive Belle Epoque emerald and diamond lavaliere necklace/brooch, composed of two emerald bead drops diameters ranging from 14.0mm to 14.20mm, suspended from an old-brilliant-cut diamond bow with brooch fitting with diamond twist design bar suspensions with bow motifs, the bow with detached twin diamond bars and platinum neckchain, circa 1910, with fitted case.
Undoubtedly, an exquisite addition to any collector of this period of jewellery. Bidding crossed over telephone, internet and in the room, with the hammer coming down at £10,850*
Consignments are now open for the November auction, which will be held on 20 November.
For further information on the jewellery sales or to arrange a free valuation please contact Head of Sale:
Mark Bowis
markbowis@roseberys.co.uk
~Ends~
*Prices include Buyers Premium of 27.6%.
For further information please contact Charlotte Meddings charlottemeddings@roseberys.co.uk
+44 (0) 20 8761 2522
Roseberys is a privately owned auction house operating at the heart of the fine art market for 30 years.
With offices in London's Mayfair and Lambeth Roseberys offer a calendar of more than twelve specialist fine art, antiques and collectibles auctions each year.
Specialist sales include a wide range of Asian and Islamic Arts, Modern and Contemporary Art and Design, Decorative Art, Fine Silver and Jewellery, Ceramics, Paintings, Prints, Photography, Antique Textiles, Vintage Fashion and Fine Wine and Whisky.
Roseberys team of world-renowned specialists also provide a wide range of art market services to professional clients, including valuations for insurance and probate.
Roseberys is a member of SOFAA – The Society of Fine Art Auctioneers.