July Auctions
31/07/2018 News Stories & Press Release, Decorative Arts & Modern Design
31 July 2018
The final day of the July sales for Roseberys saw a combined day of Craft & Tradition followed by the Fine & Decorative sale, opening with the inaugural Craft & Tradition – the morning featured the work of craftsmen and women, including textiles, woodwork, metalwork and more celebrating art and craft throughout the ages.
Exciting bidding continued throughout the sale and Roseberys are delighted with the results.
Highlights from the much anticipated sale included: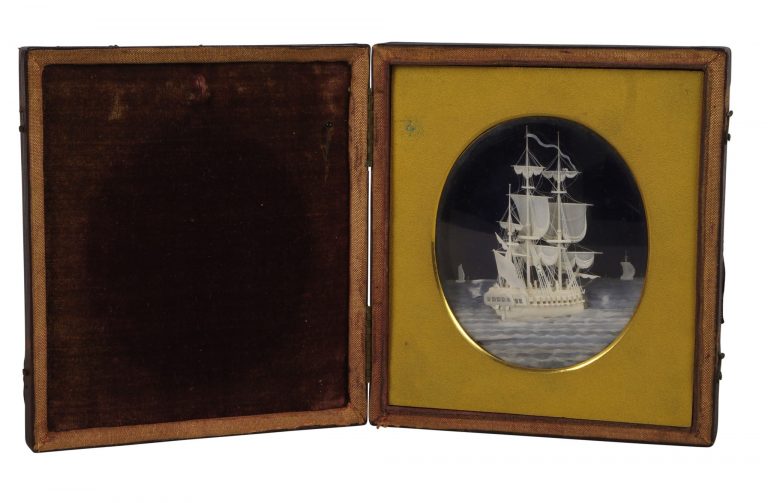 Lot 216
A micro-miniature ivory carving of a three-masted frigate under sail, by Stephany & Dresche. Dated from early 19th century, sailing as part of a fleet on a calm sea, within a matted metal mount, 12 x 11cm,
With a label to the reverse inscribed in ink, done by G Stephany & Dresche, No. 33 Old Bond Street London 1804, presented in a velvet lined pressed leather case.
The present lot is an example of the delicate, intricate 'micro carving' that was popular within the Kunstkammer of Europe's nobility in the 18th and 19th centuries. The carvings are executed with such precision that, with pieces of the highest quality, the rigging might be no more than a fraction of a millimetre. G. Stephany and J. Dresch worked in London and Bath in the late 18th century, selling their ivories to members of fashionable English society. They exhibited a number of times at the Royal Academy, and were granted the title 'Sculptors in Miniature on Ivory to their Majesties' by George III.
From an initial estimate of £500-700, the hammer finally came down at £8,860*
Lot 176
An unusual An English brass and copper combination locking tobacco box, first half 18th century, the dials cast as the sun, moon and two stars, inscribed 'This is my Fancy You must take as a Joke, If a Fine Tobacco I Ask you to Smoke, If you the Sun, Moon & Stars Can Place, You This Box May Op'n with Ease', with owner's name 'J Allen', 8.5cm wide The following eight lots were purchased directly from Wing Commander Arthur Golding Barrett (1904-76). Known to everyone as 'G B', Golding Barrett was a well-known figure in the mid-20th century antiques trade who built up an impressive collection of 17th century furniture and objects sold at Tennants in 1986.
Bidding exceeded all expectations of an initial estimate of £400-700, with the hammer coming down at £2,850*.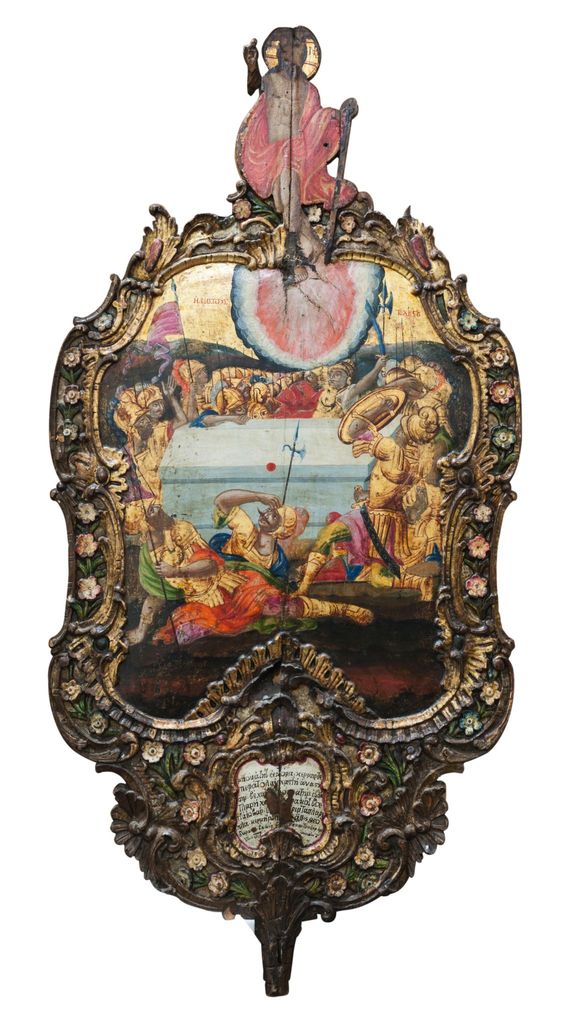 Lot 193
A large double sided Greek processional icon, 18th century, of shaped outline, carved to the borders with floral and scroll work, the cresting in the form of Christ in Majesty, with a scene of the Resurrection below, with an inscription in Cyrillic to the base, the reverse depicting Christ with John and Mary, with saints to the background, 154cm high x 65cm wide. This piece attracted competitive bidding across all platforms with the hammer coming down at £5420*.
Moving into the afternoon, the Fine & Decorative section saw strong bidding throughout, with particular highlights in the Bohemian glass section.
Lot 456
A Bohemian green and opaline glass vase, 19th century, decorated with portrait panels of boys between floral and diaper panels, 32.3cm high, together with a similar ruby glass vase, 31.5cm high (2) £2350* from an opening estimate of £200-300.
Lot 460
A pair of Bohemian green glass and white opaline glass lustre vases, late 19th century, the overt petal rims hung with facetted and cut lustres, 31cm high (2)
Going for well over the estimate of £100-200, with a finally bid of £1350*
Every lot in the 79 strong private collection sold (Lots 422-501) with exciting and competitive bidding in the room and across the phones.
Lot 679
A George III mahogany and satinwood inlaid card table, in the Adam taste, inlaid to the top with half circle patera, hung with pendant harebells and swags of flowers, with continuous leaf banding to the edge, the top with baize lined interior, the apron with swag and foliate swag decoration, on square tapering legs with spade feet, 76cm high x 94.5 cm wide x 47cm deep.
*£9250
And finally Lot 352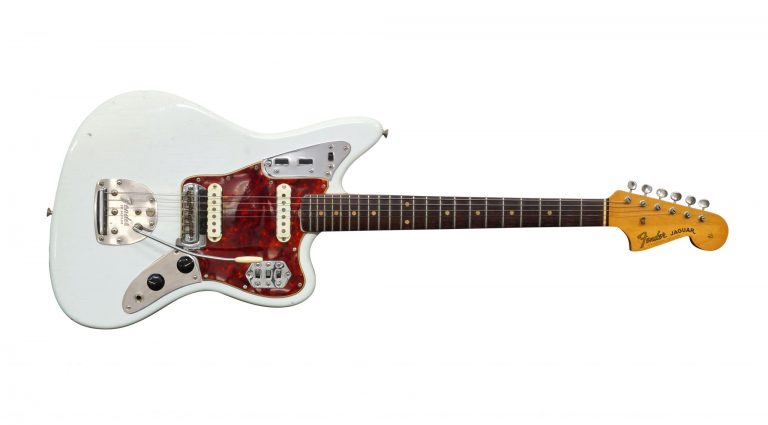 A rare, 1963 Fender Jaguar Electric Guitar in Olympic White Finish, serial no. L15223 (pre-CBS), 24" scale, with 22 frets, two single coil pickups, on/off pickup and high-pass filter switches, volume and tone knobs, a rubber string mute, floating tremolo bar, and a faux tortoise shell pick guard, in a hard case Note: Notable musicians who have played the Fender Jaguar include Johnny Marr and Kurt Cobain.
Enjoyed popularity in the room, passing its initial estimate of £1000-1500 and finally settling to a music lover for £3350*
Consignments are now open for the November sales.
Craft & Tradition will take place on Tuesday 20 November and Fine & Decorative will take place on Thursday 22 November.
For further information on any of our upcoming sales or to request a complimentary valuation please contact:
clientservices@roseberys.co.uk
~Ends~
*Prices include Buyers Premium of 23%.
For further information please contact Charlotte Meddings charlottemeddings@roseberys.co.uk  +44 (0) 20 8761 2522
Roseberys is a privately owned auction house operating at the heart of the fine art market for 30 years.
With offices in London's Mayfair and Lambeth Roseberys offer a calendar of more than twelve specialist fine art, antiques and collectibles auctions each year.
Specialist sales include a wide range of Asian and Islamic Arts, Modern and Contemporary Art and Design, Decorative Art, Fine Silver and Jewellery, Ceramics, Paintings, Prints, Photography, Antique Textiles, Vintage Fashion and Fine Wine and Whisky.
Roseberys team of world-renowned specialists also provide a wide range of art market services to professional clients, including valuations for insurance and probate.
Roseberys is a member of SOFAA – The Society of Fine Art Auctioneers.