Jewels in Bloom
2/03/2018 News Stories & Press Release, Jewellery & Watches
Jewellery & Watches
Tuesday 20 March, 1pm
Spring is in the air this March for the Jewellery and Watches sale at Roseberys London, amongst the brilliant bouquets and glistening beetles on offer there is a varied selection of jewellery dating from the 18th century to the present day.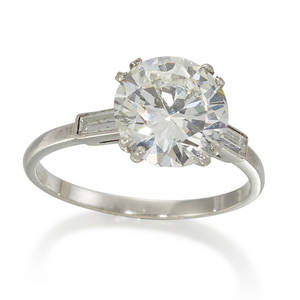 But, the treasure of the sale is (lot 219) a stunning 3.03 carat round brilliant-cut diamond complete with GIA report stating that it is G colour VS2 clarity and no florescence.
Estimate £27,000-35,000 (+27.6% BP*)
For lovers of the unusual (lot 74) an early 20th century gold, diamond, ruby and gem stag beetle brooch, with blister pearl abdomen, old-brilliant-cut diamond and ruby six stone thorax, cabochon onyx eyes and old-brilliant-cut diamond-set mandibles, the legs and underbelly with naturalistic detail, 4.0cm long is offered with an estimate of £500-700 (+27.6% BP*)
Keeping things springtime is an wonderful selection of floral inspired pieces, including (lot 137) An Edwardian gold, diamond and enamel brooch, designed as a floral spray, with two old brilliant-cut diamond and seed pearl cluster flower heads and four pale blue enamel flower heads each with diamond single stone centres , circa 1905 Estimate £400-600 (+27.6% BP*)
Continuing the sale is a charming Belle Epoque, platinum, sapphire and diamond necklace carrying an estimate £1500-2000 (+27.6% BP*)
Head of Department Mark Bowis Commented – "This is an extremely elegant piece set with eye catching sapphires to a platinum and pearl neck chain. (lot 154) There is also an impressive citrine and diamond brooch, by Andrew Grima, dated 1972. Pieces by this well-known goldsmith are highly desirable and would make a substantial addition to any collection of 70s jewellery".
(lot 176) Grima was a trailblazing jewellery designer whose popularity won him the royal seal of approval in the 70s, since his death in 2007 his wife and daughter continue to create a limited set of 20-30 pieces each year.
Estimate £2000-3000 (+27.6% BP*)
Another renowned jeweller represented in the sale is (lot 194), JAR (Joel Arthur Rosenthal) and includes a pair of aluminium pansy flower head ear-clips with coloured detail, signed JAR, in JAR, Paris, pink suede pouch. These limited edition ear clips were designed and produced in 2002 to coincide with the exhibition of JAR's work at Somerset House, London. Known for his representation of nature and mixed use of materials.
Estimate £3000-4000 (+27.6% BP*)
Other signed jewellery in the sale includes pieces by Cartier, Buccelatti, Hermes, Lacloche, Chaumet, George Jensen and Piaget.
The sale features a fine collection of 18th and 19th century pocket watches including (lot 104) an early 18th century gold pair cased verge pocket watch, Ellicot, dated 1743 with gilt chatelaine. Estimate £1500-2500 (+27.6% BP*)
A selection of highlights will be on view to the public on Wednesday 14 March at The Clubhouse, 8 St James's Square, London, SW1Y 4JU from 11am – 6pm.
Specialist, Mark Bowis will be on hand to guide you through the collection and answer any questions; you can also pick up a fully illustrated catalogue of the 219 lot auction.
Wednesday 14 March 11am-6pm
Viewing at Roseberys London
Friday 16 March: 1pm-5pm
Sunday 18 March: 10am-2pm
Monday 19 March: 9.30am-5.30pm
Tuesday 20 March: 9.30am-12.30pm
Auction starts at 1pm.
~Ends~
*Prices include Buyers Premium of 27.6%.
For further information please contact Charlotte Meddings charlottemeddings@roseberys.co.uk
+44 (0) 20 8761 2522
Roseberys is a privately owned auction house operating at the heart of the fine art market for 30 years.
With offices in London's Mayfair and Lambeth Roseberys offer a calendar of more than twelve specialist fine art, antiques and collectibles auctions each year.
Specialist sales include a wide range of Asian and Islamic Arts, Modern and Contemporary Art and Design, Decorative Art, Fine Silver and Jewellery, Ceramics, Paintings, Prints, Photography, Antique Textiles, Vintage Fashion and Fine Wine and Whisky.
Roseberys team of world-renowned specialists also provide a wide range of art market services to professional clients, including valuations for insurance and probate.
Roseberys is a member of SOFAA – The Society of Fine Art Auctioneers.