Jewellery & Watches auction ends with an array of outstanding results
9/07/2020 News Stories & Press Release, Jewellery & Watches
Roseberys London: The third sale to take place since lockdown restrictions relaxed last month was the Jewellery & Watches auction on Tuesday 23 June. Similar to the other two auctions that took place before it, the sale was a great success. Despite the postponement and not allowing bidding within the room, the sale produced some outstanding results, with a selling rate of 84%.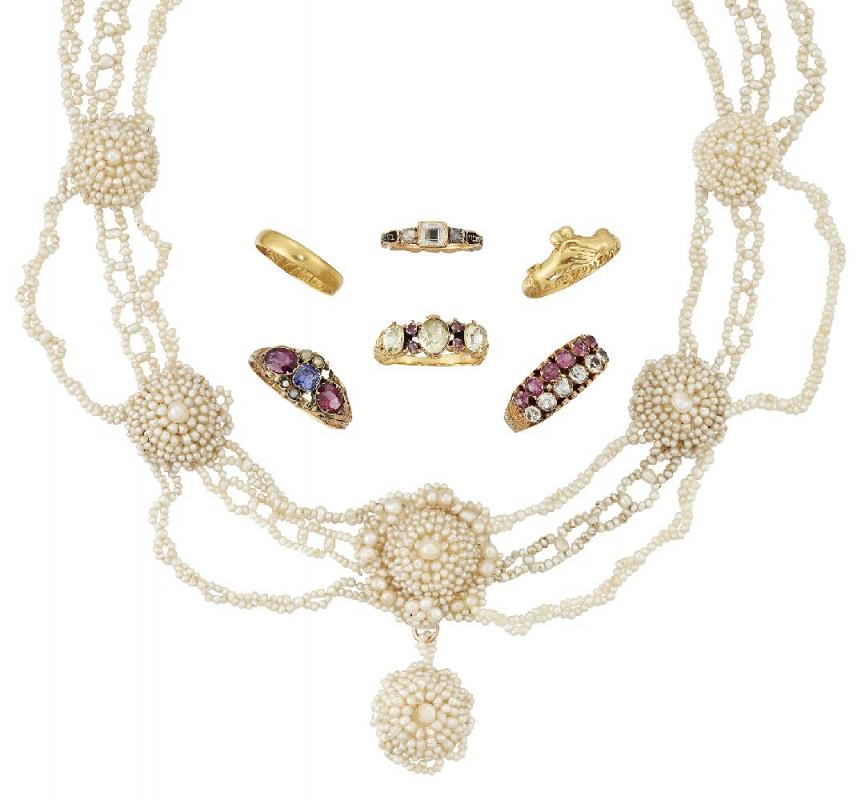 A group of six antique gold rings and an early 19th century seed pearl necklace, rings 

Mark Bowis, Head of the Jewellery & Watches department commented on the sale : Having been postponed from March there was a lot of tense anticipation for this live sale and given the difficult times at present, efforts were made to allow potential buyers to view the sale, acquire information, register bids and bid live on line and on the phone as easily and comfortably as possible. On a hot day the sale was extremely busy with a pattern of very prompt and enthusiastic bidding. The fact that there were only seven lots remaining unsold in the first 100 lots was very encouraging. At the end of the session the sale showed an 84% sold rate. Lots with heavy gold emphasis including pocket watches, benefited somewhat by the buoyant uplift in the current bullion price. However antique and esoteric items also sold strongly, this included a group of early rings. Lot 38 with an attractively placed estimate of £500-700 realised £5,250 an Edwardian coral and diamond bangle in original fitted case realised £1,250 and an early 20th century gold mounted butterfly wing brooch in original fitted case realised £1,750. A small group of Indian jewels also attracted swift bidding, showing that Indian pieces with age are always popular. Results for diamonds were also solid. High value diamond lots included, lot 324 a 2.30 carat round brilliant-cut diamond of good colour sold at £6,250. While lot 54 an attractive flexible, diamond bracelet realised £3,500 . The icing on the cake was lot 133 a very speculated large rose-cut diamond ring with rose-cut diamond shoulders estimate £4000-6000 realised an impressive £40,000. Designer jewels such as pieces by Grima and Elisabeth gage generated traditional interest including an early garnet and diamond ring by Grima, featured on the back cover of the catalogue realised £2,750. We were pleased that the more traditional jewellery from the eminent jewel houses such as Cartier, Boucheron, Bulgari, Tiffany & Van Cleef & Arpels, often the main back bone of a jewellery sale is still consistently achieving strong results. The selection of high-end wristwatches with examples by Patek Philippe, Rolex, Cartier and Vacheron & Constatine did extremely well, with only three unsold lots out of the twenty-nine offered. A small selection of modestly priced pens by Mont Blanc did exceptionally well also.

A rose cut diamond three stone gypsy ring
The highest value lot of the sale was Lot 133, a rose cut diamond three stone ring in a gypsy style setting. The central rose-cut diamond was a large stone measuring 12.8mm in diameter. Rose diamonds of this size are quite rare and could have originated from the alluvial areas of India making it 'an old stone'. These factors and the reasonable colour obviously attracted a lot of interest; speculative stones are always exciting. The low estimate was £4,000-6000 and this sale closed at £40,000.

A ruby, sapphire and diamond bracelet
Another highlight within the sale was lot 311, a diamond, ruby and sapphire bracelet. This was designed in the style of the Art Deco jewellery produced by the great names of Cartier, Boucheron and Van Cleef & Arpels. Although this bracelet is a more recent copy, the quality is outstanding with attractive Indian carved rubies and vibrant diamonds. Estimated £8000-10,000, this bracelet realised £10,625.

A platinum, diamond single stone ring by Cartier
(Lot 201) Estimated at £3000-4000, this nice clean and typical high-quality platinum-set ring by Cartier, set with a classic top colour 1.00 carat diamond, realised the price of £5,250. Retailed by Cartier London and produced in the 1970s, this gave the ring an added vintage charm and was fiercely fought for on the sale day.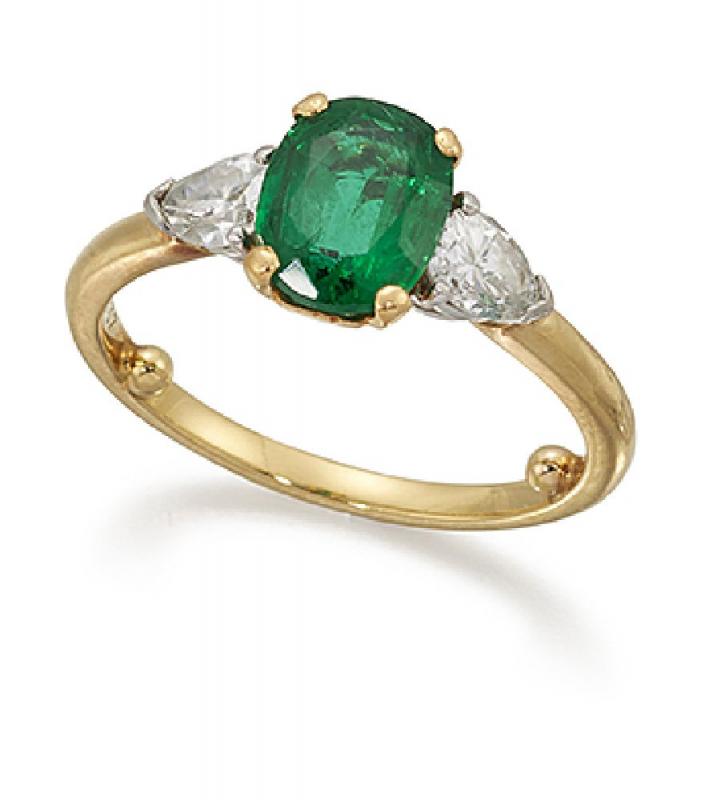 An emerald and diamond three stone ring by Cartier
Continuing with highlights from the Cartier section in the sale was a very fine and attractive emerald and diamond ring. Set in 18ct gold, the strong coloured emerald was flanked by two top colour diamonds typical of Cartier's timeless three stone designs. The ring was in great condition complete with makers case. Estimated to sell for £2000-3000, this ring (lot 198) realised a price of £3,750.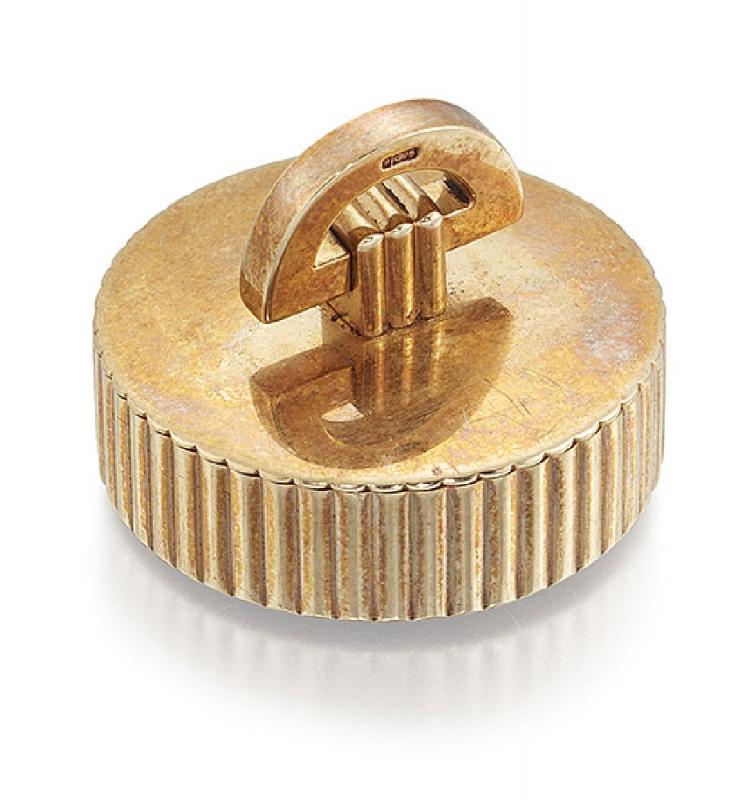 A 9ct. gold pill box, by Cartier, hallmarked London, 1940
(Lot 196) Another small but charming item by Cartier was a 9ct gold circular pill box of recognizable 40s design. Vintage items by Cartier appear less often on the market now. With an estimate of £400-600, this item realised over double its top estimate, selling for £1,625, proving the popularity of these collectable pieces.


An early 20th century sapphire and diamond bar brooch


(Lot 159) This early 20th century diamond and sapphire brooch was closely followed, with many eager bidders registering ahead of the sale to secure this lot. Although not desperately sought after as a brooch, old pieces such as this are often set with old un-heated gem stones from sought after regions such as Burma. This brooch was set with an attractively saturated sapphire and probably had no heat treatment to improve its colour. Estimate £1000-1500, this stunning brooch sold for £4,250 to the lucky bidder.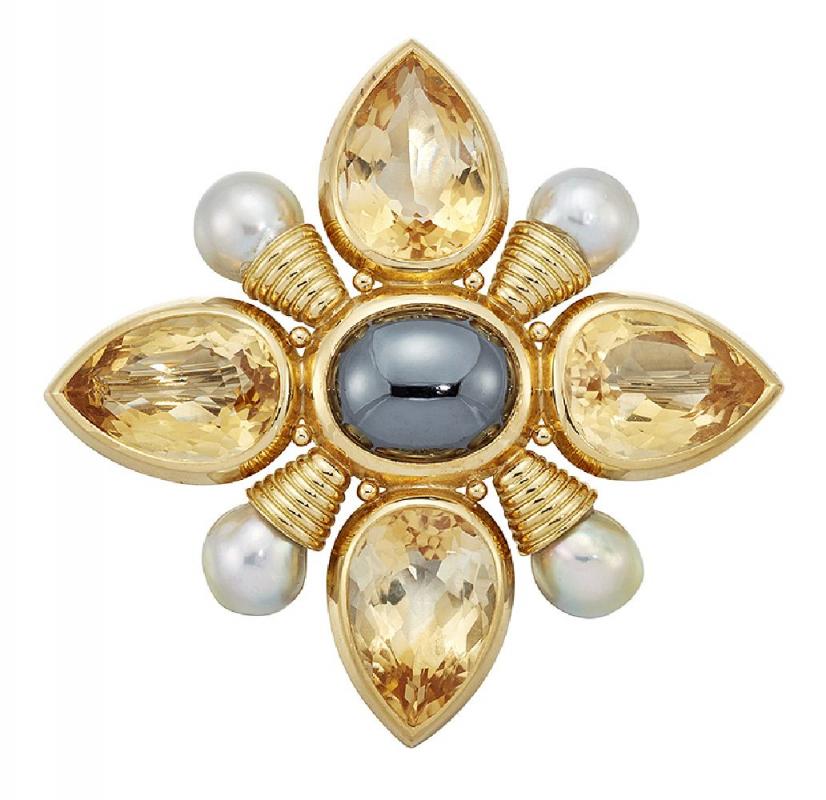 An 18ct gold and gem 'Kiss Pin' brooch by Elizabeth Gage

Lot 269, an 18ct. gold citrine, hematite and cultured pearl 'kiss pin' by Elizabeth Gage realised £2,000. Pieces of 'Art Jewellery' by this designer and goldsmith are highly collectable and measuring 6.1cm wide this piece is quite a statement and complete with maker's case, making it highly attainable.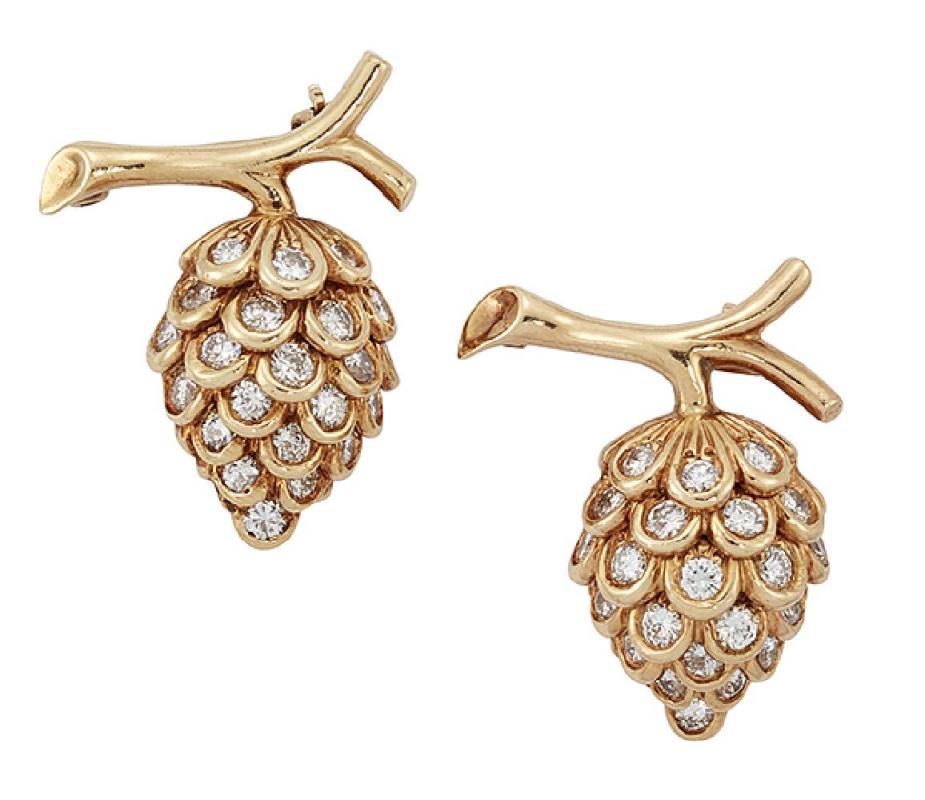 A pair of diamond brooches by Verdura


With an estimated price of £800-1200, lot 268, a pair of diamond brooches by Vedura realised £3,500. Typical of Vedura's high standard in manufacture and a charming design of pine cones, these were a very appealing purchase.

An 18ct gold, garnet and diamond ring by Andrew Grima


Estimated to sell for £1500 – 2000, lot 274 an early 18ct gold, garnet and diamond ring by Anglo-Italian designer Andrew Grima realised £2,200. Early rings by Grima are scarce and although the design seemed quite simple, the abstract decoration to the mount and gallery showed the early signs of Grima's flare for the unusual. Coming from his father in laws workshop with the mark HJCO, it was signed by Grima.
Our next Jewellery & Watches auction will take place on Tuesday 22 September. For any further enquiries in regards to the Jewellery & Watches department please contact the Head of Department, Mark Bowis : markbowis@roseberys.co.uk.

For any press related enquires please contact Marketing & PR Project Manager, Peigi Mackillop: peigimackillop@roseberys.co.uk


FIND OUT MORE ABOUT THE DEPARTMENT V
VIEW OUR AUCTION CALENDAR FOR 2020