International buyers out in force for the Impressionist Auction
24/07/2020 News Stories & Press Release, Impressionist, Modern & Post War Art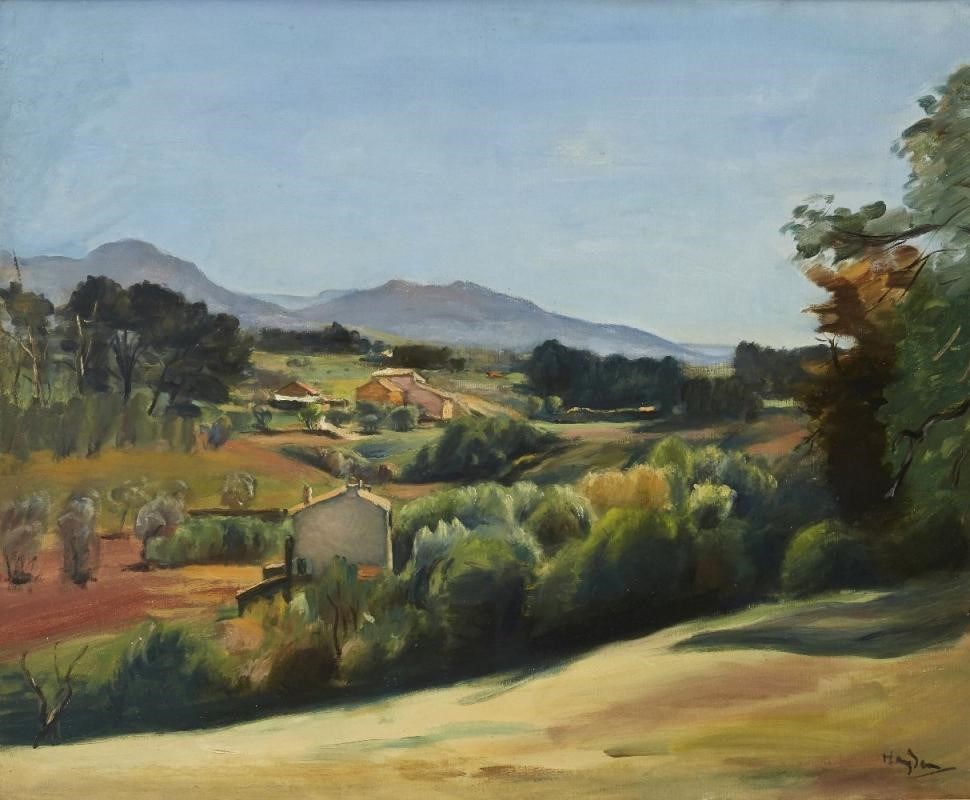 Henri Le Fauconnier, French 1881-1946- Paysage avec un pont (landscape with a bridge), circa 1915; oil on canvas
Roseberys London: International buyers were out in force for Roseberys sale of Impressionist, Modern, Post War & Contemporary Art, securing over 80% of the lots sold and competing fiercely for the best works on offer.  Despite the obstacles of the current ongoing pandemic and the auction that took place on Wednesday 15 July 2020 ended with an array of outstanding results, with strong results being seen throughout the 125 lot sale.
Tess O'Brien, Head of Sale commented: The sale which was once again on a smaller scale, was a carefully curated selection of works spanning from Impressionism to contemporary, suiting a diverse collecting audience. With the current situation, we were concerned about the interest for the pieces, however it proved not to be an issue. The sale ended with an 80% selling rate, with most pieces selling above their high estimate, so we were delighted. It seems bidders are more ready to use the internet during this period, and have time to search for artworks. As a result, we had registrations worldwide, 90% of the buyers were overseas, and more people were actively bidding online, rather than leaving absentee bids. Once again, the école de Paris was the strongest section in the sale, we saw many of the post-impressionist paintings selling for well above their high estimate. Also, the post war pieces were of interest, in particular the collection of Claude Venards, which were fresh to the market. Being Australian, I was delighted to see the Sidney Nolan, Ned Kelly piece sell for £12,500, particularly when some similar pieces had gone unsold in Australia at similar prices.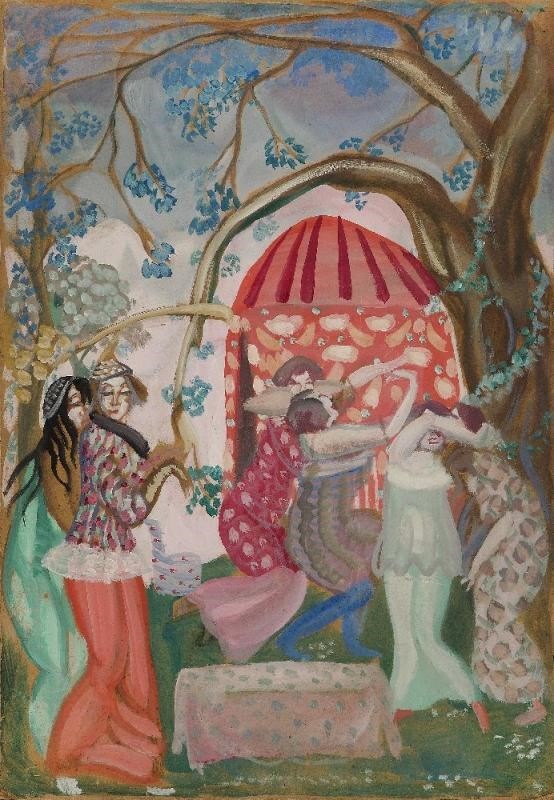 Boris Grigoriev, Russian 1886-1939У палатки (At the Tent), circa 1913; gouache
Of early interest was lot 2, an early gouache by the renowned Russian artist, Boris Grigoriev, titled 'At the Tent'. This painting originally came from the pre-revolutionary St. Petersburg collection of Alexander Evgenievich Burtsev, and remained with him until the 1917. Burtsev was a Russian bibliophile, bibliographer, publisher, art collector, author of ethnographic works and merchant of the first guild. As an honorary citizen of St. Petersburg, he gathered a large library of rare books and acquired a significant collection of autographs. On top of curating the library, he also arranged exhibitions of his collections and had ambitions to create a museum dedicated to new and innovative Russian art. Burtsev published journals on his collection including; 'My Journal for the Few', and it was for volume 9, issue 12 that this particular artwork was executed by Grigoriev. The consigner of this lot previously purchased the gouache many years previously within a  mixed group lot at another auction house. Unbeknown of its real value or knowledge of the artist behind the work, the consigner was pleasantly surprised when Roseberys specialist Tess O'Brien revealed it to be a rare work by Russian artist Boris Grigoriev after a valuation request. 'At the Tent' sold for a final price of £45,000.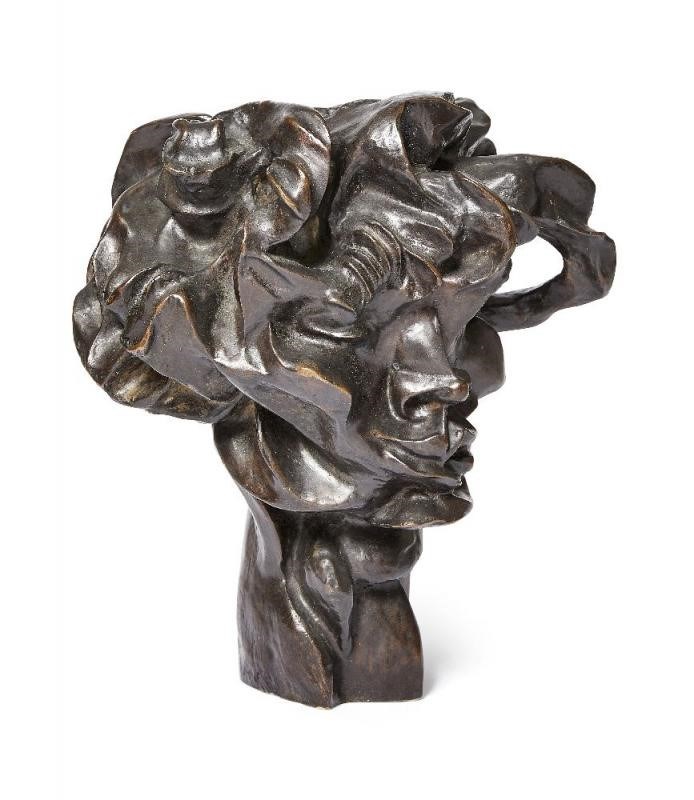 Otto Gutfreund,Czechoslovakian 1889-1927-Viki 1912/13;bronze
Attracting special attention were a selection of bronzes by the Czechoslovakian artist Otto Gutfreund. The lots from 13 to 16 went very well, all together making a total of £19,250. Lot 14 in particular realised an outstanding result of £8,750, a significant mark up from its top estimate of £3,000. The collection originated from the estate of Abe Gottlieb (died 1976), whom was President of Liberty Fabrics of New York based at 105 Madison Avenue, New York.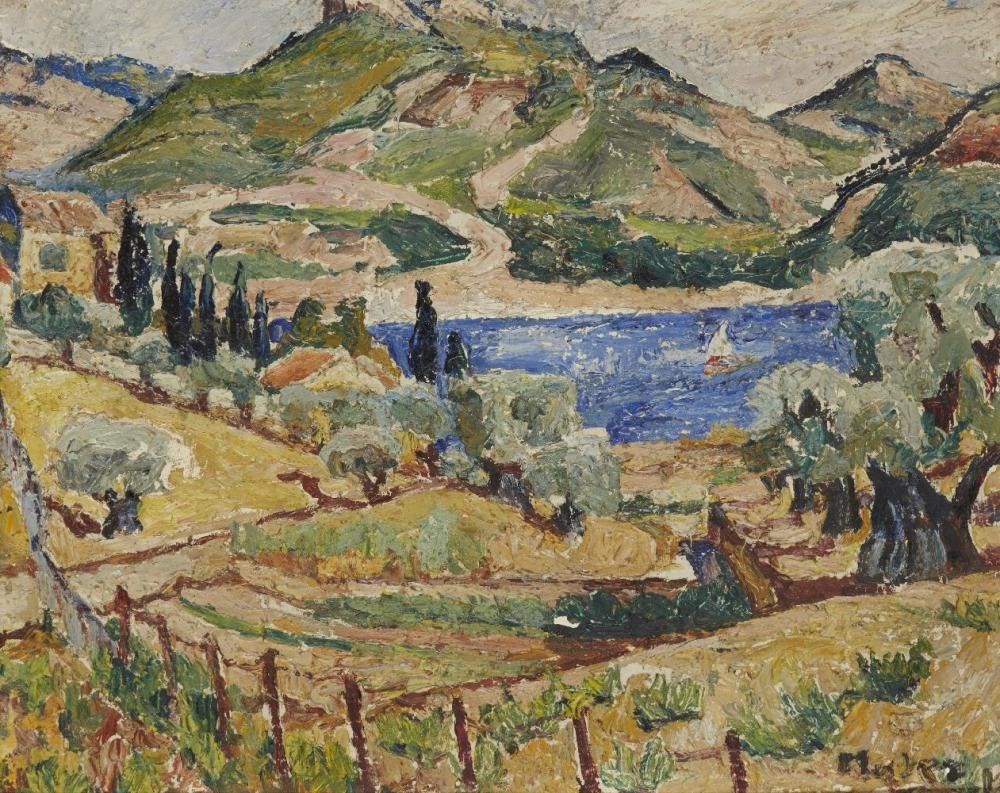 Maria-Mela Muter,French-Polish, 1876 - 1967-Landschaft;oil on board
Following this highlight, came an outstanding result for a work of art by Mela Muter - the pseudonym of Maria Melania Mutermilch, who was one of the most significant Polish/Jewish female painters in Paris in the early 20th century. She studied at the Académie de la Grande
Chaumière and the Académie Colarossi under Etienne Tournés. In Paris, Muter swiftly built a reputation as a portrait painter and exhibited her work regularly, first at the Paris Salon in 1902, and subsequently at the Salon des Indépendants, the Société Nationale des Beaux-Arts, the Salon des Tuileries as well as the Salon des Femmes Artistes Modernes. During the Second World War, Muter went into hiding in the South of France, from this point on she created Fauvist landscapes of the area, such as Lot 23 presented in this auction. 'Landschaft' which was entered at a price of £5,000-7,000, ended up making £25,000. Tess O'Brien, commented 'I was really pleased with the result of this painting as there were restoration issues but the oil is an exquisite work from her early period'. 

Claude Venard, French, 1913 - 1999- Nature Morte à la Cruche, 1955; oil on canvas
Estimated to make £7,000 - £9,000, lot 29 by French artist Claude Venard realised £15,000. The 1955 oil on canvas titled 'Nature Morte à la Cruche' alongside lots by Vernard 24 – 30 were acquired directly from Arthur Tooths & Sons Ltd., London, and have remained in the same collection since this sale. Venard has become a highly celebrated artist having featured in exhibitions globally since 1935. He held numerous successful one man shows around the world in establishments such as Romanet-Vercel, Bernheim-Jeune, Romanet Gallery, Kleeman Gallery, The Fine Arts Association, the Knoedler Gallery, the Lefevre Gallery and at Arthur Tooth & Sons, from where this collection of works originates.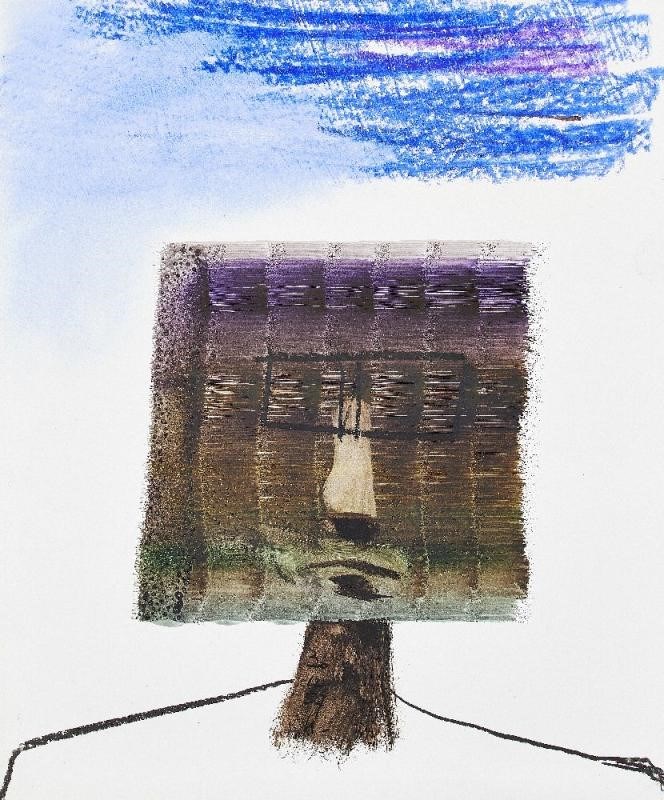 Sir Sidney Nolan OM AC RA, Australian/ British 1917-1992- Ned Kelly, 1952; mixed technique on paper
Lot 94 was a personal highlight for the Head of Sale, who like the artist hails from Australia. The work by Sir Sidney Nolan OM AC RA, titled 'Ned Kelly' created in 1952; with a mixed technique on paper was gifted from Sidney Nolan's wife to the consigner. Estimated at £3,000 - £5,000, this artwork ended up making over double its top estimate for £12,500. The artwork depicting the iconic bush ranger Ned Kelly was sold to a private collector in Australia. Sidney Nolan's paintings on the theme of the 19th-century bushranger Ned Kelly are one of the greatest series of Australian paintings of the 20th century. Highlighting these works makes the point that Australian art is part of the world, with its own stories to tell. This dual emphasis of connectedness and distinctiveness in relation to culture and place is integral to Nolan's work depicting Ned Kelly.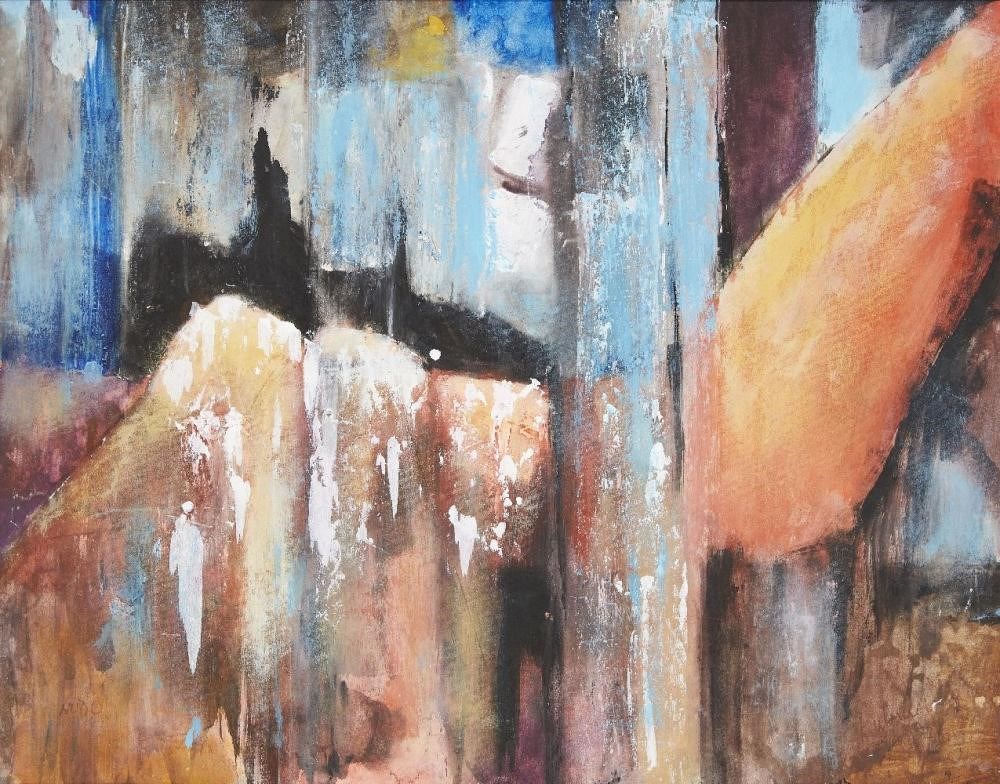 Aubrey Sendall Williams, Guyanan/British 1926-1990- Nuno, 1976; mixed technique on board

Lot 97, A stunning abstract work of art by Guyanan, British artist Aubrey Sendall Williams, titled 'Nuno' made £6,250. Estimated to sell at £2,000 -£3,000 the mixed technique on board created in 1976 came from a private collection. Roseberys had previous success with in December 2019 with another abstract from the same artist selling for £4,000. The artist's prices have been on the rise over the last couple of years with works coming up at salerooms across the country, lot 97 achieving a record breaking price of £6,250, making it the most successful recorded sale at auction to date.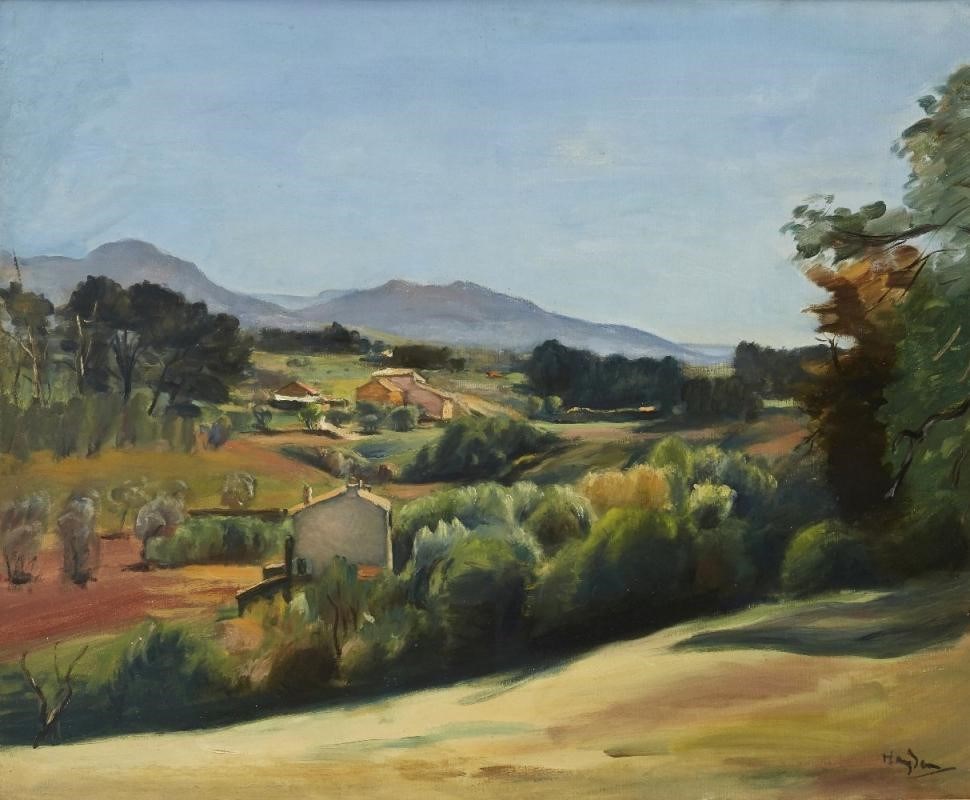 Henri Hayden, French 1883-1970; Hameau dans la vallée; oil on canvas
Impressionism and Post-Impressionism works of art were a strong focus throughout the auction. In particular the French Post-Impressionist paintings sold very well on the sale day. A highlight within the genre came from Henri Le Fauconnier. His artwork titled Paysage avec un pont (landscape with a bridge), circa 1915; estimated at £150-250, sold for £4,750. Furthermore, an oil by Henri Hayden, titled Hameau dans la vallée, sold for £5,500. Making £2,500 more than its top estimate.  
For more information about the sale please contact Marketing & PR Project Manager
 Peigi Mackilop : peigimackillop@roseberys.co.uk
+44 (0) 20 8761 2522
We are now welcoming consignments for inclusion of the Impressionist, Modern, Post War & Contemporary auction on Thursday 3 December 2020.
To request a free valuation please contact our pictures department
pictures@roseberys.co.uk