International buyers embrace remote bidding
29/06/2020 News Stories & Press Release, Islamic & Indian Art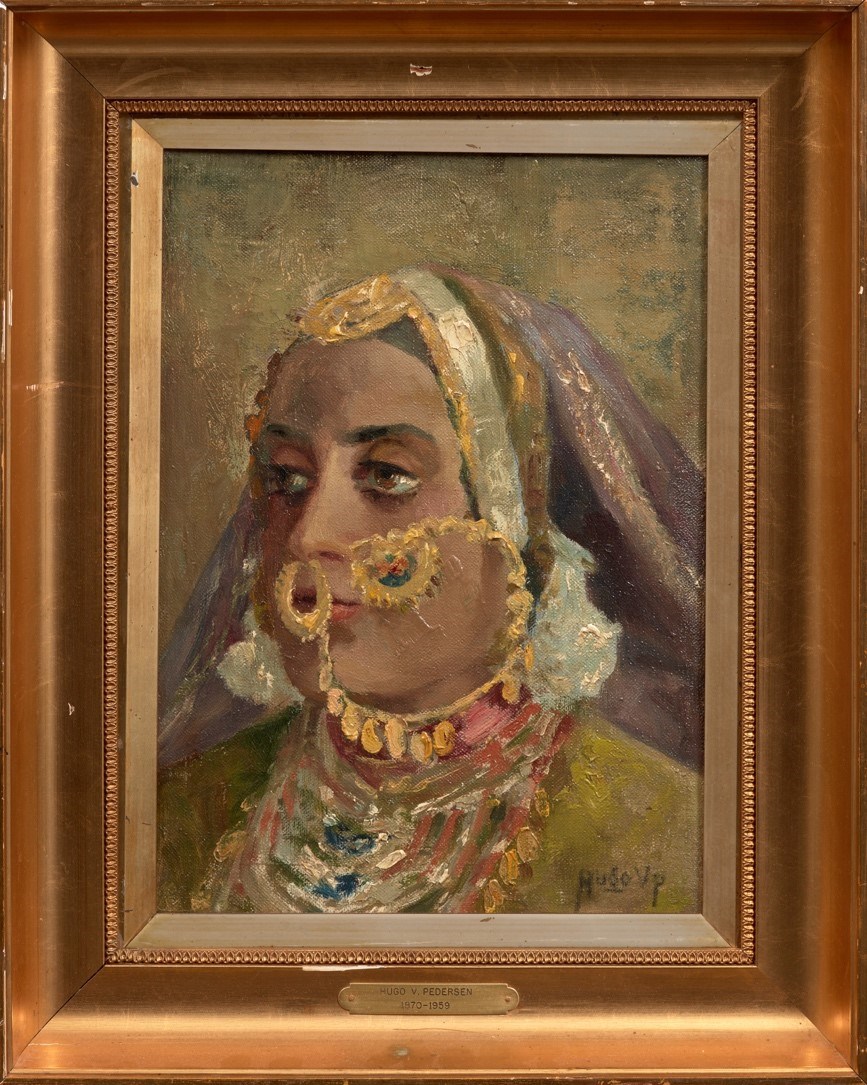 Lot 79: Portrait of Maharani Jind Kaur, Maharaja Ranjit Singh's Last Queen, mother of Duleep Singh by Hugo Vilfred Pedersen (Danish, 1870-1959) 
LONDON: A posthumous portrait of Maharani Jind Kaur – the fearless Sikh queen of Lahore who became a serious obstacle to British rule in India – was a star lot in Roseberys rescheduled Indian and Islamic art sales.
The oil on canvas came from a private collection in Copenhagen and was painted in c.1905 by the Danish artist Hugo Vilfred Pedersen (1870-1959), a leading painter in the British Indian colonies during the early 20th century. Estimated at £3,000-5,000 in the Arts of India auction on June 17, it attracted fierce competition and eventually sold for £23,750.
Jind Kaur, popularly known as Rani Jindan, was the youngest wife of Ranjit Singh, the Maharaja of Punjab. Her revolt began when her husband died of a stroke in 1839 and the British tried to wrest the kingdom from Duleep Singh, her infant son and heir. Renowned for her beauty, energy and strength of purpose, Jindan is chiefly remembered for the fear she engendered in the British in India. In a smear campaign, she was derisively labelled the 'Messalina of the Punjab', a a salacious seductress too rebellious to be controlled. During her rule as regent, she waged two disastrous wars against the British that led to the annexation of the Punjab. Her life was the subject of the 2009 film Rebel Queen. [Lot 79]
With social-distancing restrictions in place, Roseberys rescheduled sales of Islamic and Indian art saw a huge increase in international bidding across online platforms and on the phones. The June sales, originally planned for April and containing a wide range of artefacts from the Islamic and Indian worlds, was particularly strong on Islamic manuscripts.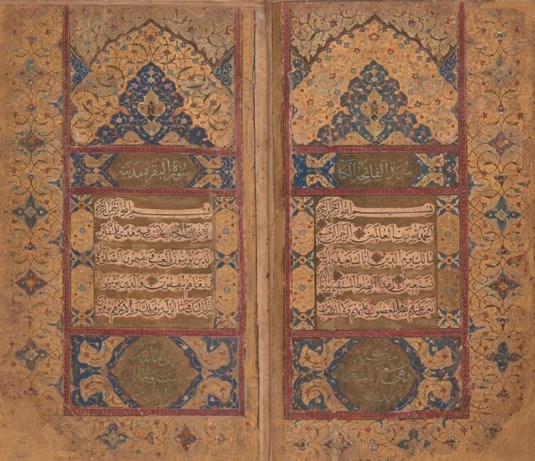 A manuscript of the Qasida al-Burda (Poem of the Mantle) - a celebrated ode to the Prophet Muhammad - sold for £23,750 in the Islamic Art & Manuscripts sale on June 16. The Arabic manuscript was copied and signed by Sadiq bin Yusuf of Sian, China, in 1010AH (1601-02) and contained interlinear translation and copious notes throughout. Online and commission bidders competed before it was eventually won by an international online bidder on thesaleroom.com. [Lot 66]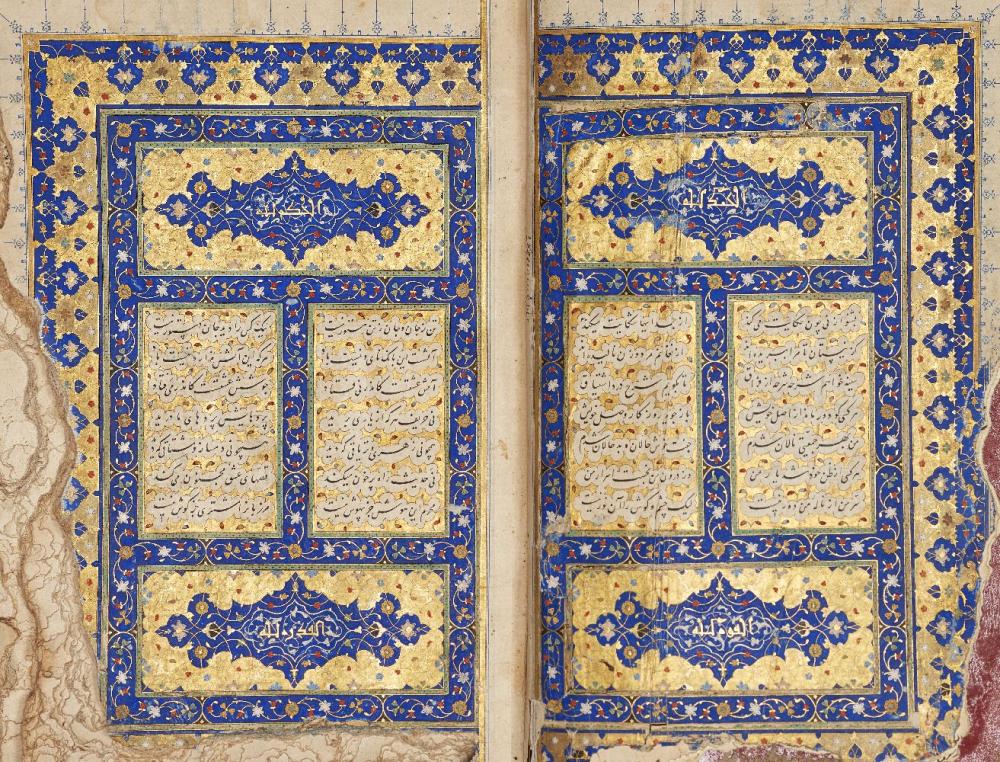 A £18,750 bid secured a fine and rare Timurid copy of Rumi's Mathnawi Ma'nawi made in Iran in c.1480 and sourced from a private collection in London. The polychrome frontispiece was particularly admired, with its rigorous and complex pattern of interlacing split-palmettes, flowering vines and stellar motifs. (Lot 134)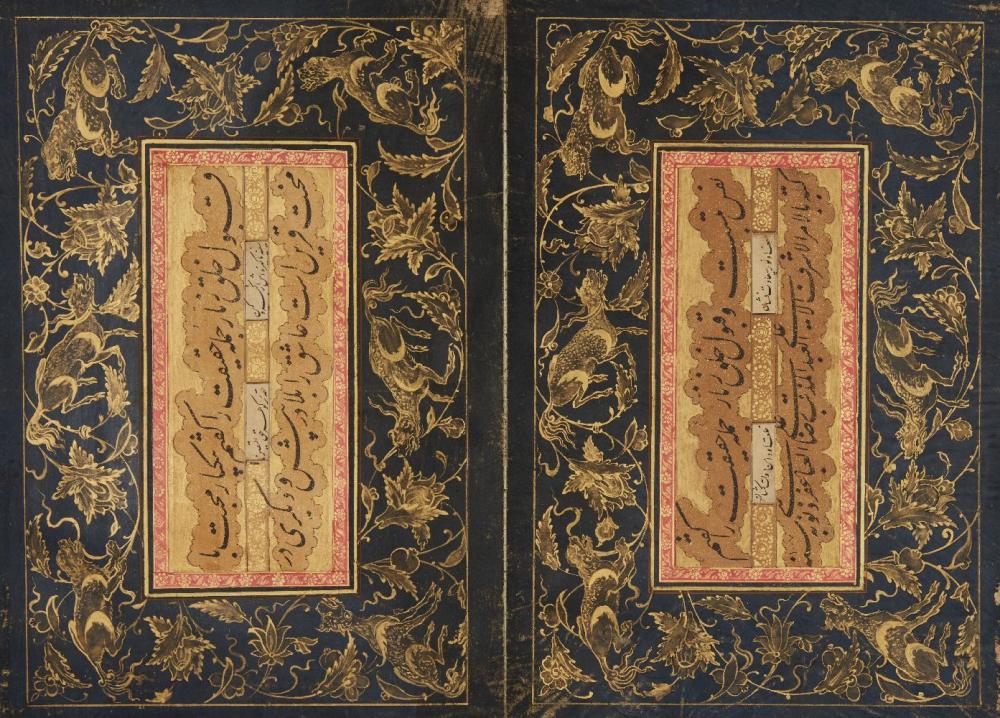 Eagerly contested elsewhere was an attractive and colourful Persian manuscript bound in concertina-form and containing ten calligraphic panels set against intricate patterns of weaving gold flowers on coloured paper. This Qajar muraqqa, signed by Ali Raza Abbasi and dated 1007AH (1598), drew fierce bidding across the online platforms Roseberys Live, Invaluable and thesaleroom.com before it was knocked down at £17,500. [Lot 100]
Further highlights from Islamic Arts & Manuscripts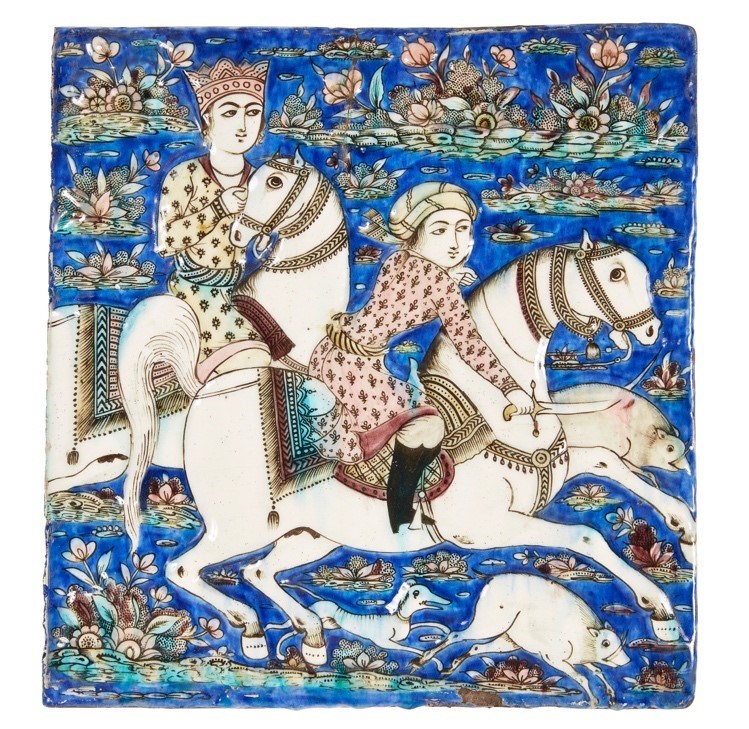 Lot 248: A fine Qajar moulded pottery tile, Iran, circa 1890

Two large Qajar pottery tiles from a distinguished Italian collection were much admired in the sale. The first was a c.1890 example finely painted with two princely figures on horseback hunting wild boar and was bid to £8,750. The second, a c.1880 piece, depicted the founder of the great Safavid dynasty, Shah Ismail, herding wild animals with his courtiers against a vivid cobalt background. Bidding took place between the telephone and online, eventually going to an online bidder for £5,500. [Lot 248] [Lot 249]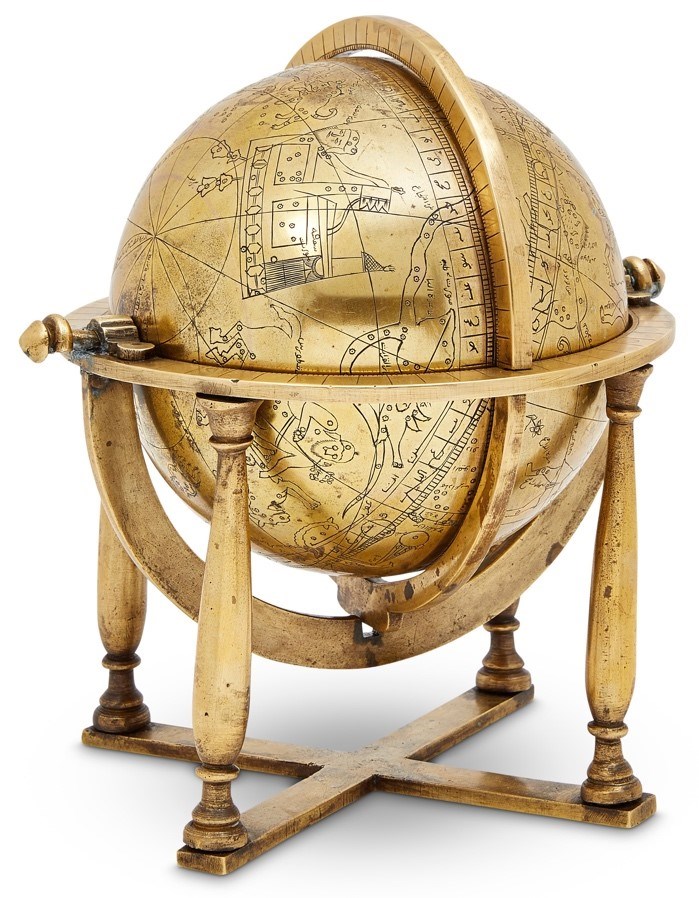 A large Indo-Persian engraved brass celestial globe, signed 'Amal Nasir al-Din Tusi' and dated AH 1305/1887-88AD, Iran
Further highlights included a dozen ancient black Etruscan bucchero vessels from a private collection in New Mexico that sold together at £5,750 and a large Indo-Persian brass celestial globe signed by Amal Nasir al-Din Tusi in 1305AH (1887-88AD) and extensively engraved with markings, figures, astrological symbols and pictorial representations of the constellations. This was secured by a bidder on Roseberys Live for £3,750. (Lot 14) ( Lot 262) 
Further highlights from Arts of India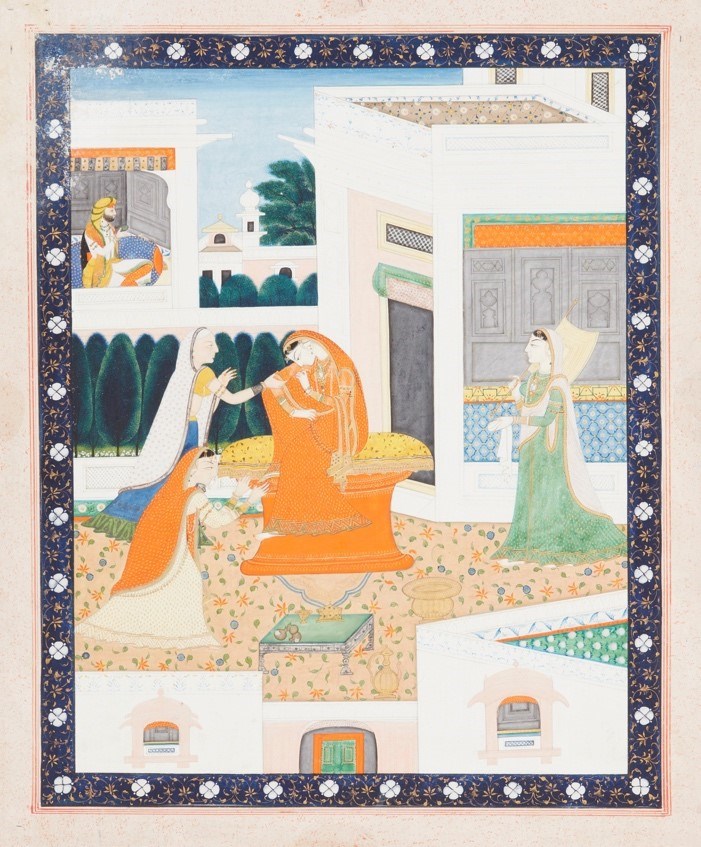 Lot 166: A princess lamenting her lover's departure, Kangra, Punjab Hills, North India, circa 1810
Bids also emerged for Indian miniatures with distinguished provenance. The scene of a princess lamenting her lover's departure painted on a miniature from Kangra in North India sold to a telephone bidder for £7,500. The early 19th century work came from the collection of Dr WB Manley, a great collector of Indian paintings who had served in the Indian Police in the Bombay Presidency from 1905-24. He exhibited works from his collection on a number of occasions, including in the Royal Academy Exhibition The Art of India and Pakistan (1947-48). [Lot 166]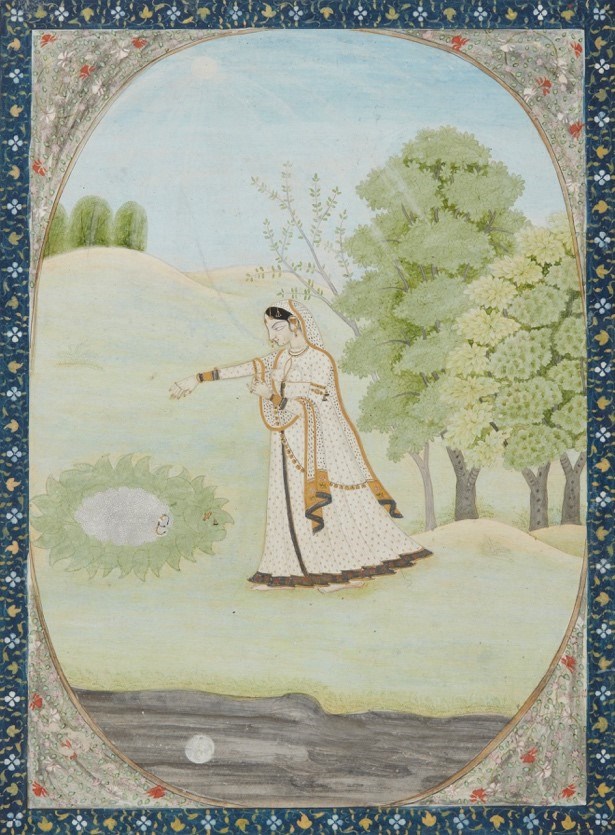 Lot 162: An illustration to a Nayika series: Vipralabdha Nayika, Kangra, North India, circa 1830
Also from Kangra was an illustration of Vipralabdha - the so-called 'disappointed mistress' and one of the eight 'nayikas' who is deceived into waiting all night for a lover who never comes. Another miniature with excellent provenance, it was acquired by Robert Henry Wallace Dunlop (1823-1887) and thence by descent. Dunlop was born in Madras and held the position of district officer of the Meerut District during the Indian Mutiny of 1857. He penned the books Service and Adventure with the Khakee Ressalah (1858) and Hunting in the Himalaya (1860). The lot went to a telephone bidder for £3,000. [Lot 162]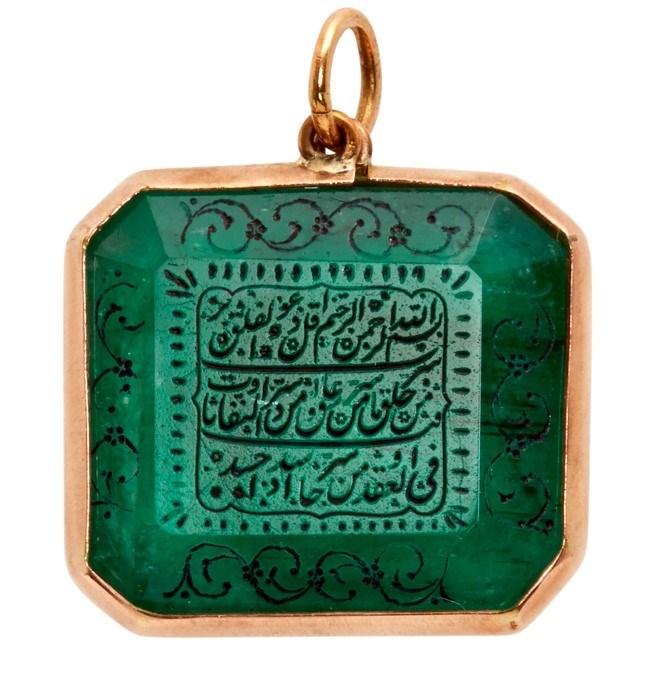 Lot 92: A inscribed emerald with Quranic verses in European gold mount, India, 19th century
The trend for strong sales continued in the jewellery section where a 19th century emerald inscribed with Quranic verses and set in a European gold mount sold to a commission bidder for £4,750.


Lot 76: A sword (tulwar) with undulating blade and gold overlaid hilt, India,19th century, the hilt with floral design and chevrons to knuckle-guard, 98cm. long
A 19th century sword with an undulating blade, gold overlaid hilt and an inscription to the inside of the knuckle guard, was won by a telephone bidder who paid a multi-estimate £3,250 among a select offering of arms and armour. [Lot 92] [Lot 76]
~Ends~
For further information please contact Peigi Mackillop peigimackillop@roseberys.co.uk +44 (0) 20 8761 2522
VIEW ALL THE ARTS OF INDIA RESULTS HERE 
VIEW ALL THE ISLAMIC ART & MANUSCRIPTS RESULTS HERE