Impressionist, Modern, Post War & Contemporary Art : Inviting Consignments
27/03/2020 News Stories & Press Release, Impressionist, Modern & Post War Art
The Impressionist, Modern, Post War and Contemporary Art department are now welcoming consignments for inclusion in the upcoming auction this year.

Currently included in the sale is a collection of Russian and European artists from Montparnasse and a rare Joseph Csaky.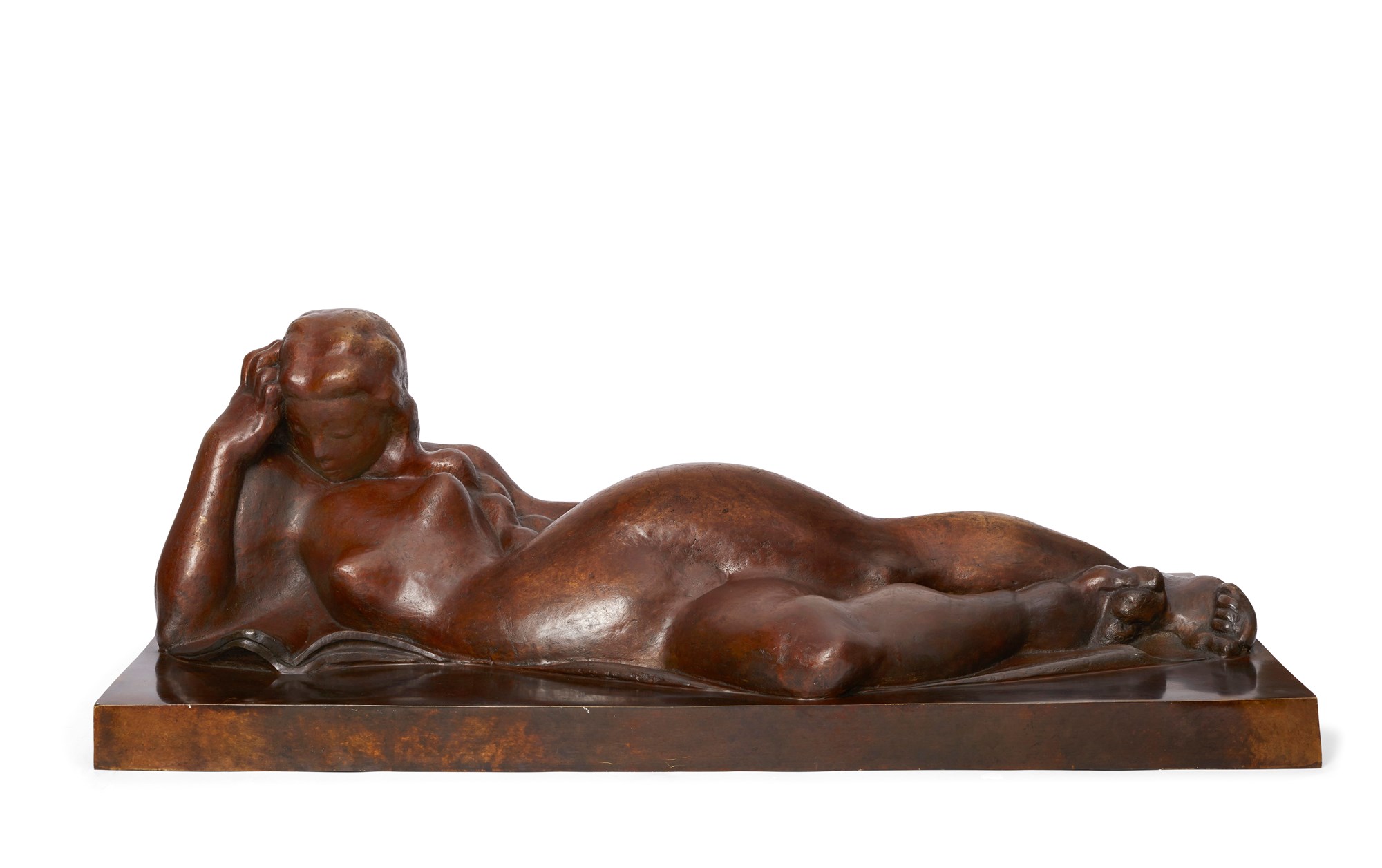 Joseph Csaky,; La Liseuse, 1938; Bronze, signed and numbered HC1 on the base, stamped with the Blanchet foundry stamp and marked AC (Atelier Csaky) 89 x 38x 33cm (ARR)


The artist's proof of Joseph Csaky, La Liseuse, 1938 that will go to auction this June is a Bronze, signed and numbered HC1 on the base, stamped with the Blanchet foundry stamp and marked AC (Atelier Csaky). Csaky worked alongside the Cubists of Montparnasse, which led him to exhibited at the Salon d'Automne and the Salon des Artistes Independents, which officially recognized the young movement. He also took part in the Salon de la Societe Nationale des Beaux-Arts and the Salon des Tuileries. His work was later shown in group exhibitions at the Galerie Léonce Rosenberg, Paris (1921); Palais des beaux-arts, Brussels (1940); Musée de Bordeaux, Paris (1973); and Musée Bourdelle, Paris (1977). Csáky's solo exhibitions include those at the Kulturális Kapcsolatok Intézete, Budapest (1959); Musée Rodin, Paris (1980); and Musée d'art moderne, Troyes (1986). Originally from Galerie Vallois, Paris, the piece comes from a distinguished North London private collection. It will be up for auction at £45,000-50,000.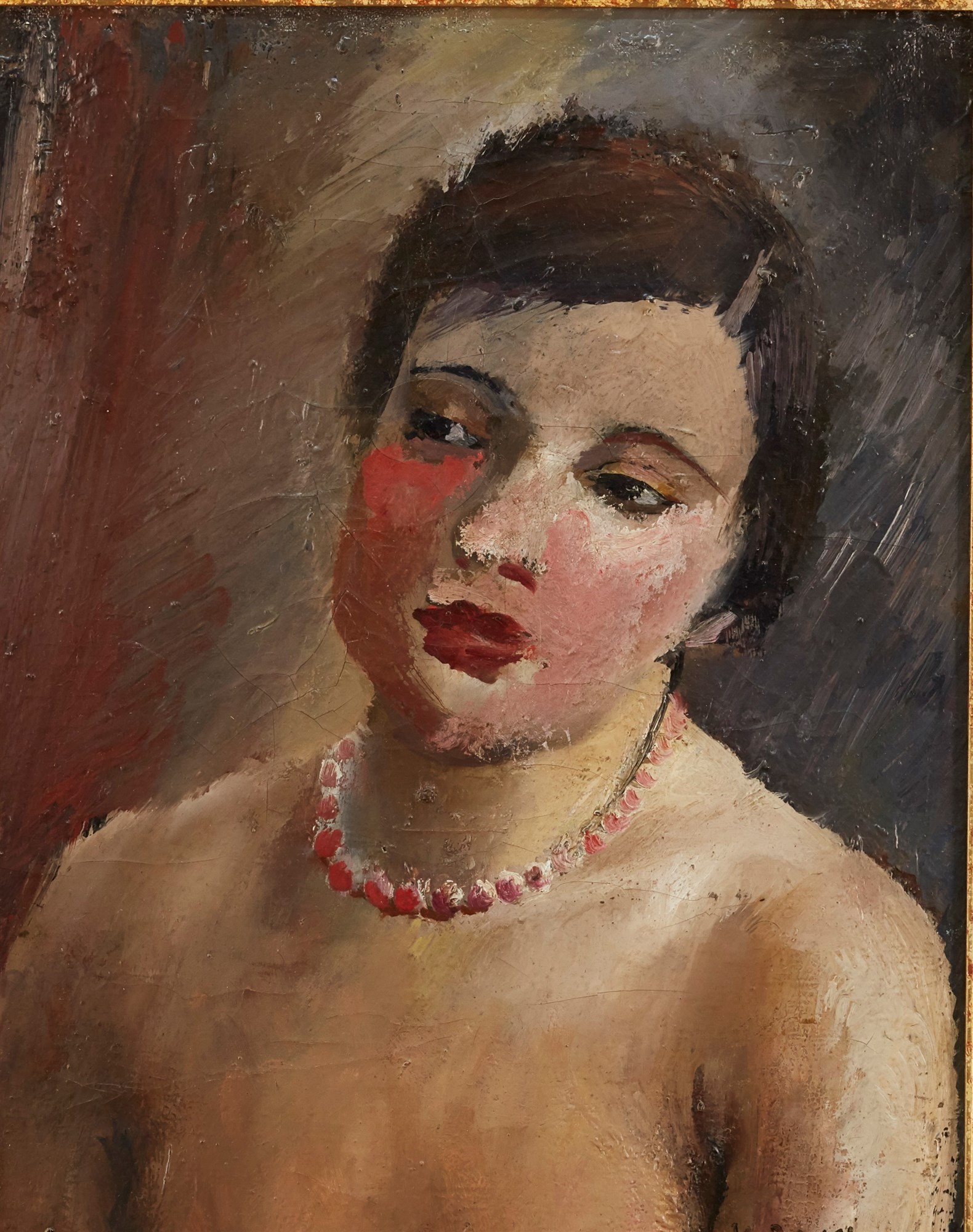 Vera Rockline, Jeune femme au collier de perles; oil, signed lower right, 41 x 33cm

Also included in this auction is an attractively priced Vera Rockline painting, estimated to sell for £6,000-8,000. Rockline was principally admired for her exquisite portrayal of female nudes, referred to by the renowned art critic and journalist, Raymond Escholier, as symphonies of flesh. After settling in Montparnasse, Paris in 1922, Rockline exhibited at the Salon des Indépendants, the Salon d'Automne, as well as the Salon des Tuileries. In the past the artist's work has fetched impressive prices at auction including Vue de Tiflis, Georgia, that sold at Christie's for  £120,500.
Another exciting artwork included in the upcoming sale is a portrait of a head from the renowned sculpture Ossip Zadkine, at £4000-6000 an additional artist from the golden age of Montparnasse. This 1948 work was completed in Paris after Zadine's return from American exile during World War Two, at around the time Zadkine's international reputation was emerging.
Other works of art to be offered in the future sale this year are pieces by Bernard Buffet, Béla Kádár, Henri Hayden, Augutse Herbin, Jean-Louis Forain, a collection of works by Claude Vernards, Paul Jenkins and André Lanskoy.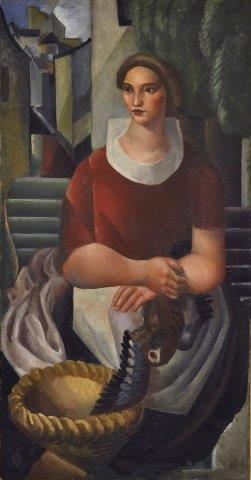 Roger Bissiere, French 1886-1964-'Jeune Femme Plumant un Perdreau' 1922;oil on canvas
In the past sale that took place 4 December 2019 strong international demand secured over 90% of lots sold. The global sale, contained eye-catching artworks from Europe, Africa, North and South America and Australia, with the international market responding especially well to rare works of quality with good provenance by established artists. Highlights that sold in the past sale included Intérieur à Paris, a rare Parisian subject by the Hungarian artist Bela Czobel (1883-1976), that was taken to £18,750, more than double its top £6,000 estimate. Another rarity was a figurative work by the French artist Roger Bissière (1886-1964), best known for his stained-glass window for Metz cathedral and other churches. The 1922 work is thought to depict the wife of the French Cubist painter André L'hote, whom he befriended along with Georges Braque when he became a member of the new Paris School. Bissière was encouraged to develop a more humanised version of Cubism and is known for this unique contribution to the movement. Carrying modest hopes of £2,500-3,500, the portrait made £9,750. These works were complimented by a private offering of 20th century 'Paris School' art by both foreign and French painters. Among them was a characteristic neoclassical-inspired Greek nude by Jean Souverbie (1891-1981) from 1976. Influenced by Pierre Bonnard, Édouard Vuillard and Braque, Souverbie is best known for his paintings which were unique modern interpretations of neoclassical art and Greek sculptures. In this late work, dated '1976', Souverbie took the neoclassical theme of the reclining nude and approached the form as a Greek sculpture. A rare piece to be offered in a London saleroom, it found a buyer at £10,000.
For further information please contact Tess O'Brien

tessobrien@roseberys.co.uk